House Considers Pro-Life Bills
By Brandon Moseley
Alabama Political Reporter
On Wednesday the Alabama House Health Committee, chaired by Representative Jim McClendon (R) from Springville, held a public hearing on four bills related to abortion.  Predictably, Pro-Life advocates and Pro-Choice advocates were both on hand to state their cases for and against the proposed legislation.
Rep. Mary Sue McClurkin (R) from Indian Springs is the sponsor of the Heartbeat bill, HB490, which bans performing abortions when a fetal heartbeat can be detected.
Rev. Joe Godfrey, the executive director of Alabama Citizens Action Program (ALCAP) spoke in favor of the bill.  Godfrey said that if you have a heart beat and you still make the decision to abort the child you are making the decision to pull the plug.
Meg Tillman from Huntsville spoke in opposition to the bill.  She said that a heartbeat is not a right to personhood.  She said that she was concerned that if this bill is passed doctors who perform abortion would leave the state of Alabama.
Opponents of the legislation said that with the right equipment a fetal heart beat can be detected as early as six weeks.  The critics claimed that this bill would effectively abolish all abortions in Alabama.  They also were concerned that the requirement that abortion clinics store the information would be too harsh a burden on the clinic operators.
Rep. Ed Henry (R) from Decatur said that every legitimate medical facility in Alabama can already store this information.
Rep. Henry is the sponsor of HB 489 which would require that women contemplating an abortion be provided with more information and stipulates at least a 48 hour waiting period prior to an abortion. Alabama Citizens for Life said in a written statement that they are, "In favor of providing women seeking abortion as much objective medical information as possible and would like to see women given a list of where they could obtain a free ultrasound as part of informed consent prior to scheduling an abortion."
Rev. Godfrey said, "Nobody is discussing the rights of the child.  I am grateful for politicians that are willing to make a stand," for unborn children.  "What you are doing is protecting the rights of people who will contribute to society who otherwise might be killed."
Jo Anne Cummings said that she found all four of these bills very troubling.
Rep. Jones sponsored HB 494 which strengthens the requirement that minors must have consent before they can have an abortion in the state of Alabama.  Rep. Jones said that his legislation would require that the parent actually bring the minor in for an abortion rather than the minor simply show up at a clinic with a signed consent form.  It also requires that the parent provide proof that they are actually the parent, such as the birth certificate.
Rep. Jones said, "This is so the 40 year old boyfriend doesn't claim to be the parent of the 16 year old girlfriend."
There are also a pathway for the minor to get permission for the abortion from their county court.  Jones said this is necessary because "There are situations where a minor might have reason not to get parent consent."
The bill's critics told the Health Committee that this is the incremental chipping away at the rights to an abortion.
Rep. Kurt Wallace (R) from Maplesville is the sponsor of the Perinatal Hospice bill, HB493.  It would provide compassionate option information to families for severe fetal anomalies through providing perinatal hospice services.
Pat Harris opposed that bill as well.  She said, "I am real confused about this bill.  It just seems to be putting parents on a guilt trip.  No one has addressed the pain that these children suffer throughout their lives."
Joe Godfrey said, "We do support this bill.  I worked in close connection with families that brought in Hospice and for this to be expanded is a great opportunity to show mercy and kindness."
Rosalyn McDermott from Huntsville said, "All four of these bills are attempts to limit women's rights to an abortion and there will be challenges like there was to last year's bill."
Alabama Citizens for Life said in a written statement, "Thank you also goes to Rep. Jim McClendon for prioritizing the bills respecting innocent human life by scheduling a vote for next Tuesday Feb 25th on the above measures."
Longtime Pro-Life advocate Cheryl Ciamarra (R) told the Alabama Political Reporter afterwards, "The ACLU was opposed to every one of those bills. Why would they be opposed to giving women more information?"  Mrs. Ciamarra is running for state representative in Alabama House District 43 where incumbent Rep. Mary Sue McClurkin is retiring.
The Vice President of Public Policy for Planned Parenthood Southeast, Nikema Williams wrote in a prepared statement afterwards, "Politicians in Alabama continue to attack women's health care, when they should be expanding it.  These bills are part of a larger extreme agenda to restrict all abortions under any circumstances in the state."
Republican Party Chairman Reince Preibus wrote recently, "Despite Democrats' rhetoric, Republicans actually stand with the majority of Americans on many important life issues. For example, a majority of Americans disapprove of late term abortions, but Democrats, especially President Obama, take the extreme position of supporting them. Republicans at the state and national level have worked to enact protections for life after 20 weeks of pregnancy, but Democrats by and large have opposed them—and therefore opposed the majority of Americans. Most Americans see these protections as reasonable and the right thing to do.  Moreover, polling in recent years shows Americans support a range of other pro-life policies: 87 percent support informed-consent laws; 71 percent support parental consent laws; 69 percent support a 24-waiting period; 64 percent support banning partial-birth abortion."
The Alabama Citizens for Life Pro-Life Legislative Rally has been set for Tuesday Feb. 25th.  The Speaker of the Alabama House of Representatives House Mike Hubbard (R) from Auburn will be speaking at the rally this year as well as Senator Scott Beason (R) from Gardendale.  Sen. Beason is running for Congress this year in Alabama's Sixth Congressional District.
Print this piece
Perspective | Huntsville doctor recounts protest dispersed by police tear gas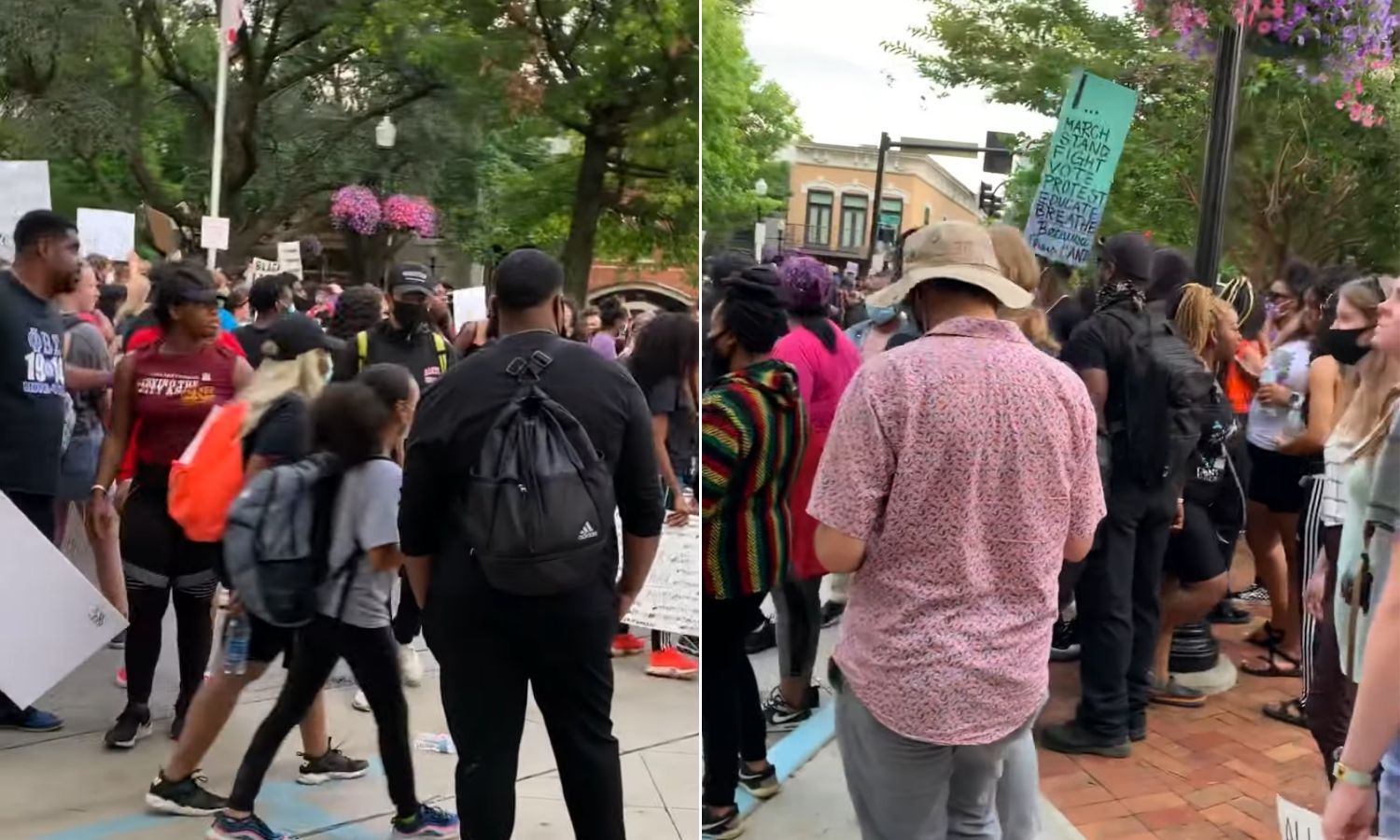 Dr. Pippa Abston is a Huntsville area physician. The following is her first-hand account of the protest in Huntsville, Alabama, on Wednesday, where police fired tear gas and rubber bullets at demonstrators after an Alabama NAACP rally.

I arrived at Big Springs Park at about 4:30 before the start of the protest at 5 p.m. I am pleased to say that multiple medical people and first aid volunteers came. We had at least one EMT. People brought armloads of supplies and water. We had a medical area set up towards the back, and some of us walked through the crowd. I carried a medic sign on a pole.
After the speakers — which I don't think I can do justice to describing, other than to say extremely inspiring — we were led up the stairs on the side of the park to march. There was chanting. It seemed to me that there were a whole lot more people than on Monday night. The line of marchers really couldn't move much. We chanted.
Instead of a big march around the square, mainly people seemed to settle in the area in front of the courthouse. Everything I saw appeared peaceful in that area. Again, there were large numbers of police on the courthouse steps. This time they were holding large numbers of wrist ties, indicating to us that they planned to do a lot of arrests, I suppose. We could see people posted on top of the courthouse, and I was told they were snipers, but I couldn't get a close enough look to verify that.
Suddenly — and again for no discernible reason — police dressed in riot gear lined up along the intersection where Fountain Circle turns into Southside Square. We heard a siren and then once again, unintelligible talking over some kind of sound system. I was roughly opposite the courthouse steps, and none of us could hear them.
It turned into that game "operator" that kids play. People were passing along information that they had heard, but it wasn't the same information. Some said we were supposed to leave in 4 minutes, others said everybody just had to get off the street and onto the sidewalks.
Toward Clinton, which was blocked also on Monday, there was no riot line of police, but there were some police cars, and it wasn't clear to anyone standing there if that was an exit route. I asked several people if anyone had provided an exit route, as is required, and they said no.
Around that time, some people started coming up to us and reporting that first aid volunteers were being detained and ordered to remove their red cross signs made with tape, on the grounds that they were impersonating doctors. Because of this, the many medical volunteers we had were not identifiable to the crowd.
Several people came to me over the course of the night, because I still had the sign and a red cross on my shirt and backpack. I had put my medical license in with my ID, and I said "let them just try that." But no one did.
We were also told that police on the courthouse roof were targeting medics — that they were pointing out our position. We were warned by several people to watch out because of that.
A few minutes later, people started passing down the word that they were about to start shooting rubber bullets. So the medical team I was with once again went down the stairs towards Big Spring Park, thinking likely that would be the way folks would flee again.
There was an initial rush of folks running down the stairs again, with some screaming, but this was brief and then people went back up again. We were unsure what to do but decided to stay in the park to be ready for their return. We heard chanting.
After some amount of time, which I did not note, because I intentionally left my watch at home, a large crowd of people came screaming, running down those same stairs again into Big Spring Park, being chased by police and we heard shooting of rubber bullets. We ran also. We heard several large explosions that sounded like bombs. We were told it was tear gas. Even though it wasn't really too close to where we were, my eyes did burn.
People passing us said that police had told them we had to leave Big Spring Park, a city park, because it was private property, and that we would be fine if we went across Church Street as long as we didn't get near businesses.
So a lot of us — maybe 100 or so — walked over there. As we were heading there, we saw a large line of patrol cars with lights and sirens on, coming down Church Street, and we wondered if it was ok after all to go there, but they passed by. We were told they were circling the courthouse.
People milled around on the sidewalk area across near Church Street, which is definitely public property, talking, wondering what was next. Again, we stayed in case we needed to give medical help and also because we had never received any instructions from the police about where to go.
We got word that they were loading up large numbers of police into trucks and coming … to do what, we didn't know, but we were worried, so we walked further away from Church Street toward the Von Braun Center area.
We saw a line of police advancing down Clinton and onto Monroe Street, and we were worried we were going to get trapped. A large crowd to the left of us were moving past the art museum, and suddenly there were explosions again and what looked like fireworks aimed at the crowd. I was told it was tear gas.
People were running and screaming and several of us were trying to help wash their eyes. These tear gas explosions happened several times. We thought they were trying to drive us to Monroe Street, but we had also seen troopers marching that way, and we didn't know if we were going to get cornered.
We were still washing people's eyes. Some people were having intense skin reactions to the gas, burning and redness.
One person had been hit so badly in the eyes that they couldn't see to find their ride, so they walked with my group back to where we were parked and got a ride with my friends. It seemed like protesters were mostly dispersing from that end of the park. We heard there were continuing protests on Jefferson Street.
I made it home. That was like being in a war, getting shot at, having gas thrown at us. And once again, one of the scariest parts was that it wasn't clear where to go and be safe from being shot at.
We have to keep showing up for these protests. They are obviously trying to terrorize us into staying home, but we must persist.
The Huntsville police chief is saying that us putting on eye protection and getting out first aid equipment was one of their reasons for gassing and shooting us, because it was a sign we wanted violence.
If I go hiking during hunting season with an orange hat on, am I hoping a hunter will shoot me in the head?
If I lock my car door, am I hoping to have my window broken?
If I wear a mask, am I hoping to get COVID-19?
They had snipers yesterday. If we come wearing bulletproof vests — and no, I don't own one — are they going to shoot us and say well, look what they made us do?
Could it be that we are aware of their weapons and their history of unprovoked brutality and want to protect ourselves while we exercise our First Amendment rights?
Print this piece