Medication Adherence Day Marked by Expert Panel
By Bill Britt
Alabama Political Reporter
MONTGOMERY—On Tuesday —under the banner "I Will"—a panel of leading experts representing health care organizations, pharmacists, health care advocates and legislators held a open forum to discuss the importance of medication adherence and best practices for improving adherence among patients with chronic diseases. The event was sponsored by Prescriptions for a Healthy America, with the goal of advancing medication adherence.
The panel included Dr. Don Williamson, Health Officer for the State of Alabama Senator Billy Beasley, Pharmacist and State Senator, Dist. 28, Rep. Dr. Jim McClendon, House Dist. 50, William Ashmore, CEO, State Employee Insurance Board, Sally Greenberg, Executive Director, National Consumers League and Joel White Executive Director Council for Affordable Health Coverage.
Through the efforts of Sen. Beasley and others March 18 was designated as Medication Adherence Day by a joint Senate and House resolution.
"We're trying to spread the word to patients and consumers about the importance of taking your meds as prescribed, especially if you have a chronic disease. It will keep you healthy," said Greenberg, "and it will keep you out of the hospital."
According to a recent National poll, 40 percent of American adults suffer from some form of chronic illness ranging from diabetes and cancer to heart disease and high blood pressure. According to a study in the New England Journal of Medicine, lack of regular adherence to proper medication use has resulted in higher health care costs and an increase in the prevalence of chronic conditions that directly impact patient health.
"We go to so much trouble and research to create effective medications for our patients and yet, if they don't take them they are not going to help," said Dr. McClendon.
McClendon, the Chair of the House Health Committee has helped craft a new Medicaid plan for the State. He says that this type of awareness is a fundamental key to keeping Alabamians healthy while lowering the cost of healthcare for everyone.
Sen. Beasley, who is a practicing pharmacist said, "bringing the different players together gives us an opportunity to bring awareness to the problem of medication adherence. It is vitally important because it saves healthcare dollars for Medicaid, state employee plans, employer plans, and most importantly, will bring about better health for all the citizens of our state."
State Health Director Dr. Don Williamson says, "The problem with medication non-adherence is three-fold: One if you don't take your medications as prescribed you don't get the benefit of the meds. Two, is the cost. You are paying for meds you're not using AND you will pay the consequences that arise. Thirdly is Drug diversion with controlled substances. This is a bigger problem than illegal drugs. It's not the pusher it's the moms, dads, grandmas and grandpas who have leftover pain meds lying around. People have pain they take the drugs the pain goes away and they hold on to the leftovers. That's just a vehicle for someone to divert those drugs."
According to adhereforhealth.org, at least 125,000 Americans die annually due to poor medication adherence. They report that as adherence declines, emergency room visits increase by 17 percent and hospital stays rise 10 percent among patients with diabetes, asthma, or gastric acid disorder. They also say that poor medication adherence results in 33 percent to 69 percent of medication-related hospital admissions in the United States, at a cost of roughly $100 billion per year.
A 2009 NEHI Research Brief, "Thinking Outside the Pillbox: A System-wide approach to Improving Patient Medication Adherence for Chronic Disease," estimates that total potential savings from adherence and related disease management could be $290 billion annually — 13 percent of health spending.
"This is the type of program that will help us make healthcare work better in Alabama," said McClendon.
Beasley, who passed a Senate resolution declaring March 19, Medication Adherence Day, said that he is fully committed to giving all Alabamians not only the healthcare they need, but also the chance to have the information and education to live a long and healthy life.
Video highlights from the panel can be seen here.
Trump Truck and boat parades this weekend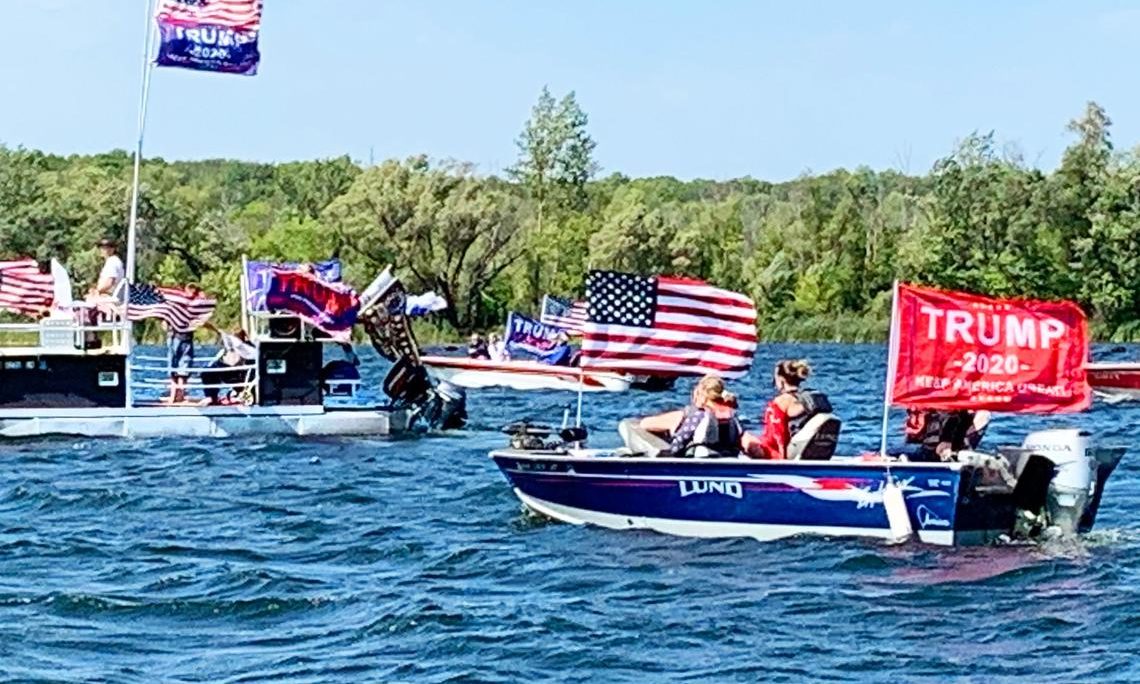 As Election Day draws near, Alabama Republicans are excited about promoting the re-election of Donald J. Trump as President and the election of Tommy Tuberville for U.S. Senate. This weekend two pro-President Trump events are happening in the state. There will be a truck parade from Ashland to Phenix City on Saturday sponsored by the Clay County Republican Party, while there will also be a boat parade on Wilson Lake in the Shoals sponsored by the Colbert County Republican Party on Sunday.
The pickup trucks will assemble at the Ashland Industrial Park in Clay County, 8240 Hwy 9, Ashland. There is a pre-departure rally at 10:00 a.m. central standard time. The trucks will depart at 11:00 a.m. and then proceed on a parade route that will take them into the bitterly contested swing state of Georgia. The Trump Pickup Parade will wind through east Alabama and West Georgia traveling through LaGrange and Columbus before concluding near the Alabama/Georgia line in Phenix City, 332 Woodland Drive, Phenix City at approximately 2:00 p.m. central time. Speakers will begin at 3:00. Trump flags will be on sale at the event.
The Phenix Motorsports Park will be hosting what sponsor hope could possibly the world's largest Pickup Tuck parade in U.S. history that is routing over 50 mile through Georgia in effort to "pickup" President Trump's numbers in GA.
A number dignitaries have been invited to address the Phenix City rally, including Coach Tuberville. Former State Sen. Shadrack McGill, Trump Victory Finance Committee member former State Rep. Perry O. Hooper Jr., and Paul Wellborn, the President and CEO of the largest Family owned Kitchen Cabinet manufacture in the USA are among the featured speakers who have committed to speak at the event.
Entertainment will be provided by: Charity Bowden, an up and coming country music singer who was the runner up on "The Voice". Charity will sing 'I am Proud to be an American' as well as songs from her Voice performances. The McGill Girls will also perform. The three beautiful and talented sisters will be singing patriotic songs in three part harmony. Geoff Carlisle, a professional DJ will be keeping the crowd pumped with music and entertainment.
Following the speakers and the entertainment there will Trump truck-vs- Joe Bidden truck races down the drag strip for the finale.
The Northwest Alabama boat parade will be on Sunday. The boats will gather at 2:00 p.m. near Turtle Point and then the flotilla will parade around the open waters of Wilson Lake til 3_00 p.m.. There will be a contest for best decorated Trump boats.
Trump supporters have held a number of large boat parades across the state to show their support for the re-election of Pres. Trump.
Boat parade sponsors say that this parade will be: pro-American, pro-law enforcement, pro-military.