Sewell urges Alabamians to prepare for Voter Photo ID law

By Brandon Moseley
Alabama Political Reporter
On Tuesday, April 8, Congresswoman Terri A. Sewell (D) from Selma today urged her constituents and all Alabamians to make sure they're ready for the implementation of Alabama's new voter photo ID law, effective in the June 3 primary.
U.S. Representative Sewell reminded voters in a written statement, "It is our responsibility to make sure we are ready for the implementation of this law by June 3.  We cannot sit idly by and watch our friends and neighbors be robbed of the right to vote.  We must spread awareness about the law, and help to make sure that our family and friends get the proper ID they need to vote."
According to information in a statement by the Alabama Secretary of State's office on March 26, the photo voter ID law adopted by the state Legislature will take effect in the first statewide primary of 2014, which is June 3rd.
A voter can use any of the following forms of photo ID at the polls starting June 3, 2014:
. Valid Alabama Driver's License
. Valid Alabama Non-driver ID
. Valid Alabama Photo Voter ID Card
. Valid State Issued ID (Alabama or any other state)
. Valid Federal issued ID
. Valid US passport
. Valid Employee ID from Federal Government, State of Alabama, County, Municipality, Board or other entity of this state
. Valid student or employee ID from a public or private college or university in the State of Alabama (including postgraduate technical or professional schools)
. Valid student or employee ID issued by a state institution of higher learning in any other state
. Valid Military ID
. Valid Tribal ID
If a voter possesses any of these forms of ID, he/she is not eligible to receive a free Alabama photo voter ID card. The voter must bring one of these photo IDs to the polls on Election Day or place a copy of the ID in absentee ballot materials.
Registered voters may also receive a free non-driver ID card for purposes of voting from the Department of Public Safety.
Sewell fears the law will ultimately serve as a form of voter suppression if people aren't made aware of the law and helped through the process of obtaining a photo ID.  Sewell said that the law is discriminatory towards elderly or disabled voters who often don't have a driver's license or other form of photo ID, as well as many low-income and unemployed citizens who may not have a driver's license or photo ID because they don't own a vehicle or have a stable job. She cited the personal story of her father, who has voted with his Social Security card for years.
Congresswoman Sewell said, "Dad suffered several strokes and has been wheelchair bound for a number of years.  He hasn't had a driver's license or other photo ID, and hasn't needed one.  For many years, he has voted with his validly issued social security card, and I believe that should be more than sufficient.  While my dad has my mom and I to take him to the courthouse and make sure he gets the proper ID to vote, many are not as fortunate and will be disenfranchised as a result.  This is simply unacceptable."
In order to obtain a free photo voter ID, individuals will need to bring:
Any expired form of government issued photo ID (Driver's License, Non-Driver ID)
-OR-
ONE non-photo document that contain legal name, date of birth, and current address. Examples: Marriage certificate with date of birth (DOB), insurance showing voting address and DOB.
-OR-
Any Combination or collection of documentation (governmental or otherwise) that has your name, date of birth, and current voting address.
Examples: Birth certificate, final adoption decree, school documents, religious records, naturalization papers, utility bill in YOUR name, any other bill or government document sent to current mailing address
If a voter doesn't have one of the approved forms of photo ID cited in the law, then he or she may receive a free Alabama photo voter ID from various locations statewide, including the Alabama Secretary of State's Office, local county board of registrars' offices, and at mobile locations set up by the Secretary of State.  Sewell is urging Alabamians to take advantage of the mobile site visits that Alabama Secretary of State Jim Bennett (R) set up for the production of free photo voter ID cards.
Secretary of State Jim Bennett says Bennett said that turnout has been good for the photo voter identification cards and is on par with the total number estimated to be made before the primary.
Sec. Bennett said, "In Georgia's first year of implementation, the state made around 2,200 voter ID cards.  That state has twice as many voters as Alabama.  This is a great start and I hope that voters in Alabama will continue to respond to our mobile site visits. I also hope those who do not visit our mobile sites will go to their Board of Registrars office or the Secretary of State's office to get their free photo voter ID if needed."  Alabama issued 260 of the voter IDs in the first week of issuing.
A list of cities across Alabama where voters can get photo voter ID cards during the mobile site visits is posted at www.alabamavoterid.com. For more information on how to receive a free voter ID or to view the mobile site schedule, voters can call 1-800-274-VOTE or go to www.alabamavoterid.com.
Trump Truck and boat parades this weekend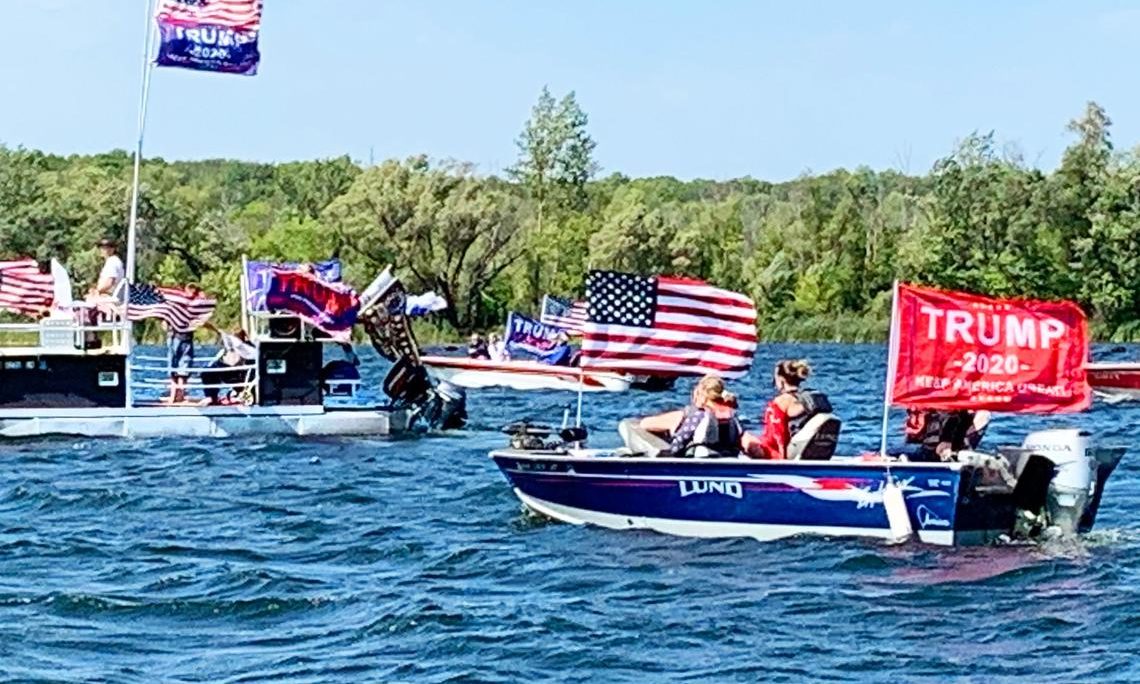 As Election Day draws near, Alabama Republicans are excited about promoting the re-election of Donald J. Trump as President and the election of Tommy Tuberville for U.S. Senate. This weekend two pro-President Trump events are happening in the state. There will be a truck parade from Ashland to Phenix City on Saturday sponsored by the Clay County Republican Party, while there will also be a boat parade on Wilson Lake in the Shoals sponsored by the Colbert County Republican Party on Sunday.
The pickup trucks will assemble at the Ashland Industrial Park in Clay County, 8240 Hwy 9, Ashland. There is a pre-departure rally at 10:00 a.m. central standard time. The trucks will depart at 11:00 a.m. and then proceed on a parade route that will take them into the bitterly contested swing state of Georgia. The Trump Pickup Parade will wind through east Alabama and West Georgia traveling through LaGrange and Columbus before concluding near the Alabama/Georgia line in Phenix City, 332 Woodland Drive, Phenix City at approximately 2:00 p.m. central time. Speakers will begin at 3:00. Trump flags will be on sale at the event.
The Phenix Motorsports Park will be hosting what sponsor hope could possibly the world's largest Pickup Tuck parade in U.S. history that is routing over 50 mile through Georgia in effort to "pickup" President Trump's numbers in GA.
A number dignitaries have been invited to address the Phenix City rally, including Coach Tuberville. Former State Sen. Shadrack McGill, Trump Victory Finance Committee member former State Rep. Perry O. Hooper Jr., and Paul Wellborn, the President and CEO of the largest Family owned Kitchen Cabinet manufacture in the USA are among the featured speakers who have committed to speak at the event.
Entertainment will be provided by: Charity Bowden, an up and coming country music singer who was the runner up on "The Voice". Charity will sing 'I am Proud to be an American' as well as songs from her Voice performances. The McGill Girls will also perform. The three beautiful and talented sisters will be singing patriotic songs in three part harmony. Geoff Carlisle, a professional DJ will be keeping the crowd pumped with music and entertainment.
Following the speakers and the entertainment there will Trump truck-vs- Joe Bidden truck races down the drag strip for the finale.
The Northwest Alabama boat parade will be on Sunday. The boats will gather at 2:00 p.m. near Turtle Point and then the flotilla will parade around the open waters of Wilson Lake til 3_00 p.m.. There will be a contest for best decorated Trump boats.
Trump supporters have held a number of large boat parades across the state to show their support for the re-election of Pres. Trump.
Boat parade sponsors say that this parade will be: pro-American, pro-law enforcement, pro-military.