Del Marsh Complaint over Anti-Corruption Ads Heads to AG
By Lee Hedgepeth
Alabama Political Reporter
Senate Pro Temp Del Marsh has asked that Alabama Secretary of State Jim Bennett to review the legality of advertisements funded by the Alabama Foundation for Limited Government. Bennett, though, has forwarded the complaint to the Office of the Attorney General, saying that as a matter of protocol, that is where enforcement authority ultimately lies.
The Alabama Foundation for Limited Government's advertisements, one of which can be seen here,  focus on alleged corruption in Montgomery, specifically naming Speaker of the House Mike Hubbard, Senate Pro Tem Del Marsh, and Senator Scott Beason by name. The ads cite several news sources, including the Alabama Political Reporter, and then ask the viewer to urge their state legislators to sign the "anti-corruption" pledge. The pledge, which can be viewed here, has been signed by about three dozen candidates and lawmakers statewide, and includes vows like self-imposing term limits and ending all fundraising during the legislative session.
Marsh has heavily criticized the ads, saying that he believes the ads may be illegal under the Fair Campaign Practices Act, pointing to the use of specific candidate names and faces, including his own.
As a result, Senator Marsh forwarded a complaint to Secretary of State Jim Bennett.
"There was a complaint filed by Sen. Marsh. It was not initiated by us," Bennett told Alabama Political Reporter.
"We referred it over to the AG's office to make a determination. As a matter of fact, whenever we get a complaint of any serious nature, we send it over to the AG's office. That is our routine."
The Alabama Foundation for Limited Government is registered as a 501 (c) 4, a social welfare nonprofit not allowed to directly or indirectly campaign in elections under IRS rules. Many groups, though, both Republican and Democratic, use the groups effectively as PACs, with the benefit of not being required to disclose donor names and contribution amounts.
Marsh also has such a nonprofit, commonly known as a "dark money" group. Called the Foundation for Accountability in Education, Marsh has said that the group has raised about $100,000, though he says he won't disclose donor names unless they all agree to do so.
Marsh, an Anniston Republican, says that AFLG's ads are likely funded by the Alabama Education Association, the state's teachers' professional association.
This claim is also advanced elsewhere on websites and advertisements paid for by Marsh's Foundation for Accountability in Education, though nowhere is any actual evidence offered to support the claim.
Former state legislator John Rice is the metaphorical "man behind the curtain" at AFLG, and he is hardly an AEA liberal. Rice was elected to the Alabama House in 1982 (as a Republican), and won a seat in the state Senate in 1986. He unsuccessfully ran as the GOP nominee for US Senate against Democrat Glen Browder in 1990, and got campaign advice from the right wing hardliner Lee Atwater, a Nixon and Bush campaign consultant known for – effectively – the Southern Strategy.
Marsh's groups though, seem to be more racially divisive at this point. Despite – to his point – Marsh's ads not including any Alabama candidates, they all include President Obama, and the only people featured negatively on his "dark money" website, conservativesforalabama.org, are African-American: Jesse Jackson, Al Sharpton, and the President.
Since the GOP takeover of the Alabama legislature in 2010, state Democrats, including, famously, State Senate Minority Leader Vivian Figures, have said that some Republican candidates have played up racial tones in elections by running not against their local opponents, but against President Obama and others.
Some completely anonymous advertisements and direct mail have been popping up as well – on both sides of the Marsh – Rice as wars.
On Marsh's side is this video, which does not note affiliation with any group. It directly names John Rice, features his face, and makes broad claims about connections to the AEA.
On the side opposite, according to the Anniston Star, direct mail has been sent out in some legislative districts attributed to the Foundation for Education Accountability, a clear play on the name of Marsh's group, featuring connections between Marsh and the Poarch Creek Indians.
According our coverage here at APR, Marsh approached PCI for nearly half a million dollars in campaign contributions. Our story can be seen here.
As for the legality of the ads, within 120 days of elections, there are some restrictions, including on naming and featuring candidates, which the Rice – but not the Marsh – ads do.
"The difference here is pictures and names right before an election," SOS Bennett told APR.
However, it is unlikely that any of the ads would be considered illegal, as none of them directly ask for the viewer to vote or affect any election whatsoever. Without that explicit call for action, it is likely the videos will continue to play.
Notably, Secretary of State Bennett has forwarded issues to the Attorney General before – with no end result – including concerning enforcement of campaign finance report filing requirements for state candidates. Alabama Political Reporter covered that issue here.
Despite possible AG inaction on such matters, Bennett that the Secretary of State's office has done its duty.
"I don't have an axe to grind in this matter other than to make sure that the Fair Campaign Practice Act upheld," he said.
As for Senator Marsh's dark money ads, the Secretary of State says there have been no complaints as of yet:
"If there was a complaint made against Marsh foundation then we would would pass it along."
Three mental health crisis centers coming to Mobile, Montgomery and Huntsville
"Today marks a culture change in Alabama for treatment of individuals with mental illness and substance use disorders," Mental Health Commissioner Lynn Beshear said.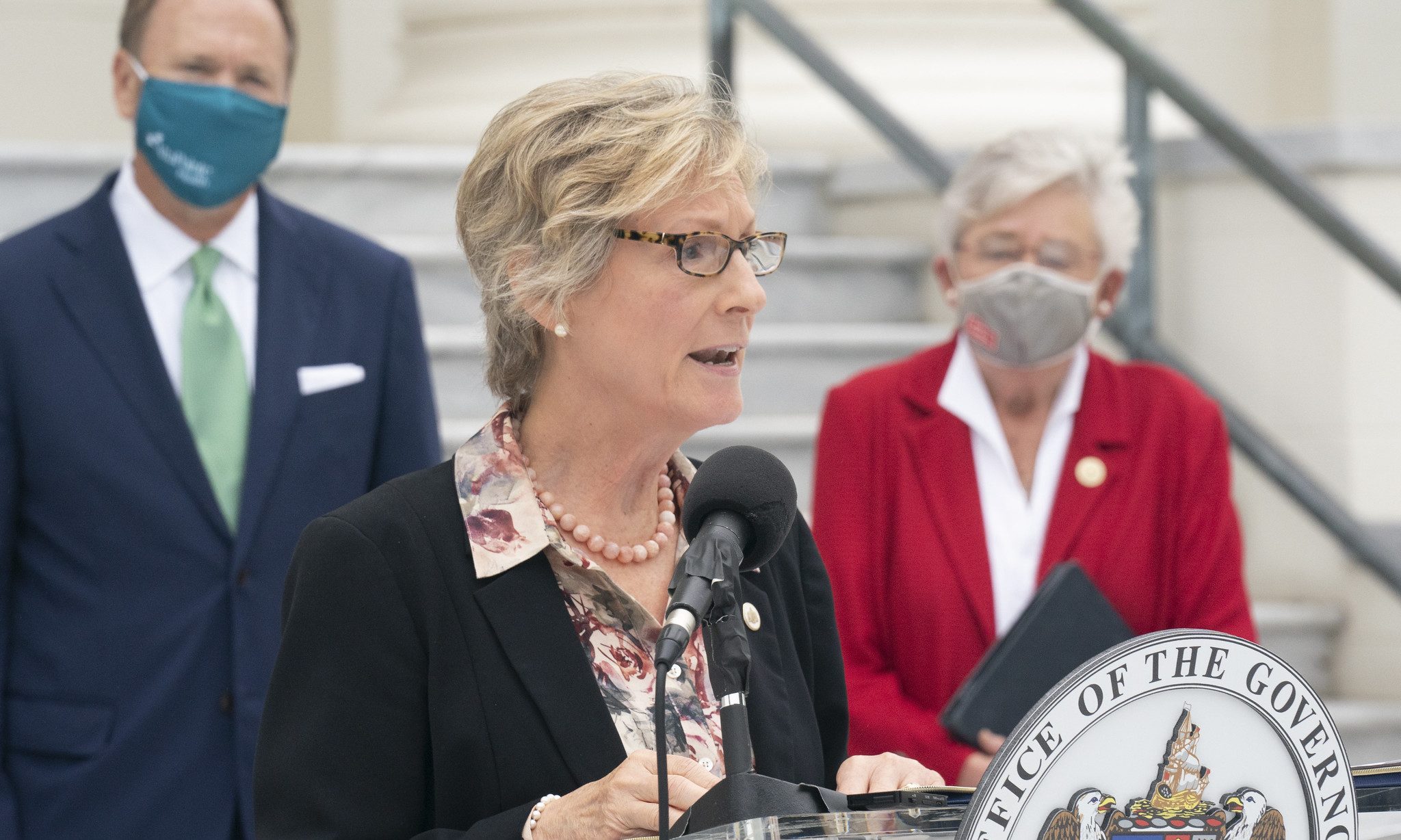 Gov. Kay Ivey on Wednesday announced an $18 million project to create three new mental health crisis centers to be located in Mobile, Montgomery and Huntsville. 
These centers, once in operation, will reduce the number of people suffering from mental health crises who are hospitalized or jailed, Ivey said during a press briefing in front of the Capitol Building in Montgomery. 
"When these facilities are open and fully staffed, these centers will become a safe haven for people facing mental health challenges," Ivey said. 
Lynn Beshear, commissioner of the Alabama Department of Mental Health, said during the briefing that the centers will provide "recovery based" care with "short term stays of a few hours, or up to a few days, to provide treatment, support, and connection to care in the community." 
"Today marks a culture change in Alabama for treatment of individuals with mental illness and substance use disorders," Beshear said. 
Beshear said AltaPointe Health in Mobile will operate one of the three facilities, and once built it is to serve Mobile, Baldwin, Clarke, Conecuh, Escambia, Monroe and Washington counties with 21 new beds, including 15 temporary observation beds. Altapointe will begin with a temporary space while constructing the new facilities, she said. 
Beshear said the Montgomery Area Mental Health Authority is partnering with the East Alabama Mental Health Authority and the Central Alabama Mental Health Authority to serve the 11 counties in Region 3 with 21 new beds, including 10 temporary observation and respite beds. 
"The regional crisis center will be located in Montgomery, and will be open to walk-ins and for drop off by law enforcement, first responders and referrals from emergency rooms," Beshear said. 
Wellstone Behavioral Health in Huntsville was selected to open the third center, and will do so at a temporary site while a new facility is being built, with the help of an additional $2.1 million from local governments, Beshear said. That facility will eventually have 39 beds, including 15 for temporary observation and 24 for extended observation.
"There's not a day that goes by that after-hours care is not an issue in our state," said Jeremy Blair, CEO of Wellstone Behavioral Health, speaking at the press conference. "And so I applaud the Department of Mental Health and the leaders for their efforts in recognizing that and taking it a step further and funding our efforts here." 
Asked by a reporter why a center wasn't located in Jefferson County, one of the most populous counties with a great need for such a center, Ivey said those residents will be served in one of the other regions. 
"Plans are underway to continue this effort. Today's beginning, with these three crisis centers, is just the beginning," Ivey said. 
Ivey added that request for proposals were sent out for these three centers and "it was a strong competition for the location of these three crisis centers." 
Alabama House Majority Leader Nathaniel Ledbetter, R-Rainsville, said during the briefing that more than a year ago, Ivey asked him what the state should be looking at, and that he replied "we're failing miserably in mental health."
Ledbetter said Ivey asked him to take on the challenge of correcting the state's response to mental health, and a team was created to do just that. 
"Working together, today's announcement will not only change Alabamians lives, but will help to save lives," Ledbetter said.