Manufacture Alabama and Steel Industry Leaders Show Support for DeMarco
By Brandon Moseley
Alabama Political Reporter
State Representative Paul DeMarco (R) from Homewood has been building momentum for his campaign for Congress representing Alabama's Sixth District.  On April 4 leaders of Birmingham's iron and steel industry and members of Manufacture Alabama held a fundraising luncheon at the U.S. Steel offices in Hoover.
Manufacture Alabama President George Clark said in a written statement, "Rep. DeMarco has been a leader and an advocate for manufacturing since being elected to the Alabama House of Representatives in 2005.  Rep. DeMarco was the House sponsor of the Metal Coil Securement Act that made Alabama's roads safer."
Rep. DeMarco said, "The companies and people that make up Manufacture Alabama keep this State working. These companies and their workers deserve a federal government that does not strangle companies with punitive regulations. We must fight for conservative, common-sense support in Washington for Alabama manufacturers and their employees."
Rep. DeMarco is also the sponsor of the Taxpayer Bill of Rights that established a separate tax judiciary known as the Tax Appeals Commission, removing the existing Administrative Law Judge from the Department of Revenue. Gov. Robert Bentley signed this bill into law March 4, 2014.
DeMarco was recently on the long list of candidates endorsed by the political arm of the powerful Alabama Retail Association, RetailPAC.
Alabama Retail Chairman George Wilder said, "The Alabama Retail Association believes these candidates understand the issues retailers face and that, if elected, these individuals will give retailers' interests a fair hearing.
Rep. DeMarco's campaign announced on Friday that it will report raising more than $484,000 in the first quarter of 2014, making his total contributions to date more than $850,000.
Rep. DeMarco said in a prepared statement, "The people of Alabama's Sixth District have embraced our campaign for conservative, common sense leadership in Congress.  The people standing with this campaign are not the special interests of Washington, but hard-working Alabamians looking for people of courage willing to fight for what we believe, no matter what."
Rep. DeMarco is reporting that more than 1,200 individuals have contributed to the campaign. Contributions range from $5 to the maximum $2,600 allowed by an individual under federal elections law.  Nearly 97-percent of the contributions have come from Alabama.
DeMarco is currently the Chairman of the House Judiciary Committee, co-chair of the Jefferson County Delegation and is on the Joint Oversight Committee for the Alabama Homeland Security Agency.
Manufacture Alabama is Alabama's only trade association dedicated exclusively to the competitive, legislative, regulatory and operational interests and needs of manufacturers and their partner industries and businesses.
Rep. DeMarco is a two-term state representative.  DeMarco is running for the Republican nomination for Alabama's Sixth District.  The seat is currently being represented by U.S. Rep. Spencer Bachus (R) from Vestavia.  Congressman Bachus is retiring after 11 terms in the U.S. House of Representatives.
Alabama Policy Institute co-founder and former President Gary Palmer, longtime Harbert executive Will Brooke, prominent Pelham mattress manufacturer Tom Vigneulle, Indian Springs orthopedist Dr. Chad Mathis, Gardendale State Senator Scott Beason and Robert Shattuck are all running in Alabama's Sixth Congressional District Republican Primary.
The winner of the June 3rd Republican Primary will face Democrat Avery Vise in the November general election.  Longtime incumbent Spencer Bachus (R) from Vestavia is not seeking another term.
Trump Truck and boat parades this weekend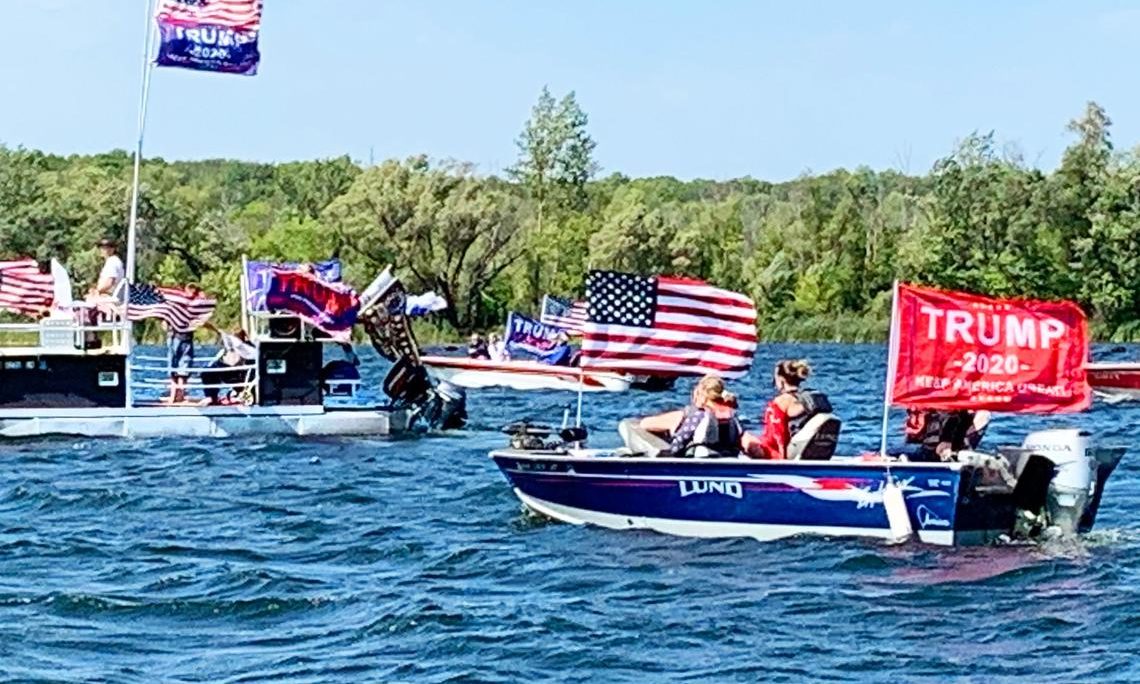 As Election Day draws near, Alabama Republicans are excited about promoting the re-election of Donald J. Trump as President and the election of Tommy Tuberville for U.S. Senate. This weekend two pro-President Trump events are happening in the state. There will be a truck parade from Ashland to Phenix City on Saturday sponsored by the Clay County Republican Party, while there will also be a boat parade on Wilson Lake in the Shoals sponsored by the Colbert County Republican Party on Sunday.
The pickup trucks will assemble at the Ashland Industrial Park in Clay County, 8240 Hwy 9, Ashland. There is a pre-departure rally at 10:00 a.m. central standard time. The trucks will depart at 11:00 a.m. and then proceed on a parade route that will take them into the bitterly contested swing state of Georgia. The Trump Pickup Parade will wind through east Alabama and West Georgia traveling through LaGrange and Columbus before concluding near the Alabama/Georgia line in Phenix City, 332 Woodland Drive, Phenix City at approximately 2:00 p.m. central time. Speakers will begin at 3:00. Trump flags will be on sale at the event.
The Phenix Motorsports Park will be hosting what sponsor hope could possibly the world's largest Pickup Tuck parade in U.S. history that is routing over 50 mile through Georgia in effort to "pickup" President Trump's numbers in GA.
A number dignitaries have been invited to address the Phenix City rally, including Coach Tuberville. Former State Sen. Shadrack McGill, Trump Victory Finance Committee member former State Rep. Perry O. Hooper Jr., and Paul Wellborn, the President and CEO of the largest Family owned Kitchen Cabinet manufacture in the USA are among the featured speakers who have committed to speak at the event.
Entertainment will be provided by: Charity Bowden, an up and coming country music singer who was the runner up on "The Voice". Charity will sing 'I am Proud to be an American' as well as songs from her Voice performances. The McGill Girls will also perform. The three beautiful and talented sisters will be singing patriotic songs in three part harmony. Geoff Carlisle, a professional DJ will be keeping the crowd pumped with music and entertainment.
Following the speakers and the entertainment there will Trump truck-vs- Joe Bidden truck races down the drag strip for the finale.
The Northwest Alabama boat parade will be on Sunday. The boats will gather at 2:00 p.m. near Turtle Point and then the flotilla will parade around the open waters of Wilson Lake til 3_00 p.m.. There will be a contest for best decorated Trump boats.
Trump supporters have held a number of large boat parades across the state to show their support for the re-election of Pres. Trump.
Boat parade sponsors say that this parade will be: pro-American, pro-law enforcement, pro-military.