Bennett Urges Alabama to Join Compact of States Checking for Voter Duplication
By Brandon Moseley
Alabama Political Reporter
Based on recent evidence of double voting discovered in North Carolina, Alabama Secretary of State Jim Bennett (R) urged on Tuesday that Alabama legislators pass a bill allowing his office to exchange voter lists with other states to check for duplications.
Legislation that would have done that was sponsored by State Representative John Merrill (R) from Tuscaloosa in the last session.  It passed the Alabama House of Representatives but died in the Alabama Senate.  Secretary Bennett said that he remains committed to the plan under which a compact of 28 states exchange lists to look for duplicate voters.  Alabama law currently only allows the secretary of state to sell the voter list to other states for a penny a name, which with about 3 million voters, amounts to approximately $30,000.
Sec. Bennett said, "The idea in the exchange is not to make money, but to check for voter fraud," Bennett said. "It is time Alabama joined the compact of states where cross-checks are made possible."
Sec. Bennett said that many Alabamians have vacation homes in Florida, so cross-checking there and in Georgia would be highly practical.  Florida joined the compact in 2013.  Every state surrounding Alabama is already a compact member.
Sec. Bennett said, "It is important to note this is not a capricious elimination of voters from the voter list.  If a duplication is found, we still must follow the law and the steps we would regularly take in order to remove a voter from the voter list."
North Carolina Elections Director Kim Strach and her staff reported that they have identified 765 registered voters through the compact who appear to have cast ballots in two states during the 2012 presidential election.  Stauch said the first and last names, birthdates and the last four digits of their Social Security numbers appear to match information for voters in another state. The investigation is on-going to make sure that the duplicates are not clerical errors.
The North Carolina state legislature mandated last year that North Carolina join the "Interstate Crosscheck" – a compact of 28 states that agreed to check their voter registration records against those of other states. The program is run by a Kansas consortium that checks 101 million voter records in the 28 compact states.
Secretary of State Jim Bennett was appointed by Alabama Governor Robert Bentley (R) when Secretary Beth Chapman resigned to accept a position with ALFA over the summer.  Chapman was term limited from seeking a third term as Secretary of State.
Rep. John Merrill, former Montgomery County Probate Judge Reese McKinney, and Crenshaw County Probate Judge Jim Perdue are all running in the June 3rd Republican Primary for Secretary of State.
Trump Truck and boat parades this weekend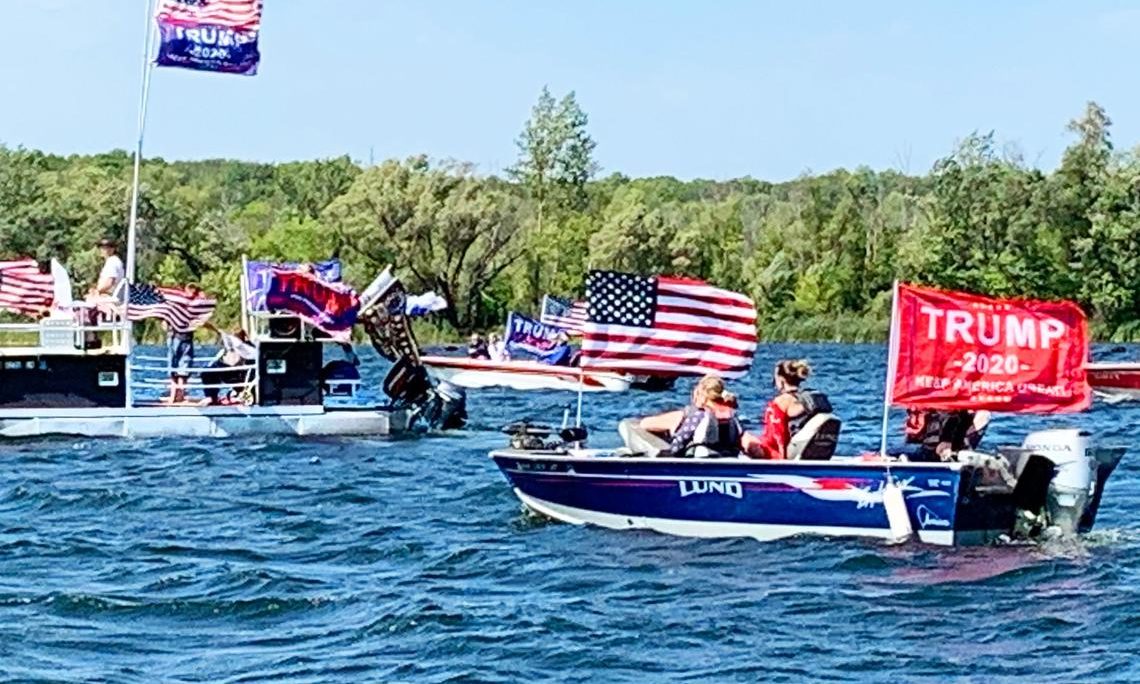 As Election Day draws near, Alabama Republicans are excited about promoting the re-election of Donald J. Trump as President and the election of Tommy Tuberville for U.S. Senate. This weekend two pro-President Trump events are happening in the state. There will be a truck parade from Ashland to Phenix City on Saturday sponsored by the Clay County Republican Party, while there will also be a boat parade on Wilson Lake in the Shoals sponsored by the Colbert County Republican Party on Sunday.
The pickup trucks will assemble at the Ashland Industrial Park in Clay County, 8240 Hwy 9, Ashland. There is a pre-departure rally at 10:00 a.m. central standard time. The trucks will depart at 11:00 a.m. and then proceed on a parade route that will take them into the bitterly contested swing state of Georgia. The Trump Pickup Parade will wind through east Alabama and West Georgia traveling through LaGrange and Columbus before concluding near the Alabama/Georgia line in Phenix City, 332 Woodland Drive, Phenix City at approximately 2:00 p.m. central time. Speakers will begin at 3:00. Trump flags will be on sale at the event.
The Phenix Motorsports Park will be hosting what sponsor hope could possibly the world's largest Pickup Tuck parade in U.S. history that is routing over 50 mile through Georgia in effort to "pickup" President Trump's numbers in GA.
A number dignitaries have been invited to address the Phenix City rally, including Coach Tuberville. Former State Sen. Shadrack McGill, Trump Victory Finance Committee member former State Rep. Perry O. Hooper Jr., and Paul Wellborn, the President and CEO of the largest Family owned Kitchen Cabinet manufacture in the USA are among the featured speakers who have committed to speak at the event.
Entertainment will be provided by: Charity Bowden, an up and coming country music singer who was the runner up on "The Voice". Charity will sing 'I am Proud to be an American' as well as songs from her Voice performances. The McGill Girls will also perform. The three beautiful and talented sisters will be singing patriotic songs in three part harmony. Geoff Carlisle, a professional DJ will be keeping the crowd pumped with music and entertainment.
Following the speakers and the entertainment there will Trump truck-vs- Joe Bidden truck races down the drag strip for the finale.
The Northwest Alabama boat parade will be on Sunday. The boats will gather at 2:00 p.m. near Turtle Point and then the flotilla will parade around the open waters of Wilson Lake til 3_00 p.m.. There will be a contest for best decorated Trump boats.
Trump supporters have held a number of large boat parades across the state to show their support for the re-election of Pres. Trump.
Boat parade sponsors say that this parade will be: pro-American, pro-law enforcement, pro-military.