St. Clair Bass Tournament Saturday
By Brandon Moseley
Alabama Political Reporter
On Saturday, April 19, 2014 the St. Clair County Republican Party will be holding their 17th annual Logan Martin Classic Bass Tournament.
St. Clair County Republican Party Chairman Lance Bell said, '"We have the Bass Tournament this Saturday and we will need assistance with it."
Mike Fricker who is in charge of the bass tournament committee said, "One of the things that make the St. Clair Republican Party jump out is the bass tournament," and the scholarships awarded because of it.
The tournament is sponsored by the St. Clair County Republican Party and the proceeds fund the Party's youth college scholarship program.
Ten College Scholarships were awarded last year and thirteen in 2012.
Mike Fricker, Jane Bishop, and St. Clair County Deputy Freddie Turrentine head the St. Clair County Bass Tournament Committee.  This year's event will be at Lakeside Landing on Highway 231 South in Pell City, Alabama.  Fricker said that the bass tournament has become a big thing in St. Clair County.  This is the 18th year that the St. Clair County Republican Party has held the bass tournament to raise money for college scholarships for St. Clair County students.  Typically there are 85 to 90 boats participating with two people to a boat.  To date the Republican Party Bass Tournament has awarded over $300,000 in scholarships.
2014 Gold Sponsors include: U.S. Senator Jeff Sessions (R), Congressman Mike Rogers (R), and Buckner Barrels Sales Corporation.  Fricker praised Senator Sessions for being such a strong supporter of the bass tournament over the years.
There are still boat sponsorship opportunities.
Judge Phil Seay (R) said that boat sponsorships are what really drives the scholarships as most of the boat entry fee money goes toward the prizes and expenses.
The St. Clair County Republican Party still needs volunteers for the annual event.
The entry fee is just $150 per boat.
First Place pays $2000.  The 2nd place prize is $1000, 3rd place pays $500, fourth place pays $400, the 5th thru 9th place finishers win $375, 10th thru 12th take home $200, 13th thru 15th $200, and 16th thru 20th win $150.
Tournament hours are from first light to 3:00 pm.
There is a five fish limit per boat.  Only largemouth bass, smallmouth bass, and spotted bass will be counted and their will be an 8 ounce penalty assessed for any and each fish that are dead at the weigh station.
Sponsorships start at $250 and are tax deductible.  Gold sponsorships start at $1000.  Your sponsorship/contribution will help some young man or woman achieve their goal of a college or trade school education.
To enter the tournament or sponsor contact Freddie Turrentine at 205-640-3692 or Mike Fricker at 205-525-4029
Alabamians request more than 101,000 absentee ballots with 30 days left to apply
So far, 35,184 absentee ballots have been successfully returned for the general election.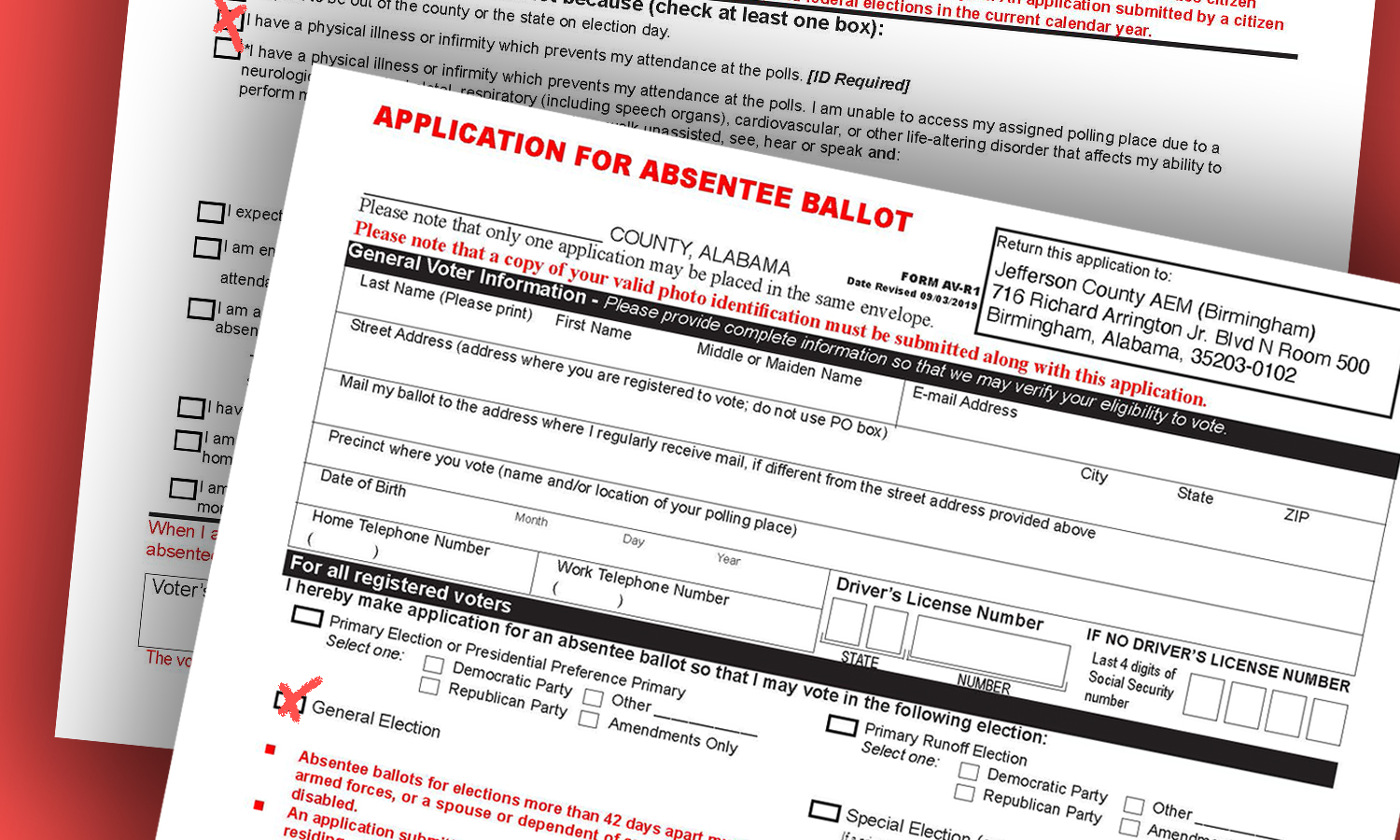 At least 101,092 absentee ballots have been requested so far in Alabama according to Secretary of State John Merrill, with just 30 days left to apply for an absentee ballot for the Nov. 3 General Election. So far, 35,184 absentee ballots have been successfully returned for the general election.
In order to protect the safety and well-being of voters, Merrill is encouraging those who are concerned about contracting or spreading the coronavirus to apply for and cast an absentee ballot.
Absentee ballot applications can be downloaded online or requested by visiting or calling your local absentee election manager's office.
Voters may also contact the Secretary of State's office at 334-242-7210 to request an absentee ballot application.
Due to the declared states of emergency, any qualified voter who determines it is impossible or unreasonable to vote at their polling place shall be eligible to check the box on the absentee ballot application that is most applicable to that individual. In the case none of the boxes are appropriate, voters can check the box which reads, "I have a physical illness or infirmity which prevents my attendance at the polls. [ID REQUIRED]"
For the Nov. 3 General Election, the deadline to register to vote is Monday, Oct. 19, the deadline to submit an absentee ballot application is Thursday, Oct. 29, the deadline to return an absentee ballot to the absentee election manager is the close of business Monday, Nov. 2, and the last day to postmark an absentee ballot is Monday, Nov. 2.
Voters who are eligible to vote pursuant to the Uniformed and Overseas Absentee Voting Act will have until Tuesday, Nov. 3 to postmark an absentee ballot.
Voters concerned about COVID-19 are encouraged to select the box on the affidavit, which accompanies the absentee ballot, which reads as follows: "I am physically incapacitated and will not be able to vote in person on election day."
Due to recently witnessed delays with the U.S. Postal Service, Merrill encourages voters interested in returning their ballot by mail to go ahead and make application for their absentee ballot. As a reminder, Merrill worked with the Legislature last year to pass Act 2019-507, allowing voters the opportunity to return their absentee ballot by commercial carrier in addition to U.S. mail.