Dr. Mathis Addresses Republican Women of Trussville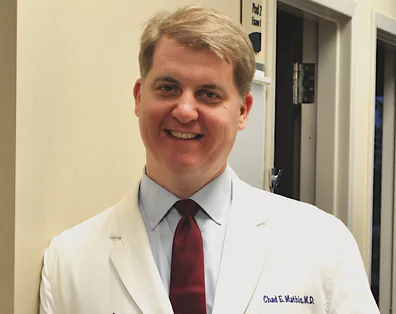 By Brandon Moseley
Alabama Political Reporter
On Thursday, May 1, Dr. Chad Mathis (R), who is running for the Sixth District Congressional seat, spoke at the monthly meeting of the influential Republican Women of Trussville, who were meeting at the Grayson Valley Country Club in the Trussville/Clay area.
Dr. Chad Mathis said that he is running for Congress, "…because I am living the American dream."  Mathis said that he is the first person in his family to go to college.  He married his wife Angie and they have two wonderful kids.  He worked his way through medical school and today, "We have a great life, but the American Dream is under attack from Obamacare and the National debt.  Some people are questioning whether the American dream is even real anymore."
Mathis said, "The President lied to us.  He said if we liked our plan, if we liked our doctor we could keep them: that simply wasn't true.  This wasn't about healthcare this was about power and control."
Dr. Mathis said that Obamacare put the IRS in charge of our healthcare and created a disincentive to work.
Dr. Mathis said that we do need healthcare reform and that he has written a 12 point plan to replace Obamacare that includes giving patients control of their own healthcare decisions and Health Savings accounts (HSAs).
Mathis said that the National debt is another challenge.  "We are over $17 trillion in debt. We all have to balance our budgets in our homes and businesses why doesn't the Federal government have to balance its budget?"
Dr. Mathis said, "I am just a doctor and a dad.  I am willing to give up my practice to go to Washington to fight for you, my fellow conservatives."
Dr. Mathis is running in a crowded District Six field that includes: State Representative Paul DeMarco (R) from Homewood, prominent longtime Harbert Executive Will Brooke, State Senator Scott Beason (R) from Gardendale, the owner of Royal Mattress Manufacturing in Pelham mattress Tom Vigneulle, retired attorney Rob Shattuck, and Alabama Policy Institute co-founder and longtime President Gary Palmer.
Dr. Chad Mathis is an Indian Springs orthopedist who co-founded the Alabama Joint and Bone Clinic.
Dr. Chad Mathis has garnered a number of prominent endorsements.  To this point Dr. Mathis has been endorsed by: U.S. Senator Mike Lee (R) from Utah, the National Association for Gun Rights, Gun Owners of America, the Senate Conservatives Fund, the Honorable Ken Blackwell, FreedomWorks PAC, the Madison Project, Citizens United Political Victory Fund, RedState, Club for Growth, the Alabama Orthopedic Society, the Alabama State Society of Anesthesiologists, Congressman Andy Harris (M.D.), Congressman Phil Roe (M.D.), Congressman Michael Burgess (M.D.), and Commander Kirk Lippold, U.S. Navy (Ret.).
Longtime Sixth Congressional District incumbent Spencer Bachus (R) from Vestavia is not seeking re-election.  Rep. Bachus has served the Sixth District for 11 terms in the U.S. Congress.
The Republican Primary is June 3.
The eventual Republican Party nominee will still have to face Democrat Avery Vice in the November General Election.
USDA is seeking rural energy grant applications
The deadlines to apply for grants is Feb. 1, 2021, and March 31, 2021. Applications for loan guarantees are accepted year-round.
United States Department of Agriculture Deputy Under Secretary for Rural Development Bette Brand on Wednesday invited applications for loan guarantees and grants for renewable energy systems, and to make energy efficiency improvements, conduct energy audits and provide development assistance.
The funding is being provided through the USDA's Rural Energy for America Program, which was created under the 2008 Farm Bill and reauthorized under the 2018 Farm Bill. This notice seeks applications for Fiscal Year 2021 funding.
The deadlines to apply for grants is Feb. 1, 2021, and March 31, 2021. Applications for loan guarantees are accepted year-round.
REAP helps agricultural producers and rural small businesses reduce energy costs and consumption by purchasing and installing renewable energy systems and making energy efficiency improvements in their operations.
Eligible systems may derive energy from wind, solar, hydroelectric, ocean, hydrogen, geothermal or renewable biomass (including anaerobic digesters).
USDA encourages applications that will support recommendations made in the Report to the President of the United States from the Task Force on Agriculture and Rural Prosperity to help improve life in rural America.
Applicants are encouraged to consider projects that provide measurable results in helping rural communities build robust and sustainable economies through strategic investments.
Key strategies include achieving e-Connectivity for rural America, developing the rural economy, harnessing technological innovation, supporting a rural workforce and improving quality of life. For additional information, see the notice in the Federal Register.