ValleyFest Scheduled for Saturday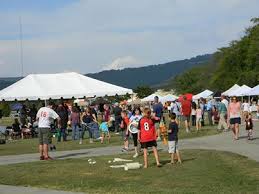 By Brandon Moseley
Alabama Political Reporter
The South Huntsville Civic Association (SHCA) Spring 2014 ValleyFest will be held on Saturday, May 17.  The event was moved from Saturday, May 10 to Saturday, May 17, because of concerns about the weather.
Spring 2014 ValleyFest will be held this Saturday, May 17 from 10 AM – 7 PM at Jones Farm Park on 4 Mile Post Road.
In a written statement the SHCA announced, "Wednesday evening, the SHCA Board of Directors made the difficult decision to re-schedule ValleyFest. We've been in contact with local meteorologist, Brad Travis, as well as following other weather forecasts. Friday and Saturday look like a complete wash out. With deadlines looming for changing our contract dates for equipment rental, etc., a decision had to be made.   ValleyFest has been rescheduled for Saturday, May 17th. Our decision was based on the belief that a delayed date with nice weather would be much more fun than a wet day in the park."
The SHCA has been serving the greater South Huntsville Community since 2009.
ValleyFest is a free event, located in Jones Farm Park.
The SHCA announced that there will be: 90 arts, crafts and business vendors on display and selling items and three staging areas which will host bands and entertainment throughout the day.  Seminole Strut will be performing from 4 PM to 6 PM, the Deltones will perform from 2:30 PM to 4 PM, state Representative Mike Ball (R) and& the Madison Mountaintop Band will be performing from 12:30 PM to 2 PM.  More bands will be announced early next week.  Food will be sold by vendors including the Rollin Lobstah food truck.
The Alabama Pain Center is sponsoring the Alabama Pain Center Stage, located at the south side of the park.  Several ValleyFest sponsors are offering free drawings including a flat screen TV being offered by Bentley Hyundai.  Soohoo and Associates with Cruise One will be giving away travel sets.  South Huntsville Living will hold a drawing for an 18×24 canvas art print.  John Blue Realty will hold many door prize drawings at the Lendon Tent.
In addition to stage performances, Mickey, Minnie and Sponge Bob will join the event courtesy of Soohoo and Associates with CruiseOne.   Jugglers and a balloon clown will be roaming the park, courtesy of John Blue Realty / Lendon.  The TN Valley Ukulele Club will be performing as well and is inviting the public to join in.  Artist, Chandler Hayes will create his unique style of graffiti art throughout the day. The Young Marines will be painting faces and coloring hair with hairspray.  Soccer Shots will provide interactive soccer demonstrations.
SHCA is sponsoring The Art of Motherhood Photo Contest and fundraiser. This contest is open to all. Prizes include one week in a SeaScape condo in Destin, FL and a one night stay at the Westin Huntsville.
Last Conversations: Dr. Frank Lockwood
At the time of those texts, I had no clue that I'd never speak with my brother again.
My brother, Frank Lockwood, was a family practice doctor with an office in McDonough, Georgia. Frank was a great doctor, who used his intelligence, compassion and humor to improve the lives of his patients. And, even though he was great at his job, the practice of medicine, in many ways, just paid the bills.
Above all else, Frank wanted to be an entertainer. He submitted video applications to participate on "Survivor" and even got a call-back for "The Mole." The highlight of his 15 minutes of fame was his disastrous appearance on "Who Wants to Be a Millionaire." (Google: Worst. Audience. Ever. On. Millionaire.)
Locally, Frank was a founding member of Atlanta's Village Theatre, an improv comedy group.
In short, Frank was highly intelligent and wickedly funny. So, I was dismayed when he called me in early July, and I couldn't recognize his voice. Frank told me that he'd contracted coronavirus from one of his patients and had been sick for several days. The cadence and rhythm of his voice were clearly Frank, but the pitch was all wrong. I assume the coughing had wreaked havoc on his vocal cords.
I am an employment lawyer. I defend employers who are getting sued by their employees. In my younger days, I defended plenty of employers who were sued for workers' compensation benefits — monetary and medical benefits provided to employees who are injured on-the-job.
Thus, in my role as the Lockwood Family Consigliere, Frank wanted to know if he could receive workers' compensation benefits from his employer because he caught coronavirus at work. We discussed the intricacies of a workers' compensation claim, and Frank hung-up, promising to think about the issue further.
My next communications with my brother were my last. On July 3, 2020, at 5:36 a.m., I received this text from him: Wanna work comp these folks to death. I'm in micu now.
MICU is the intensive care unit.  I was asleep at 5:36 a.m., but I texted back at 7:40: Glad to see the 'rona has not dampened your spirit. Want me to get you a lawyer?
His response: Yep.
At the time of those texts, I had no clue that I'd never speak with my brother again. He was 52 and in good physical shape with no co-morbidities. He was a patient in a hospital where he knew all of the physicians treating him. I knew a few people who contracted the disease and recovered. Everything I read led me to believe that my brother would have a fight but would recover.
It didn't work out that way. Frank was sedated, placed on a ventilator and temporarily rallied. The greatest tragedy is that he was removed from the ventilator and briefly conscious on July 13, but his husband, Bernie, did not get a chance to speak with him.
Frank's immune system turned on him with a "cytokine storm." He was returned to the ventilator and struggled for the next three weeks. I am thankful that I was able to be present, along with Bernie and our brother, Chris, when he passed away on Aug. 5.
As we walked out of the hospital that day, an announcement was made over the facility intercom that a patient was leaving for home. And then they played Pharrell's "Happy." In hindsight, I'm pretty sure that song was for somebody else. But at that moment Bernie, Chris and I simultaneously bawled and laughed. To us, it was like Frank Lockwood, the entertainer, had chosen his own exit music.
I've got a lot of regrets about my relationship with my brother and my last words with him. But, I promise you this: We have retained counsel in Georgia, and we are gonna work comp those folks to death.