After Tuesday's Republican Primary, Remember The Alamo
By Bill Britt
Alabama Political Reporter
Many people had hoped that Tuesday's Republican primary would be a day of reckoning for Speaker of the House Mike Hubbard and his cronies.
Hubbard won his election with under 3000 votes in a District that has over 20,000 voters. A very small percentage of the people in his district actually voted for the proclaimed, "most powerful man in Alabama politics."
Even with the help of former Gov. Bob Riley, US Congressman Mike Rogers and BCA Chief Billy Canary going door-to-door on his behalf, Hubbard received less votes than almost any other legislator running in the primary.
This does not sound like an all powerful man or a sixteen year incumbent. This is a man barely hanging on to his job.
After his win, Hubbard crowed to the press that the Lee County Grand Jury investigations were just a distraction, used by his rivals, insisting that he was innocent. Hubbard, said, "Obviously, I can't go too much into it, and they know that I can't go too much into it…But it's all political and designed to affect this election. Hopefully this will send a pretty clear message to those folks as well."
"Those folks," are Attorney General Strange, Van Davis, and Matt Hart. He wants them to believe that he is all powerful.
A few thousand votes may win an election, but that doesn't make him more powerful than our justice system. No man is above the law.
On Tuesday, Hubbard lost 6 House seats that belonged to his loyal confederates. This included Rep. Charles Newton of Greenville, Rep. Kurt Wallace of Chilton County, Rep. Bill Roberts of Jasper, Rep. Richard Baughn of Walker County, Rep Wayne Johnson of Madison County and another Hubbardite Rep. Mac Buttram of Cullman is in a run-off. Additionally Republican Issac Whorton of Valley beat the speaker's hand-picked candidate Randy Price to replace incumbent Rep. DuWayne Bridges.
These losses, coupled with a growing dissatisfaction among incumbents, could cost Hubbard his Speaker's gavel.
Many of the House legislators first elected in 2010, have appeared before the Grand Jury in Lee County. Surely some of them no longer feel a loyalty to Hubbard.
His arrogance in staring down the State's Attorney and his appointed prosecutors cannot sit well with the men and women charged with upholding the laws of our State.
Perhaps there are more than a few legislators that are fed-up with Hubbard's arrogance, bullying and using his office for personal gain. There is no reason to believe that Strange, Davis or Hart will shrink from their duty. And there is no reason to think that all House members still labor under Hubbard's spell.
I would like for all of the men and women who fought hard to defeat Hubbard in Tuesday's primary to remember the Alamo.
After a 13 day siege, Mexican troops, under President General Antonio López de Santa Anna, launched an assault on the Alamo Mission near San Antonio de Béxar (modern-day San Antonio, Texas). Santa Anna and his forces cruelly slaughtered all the combatants defending the Alamo, including Jim Bowie, William Travis and Davy Crockett. All seemed lost at the Battle of the Alamo but something happened. A cry went out from the Alamo and Texas settlers and men from all over the country came to seek revenge for Santa Anna's arrogance and cruelty.
On April 21, 1836, the army raised after the Alamo, defeated Santa Anna's troops at the Battle of San Jacinto, ending the revolution. Hubbard, may have won a small victory on Tuesday, but he is not the most powerful man in State politics.
Gov. Bentley could have Speaker Hubbard removed at anytime. All Bentley would have to do is call each House member to his office and say, I am the Governor, I can use the powers of my office and my good will to help you serve your District, or I can use it against you. I prefer to be of help, but I want a Speaker who will help me make our State better and Hubbard is not that man.  The Governor could then state the name of his choice.
Hubbard is a thug, Bentley is a good man, and it is time for the good man to put his foot down and remove the thug. Or, he can wait around and let Matt Hart and Van Davis do it for him. But it would be encouraging to see the Governor lead.
Yes, there was a message Tuesday night: Hubbard is weak. It is time for brave men and women to stand up and remove him as Speaker of the House.
Tuesday the good people of Alabama lost a battle…but let's not forget the lesson of The Alamo.
Opinion | Let's hope for Reed's success
Reed's temperament and style appear right for this moment in Alabama's history.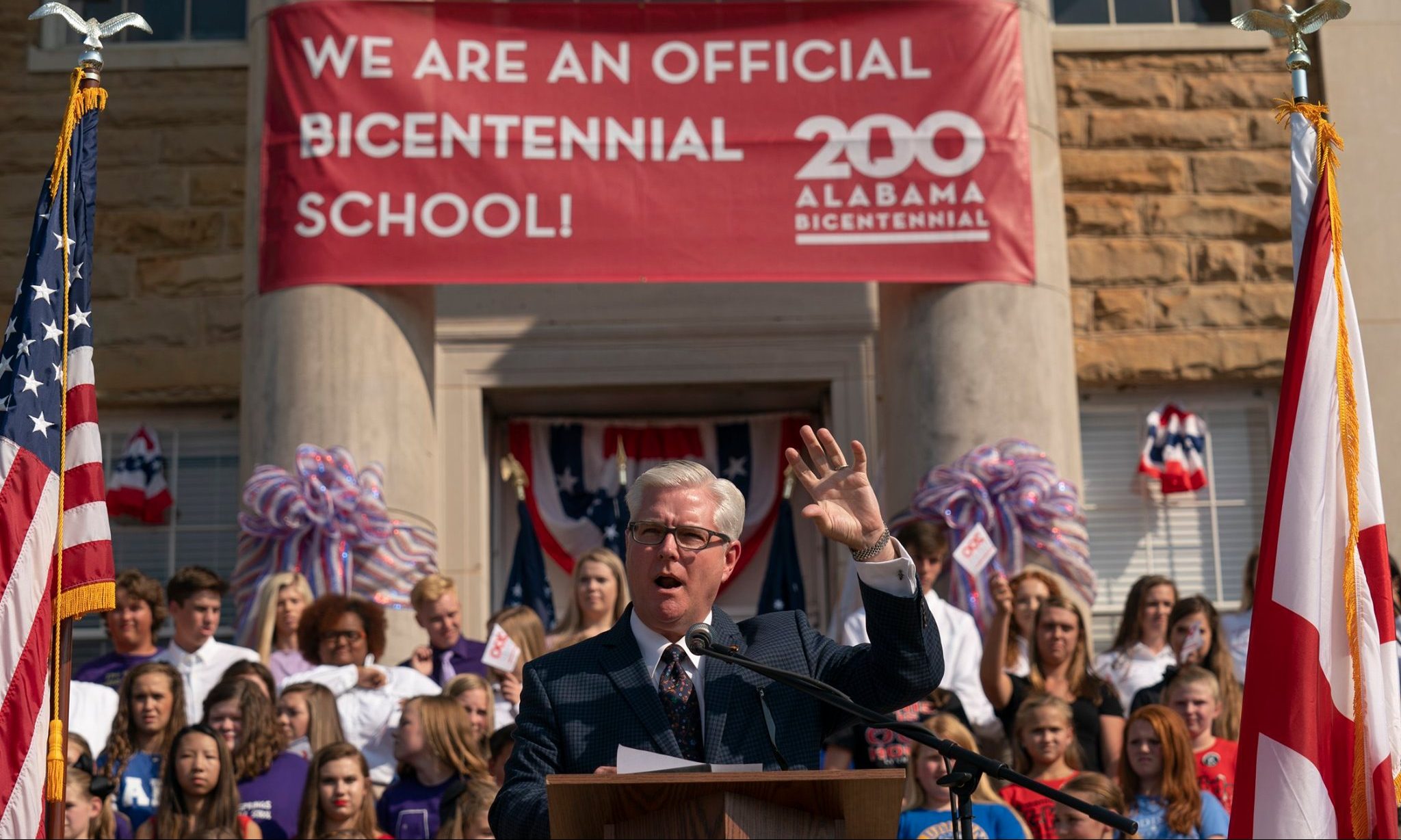 State Sen. Greg Reed, R-Jasper, will lead the Alabama Senate as president pro tem during the upcoming 2021 legislative session. What changes will Reed bring to the upper chamber, and how will his leadership differ from his predecessor? No one knows for sure.
Reed succeeds Sen. Del Marsh, who has served as president pro tem since Republicans took control of the Statehouse in 2010. Marsh, along with then-Gov. Bob Riley, current felon Mike Hubbard and ousted BCA Chair Billy Canary orchestrated the 2010 takeover that saw the Republican rise to dominance.
Reed, who won his Senate seat the same year, was not a charter member of the Republican ruling class, but he benefited from the power sift.
Mild-mannered and studious with a quiet charm, Reed has steadily ascended the ranks of Senate leadership. His silver hair and calm determination have served him well. Reed is a senatorial figure straight out of Hollywood's central casting.
In all, Reed is nearly universally liked and respected, which in the near term is a hopeful sign of potential success. But political leadership always comes with a warning: "Friends come and go, enemies accumulate."
Reed's relationship with Gov. Kay Ivey is certainly less contentious than Marsh's and gives rise to the belief that there will be greater cooperation between the executive and the Senate.
With the economy and public health under dire stress due to the ravages of COVID-19, legislative priorities are fixed: get people back to work and eradicate the coronavirus.
However, one of Reed's first tests will be whether he can cool the smoldering anger of those senators who still feel the sting of Ivey's rebuke over the allocation of CARES Act funds. He will also need to resist those who want to punish the administration over its use of public health statutes to implement mask mandates and other safety measures to prevent the deadly coronavirus spread.
Despite outward declarations of a unified body, the State Senate is a small, insular and unwieldy beast where egos loom large and consensus on policies is often tricky to achieve except on "red meat issues."
Building a coalition on policy in the Senate is often a combination of horse-trading, cajoling and carefully applied pressure. The way forward in the near term is exact: pass legislation that spurs economic recovery and mitigates the health crisis at hand.
But Reed will also simultaneously need to recognize what comes next for justice reform, prison construction, gambling and a myriad of other pressing issues. His job will be to understand the prevailing winds, which are evolutionary, not revolutionary.
As author Doris Kearns Goodwin noted in Lyndon Johnson and the American Dream: "For political leaders in a democracy are not revolutionaries or leaders of creative thought. The best of them are those who respond wisely to changes and movements already underway. The worst, the least successful, are those who respond badly or not at all, and those who misunderstand the direction of already visible change."
Reed's temperament and style appear right for this moment in Alabama's history.
As President Abraham Lincoln said, "If you want to test a man's character, give him power."
Let's all hope that Reed passes the test.