Mike Pence and Republican Leaders Speak to Party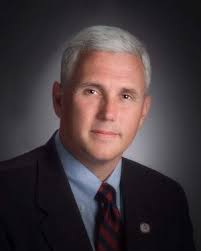 By Brandon Moseley
Alabama Political Reporter
On Friday, June 20, Indiana Governor Mike Pence (R) addressed an estimated 800 Republican office holders, donors, state executive committee members, and grassroots activists at the Cahaba Grand Conference Center in Birmingham, Alabama.
Governor Mike Pence, age 55, said that he was humbled by the introduction by Congressman Robert Aderholt (R) from Haleyville.  Pence said it was a privilege to have served in the United States Congress with Robert Aderholt.
Pence said that Alabama is on a roll under the tenacious leadership of, "One of the most principled, effective governors in these United States in Robert Bentley."
Unemployment has fallen from 9.3 percent to 6.1 percent and soon Bentley will get a paycheck (Gov. Bentley has refused any pay until Alabama achieves full employment.  Pence said that is real leadership. That's progress.
Pence said that Indiana is the first right-to-work state in the Midwest.  Democratic leadership only leads to more deficits and debts.  Having Republican leadership at the state level matters.  There are 29 Republican Governors across America and they have to deal with mandates from the national government which are slowing the economic progress.
Pence said that he has been a member of Congress for 12 years and, that if he found out that he had just 12 years left to live, he would want to spend them in the United States Congress, because those were the longest 12 years of his life.
Pence said that under this President (Barack Hussein Obama) we have seen an erosion of our freedoms every day.  The worst thing this President has done has been the loss of America's standing in the world.
Pence said that he served for 10 years on the House Foreign Affairs Committee and he visited troops serving in Iraq and Afghanistan every year.  We can not lead from behind and can not build American strength by apologizing to our enemies and by abandoning our allies and we can not allow a terrorist army from Syria reclaim that which we fought for.
Pence said this President just doesn't get it.  The President told then Congressman Pence that we can't solve America's problems through ideological debate.  Pence said that common sense solutions is not ideological.
Pence said that he supports common sense solutions affirming our values and ideals.  Republicans believe in protecting the freedom of law abiding Americans.  We believe in freedom, including freedom from debts. Rolling back red tape.  Rejecting the environmental extremism of climate change. We support an all of the above energy policy.  That is common sense for America and is freedom.
Pence said that Obamacare must be repealed and replaced.  America needs state based reforms.  "Our state governments are not territorial outposts of the federal government."
Pence said that his hero was the 40th President of the United States, Ronald Reagan and Reagan once said that the states created federal government.  The Federal government did not create the states.
Pence said that he believes that the Restoring Republican leadership in the Senate, "I believe we are in the final days of Harry Reid's leadership in the United States Senate," is not enough.  "We must demand that they permanently reduce the size and scope of the Federal government."  This won't be easy but we must make the case for new Federalism.
Pence said that freedom is at the core of America's founding and we should hold the banner of freedom high.  Do not become weary of doing good, because in due time your labors on behalf of freedom will prevail.  "The best days of Alabama and America are ahead."
Alabama Republican Party Chairman Bill Armistead said that every State officer in Alabama is a Republican and both houses of the State Legislature have a Republican super majority and thanked the people in the room for helping ALGOP achieve this.
Alabama Governor Robert Bentley (R) thanked the voters for voting for him again in the June 3rd Republican Primary but said that voter turnout in the primary was not good enough.
Bentley said that when he first entered office, "We were dead broke."  It has taken time but Bentley said that the state has turned around and is headed in the right direction.  Bentley also thanked his wife, whom Bentley said is the best first lady Alabama has ever had.
Congressman Robert Aderholt introduced Governor Pence.   Aderholt said that he served in the US. House of Representatives with Pence and that Pence was the Chair of the Republican Caucus where he did a great job.  "Mike Pence is a person of honesty. Very few members that I serve with measure up to the level of Mike Pence. He is a true Republican and he is a Christian first.  Karen, his wife, is here tonight and they have three children.  Mike is a proven leader, my friend and the 50th Governor of the Great state of Indiana."
Chairman Armistead said that the Alabama Republican Party is fighting against voter fraud in Alabama.  During the June 3rd Republican Primary ALGOP was offering a reward for information that led to the arrest and conviction of persons committing voting fraud.  Some people have come forward and provided information to the party.  The Party's attorneys have looked at that information and it will be forwarded to the Alabama Attorney General's office for further investigation.  Armistead asked that everyone be vigilant and together we can eliminate fraud from Alabama elections.
The Beatles tribute band, the Wannabeatles, performed at the event.
Pence, a Midwesterner, has been mentioned by many as a possible 2016 Presidential contender.
Alabama hospitals nearing COVID-19 summer surge levels
Wednesday was the 18th straight day with more than 1,000 people in hospitals in Alabama with COVID-19. 
Alabama hospitals reported caring for 1,483 people infected with COVID-19 on Wednesday, the highest number of patients since Aug. 11, when the state was enduring its summer surge. Wednesday was also the 18th straight day with more than 1,000 people in hospitals in Alabama with COVID-19. 
The seven-day average of hospitalizations was 1,370 on Wednesday, the 36th straight day of that average rising. The Alabama Department of Public Health reported 2,453 new cases Wednesday. The 14-day average of new cases was — for the eighth day in a row — at a record high of 2,192. 
Across the country, more than 80,000 people were hospitalized for COVID-19 on Tuesday, a record high and the 15th straight day of record hospitalizations nationwide, according to the COVID Tracking Project, a coronavirus tracking website.
The CDC this week recommended people not travel for Thanksgiving to help prevent the spread of coronavirus. 
"The only way for us to successfully get through this pandemic is if we work together," said Dr. Kierstin Kennedy, UAB's chief of hospital medicine, in a message Tuesday. "There's no one subset of the community that's going to be able to carry the weight of this pandemic and so we all have to take part in wearing our masks, keeping our distance, making sure that we're washing our hands." 
Kennedy said the best way she can describe the current situation is "Russian Roulette." 
"Not only in the form of, maybe you get it and you don't get sick or maybe you get it and you end up in the ICU," Kennedy said, "but if you do end up sick, are you going to get to the hospital at a time when we've got capacity, and we've got enough people to take care of you? And that is a scary thought." 
The Alabama Department of Public Health on Wednesday reported an increase of 60 confirmed and probable COVID-19 deaths. Deaths take time to confirm and the date a death is reported does not necessarily reflect the date on which the individual died. At least 23 of those deaths occurred in November, and 30 occurred in other months. Seven were undated. Data for the last two to three weeks are incomplete.
As of Wednesday, at least 3,532 Alabamians have died of COVID-19, according to the Department of Public Health. During November, at least 195 people have died in Alabama from COVID-19. But ADPH is sure to add more to the month's tally in the weeks to come as data becomes more complete.
ADPH on Wednesday announced a change that nearly doubled the department's estimate of people who have recovered from COVID-19, bringing that figure up to 161,946. That change also alters APR's estimates of how many cases are considered active.
ADPH's Infectious Disease and Outbreak team "updated some parameters" in the department's Alabama NEDSS Base Surveillance System, which resulted in the increase, the department said.