Can What Happened in Mississippi Happen Here?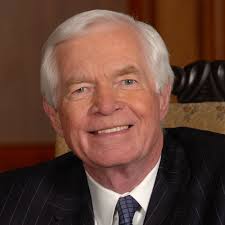 By Brandon Moseley
Alabama Political Reporter
The political world was shocked by the outcome of the Republican Primary Runoff in Mississippi on Tuesday, June 24.  Longtime incumbent Mississippi U.S. Senator Thad Cochran appeared to be outmatched against the younger, more fiery State Senator Chris McDaniel, who had the support of the national Tea Party movement.
Senator Cochran however seized on encouraging Democratic voters to vote in the Republican runoff.  The senior senator from Mississippi who has been in Congress since the Nixon Administration realized that Republican voters' minds were already made up so he appealed to liberals, Blacks, and union members in the closing days of the campaign and it appears that the strategy has worked upsetting many in the Tea Party movement across the country.
Former Alaska Governor Sara Palin (who endorsed McDaniel) said on Fox News, "Well, you know, as for the primary, and perhaps if it's true, some shenanigans going on there, nothing should surprise you, but that's old-school politics where it's a bit of the status quo and that's got to go."
Talk radio host Rush Limbaugh called the tactics "reprehensible."  Limbaugh said, "The Republican establishment sought victory via Democrat voters in the runoff, and they got them. Without the African-American vote from Democrat-leaning counties, Thad Cochrane would have lost by eight or nine percent last night."  Limbaugh cited a flyer posted by journalist Charles Johnson suggesting that McDaniel and the tea party wanted to prevent blacks from voting in the Mississippi runoff election on Tuesday.
In many states if you are a registered Democrat you can't vote in a Republican Primary or Primary Runoff.  However Mississippi, like Alabama, has open primaries.  Like Mississippi and just nine other states, any registered Alabama voter can vote in whatever party primary they want to vote in.
Alabama Republican Party Chairman Bill Armistead has been warning that the way election law is set up in Alabama there is little either party can do to stop mass crossover voting like what we saw in Mississippi on Tuesday.
Chairman Armistead wrote just two weeks ago, "When I ran for Chairman of the Alabama Republican Party I vowed to seek ways to ensure that Republicans voted to select their candidates in the Republican primary and Democrats voted to select theirs in the Democrat primary. I appointed a committee in 2011 to look into how other states have successfully handled party primaries, in order to guide Alabama down the same path. The committee recommended that the Party support what is known as "closed primaries", meaning that only Republicans vote in a Republican primary and only Democrats vote in a Democrat primary."
Armistead continued, "At the 2013 Summer Meeting of the Alabama Republican Party State Executive Committee a resolution was passed endorsing closed primaries in Alabama and urging the legislature to take steps towards party registration."  Alabama currently is one of 11 states with open primaries where voters do not have to declare affiliation to any party and can request whichever ballot they choose at the polls.  An independent or a Constitution Party or Libertarian Party supporter can legally vote in whichever major party primary they feel like voting in on election day.
s Sixth District Congressional Race, Secretary of State, Auditor, PSC Place 2, State Senate District 17, State Senate District 30, Senate District 22, House District 43, House District 12, and a number of other offices.
The Alabama Political Reporter is not aware of any campaign openly adopting a crossover voter strategy in the runoff.
Clinton Administration Labor Secretary Robert Reich wrote on Wednesday, "Mississippi Republican Senator Thad Cochran's razor-thin margin of victory last night over State Senator State Senator Chris McDaniel, his Tea Party-backed challenger, in the Republican primary there, should be small comfort to the establishment GOP – or to any American. Cochran relied on Black Democrats to put him over the finish line, prompting McDaniel to charge that his rival has shown his true colors.…By reaching out to liberal Democrats he has confirmed what we've always known: that he doesn't have our best interests at heart."
"Excuse me, but 'our' best interests? McDaniel and the Tea Party played on the growing fears of working-class whites that their economic decline has been due to a conspiracy of blacks, Latinos, immigrants, and the Federal government – from which they must 'take America back.' The billionaire oligarchs who funded McDaniel through their various front groups want anxious White Americans to believe this dangerous fiction, and they and their money aren't going away. That's why it's so important to create a new political coalition that unites working-class whites with the poor and middle class, to take back America from the oligarchs."
Can a Republican candidate reach out to Democratic voters in a Republican Primary Runoff without sacrificing core beliefs of the Republican Party?
Governor Palin said on Fox News, "Well, if Republicans are going to act like Democrats, then what's the use in getting all gung ho about getting Republicans in there?  So yeah, if Republicans aren't going to stand strong on the planks in our platform, then it does no good to get all enthused about them anymore."
Alabama hospitals nearing COVID-19 summer surge levels
Wednesday was the 18th straight day with more than 1,000 people in hospitals in Alabama with COVID-19. 
Alabama hospitals reported caring for 1,483 people infected with COVID-19 on Wednesday, the highest number of patients since Aug. 11, when the state was enduring its summer surge. Wednesday was also the 18th straight day with more than 1,000 people in hospitals in Alabama with COVID-19. 
The seven-day average of hospitalizations was 1,370 on Wednesday, the 36th straight day of that average rising. The Alabama Department of Public Health reported 2,453 new cases Wednesday. The 14-day average of new cases was — for the eighth day in a row — at a record high of 2,192. 
Across the country, more than 80,000 people were hospitalized for COVID-19 on Tuesday, a record high and the 15th straight day of record hospitalizations nationwide, according to the COVID Tracking Project, a coronavirus tracking website.
The CDC this week recommended people not travel for Thanksgiving to help prevent the spread of coronavirus. 
"The only way for us to successfully get through this pandemic is if we work together," said Dr. Kierstin Kennedy, UAB's chief of hospital medicine, in a message Tuesday. "There's no one subset of the community that's going to be able to carry the weight of this pandemic and so we all have to take part in wearing our masks, keeping our distance, making sure that we're washing our hands." 
Kennedy said the best way she can describe the current situation is "Russian Roulette." 
"Not only in the form of, maybe you get it and you don't get sick or maybe you get it and you end up in the ICU," Kennedy said, "but if you do end up sick, are you going to get to the hospital at a time when we've got capacity, and we've got enough people to take care of you? And that is a scary thought." 
The Alabama Department of Public Health on Wednesday reported an increase of 60 confirmed and probable COVID-19 deaths. Deaths take time to confirm and the date a death is reported does not necessarily reflect the date on which the individual died. At least 23 of those deaths occurred in November, and 30 occurred in other months. Seven were undated. Data for the last two to three weeks are incomplete.
As of Wednesday, at least 3,532 Alabamians have died of COVID-19, according to the Department of Public Health. During November, at least 195 people have died in Alabama from COVID-19. But ADPH is sure to add more to the month's tally in the weeks to come as data becomes more complete.
ADPH on Wednesday announced a change that nearly doubled the department's estimate of people who have recovered from COVID-19, bringing that figure up to 161,946. That change also alters APR's estimates of how many cases are considered active.
ADPH's Infectious Disease and Outbreak team "updated some parameters" in the department's Alabama NEDSS Base Surveillance System, which resulted in the increase, the department said.