Cochran Certified as Winner of Mississippi Primary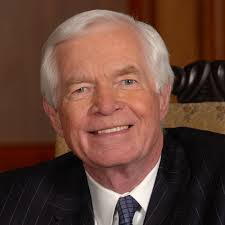 By Brandon Moseley
Alabama Political Reporter
Longtime U.S. Senator from Mississippi Thad Cochran (R) was certified on Monday, July 7, by the Mississippi Republican Party. After reviewing all the provisional ballots Cochran increased his lead over Tea Party favorite, state Senator Chris McDaniel from 6,800 votes to 7,667.
Senator Cochran himself jubilantly returned to the U.S. Senate on Monday.
His campaign in Mississippi meanwhile released a written statement on Monday following his certification on Monday.  The campaign wrote: "We have representatives at all 82 courthouses today to monitor the review of ballot boxes and have been pleased with the results.  The county by county results reported thus far are revealing an extremely low number of crossover votes from the June 24th election. As the process moves forward, the conversation is shifting from wild, baseless accusations to hard facts.  As we have said from the beginning, the run-off results are clear: the majority of Mississippians voted for Senator Thad Cochran. We appreciate the hard work by our Circuit Clerks and all those who have helped ensure the integrity of the Mississippi election system."
Sen. Chris McDaniel's campaign vowed on Monday to fight on.  In coming days they are expected to ask the courts to invalidate the results of the Republican Party's Primary runoff and order a second Republican runoff election.  The McDaniel's campaign, lead counsel, Mitch Tyner says that they must finish their investigation into how many voters improperly cast absentee ballots or who voted in both the Democratic primary and the Republican Party runoff first before challenging.
Philip Bump from The Washington Post  said that in a short press conference on Tyner said, "We don't have to have 6,700 (ineligible voters). However, I would be surprised if we don't find 6,700. It's very easy to see the Mississippi law holds that if there's the difference between the Cochran camp and our camp — that vote difference — if there's that many ineligible voters, then there's automatically a new election."
McDaniel campaign spokesman Noel Fritsch said that the number of "irregularities" found on ballots was at 6,900 as of last Thursday — a number that "will certainly grow."
Reuters' Jonathan Bachman spoke with Matt Steffey, professor of law at the Mississippi College School of Law, to see if he agreed with Tyner's assessment of what will happen next.
Steffey said, "He (Tyner) uses the word automatically, and I think that's a very optimistic and self-serving reading of the law."  "I don't think the cases can be fairly interpreted to say that if they come up with 6,700 illegal votes and can demonstrate that they're illegal — it's an overstatement of the law to say that it automatically demands a recount."
Steffey does not believe that the Mississippi Supreme Court will order a do-over Republican Party runoff.
Steffey said, "There's simply no statute or case that holds that if the number of ineligible voters exceed the margin of victory then there's automatically a recount."  "In fact, in 1983, the Mississippi Supreme Court held — and cited a number of cases — that a special election was not required even though the margin of victory [in the primary] was exceeded by the number of illegal votes." That case was Noxubee County Democratic Executive Committee v. Russell. "The Court has expressly said that the rule does not mean that one must show that the number of illegal exceed the margin. They have held exactly the opposite of Mitch Tyner's statement."  Steffey pointed out that even if McDaniel could find the 6,900 ineligible votes (now 7,667) there is no way to prove how many of those votes voted for Cochran.
Mississippi, like Alabama, has open primaries where anyone can vote in whatever primary they want to vote in since there is no party registration.  It appears that Sen. McDaniel might have won the majority of Republican runoff voters, but Mississippi like Alabama has no requirement that voters declare a party affiliation before voting in a primary so there is no way to know.  In Alabama, it is perfectly legal , even if unethical, for a Democrat to vote in the coming July 15 Republican Primary runoff.  If enough Democrats did that they could potentially alter the outcome of the Republican Primary runoff, which is likely what happened in Mississippi.
Alabama Republican Party Chairman Bill Armistead said, "The legislature didn't take action on the Party's recommendation to close our primary. I strongly believe that a closed or semi-closed system would enable both the Republican and Democrat parties to have control of their nominating process without the influence of the opposing party.  There is currently nothing preventing Democrats from cross voting in Alabama!" Alabama and Mississippi are two of the eleven states that still use the open primary.
Sen. Cochran is seeking his seventh term in the United States Senate.  He will face Democrat Travis Childers in the November election.
The Alabama Republican Party runoff is July 15.
Alabama hospitals nearing COVID-19 summer surge levels
Wednesday was the 18th straight day with more than 1,000 people in hospitals in Alabama with COVID-19. 
Alabama hospitals reported caring for 1,483 people infected with COVID-19 on Wednesday, the highest number of patients since Aug. 11, when the state was enduring its summer surge. Wednesday was also the 18th straight day with more than 1,000 people in hospitals in Alabama with COVID-19. 
The seven-day average of hospitalizations was 1,370 on Wednesday, the 36th straight day of that average rising. The Alabama Department of Public Health reported 2,453 new cases Wednesday. The 14-day average of new cases was — for the eighth day in a row — at a record high of 2,192. 
Across the country, more than 80,000 people were hospitalized for COVID-19 on Tuesday, a record high and the 15th straight day of record hospitalizations nationwide, according to the COVID Tracking Project, a coronavirus tracking website.
The CDC this week recommended people not travel for Thanksgiving to help prevent the spread of coronavirus. 
"The only way for us to successfully get through this pandemic is if we work together," said Dr. Kierstin Kennedy, UAB's chief of hospital medicine, in a message Tuesday. "There's no one subset of the community that's going to be able to carry the weight of this pandemic and so we all have to take part in wearing our masks, keeping our distance, making sure that we're washing our hands." 
Kennedy said the best way she can describe the current situation is "Russian Roulette." 
"Not only in the form of, maybe you get it and you don't get sick or maybe you get it and you end up in the ICU," Kennedy said, "but if you do end up sick, are you going to get to the hospital at a time when we've got capacity, and we've got enough people to take care of you? And that is a scary thought." 
The Alabama Department of Public Health on Wednesday reported an increase of 60 confirmed and probable COVID-19 deaths. Deaths take time to confirm and the date a death is reported does not necessarily reflect the date on which the individual died. At least 23 of those deaths occurred in November, and 30 occurred in other months. Seven were undated. Data for the last two to three weeks are incomplete.
As of Wednesday, at least 3,532 Alabamians have died of COVID-19, according to the Department of Public Health. During November, at least 195 people have died in Alabama from COVID-19. But ADPH is sure to add more to the month's tally in the weeks to come as data becomes more complete.
ADPH on Wednesday announced a change that nearly doubled the department's estimate of people who have recovered from COVID-19, bringing that figure up to 161,946. That change also alters APR's estimates of how many cases are considered active.
ADPH's Infectious Disease and Outbreak team "updated some parameters" in the department's Alabama NEDSS Base Surveillance System, which resulted in the increase, the department said.