Brooks Asking for Constituents Views on Internet Sales Taxes
By Brandon Moseley
Alabama Political Reporter
Congressman Mo Brooks (R) from Huntsville is asking constituents of Alabama's Fifth Congressional District for their input on a controversial proposal to make Alabamians pay sales taxes on their internet shopping purchases.  Many Alabama leaders including conservatives like Alabama Governor Robert Bentley (R), have in the past expressed support for such legislation.
Representative Brooks wrote in an email to his constituents, "Alabama retailers visit my office on a regular basis asking me to support legislation that forces Alabama internet users to pay Alabama sales taxes on internet purchases from non-Alabama internet retailers."
Rep. Brooks continued, "Generally speaking, Alabama retailers argue (a) current law puts brick and mortar retailers at a price disadvantage because their customers have to pay costly sales taxes while internet customers don't have to pay sales taxes, (b) Alabama loses retail store jobs because of lost sales to internet retailers, and (c) under current Alabama law, Alabama citizens already owe sales taxes on all internet sales but are not paying them because the State of Alabama lacks enforcement mechanisms."
Rep. Brooks said, "Generally speaking, opponents of the internet sales tax legislation argue that the proposed federal legislation (a) forces struggling American families to suffer from even higher sales tax burdens, (b) costs internet retailers jobs by shifting sales from internet retailers to brick and mortar retailers, and (c) places an onerous compliance burden on internet retailers who would have to comply with thousands of different sales tax rates across America."
Congressman Brooks asked in his email for constituent to share their opinion on how they prefer he vote on this issue.  Rep. Brooks even included a poll on the subject.  The poll question is worded: "Should Congressman Brooks vote for or against federal legislation that forces Alabama residents to pay sales taxes on internet sales?"  Yes or no.
In a related internet issue on Tuesday, July 15 Representative Brooks voted for, and the House passed, H.R. 3086, the Permanent Internet Tax Freedom Act.  Congressman Brooks is a cosponsor of H.R. 3086, which permanently bans state and local governments from taxing Internet access, or imposing discriminatory Internet-specific taxes on items like email or bandwidth.  Current law temporarily bans Internet taxes until November 1, 2014.
Rep. Brooks stated, "The Internet has been a tremendous low-cost, economic boon and informational resource for America and the world.  The Permanent Internet Tax Freedom Act protects the Internet by thwarting efforts to tax it to the point that it becomes cost prohibitive.  The Act also ensures Americans can continue to conduct business and access the Internet free from discriminatory taxes, which in turn gives Internet-related companies the certainty they need to grow and create needed jobs."
Brooks concluded, "President Ronald Reagan once noted that the 'Government's view of the economy could be summed up in a few short phrases:  If it moves, tax it. If it keeps moving, regulate it. And if it stops moving, subsidize it.'  I believe it is important to stop Internet taxes before the Internet, as President Reagan warned, becomes so heavily taxed that it stops moving."
Congressman Morris "Mo" Brooks represents the Fifth Congressional District and is seeking a third term in the U.S. House of Representatives.  The popular Republican congressman easily defeated his primary opponent Jerry Hill and no Democrat qualified to run in the conservative fifth district.
Alabamians request more than 101,000 absentee ballots with 30 days left to apply
So far, 35,184 absentee ballots have been successfully returned for the general election.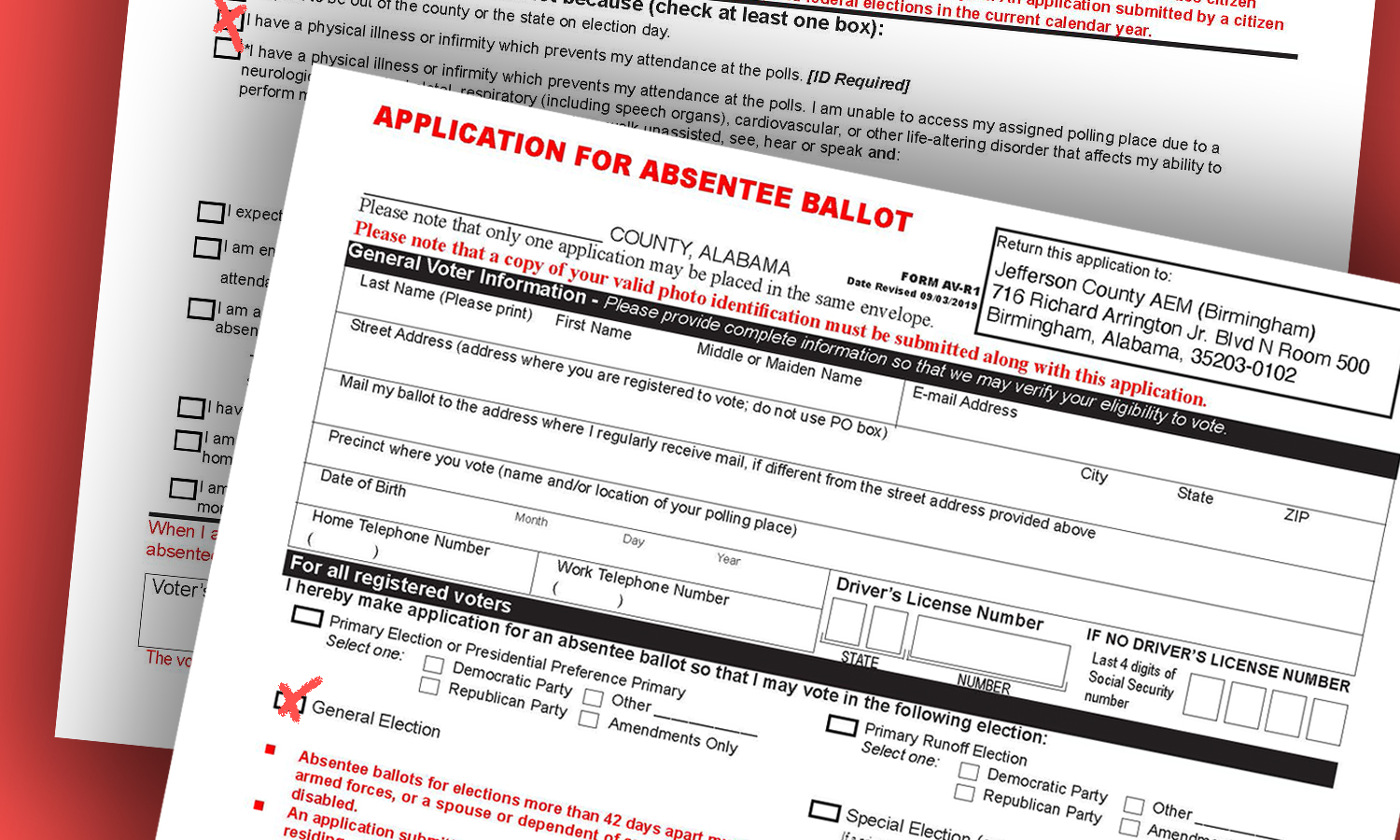 At least 101,092 absentee ballots have been requested so far in Alabama according to Secretary of State John Merrill, with just 30 days left to apply for an absentee ballot for the Nov. 3 General Election. So far, 35,184 absentee ballots have been successfully returned for the general election.
In order to protect the safety and well-being of voters, Merrill is encouraging those who are concerned about contracting or spreading the coronavirus to apply for and cast an absentee ballot.
Absentee ballot applications can be downloaded online or requested by visiting or calling your local absentee election manager's office.
Voters may also contact the Secretary of State's office at 334-242-7210 to request an absentee ballot application.
Due to the declared states of emergency, any qualified voter who determines it is impossible or unreasonable to vote at their polling place shall be eligible to check the box on the absentee ballot application that is most applicable to that individual. In the case none of the boxes are appropriate, voters can check the box which reads, "I have a physical illness or infirmity which prevents my attendance at the polls. [ID REQUIRED]"
For the Nov. 3 General Election, the deadline to register to vote is Monday, Oct. 19, the deadline to submit an absentee ballot application is Thursday, Oct. 29, the deadline to return an absentee ballot to the absentee election manager is the close of business Monday, Nov. 2, and the last day to postmark an absentee ballot is Monday, Nov. 2.
Voters who are eligible to vote pursuant to the Uniformed and Overseas Absentee Voting Act will have until Tuesday, Nov. 3 to postmark an absentee ballot.
Voters concerned about COVID-19 are encouraged to select the box on the affidavit, which accompanies the absentee ballot, which reads as follows: "I am physically incapacitated and will not be able to vote in person on election day."
Due to recently witnessed delays with the U.S. Postal Service, Merrill encourages voters interested in returning their ballot by mail to go ahead and make application for their absentee ballot. As a reminder, Merrill worked with the Legislature last year to pass Act 2019-507, allowing voters the opportunity to return their absentee ballot by commercial carrier in addition to U.S. mail.