Rogers Blames Obama for Immigration Crisis
By Brandon Moseley
Alabama Political Reporter
Congressman Mike Rogers (R) from Saks said in a recent statement to constituents that there is a flood of unaccompanied minors illegally crossing the border and he blames President Obama's refusal to enforce the immigration laws that are on the books for this current crisis.
Representative Rogers said in his written statement, "As most folks across East Alabama have seen on the news lately, there's a serious immigration crisis at our Southwest border, and so far it doesn't look like the Federal government has control of the situation.  There is a flood of unaccompanied minors illegally crossing our borders. The Department of Homeland Security estimates over 90,000 children will cross our border in 2014, and over 160,000 children are expected to cross in 2015."
Rep. Rogers continued, "Last month, I sent a letter to President Obama asking him to deploy the National Guard to the Southwest border to help deal with this crisis. The Border Patrol agents on the ground are overwhelmed and understaffed to deal with the number of children that are flooding into America.  In a recent Homeland Security Committee hearing on this crisis, I asked Secretary of Homeland Security Jeh Johnson what could be done to expedite returning these children to family members in their own countries the same way we expedite returns for many adults.  But Secretary Johnson didn't have any answers."
Rep. Rogers concluded, "This immigration crisis is, I believe, a direct result of the Obama Administration refusing to enforce the immigration laws on the books. I asked participants in a Tele-town Hall meeting who they thought was to blame for the crisis and 90 percent of those who participated in the poll agreed with me that it is the president to blame."
The Department of Health and Human Service is currently in the process of identifying facilities nationwide that could be used to house the flood of unaccompanied minors coming into the U.S. FEMA said the facilities are being evaluated to determine if they can provide temporary shelter space for children and Anniston was one of the cities being considered.
Rep. Rogers said, "I also learned recently that the Department of Health and Human Services, the Federal agency tasked with handling the illegal immigrant children after they are apprehended, was looking at possibly housing detainees at the Center for Domestic Preparedness (CDP) in Calhoun County.  Why would HHS transport the unaccompanied minors over 900 miles to Alabama?  It just doesn't make sense and I strongly opposed – and continue to strongly oppose – this misguided and misinformed proposal."
Rep. Rogers continued, "When the relocation plan came to light, I wrote HHS Secretary Burwell and DHS Secretary Johnson demanding answers on why the CDP was even being considered.  While they pulled the option off the table, I still want answers as to why this plan was ever considered over returning these children to their homes as quickly as possible."
Representative Rogers joined Senators Richard Shelby and Jeff Sessions in expressing concerns about President Obama's request for an additional $3.7 billion to deal with the present immigration crisis.  Rep. Rogers said, "Frankly, I don't think it would do much to secure our borders or help resolve this crisis as long as the president refuses to enforce our existing immigration laws.  As a sovereign country, we must enforce our rule of law.  I will continue to follow this situation closely and will continue to fight for our current immigration laws to be enforced."
Since October, more than 52,000 unaccompanied children from Central and South America have entered the U.S. through its southwestern border. The children (most of them teen males) are in the custody of the Department of Health and Human Services Office of Refugee Resettlement.  Office of Refugee Resettlement statistics show about 6,775 unaccompanied children arrived in the U.S. each year from 2003-2011. That figure grew to 13,625 in 2012 and almost doubled to 24,668 in 2013. The most common native country for the unaccompanied children is Guatemala, followed by El Salvador and Honduras.
Republicans point out that this new flood of illegal aliens started coming after the President began using his executive authority to give millions of illegal aliens who were brought here as juveniles by their parents legal status in the country in the 2012 election year to galvanize his support among immigrant voters, particularly Hispanics.
Most of the illegal immigrants coming to this country believe that mothers with juvenile children and unaccompanied minors will not be deported by this administration, a widespread belief which is fueling this crisis and to this point little has been done to dissuade them of that view.
Congressman Mike Rogers represents Alabama's Third Congressional District.
"A tidal wave:" ICU beds scarce as Alabama breaks another hospitalization record
Infectious diseases experts worry if hospitals will have enough staff to handle "what might be a tidal wave of patients in the next month."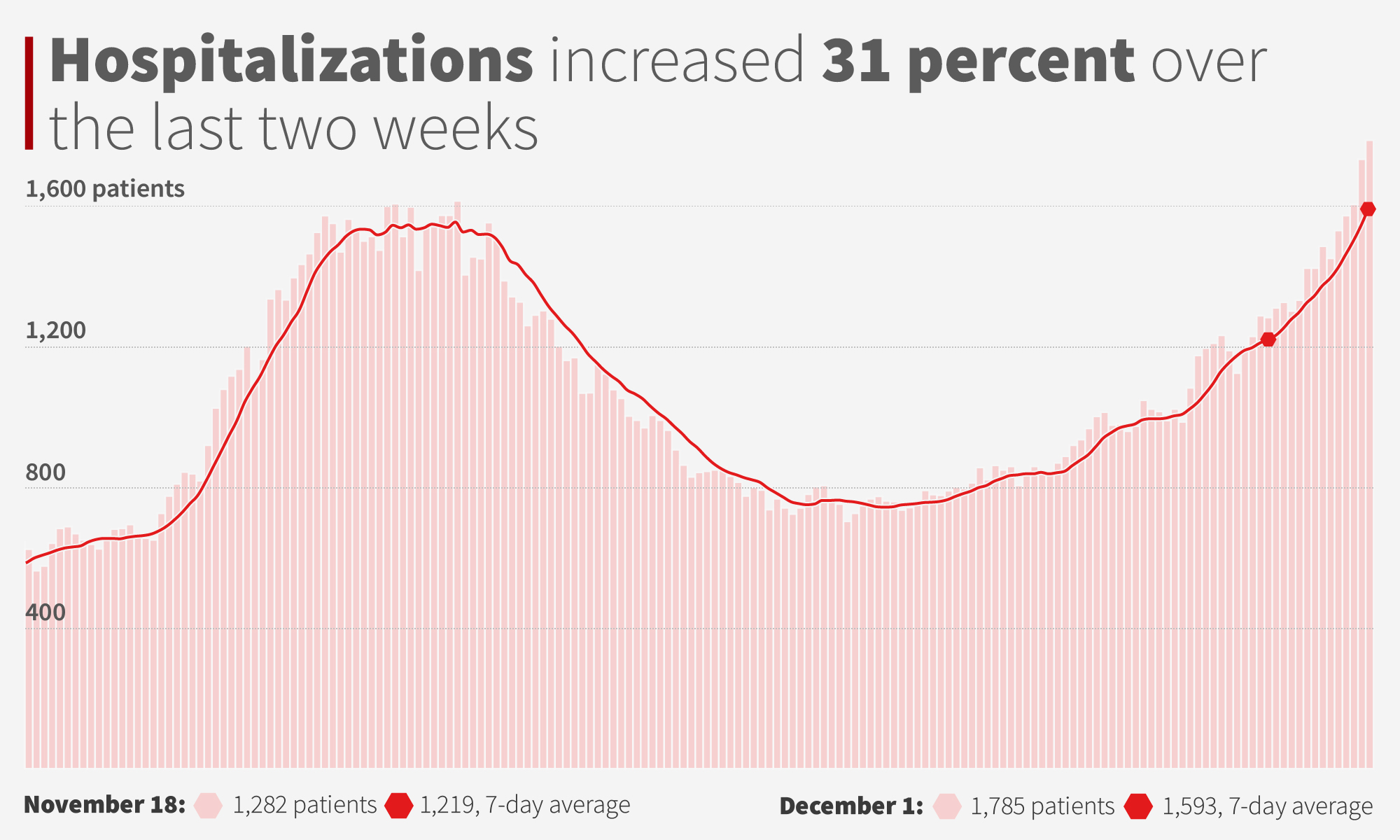 There were no intensive care beds available in Mobile County on Tuesday, the second day in a row Alabama set a record for hospitalized COVID-19 patients, and if models hold up, there could soon be the need to set up temporary medical facilities outside of hospitals, according to a UAB infectious disease expert. 
Dr. Jeanna Marrazzo, director of UAB's Division of Infectious Diseases, told reporters on Tuesday that looking at some models that forecast what might happen in the three weeks after Thanksgiving "you could conceivably see a true need for setting up ancillary care places in three weeks." 
"I hope that doesn't happen. Are we looking at the kind of situation that New York City experienced in March? A lot depends on what happened over Thanksgiving weekend," Marrazzo said, referring to the use of tent hospitals in New York City during the early spring surge there that overran hospitals. 
UAB had a record high 125 COVID-19 patients hospitalized on Monday and Tuesday, and Huntsville Hospital also set a new record Tuesday, with 317 hospitalized. There was a record high 1,785 COVID-19 hospitalizations statewide on Tuesday, and on Monday there had never been fewer intensive care beds available in the state. 
Marrazzo said the health care workforce continues to work valiantly and are "struggling very hard." What keeps her up at night, she said, is worrying if hospitals will have enough staff to handle "what might be a tidal wave of patients in the next month." 
"It may not look like we can affect what's going to happen in two to three weeks, post-Thanksgiving, but we can impact what happens around Christmas time and after that," Marrazzo said. 
The death toll from COVID-19 continues to increase across most of the country, Marrazzo said. On average, the U.S. is seeing between 1,400 and 1,600 people lose their lives to coronavirus each day, she said. In Alabama, at least 3,638 people have died from COVID-19.
Alabama reported an additional 60 deaths on Tuesday and has averaged at least 24 deaths reported each day over the last two weeks.
Each morning, Marrazzo gets a list of those admitted to UAB for COVID-19, those discharged and those coronavirus patients who have died. Not a day goes by when there isn't one name on that list of someone who didn't make it, she said. 
"And I think about that person, and I think about their family," Marrazzo said. "And unfortunately those numbers, as I mentioned before, are going up, and the balance of people being admitted is higher than the number of people who are being discharged." 
Alabama added 3,376 cases on Tuesday, which was the largest single-day case increase, excluding when on Oct. 23 ADPH added older backlogged test results. Tuesday's high number was the product of a delay in reporting to ADPH due to the holiday weekend, the department said in a data note. 
Still, Alabama's case count continues to increase alarmingly and testing is still down, Marrazzo explained. The state's 14-day average of new daily cases on Tuesday was at 2,289. That's a 28 percent increase from just two weeks ago. 
"This is a really, really scary inflection point, "Marrazzo said, "and I don't think that we are going to be able to turn it around without experiencing some more stress and some more pain." 
The positivity rate in Alabama over the last week has been an average of 32 percent, more than five times as high as public health experts say it should be to ensure there are enough tests and cases aren't going undetected. 
"If we would test more we would probably find more, so I think these numbers are an underestimate," Marrazzo said. 
Asked what has gone wrong, that even with the knowledge of how people can protect themselves — wearing masks, practicing social distancing and staying home as much as possible — we're still seeing huge spikes, Marrazzo described a complicated set of circumstances. 
"Is it because they don't believe it's going to affect them?" she asked. 
At first, COVID-19 was something happening in China, and then it moved closer to home, Marrazzo explained. Next, it became a question of "well, it's older people who are getting sick," and there was a sense of invulnerability among the young, who thought they'd be fine and that they wouldn't infect others, she said. 
"And then I think even for people who have been trying to be good there's a huge amount of fatigue," Marrazzo said. Even health care workers become worn down, and may take risks they know they shouldn't and become infected in their own communities, she said. 
"I think we've been hammering it home, but I also think in some ways, we need to do it in a way that's sympathetic and not angry," she said. "Because yeah, I'm pretty upset about what's going to happen in the next couple of weeks, but getting angry with people and shaming them is not the answer at this point, so I think all we can do is to continue to report on the facts."