AL.COM Columnist Shares a Drink with Hubbard's Attorney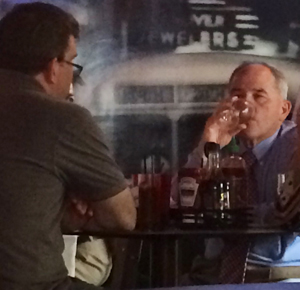 By Bill Britt
Alabama Political Reporter
BIRMINGHAM—J. Mark White is a top white collar criminal defense attorney representing Speaker of the House Mike Hubbard. John Archibald is a respected columnist at al.com.
The above picture captures the pair sharing drinks at the Paramount Bar in Birmingham.
One of White's specialties is his gift for persuading the media to report on his clients in a favorable light.
Archibald is often known to rip and tear into the flesh of his subjects with irony and barbed wit.
Tossing back his Chardonnay with aplomb, it looks as if White hopes to become Archibald's Svengali.
White is most noted for having two finely-honed skills: One, his ability to influence the press and two, wooing the judiciary.
White has done a masterful job of cowing the press, threatening lawsuits against some and batting his considerable eyelashes at others. Hubbard has made some ludicrous statements along the way that would normally cause a media feeding frenzy. Unfortunately, with just a few exceptions, the media has played along with White. Hubbard is never asked the tough questions or the follow-up questions that would ultimately call his hand.
White's cozy relationship with the press and judges may help him draw fat fees from corrupt politicos, but this is the very thing that makes the public-at-large despise attorneys and distrust the media.
In the world manipulated by White and his client Hubbard, Justice is not blind, and well, the press will work it all out over drinks in a posh bar.
I would like to have a drink with White, and hey…
I'll even pick-up the tab.
Alabama hospitals nearing COVID-19 summer surge levels
Wednesday was the 18th straight day with more than 1,000 people in hospitals in Alabama with COVID-19. 
Alabama hospitals reported caring for 1,483 people infected with COVID-19 on Wednesday, the highest number of patients since Aug. 11, when the state was enduring its summer surge. Wednesday was also the 18th straight day with more than 1,000 people in hospitals in Alabama with COVID-19. 
The seven-day average of hospitalizations was 1,370 on Wednesday, the 36th straight day of that average rising. The Alabama Department of Public Health reported 2,453 new cases Wednesday. The 14-day average of new cases was — for the eighth day in a row — at a record high of 2,192. 
Across the country, more than 80,000 people were hospitalized for COVID-19 on Tuesday, a record high and the 15th straight day of record hospitalizations nationwide, according to the COVID Tracking Project, a coronavirus tracking website.
The CDC this week recommended people not travel for Thanksgiving to help prevent the spread of coronavirus. 
"The only way for us to successfully get through this pandemic is if we work together," said Dr. Kierstin Kennedy, UAB's chief of hospital medicine, in a message Tuesday. "There's no one subset of the community that's going to be able to carry the weight of this pandemic and so we all have to take part in wearing our masks, keeping our distance, making sure that we're washing our hands." 
Kennedy said the best way she can describe the current situation is "Russian Roulette." 
"Not only in the form of, maybe you get it and you don't get sick or maybe you get it and you end up in the ICU," Kennedy said, "but if you do end up sick, are you going to get to the hospital at a time when we've got capacity, and we've got enough people to take care of you? And that is a scary thought." 
The Alabama Department of Public Health on Wednesday reported an increase of 60 confirmed and probable COVID-19 deaths. Deaths take time to confirm and the date a death is reported does not necessarily reflect the date on which the individual died. At least 23 of those deaths occurred in November, and 30 occurred in other months. Seven were undated. Data for the last two to three weeks are incomplete.
As of Wednesday, at least 3,532 Alabamians have died of COVID-19, according to the Department of Public Health. During November, at least 195 people have died in Alabama from COVID-19. But ADPH is sure to add more to the month's tally in the weeks to come as data becomes more complete.
ADPH on Wednesday announced a change that nearly doubled the department's estimate of people who have recovered from COVID-19, bringing that figure up to 161,946. That change also alters APR's estimates of how many cases are considered active.
ADPH's Infectious Disease and Outbreak team "updated some parameters" in the department's Alabama NEDSS Base Surveillance System, which resulted in the increase, the department said.