Brewer Becomes Alabama's Working Governor

INSIDE THE STATEHOUSE
By Steve Flowers

Upon Lurleen Wallace's death in May of 1968, Lt. Governor Albert Brewer moved up to Governor. Brewer was no novice to state government. He came to the legislature from Morgan County at a very early age and rose quickly to become Speaker of the House during his second term. He won the 1966 Lt. Governor's race against two state senators without a runoff.
Brewer was smart and articulate with a charming smile and winning personality. He had lots of friends in the legislature and seemed to have very few enemies. Brewer also had a good grasp of state politics. He smoothly took the reigns of state government and began to make improvements. His popularity and relationships with his fellow legislators gave his programs easy sailing. Brewer became a working governor.
People throughout the state took notice of Brewer's effectiveness as governor. He showed signs of being the progressive New South Governor, for whom editorialists in the state yearned. Wallace's race baiting had given Alabama an image problem and other southern states were attracting the new technology industries. Terry Sanford in North Carolina brought the Tar Heel State up the economic ladder with his progressive approach. Other southern states had also elected governors with less race rhetoric and more substantive economic and educational programs. Brewer fit that mold.
Soon after Lurleen's death in 1968 Wallace made his first foray into national politics running as a third-party candidate for president. He was absent from the state most of the year focusing on his presidential race. Wallace ran well, capturing the popular votes of Alabama and several other Deep South states as the segregationist, anti-Civil Rights candidate. Wallace became obsessed with being a national candidate. After the 1968 race and well into 1969, he traveled the country making speeches.
Wallace and Brewer had been allies. Brewer was Wallace's choice for Speaker of the House in 1962 and Lt. Governor in 1966 and they appeared to still be on good terms. Wallace and Brewer met in late 1969 to discuss the 1970 Governor's race. Brewer left the meeting saying that Wallace had given his word that he was not interested in running for governor in 1970. Nobody but Wallace and Brewer will know for sure what was said or promised that day. Soon after their meeting, Brewer committed to the 1970 Governor's race and began running a serious campaign while Wallace appeared to sit on the sideline. It was not until early 1970 that Wallace decided to run. Thus, the epic battle was on that many political observers point to as the greatest governor's race of this century.
Brewer hit Wallace with what I think was one of the best messages ever used: "Alabama needs a full-time governor." Most Alabamians agreed with Wallace's anti-government segregationist appeal but also knew he had done very little hands on governing because he was away from the state campaigning all the time. Brewer's full-time governor billboards were all over the state on all interstates and even on two lane roads. Brewer built a coalition never put together since. It was made up of higher income whites and black voters. The blacks in Alabama voted for the first time four years earlier in 1966. By this time the black vote had grown to 25% of the total vote and was solidly in Brewer's corner.
Brewer rode this coalition to finish first in the primary. Wallace was second but a runoff was necessary because of a large vote received by Dothan businessman Charles Woods. The four week primary runoff battle became fierce and legendary. Wallace's political life was on the line so he pulled out all the stops. Wallace worked at a feverish pace, making eighteen to twenty speeches a day begging Alabamians to put him back in the Governor's office saying, "You elect me governor and I will be a full-time governor." He knew Brewer had hurt him on that issue so he promised never to run for president again. Then he played the race card in the most openly racist ads ever shown on television. The ads showed results of boxes in Black Belt towns like Tuskegee and Selma where Brewer received 400 votes to Wallace's 10. Then the ad would boldly say, "Do you want the black block vote electing your governor?"
It worked for Wallace. People came to the polls like never before. He came from behind and pulled out a victory over Brewer. Wallace's political life had been revived. He was on a plane to Wisconsin the next day running for president. A crazed gunman shot him in a Maryland suburban parking lot in 1972. Brewer began a law practice in Montgomery.
See you next week.

Steve Flowers is Alabama's leading political columnist. His column appears weekly in 72 Alabama newspapers. Steve served 16 years in the state legislature. He may be reached at www.steveflowers.us.
Opinion | Not sure what it was, but it was no debate
Trump and Biden both interrupted each other throughout the debate, but Trump did it more, and did it as the bully he is.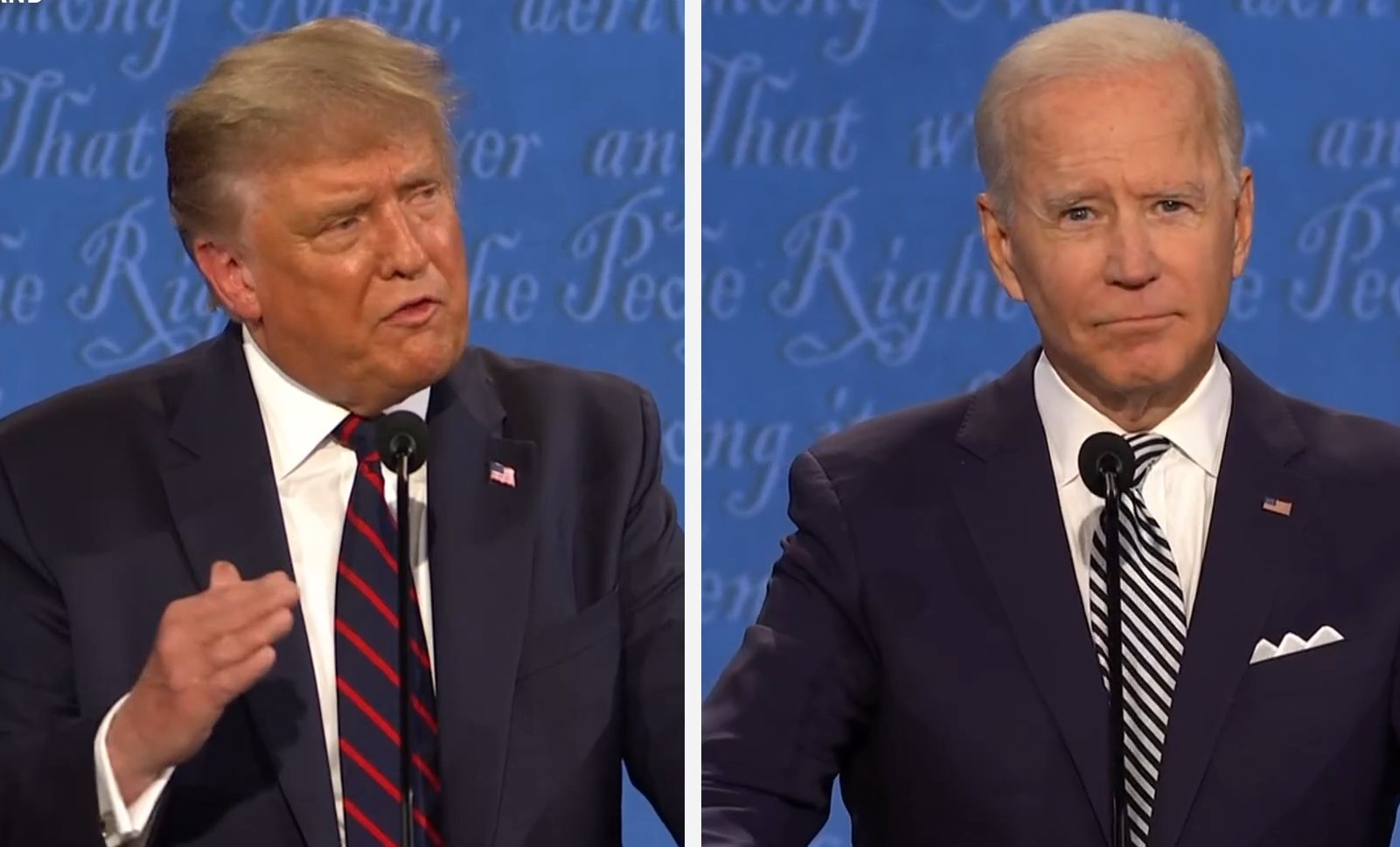 They called it a debate, but what we saw from Donald Trump and former Vice President Joe Biden Tuesday night was, as one television commentor said, a "s–tshow" instead. It was an awful performance, mainly instigated by an awful man, Trump.
Of course, in Alabama, Republicans saw something else altogether. The responses were predictable, of course, but how in the world do Republican leaders justify their response? They can't; they simply lie, and lie again, just like the desperate leader of their party.
Trump and Biden both interrupted each other throughout the debate, but Trump did it more, and did it as the bully he is. As with all bullies, though, when somebody stands up to him, he backs down because he is all bark and little bite.
Too bad Joe didn't just walk over there, with fists clenched and ready. Trump would have stumbled off the stage in fear; that's how bullies are.
A lot of observers are blaming moderator Chris Wallace for losing control of the debate. That's unfair. Nobody could have controlled Trump's continuing violation of the debate rules, allowing each candidate to have two minutes uninterrupted to make his case.
Trump regularly Tweets "LAW & ORDER," but he couldn't even follow the law and keep order in a 90-minute head-to-head with his opponent. That's because Trump knows he's on thin ice: The pandemic has killed 205,000 Americans and made many thousands more permanently sick; the strong economy left to him by the Obama-Biden administration is shattered from Trump's failure to act fast enough to check the plague, yet to Trump "it is what it is"; unrest in major cities continues because police continue to injure and kill African-American men and not be held accountable.
This is Trump's America, and he certainly didn't want to give Biden a chance to highlight these failures before the huge debate audience.
Yet Republicans, here and elsewhere, defended Trump's bad behavior, as usual.
"President Trump swiftly demonstrated that his 'Promises Made, Promises Kept' record will continue for four more years," said Terry Lathan, the chair of the Alabama Republican Party. "The comparison between the two agendas couldn't be starker. The President's record in 47 months compared to Joe Biden's 47 years in office is monumental. President Trump highlighted many of his policies. Joe Biden shared none of his."
Lathan is right that the difference in Trump's 47 months and Biden's 47 years is monumental. In Biden's 47 years, he has never mismanaged anything he's been involved in as badly as Trump has mismanaged the COVID-19 pandemic, the economy, or the unrest that continues since four Minneapolis police officers murdered George Floyd on Memorial Day.
Americans want someone who will fight for them to keep our country safe and great," Lathan said, presumably with a straight face. "President Trump showed tonight he's a heavyweight fighter who has been putting America first."
Seriously? The mess we have in this state and nation today are directly the fault of Trump and the Republicans. But you wouldn't know that from listening to Trump and his enablers, because they refuse to take responsibility, yet, they run the Senate and the White House.
Whose fault is it? Certainly not Biden's. When Biden and Obama left office, the nation's economy was booming. It seems Lathan and other Republicans consider Trump the challenger. He isn't. He's the incumbent, and his chaos has destroyed millions of jobs and America's reputation.
Barry Moore, a Republican candidate for Congress from the 2nd District, said this: "The president's personal style is confrontative, and I understand that some people don't like that. But, I also know many, many people who welcome Donald Trump's standing up to the bullies of the Left, and he did a great job confronting Joe Biden with Biden's own statements and record."
Wait a second. Are people on the left "bullies" or "snowflakes"? Like his idol Trump, Moore has also had his run-in with the law. He was arrested in April 2014 on felony perjury charges, but was later found not guilty. That was no open-and-shut case, though; the jury needed a judge to clarify the charges before finally voting to acquit Moore.
Meanwhile, Perry Hooper, a member of the Trump Victory Finance Committee, said Trump was just being Trump. That's "why we like him," Hooper said. "I think the president killed Biden when Biden could not denounce violence and antifa. He hasn't even called the Democrat governors and asked them to stop the violence. It's plain and simple that Biden is beholden to the Left Wing."
Antifa is "anti-fascist." It's not an organization, but a philosophy. Hitler was fascist. We all should be antifa.
As for Trump, he once again refused to denounce white nationalists and white supremacists – you know, racists – who the FBI claim are the largest organized groups of domestic terrorists in the United States.
But most Republicans apparently admire their racist leader. It's comfortable for them, because it's what they know. They should just own it. It's who they are.
They can't run away from that fact, even as they awkwardly defend Trump. They have no choice, because they left themselves without one.
Fortunately for the nation, many Republicans and independents are supporting Biden. That, in 32 days, should ensure a huge victory for the Democrats.
Republicans have nobody to blame but themselves, but, then, they're really lousy at taking responsibility for anything. We won't hold our breath waiting for their concession.