Joe Hubbard Wants to Make the State Safer As AG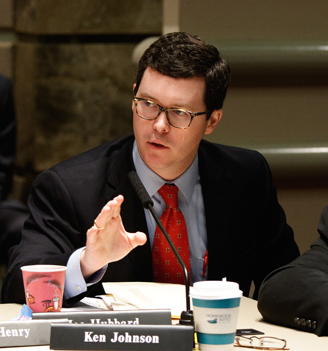 By Bill Britt
Alabama Political Reporter
MONTGOMERY—Those who know State Representative Joe Hubbard will tell you that he is a fighter. He is currently taking that fighting spirit to his opponent for the Attorney General's Office, Luther Strange.
Strange who has served as Attorney General for the last 3 plus years, has been relatively quiet in comparison to the full throttled, barnstorming campaign by Hubbard.
"I believe the priorities of the Attorney General's office have been misplaced and mismanaged over the past 4 years. The reality is, we've had an absentee Attorney General," said Hubbard in an exclusive interview with the Alabama Political Reporter.
Along with what Hubbard characterizes as mismanagement and misplaced priorities, he says that Strange has ignored the real purpose of the Office of Attorney General.
"Let's be honest: the number one priority for the AG is to make the State safer," Hubbard says, "This is not something that he [Strange] has been focused on."
Hubbard, believes that "Big Luther," has wasted taxpayer's money to, "Run little old ladies out of bingo parlors," which he says has not made Alabama safer in any way.
"The only time we see him is when he calls a press conference to announce another raid on a bingo parlor," said Hubbard.
Hubbard is critical of Strange's decision to divert manpower and resources from his office, "to wage a senseless, wasteful war on electronic bingo."
According to Hubbard, Strange has spent at least $2.8 million in State tax dollars with his former law firm Bradley/Arant in his "War on Bingo," while ignoring the rise in violent crime and other, more urgent matters.
"The current Attorney General is ignoring the real issues in Alabama, which are the rising rate of violent crime, out-of-state drug rings coming into Alabama, preying on our children. That is something I want to change" said Hubbard.
Hubbard, who is a Democrat, says that is has been criticized for not being a partisan even by some in his own party. "I've been criticized by people saying I'm not a good Democrat, because I work with both sides to get things done for the greater good," said Hubbard, "Frankly, it's a reputation I've built…I'm a solutions oriented collaborator. I want to bring folks together to get things done."
If elected, Attorney General Hubbard says he will refocus the office with a priority on "cracking down on the threats to our children and grandchildren." Hubbard, believes the current Attorney General is out of touch with the values of the State's electorate, saying, "The priorities of the current Attorney General just have not been the priorities of the people of this State. And that's something I want to change."
Alabama hospitals nearing COVID-19 summer surge levels
Wednesday was the 18th straight day with more than 1,000 people in hospitals in Alabama with COVID-19. 
Alabama hospitals reported caring for 1,483 people infected with COVID-19 on Wednesday, the highest number of patients since Aug. 11, when the state was enduring its summer surge. Wednesday was also the 18th straight day with more than 1,000 people in hospitals in Alabama with COVID-19. 
The seven-day average of hospitalizations was 1,370 on Wednesday, the 36th straight day of that average rising. The Alabama Department of Public Health reported 2,453 new cases Wednesday. The 14-day average of new cases was — for the eighth day in a row — at a record high of 2,192. 
Across the country, more than 80,000 people were hospitalized for COVID-19 on Tuesday, a record high and the 15th straight day of record hospitalizations nationwide, according to the COVID Tracking Project, a coronavirus tracking website.
The CDC this week recommended people not travel for Thanksgiving to help prevent the spread of coronavirus. 
"The only way for us to successfully get through this pandemic is if we work together," said Dr. Kierstin Kennedy, UAB's chief of hospital medicine, in a message Tuesday. "There's no one subset of the community that's going to be able to carry the weight of this pandemic and so we all have to take part in wearing our masks, keeping our distance, making sure that we're washing our hands." 
Kennedy said the best way she can describe the current situation is "Russian Roulette." 
"Not only in the form of, maybe you get it and you don't get sick or maybe you get it and you end up in the ICU," Kennedy said, "but if you do end up sick, are you going to get to the hospital at a time when we've got capacity, and we've got enough people to take care of you? And that is a scary thought." 
The Alabama Department of Public Health on Wednesday reported an increase of 60 confirmed and probable COVID-19 deaths. Deaths take time to confirm and the date a death is reported does not necessarily reflect the date on which the individual died. At least 23 of those deaths occurred in November, and 30 occurred in other months. Seven were undated. Data for the last two to three weeks are incomplete.
As of Wednesday, at least 3,532 Alabamians have died of COVID-19, according to the Department of Public Health. During November, at least 195 people have died in Alabama from COVID-19. But ADPH is sure to add more to the month's tally in the weeks to come as data becomes more complete.
ADPH on Wednesday announced a change that nearly doubled the department's estimate of people who have recovered from COVID-19, bringing that figure up to 161,946. That change also alters APR's estimates of how many cases are considered active.
ADPH's Infectious Disease and Outbreak team "updated some parameters" in the department's Alabama NEDSS Base Surveillance System, which resulted in the increase, the department said.