Armistead Discusses Common Core

By Brandon Moseley
Alabama Political Reporter
In his weekly column on September 2, Alabama Republican Party Chairman Bill Armistead said that many in the State of Alabama are anxiously awaiting what the Alabama Legislature will do about Common Core, when it reconvenes next Spring.
Chairman Armistead wrote, "Louisiana Governor Bobby Jindal took a bold step last week against Common Core, suing the Obama Administration and accusing it of illegally manipulating federal grant money and regulations to force states to adopt the Common Core education standards. This is an about-face for Governor Jindal, since he was one of the nation's first governors to endorse Common Core. He now says that the federal government has taken over what was to have been a good program and turned it into just another federal overreach by the Obama Administration."
Armistead continued, "Common Core sets benchmarks to show what students should know in Math and English after each grade. Some educators, parents and students have complained the teaching style is fuzzy and confusing; often doing more harm than good….In 2009, the Obama Administration announced that over four billion dollars from the U.S. Department of Education would be given to states as an incentive to implement Common Core standards. Over the next few years, as a direct result of those 'incentives', 46 states agreed to implement standards by the fall of 2014. The dazzle of incentives from the federal government, however, has failed to shine so bright in reality. Many states have begun to reconsider their agreement. This past March, Indiana became the first state to pull out of Common Core. Since their brave decision, three other states – Oklahoma, South Carolina and Louisiana, respectively – have also withdrawn. Wisconsin GOP Governor Scott Walker has asked his state legislature to repeal Common Core next year. In addition, 14 other states have officially spoken out and taken action against Common Core standards."
Governor Jindal issued a series of executive orders that pulled Louisiana from all federally subsidized standardized tests. To this point the Louisiana School Board has refused to comply with the Governor's orders. Jindal said after filing the lawsuit against Obama's Administration, "Common Core is the latest effort by big government disciples to strip away state rights and put Washington, D.C., in control of everything. What started out as an innovative idea to create a set of base-line standards that could be 'voluntarily' used by the states has turned into a scheme by the federal government to nationalize curriculum."
Jindal accused the federal government of hijacking and destroying the Common Core initiative. Jindal said, "Common Core is the latest effort by big government disciples to strip away state rights and put Washington, D.C., in control of everything. These are big government elitists that believe they know better than parents and local school boards."
Chairman Armistead continued, "New York was one of the first states to implement Common Core in the classroom, and began testing under the standards last year. Students' scores plummeted. The disheartening results are sure to be another justification for states across the country to begin doubting the promised success of Common Core. Even the Gates Foundation, the second largest financial contributor to Common Core, called for a delay of implementation."
Chairman Armistead wrote that Alabama Governor Robert Bentley sent the Board of Education a letter back in 2010, after he was elected but before he took office, asking the Board not to implement Common Core. Outgoing Governor Bob Riley however voted with the majority of the Board to implement Common Core despite Bentley's objections.
Chairman Armistead said, "Many of the state's conservative organizations like Eagle Forum, Alabama Policy Institute and various TEA party groups have strongly come out against Common Core, as has the Alabama Republican Party and the Republican National Committee….Many are anxiously waiting to see what the newly elected legislature will do with this issue when they convene next spring. Most Alabamians would agree that it is within our right as a state to control our own educational system. However, it is within our duty to build one that is efficient, successful and will allow for the next generation of Alabamians to prosper."
To this point, efforts by the Alabama Republican Party Executive Committee and other groups to convince the Republican controlled State board of education and State legislature to drop out of the massive federal takeover of education have been defied by members of those bodies.
Recently, the Alabama State School Board thumbed its nose at Common Core detractors by giving outspoken Common Core supporter Superintendent Tommy Bice a mammoth $1000 a week pay raise, even though teachers received no raise at all this year. Efforts by conservatives in the legislature to repeal Common Core standards have been thwarted by Senate President Pro Tem Del Marsh (R) from Anniston.
COVID-19 hospitalizations in Alabama continue surge
On Monday, 1,335 patients with COVID-19 were being cared for in hospitals statewide, the most to date.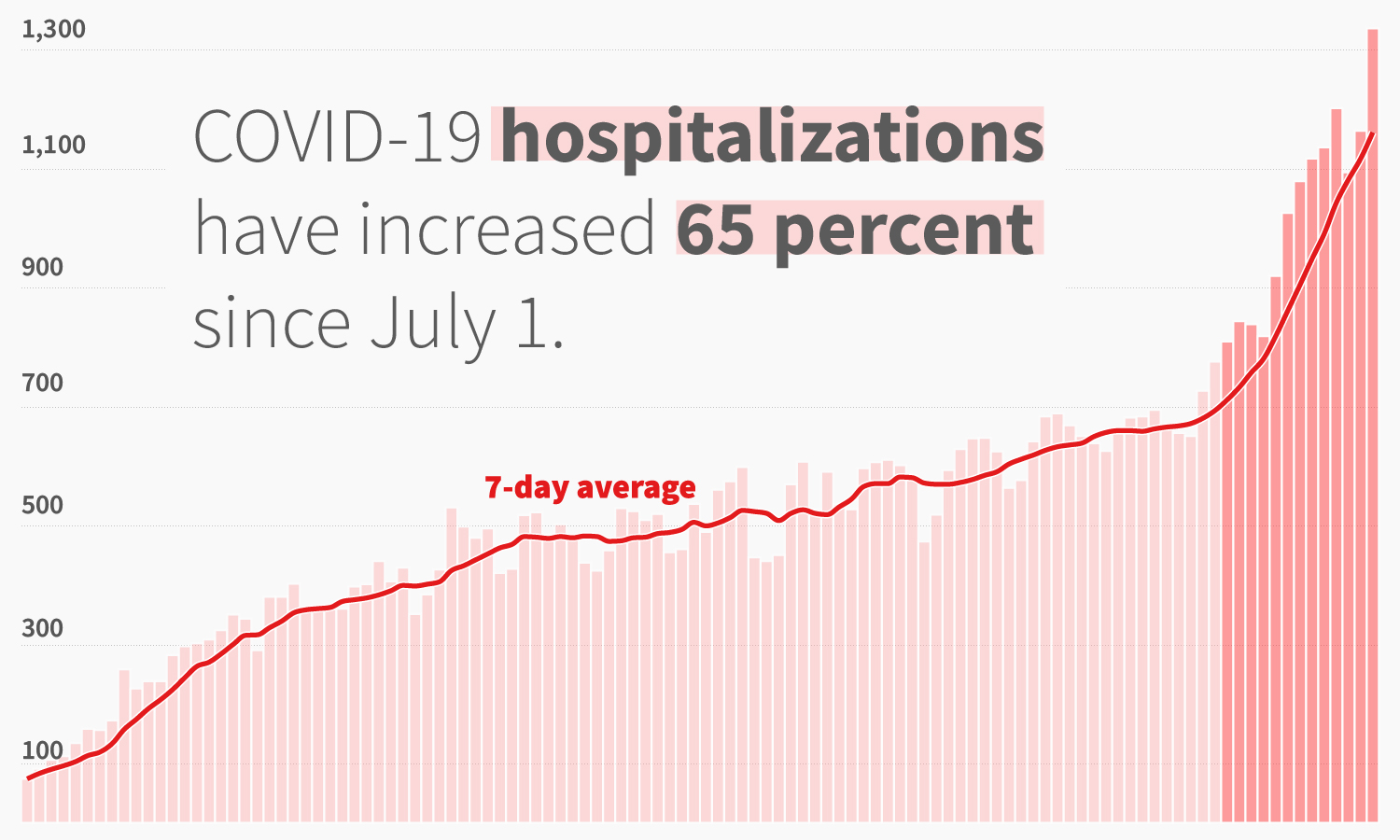 Alabama on Monday saw the highest number yet of COVID-19 patients in hospitals since the start of the pandemic, and the second-highest single-day increase in coronavirus cases on record. 
On Monday, 1,335 patients with COVID-19 were being cared for in hospitals statewide. That was 172 more COVID-19 patients than were hospitalized the previous day — and the largest single-day increase in hospitalization numbers reported by the Alabama Department of Public Health.

The last record number of hospitalized COVID-19 patients in Alabama was on Friday, when 1,201 people were being treated statewide. The increase Monday is also 134 more patients than were being care for on Friday.
Friday was the sixth straight day of record-breaking COVID-19 hospitalizations in Alabama. Friday also saw the second-highest number of deaths in a single day in the state, when ADPH confirmed 35 new deaths as a result of COVID-19, nearly breaking the previous record of 37 set on May 12.
On Monday, the state also added 1,860 to Alabama's total case count, bringing the cumulative total now to 54,768 confirmed cases. That's the second-highest single-day increase in cases since the start of the pandemic. With 25,783 people presumed to have recovered from the virus, and at least 1,096 dead, more than half of the state's cases, or 27,889, are presumed to be active.

Testing has ticked up slightly in the last few weeks — Alabama's seven-day average of tests conducted was 9,176 on Monday, 93 more than the previous high set on July 5 — but the percentage of tests that are positive continues to increase as well, a sign that new cases aren't just due to more testing. 
The seven-day average positivity rate Monday was 16.18 percent, which was almost 30 percent higher than it was a week ago. Taking into account the Alabama Department of Public Health's incomplete testing data on July 9 and in early April, which threw off the positivity rate, Monday's seven-day average was the highest on record for Alabama. 
Public health officials say that the percent of tests that are positive should be at or below 5 percent or there's not enough testing being done and cases are going undetected. 
Madison County continues to see a surge in new cases. The county added 267 new coronavirus cases on Monday, and over the last week added 1,044 new cases, which was 70 percent more than were added the week before. Madison County's positivity rate this week has been roughly 16 percent. 
Jefferson County followed closely behind Madison County, adding 266 new cases Monday and 1,602 cases within the last week, which was a 30 percent increase from the week before. 
In Mobile County, there were 157 new cases Monday.
Mobile County's weekly total of new cases for the last week was 23 percent higher than the previous week.