Unmasking the Jackals: Inside the AG Conspiracy
By Bill Britt
Alabama Political Reporter
We now know for certain, the name of one of the individuals working to aid Speaker of the House Mike Hubbard and others evade justice. His Name is Henry T. "Sonny" Reagan, and he is just one of many ruthless politicos lurking in the shadows seeking to thwart justice on behalf of an elite pack of jackals.
According to W. Van Davis, the man overseeing the investigation of Hubbard, "Reagan, for a period of months, had undisclosed communications with individuals affiliated with people indicted or under investigation by the Lee County Special Grand Jury. Reagan also took other action to impede or obstruct the investigation."
Reagan has been unmasked as a traitor to his profession, his office and the people of Alabama.
Last week, Hubbard's criminal defense attorney J. Mark White tried to insulate his client from the Reagan scandal by saying, "…there has been no communication between the two men [Hubbard and Reagan] in person, by phone, letter, email, carrier pigeon, or smoke signal. For anyone to suggest otherwise would warrant a diagnosis of 'factual deficit disorder.'"
White is juggling like a circus clown attempting to distract everyone away from the main attraction in the center ring. Reagan's actions are linked to his relationship with former Gov. Bob Riley, not Hubbard. The Reagan affair cuts to the heart of the matter: it is the Riley Machine at work to save itself.
This is family business for this pack of jackals.
The former governor's son is Reagan's attorney, which clearly shows a bright-line connection to the Riley Machine. And if the Reagan/Riley connection is not bright enough, the fact that Rob Riley has been Hubbard's attorney of record since the late 90's should start to illuminate the truth.
So it is that Reagan, owes his career to Gov. Riley.
Hubbard is Riley's second son and Rob represents them all.
This dark alliance should come as no surprise, but the fact that Rob Riley is the shadow attorney for Hubbard and Reagan, is definitely an unholy Communion.
Riley is the man most responsible for Reagan's career and his steady rise to power.
Reagan served as Riley's Chief Legal Advisor during the crusade against electronic bingo in the State. Riley recruited Reagan to be point-man on litigation against Milton McGregor and VictoryLand Casino. After Riley left office, Reagan returned to the Attorney General's Office where he has served as the chief prosecutor in gaming cases. He has been the leading agent against all gaming in the State including the Poarch Creek Indian operations.
Just a few weeks ago, Reagan appeared in a Montgomery courtroom to once again prosecute McGregor and VictoryLand, all the while serving as a Judas inside the very office he was representing. This man who swore an oath to up hold the laws of our State, appeared in court to prosecute others while he himself may have broken State laws in a most heinous way.
When faced with his treasonous actions before the Lee County Grand Jury, Reagan sought to use the law to seal his deeds. But, Lee County Circuit Court Judge Hughes saw through that charade and compelled him to testify. Reagan appealed to the Supreme Court, but they referred the matter to the Criminal Court of Appeals. They denied his request, as well.
In an extraordinary move, the Criminal Court of Appeals decreed that Attorney General Luther Strange—who has recused himself from the Lee County investigation—be permitted to see records of the Grand Jury proceeding that involved Reagan's actions. Immediately upon seeing the evidence against Reagan, the Attorney General placed him on leave pending an administrative hearing.  For this, Strange should be commended and not ridiculed, as some have chosen to do.
The revelation of Reagan's betrayal to aid those who may have committed egregious crimes strikes at the very foundation of moral law within the State.
Reagan has once again appealed to the Supreme Court to hide his crimes. This proves conclusively that this man is without conscience. To think that a court led by Chief Justice Roy Moore would cover over such acts, is to believe that the whole system is as corrupt as Reagan.
Like jackals, these opportunistic predators seek to ravage all that is good in our State, filling their bellies at a feast of greed and corruption. The whole affair reeks of madness, the kind of madness that stems from a conscience seared with a hot iron, void of principle, avaricious and demented by power.
This must end with the indictment and conviction of Hubbard and the whole Riley Machine, or the State will be damned by men like Reagan.
Opinion | Let's hope for Reed's success
Reed's temperament and style appear right for this moment in Alabama's history.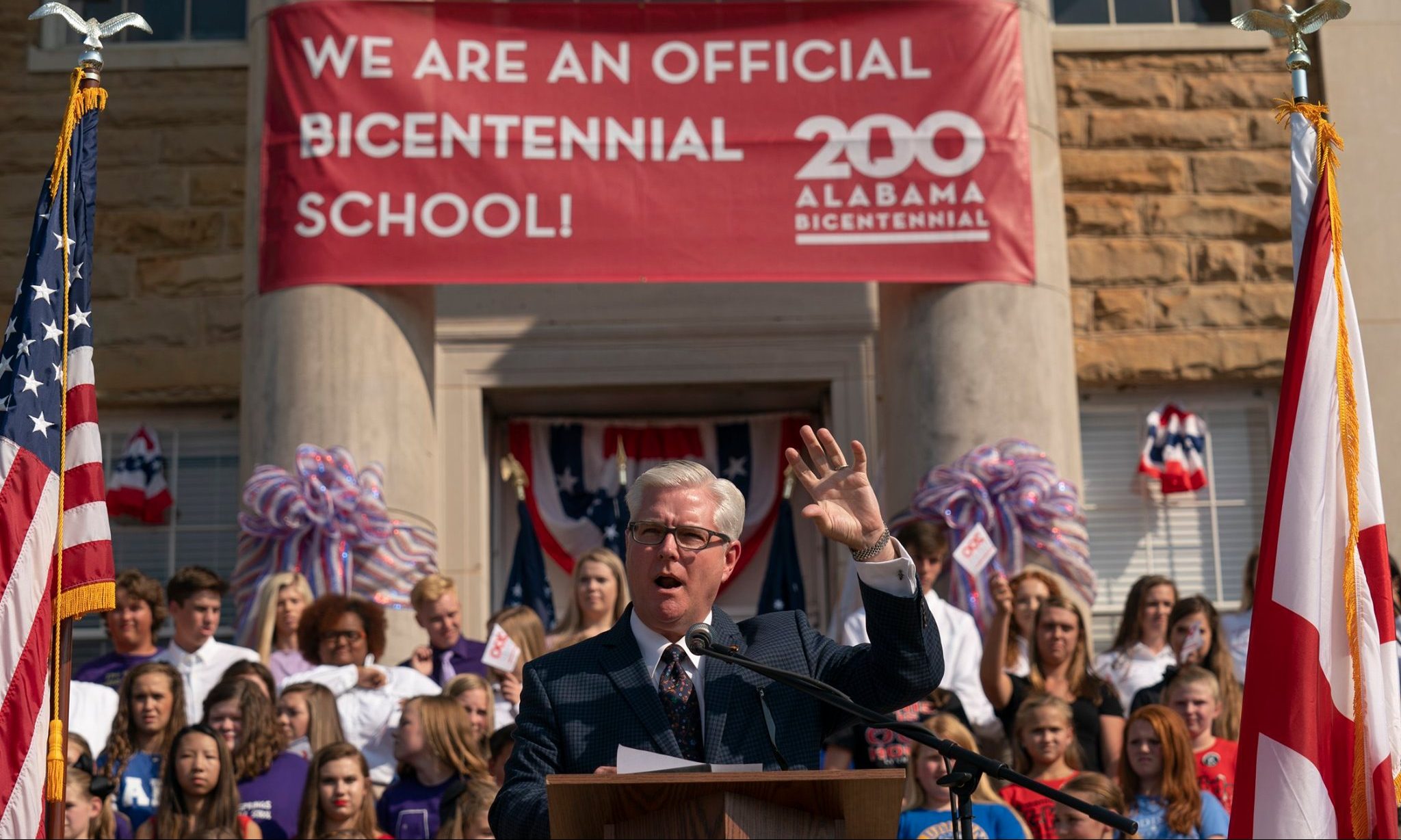 State Sen. Greg Reed, R-Jasper, will lead the Alabama Senate as president pro tem during the upcoming 2021 legislative session. What changes will Reed bring to the upper chamber, and how will his leadership differ from his predecessor? No one knows for sure.
Reed succeeds Sen. Del Marsh, who has served as president pro tem since Republicans took control of the Statehouse in 2010. Marsh, along with then-Gov. Bob Riley, current felon Mike Hubbard and ousted BCA Chair Billy Canary orchestrated the 2010 takeover that saw the Republican rise to dominance.
Reed, who won his Senate seat the same year, was not a charter member of the Republican ruling class, but he benefited from the power sift.
Mild-mannered and studious with a quiet charm, Reed has steadily ascended the ranks of Senate leadership. His silver hair and calm determination have served him well. Reed is a senatorial figure straight out of Hollywood's central casting.
In all, Reed is nearly universally liked and respected, which in the near term is a hopeful sign of potential success. But political leadership always comes with a warning: "Friends come and go, enemies accumulate."
Reed's relationship with Gov. Kay Ivey is certainly less contentious than Marsh's and gives rise to the belief that there will be greater cooperation between the executive and the Senate.
With the economy and public health under dire stress due to the ravages of COVID-19, legislative priorities are fixed: get people back to work and eradicate the coronavirus.
However, one of Reed's first tests will be whether he can cool the smoldering anger of those senators who still feel the sting of Ivey's rebuke over the allocation of CARES Act funds. He will also need to resist those who want to punish the administration over its use of public health statutes to implement mask mandates and other safety measures to prevent the deadly coronavirus spread.
Despite outward declarations of a unified body, the State Senate is a small, insular and unwieldy beast where egos loom large and consensus on policies is often tricky to achieve except on "red meat issues."
Building a coalition on policy in the Senate is often a combination of horse-trading, cajoling and carefully applied pressure. The way forward in the near term is exact: pass legislation that spurs economic recovery and mitigates the health crisis at hand.
But Reed will also simultaneously need to recognize what comes next for justice reform, prison construction, gambling and a myriad of other pressing issues. His job will be to understand the prevailing winds, which are evolutionary, not revolutionary.
As author Doris Kearns Goodwin noted in Lyndon Johnson and the American Dream: "For political leaders in a democracy are not revolutionaries or leaders of creative thought. The best of them are those who respond wisely to changes and movements already underway. The worst, the least successful, are those who respond badly or not at all, and those who misunderstand the direction of already visible change."
Reed's temperament and style appear right for this moment in Alabama's history.
As President Abraham Lincoln said, "If you want to test a man's character, give him power."
Let's all hope that Reed passes the test.