U.S. Expands War Against ISIS Into Syria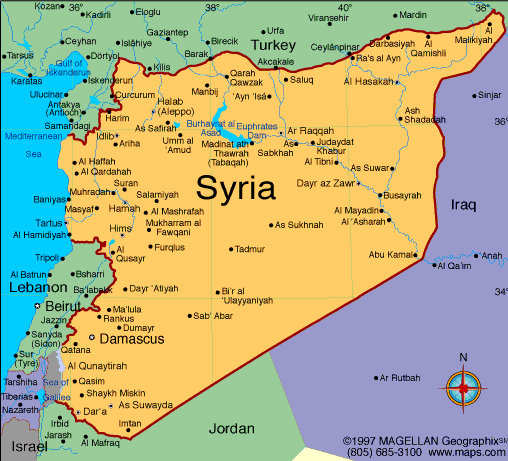 By Brandon Moseley
Alabama Political Reporter
Late on Monday, September 22, the United States and it's allies expanded the war against the Islamic State of Iraq and Syria (ISIS).
The U.S. Department of Defense Central Command in Tampa, Florida released a statement early on Tuesday.  Central Command said, "U.S. military forces and partner nations, including the Kingdom of Bahrain, the Hashemite Kingdom of Jordan, the Kingdom of Saudi Arabia, Qatar and the United Arab Emirates, undertook military action against ISIL terrorists in Syria overnight, using a mix of fighter, bomber, remotely piloted aircraft and Tomahawk Land Attack Missiles to conduct 14 strikes against ISIL targets."
Central command reports that the strikes destroyed or damaged multiple ISIL targets in the vicinity of Ar Raqqah, Dayr az Zawr, Al Hasakah, and Abu Kamal.  The targets included ISIL fighters, training compounds, headquarters and command and control facilities, storage facilities, a finance center, supply trucks and armed vehicles.
In the Syria campaign against ISIS, the United States fired 47 Tomahawks from the USS Arleigh Burke and USS Philippine Sea operating from international waters in the Red Sea and North Arabian Gulf. U.S. Air Force, Navy and Marine Corps fighters and bombers as well as remotely piloted drones also took part in the attacks.  Joining the U.S. the Kingdom of Bahrain, the Hashemite Kingdom of Jordan, the Kingdom of Saudi Arabia, Qatar and the United Arab Emirates also participated in or supported the airstrikes against ISIL targets. All aircraft reportedly safely exited the strike areas.
Pentagon Press Secretary Rear Adm. John Kirby said in a statement, "I can confirm that U.S. military and partner nation forces are undertaking military action against ISIL terrorists in Syria using a mix of fighter, bomber and Tomahawk Land Attack Missiles."  "Given that these operations are ongoing, we are not in a position to provide additional details at this time. The decision to conduct theses strikes was made earlier today by the U.S. Central Command commander under authorization granted him by the commander in chief. We will provide more details later as operationally appropriate."
Meanwhile in Iraq, U.S. military forces continued to attack ISIL terrorists, using attack aircraft to conduct four airstrikes. The Pentagon reports that airstrikes destroyed two ISIL Humvees, an ISIL armed vehicle and an ISIL fighting position southwest of Kirkuk.  To date, U.S. Central Command has conducted a total of 194 airstrikes across Iraq against ISIL.
The Pentagon reports that it has separately, "Taken action to disrupt the imminent attack plotting against the United States and Western interests conducted by a network of seasoned al-Qa'ida veterans – sometimes referred to as the Khorasan Group – who have established a safe haven in Syria to develop external attacks, construct and test improvised explosive devices and recruit Westerners to conduct operations. These strikes were undertaken only by U.S. assets."  U.S. Central Command reports that U.S. forces conducted eight strikes against Khorasan Group targets west of Aleppo to include training camps, an explosives and munitions production facility, a communication building and command and control facilities.
Also on Monday, the U.S. military is now on the ground in Liberia as part of an effort to fight the further spread of the deadly Ebola virus. Pentagon Press Secretary Navy Rear Adm. John Kirby said that Army Major General Darryl A. Williams, who commands the U.S. Army Africa Command, is now in Liberia and joining a team of U.S. military personnel that began arriving on Friday.
Admiral Kirby said, "He arrived in Monrovia two days ago with a 12-person assessment team [that] is conducting on-the-ground planning and site surveys to construct Ebola treatment units in Liberia," the admiral told reporters at a news conference."  Kirby said that C-17 aircraft carrying military handling equipment arrived in Monrovia yesterday.  Admiral Kirby said, "We anticipate that two C-17s will arrive in Liberia this weekend with approximately 45 additional U.S. military personnel," the admiral said, "and they will begin work establishing the command headquarters of General Williams."
Kirby said that the U.S. military personnel will need in terms of support infrastructure to sustain operations for up to six months, "or however long U.S. military assistance is required" in West Africa.
General Williams and U.S. Ambassador to Liberia Deborah Malac have met with Liberian officials, including President Ellen Johnson Sirleaf, to discuss the situation and have toured several sites where more Ebola treatment units will be built, Kirby said.
Kirby said that DOD has requested to reprogram two rounds of $500 million each in fiscal year 2014 overseas contingency funds to provide urgent humanitarian assistance to fight Ebola and is prepared to devote up to $1 billion to its Ebola response efforts.
Kirby said that there, "Is no intention right now that [deployed troops] will interact with patients or be in areas where they would necessarily come into contact with patients." "They're not doctors. They're not nurses. They're not trained for that and not equipped for that. That's not part of the mission. They will be kept in locations where they can do their jobs without coming into contact with patients."  The troops will be acting in support of health care workers.
Admiral Kirby said, "The disease itself is the threat. We understand that.  We get paid to deal in risk and to manage that and to mitigate it the best we can. It's difficult in any military operation to eliminate it, and the men and women who sign up and serve in the military understand that when they do."
Operation United Assistance is being led by the U.S. Agency for International Development, the State Department and the Liberian government not the U.S. Military.
Print this piece
AlabamaWorks releases business survey to identify COVID-19 impact
AlabamaWorks has announced a new tool for all businesses, large and small, related to the COVID-19 impact and future focus of the workforce in the state.
The Alabama COVID-19 Workforce Response Survey is designed to help the state fully understand the impact of this pandemic on the state's workforce as well as provide a clear path forward for businesses, industry and state government.
"I am grateful to the Alabama Workforce Council for developing and deploying this much needed and user-friendly survey," said Governor Kay Ivey. "As we work together to combat COVID-19's impact, this tool will allow us to identify the needs of business and industry, resources that can help them and how we can best support Alabama's businesses owners and hardworking Alabamians and their families."
The official survey, which is critical for helping individual industry sectors recover from COVID-19, is available here: http://sm.aidt.edu/alabamaworks-survey.
"While these are challenging times, we fully understand that now, more than ever, business and industry leaders must continue to work together with Governor Ivey's administration and various state agencies to move us all forward together," noted Alabama Workforce Council Chairman Tim McCartney. "Rest assured there is an unwavering commitment to do everything we can to minimize the negative impact COVID-19 has on our businesses, our economy, the state and all of its citizens. Using the results from this survey, I know we can all make a difference in combating the challenges from this pandemic facing so many throughout Alabama."
Responses to the survey will be accepted through Tuesday, April 21 at 5 p.m. All businesses are highly encouraged to participate as the responses will help to protect Alabama's workforce, manage the impact of COVID-19 and guide the allocation of various resources.
Additionally, another tool was released earlier this week for hard-working Alabamians from Governor Ivey's office to help connect people to resources and resources to people. ALtogetherAlabama.org is a one-stop-shop for all Alabamians meant to connect businesses, nonprofits, and people that need help with the available resources during this time.
For more information and resources on Alabama's COVID-19 workforce recovery efforts please visithttps://alabamaworks.com/coronavirus/.
Print this piece