Christians Hold Prayer Rallies Across State and Nation
By Brandon Moseley
Alabama Political Reporter
Monday, October 6 a Catholic Christian group, American Needs Fatima, announced in a written statement that they were organizing public prayer rallies across the country to publicly ask God for a moral renewal in America.
Chelsea Rally Team Captain, Mrs. Druscilla Chauffe, OP said in a written statement, "I received a call from America Needs Fatima asking me to participate as a team captain. I knew that I couldn't say 'no' to their request because I have been feeling so helpless as I watch America fall in moral decay. I pray for America daily but I just haven't felt that my prayer alone was going to change things. Therefore, leading a rally with people around the community in a public place was one way that I could help in a slightly more profound way. Catholics and other Christian denominations need to exercise their God-given Constitutional rights of freedom of religion and freedom of assembly by praying in the public square for the return of our Nation to it's foundational roots of Christianity."
Mrs. Chauffe said that the public Rosary Rally she is organizing will be held on Saturday, October 11th, from Noon until 1:00 pm on the lawn at the Chelsea City Hall. Mrs. Chauffe said, "This rally is only one of the over 12,000 Rosary Rallies being held all over the US to pray for the intercession of our Bl. Mother in bringing back fallen away Catholics and bringing America back to it's Christian roots. It is also being held to make public reparation to God for all the sins and sacrileges committed against God and our Blessed Mother in this country and throughout the world. There are many more intentions that we will be praying for but these are the major ones."
Chauffe concluded, "My prayer is that these gatherings will begin to spread throughout our Nation on a regular basis so our voices will become louder and clearer. We need not be afraid of what the world will think as we pray in public. We just need to do it!" Chauffe is a member of the Blessed Pier Giorgio Frassati Group of Dominican Laity in Birmingham. While Chauffe and most of the organizers of the American Needs Fatima movement are Catholic, Chauffe encouraged Protestants to join them in prayer for American renewal. Chauffe said, "I feel very strongly that it is time to stand up publicly for what we believe before all our religious freedoms are taken away from us!"
Chauffe said that there are two other rallies in the Greater Birmingham area. One will be led by Dr. Michael Mueller, OP in the Hoover area and the other will be held by St. Theresa parish in Leeds.
The group said on their website, "America urgently needs the prophetic messages of Our Lady at Fatima. Above all, America needs a clear direction, a great purpose, and the means to achieve it. The admonitions, requests, and warnings of Mary Most Holy can rightly be called a heaven-sent survival manual."
Trump Truck and boat parades this weekend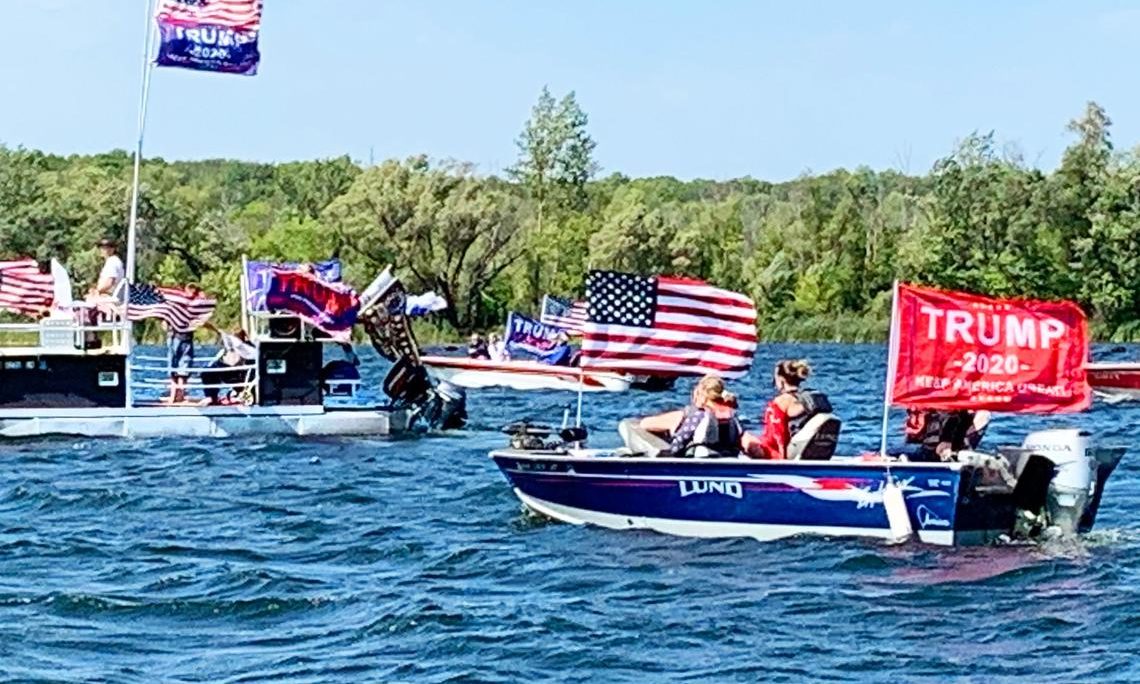 As Election Day draws near, Alabama Republicans are excited about promoting the re-election of Donald J. Trump as President and the election of Tommy Tuberville for U.S. Senate. This weekend two pro-President Trump events are happening in the state. There will be a truck parade from Ashland to Phenix City on Saturday sponsored by the Clay County Republican Party, while there will also be a boat parade on Wilson Lake in the Shoals sponsored by the Colbert County Republican Party on Sunday.
The pickup trucks will assemble at the Ashland Industrial Park in Clay County, 8240 Hwy 9, Ashland. There is a pre-departure rally at 10:00 a.m. central standard time. The trucks will depart at 11:00 a.m. and then proceed on a parade route that will take them into the bitterly contested swing state of Georgia. The Trump Pickup Parade will wind through east Alabama and West Georgia traveling through LaGrange and Columbus before concluding near the Alabama/Georgia line in Phenix City, 332 Woodland Drive, Phenix City at approximately 2:00 p.m. central time. Speakers will begin at 3:00. Trump flags will be on sale at the event.
The Phenix Motorsports Park will be hosting what sponsor hope could possibly the world's largest Pickup Tuck parade in U.S. history that is routing over 50 mile through Georgia in effort to "pickup" President Trump's numbers in GA.
A number dignitaries have been invited to address the Phenix City rally, including Coach Tuberville. Former State Sen. Shadrack McGill, Trump Victory Finance Committee member former State Rep. Perry O. Hooper Jr., and Paul Wellborn, the President and CEO of the largest Family owned Kitchen Cabinet manufacture in the USA are among the featured speakers who have committed to speak at the event.
Entertainment will be provided by: Charity Bowden, an up and coming country music singer who was the runner up on "The Voice". Charity will sing 'I am Proud to be an American' as well as songs from her Voice performances. The McGill Girls will also perform. The three beautiful and talented sisters will be singing patriotic songs in three part harmony. Geoff Carlisle, a professional DJ will be keeping the crowd pumped with music and entertainment.
Following the speakers and the entertainment there will Trump truck-vs- Joe Bidden truck races down the drag strip for the finale.
The Northwest Alabama boat parade will be on Sunday. The boats will gather at 2:00 p.m. near Turtle Point and then the flotilla will parade around the open waters of Wilson Lake til 3_00 p.m.. There will be a contest for best decorated Trump boats.
Trump supporters have held a number of large boat parades across the state to show their support for the re-election of Pres. Trump.
Boat parade sponsors say that this parade will be: pro-American, pro-law enforcement, pro-military.