Byrne Opposes Obama Plan to Send Thousands of U.S. Troops to Africa to Fight Ebola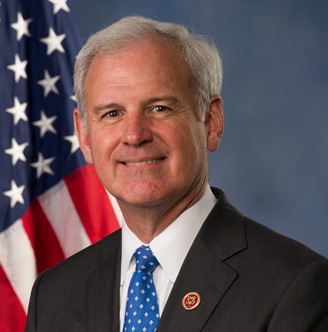 By Brandon Moseley
Alabama Political Reporter
After initially saying that the U.S. military would send just 300 troops to provide logistical help to West African countries fighting the deadly Ebola virus which has killed thousands of Africans late last week, the White House revealed plans to dramatically ramp up both the size of the U.S. force in Africa and the scope of its mission. Over 4,000 American troops are to be deployed in Africa to fight the Ebola virus.
On Wednesday, October 8, U.S. Representative Bradley Byrne (R) from Mobile announced in a written statement on Facebook that he was opposed to using the military to fight the Ebola pestilence in Africa.
Rep. Byrne said, "I remain opposed to using US military personnel to fight the Ebola outbreak in west Africa. Our military is stretched thin already with the fight against ISIL in the Middle East and other terrorist organizations in Africa. There are other organizations, like the Centers for Disease Control (CDC), the World Health Organization and the United Nations, which are better suited to combat the Ebola outbreak."
Last week Senator Rand Paul (R) from Kentucky expressed concerns for the safety of American troops in the midst of the African Ebola epidemic. Rand Paul told popular conservative radio talk show host Laura Ingraham, "We also have to be concerned about 3,000 soldiers getting back on a ship. Where is disease most transmittable? When you're at very close confines on a ship. We all know about cruises and how they get these diarrhea viruses that are transmitted very easily, and the whole ship gets sick. Can you imagine if a whole ship full of our soldiers gets Ebola? So I am concerned about it, and it's a big mistake to downplay it and act as if it's not a big deal. … This could get beyond our control."
The Obama Administration has downplayed any risk. On Sunday on CBS's long running Face the Nation show, Dr. Anthony Fauci of the Allergy and Infectious Diseases Institutes and the National Institutes of Health (NIH), dismissed Paul's concerns, "I'm sorry, but that's really not a concern. First of all, the troops that are going over there are gonna be fundamentally for logistic purposes–command, control, engineering, setting up the hospitals. They're well trained. They will not be in direct risk in the sense of contact with individuals." Dr. Fauci said that "even if they are" in contact with West Africans with Ebola, "the protocols are in place to prevent spread from there." "I don't, and the army does not, have any real concern that those 3,000 to 4,000 are going to be in danger."
Gradually the story changed over the course of this week when the Pentagon admitted that yes some U.S. troops are on the ground actually testing Liberians for the Ebola virus.
On Monday, Sept. 8, Army General David Rodriguez said at the Pentagon that small numbers of highly-trained U.S. troops wearing full-body protective gear have been testing the blood of potential Ebola victims.
Later in a clarification statement, General Rodriguez said, "I want to clarify my remarks, U.S. military personnel working in the labs are not interacting with patients, only samples."
Gen. Rodriguez said, "Stopping the spread of this disease is the core mission," and that the mission will eventually involve about 4,000 troops.
Rodriguez said that if any U.S. troops are suspected of contracting Ebola, they will be flown in isolation units aboard specially-outfitted aircraft for treatment in the U.S. Gen. Rodriguez said, "I am confident that we can ensure our service members' safety."
General Rodriguez said that the U.S. Military response alone would cost $750 million.
Currently 330 American troops are on the ground under the command of Army Major General Darryl Williams. On Thursday, over 100 Marines and specially equipped Osprey aircraft and two C-130s are being deployed to West Africa from Spain. Later this month they will be reinforced with 700 troops from the 101st Airborne Division and command of the Ebola mission will be turned over to Major General Gary Volesky. Gen. Williams will then return to his command at U.S. Army Africa.
On Monday, President Barack H. Obama met personally with Defense Secretary Chuck Hagel, Gen. Martin Dempsey, the chairman of the Joint Chiefs of Staff, and his national security team on the Ebola response.
President Obama at a news conference said, "We're having to stand up, essentially, a public health infrastructure in many of these areas that haven't had one before, and that requires an enormous amount of effort and I'll be very honest with you. Although we have seen great interest on the part of the international community, we have not seen other countries step up as aggressively as they need to."
To this point there have been a total of 8033 suspected Ebola cases in this outbreak. Only 4,461 of those cases have been confirmed through laboratory testing. 3865 of those patients have died as of Wednesday, October 8 including Thomas Eric Duncan, a Liberian traveler who was being treated in a Dallas Hospital who died on Wednesday. Some recent estimates are that as many as 1.5 million Africans could contract Ebola in the next 12 months.
Original reporting by the Hill.com's Kristina Wong and Sarah Ferris, Military.com's Richard Sisk, Breitbart.com's Tony Lee, the CDC website, and the Associated Press contributed to this report.
Congressman Bradley Byrne represents Alabama's First Congressional District.
Print this piece
Opinion | It's time for Alabama Democrats to learn from Alabama Republicans
Democrats never seem to learn from Republicans. 
All around the country, and all around the state of Alabama, Democrats are still playing by the rules. Still listening to the cries and outrage from the other side. Still entertaining the idea that compromise and diplomacy are important to Republicans on some level. 
Still watching Lucy jerk that football away at the last moment. 
It's time that stopped. 
It is time — actually, well past time — for Democrats to adopt the attitudes of their GOP colleagues, and just do whatever the hell you want to do. 
Whatever goal you set, go achieve it. Whatever policy is important, implement it. Whatever action you believe is right, take it. 
This is how Republicans have governed now for years. It is how they have wrestled control of the U.S. Supreme Court — just don't hold a hearing for a duly appointed candidate — and how they have stolen elections — keep blocking attempts to secure elections. It is how they control half of Congress — thanks, gerrymandering! — despite representing nearly 20 million fewer people and how they have managed to offset a growing minority vote — put up every roadblock short of a poll tax. 
In Alabama, it has how they adopted the AAA act to funnel tax money to private schools — just completely rewrite the bill in the dead of night — and how they passed the most restrictive abortion ban — just ignore promises and public opinion. It is how they have stopped attempts to pass gambling legislation — by straight up lying about the law — and how they have steadily cut into ethics laws — pretend that no one can understand the laws they wrote themselves — and how a House Speaker convicted on 12 felonies still isn't in prison three years later — just don't send him. 
They don't care. 
About rules. About the law. About public perception. About basic decency. 
And it's time for Democrats, especially in Alabama, to adopt the same attitudes. 
Because if Republicans can behave this way to implement racist bills and roll back ethics laws and protect the income of the elites, then Democrats shouldn't think twice about doing it to protect rural hospitals or new mothers' health or workers' rights or decent public schools. 
Now, this will be a big change for Democrats, so let me explain how this would look in practice, using the ongoing saga of Confederate monuments. 
Republicans shoved through an absurd bill last year that protects the state's monuments to those who fought to enslave other human beings, and they're shocked — shocked and outraged — that African Americans in Alabama might find it offensive to honor the men who enslaved their ancestors. 
The bill they passed last year was a dumb bill, right down to the portion which levied a fine on cities if those cities removed or damaged a monument. The bill completely screwed up the fines portion, failing to penalize cities for moving or damaging monuments over 40 years old and failing to place a per-day fine on those cities. Instead, the Alabama Supreme Court said the cities would be subject to one $25,000 fine. 
Birmingham has a monument that it desperately wants to move. It has already boarded up the monument in Linn Park, and the ALSC, in the same ruling, ordered the boards to come down. 
And this is the first opportunity for Mayor Randall Woodfin to approach this with a new attitude. 
Tear it down. 
Write out one of those big "Price is Right" checks for $25,000, hold a press conference and award that money to Steve Marshall like he just won at Plinko. 
At the same time, workers should be taking that monument apart piece by piece and moving it to the Birmingham Civil Rights Institute, where it can be viewed for its historical significance instead of serving to honor traitors and racists. 
No apologies. No shame. Don't even entertain their complaints. 
A similar approach should be taken by the city of Montgomery in regards to its occupational tax, which Republicans are attempting to stop through legislative action. 
Montgomery is going broke, and it can't put enough cops on the streets. Part of that is because every day about 70,000 people flood into the city to go to work, and then they leave each afternoon and spend their money in — and give their tax dollars to — surrounding cities and counties. 
Montgomery has to do something to offset the costs, so an occupational tax has been proposed. But just as quickly as it was, the ALGOP — the kings of handouts to people who don't need them — passed a bill to block it. 
So, some creativity is required.
Instead of an occupational tax, pass a public safety tax. 
If you work within the city limits of Montgomery, but live outside of those city limits, your paycheck will now be taxed an extra 1 percent to offset the cost of the police and fire services that you might use while in the city every day. 
No apologies. No shame. Don't listen to GOP complaints. 
It's a shame that things have to be like this, but they do. Democrats have tried for decades to force rational debate and to promote the value of compromise. Those pleas have fallen on deaf ears, which have been attached to toddler-like brains that have justified atrociously selfish behaviors and awful governance. 
At this point, it has gone on so long and been so successful for Republicans, the only thing that might break through is a taste of their own medicine. 
Give it to them.
Print this piece