Jeb Bush Addresses Business Council of Alabama
By Brandon Moseley
Alabama Political Reporter
Tuesday, October 7, former Florida Governor Jeb Bush was in Birmingham for a fundraiser for the powerful Business Council of Alabama (BCA) and its influential ProgressPAC.
The former Florida Governor has been mentioned as a possible GOP Presidential contender. His brother, former President George W. Bush (R) told Fox News's Brian Kilmeade recently, "[Jeb] and I had a conversation. I of course was pushing for him to run for president, he of course was saying, 'I haven't made up my mind.'" President Bush said, "I truly don't think he has, and plus I don't think he liked it that his older brother was pushing him." "He [Jeb] understands what it's like to be president for not only the person running or serving, plus family. He's seen his dad, he's seen his brother. And so, he's a very thoughtful man, and he's weighing his options."
President Bush was interviewed live by "Fox and Friends" host Brian Kilmeade in Dallas, Texas, at the Las Colinas Country Club shortly before the second day of the Bush Center's Fourth Annual Warrior Open golf tournament, which honors wounded soldiers.
Jeb and George's father, George H. Bush (R) was President of the United States from 1989 to 1993.
The BCA held a reception, dinner, photo opportunity, and leadership round table with Gov. Jeb Bush at the Sheraton in Birmingham. According to information provided by BCA, contributions for the Chairman's Dinner were used to support BCA's political action committee, ProgressPAC. All funds received from organizations prohibited from giving to political action committees are used strictly to cover expenses directly incurred by the Chairman's Dinner event and are not used for any political purpose.
State Representative Jack Williams (R) from Vestavia attended the event. Rep. Williams said on Facebook afterwards that Gov. Jeb Bush shared stories about his family and his thoughts on politics and current events with Alabama business leaders at Tuesday'BCA Annual Dinner.
While Jeb has far more support in Alabama for President than any other likely GOP contender according to polling done over the summer by Cygnal, the popular former Governor does have his detractors.
Shelby County Republican Executive Committee Member and prominent Tea Party organizer Steve Johnson referred to Gov. Jeb Bush on Williams Facebook as a "RINO" (Republican in Name Only – a derogatory term directed at Republicans that aren't conservative enough).
Rep. Jack Williams replied, "Steve Johnson that's sad – and that mentality will keep Democrats in the White House. I thought he did an outstanding job of laying out what he was for and where he would like to see our country go."
Steve Johnson replied, "He supports open borders and Common Core. It is sad that you would support him."
Rep. Williams responded, "I heard him speak and when he mentioned immigration he did not advocates open borders. But if our mentality us let's find out what we disagree on so we can continue to eliminate viable candidates then we will continue to lose elections. Reagan said the person who agrees with me 80% of the time I'd my friend. We have left that way of thinking."
Expect more GOP Presidential candidates to find reasons to visit Alabama over the next 17 months as the state's Presidential Primary is fairly early in the process.
Internal report on Alabama inmate's death backs statements by concerned whistleblowers
Almost all of the information in the report has already been published through APR's own independent reporting on McMillian's death, and the report corroborates much of APR's reporting.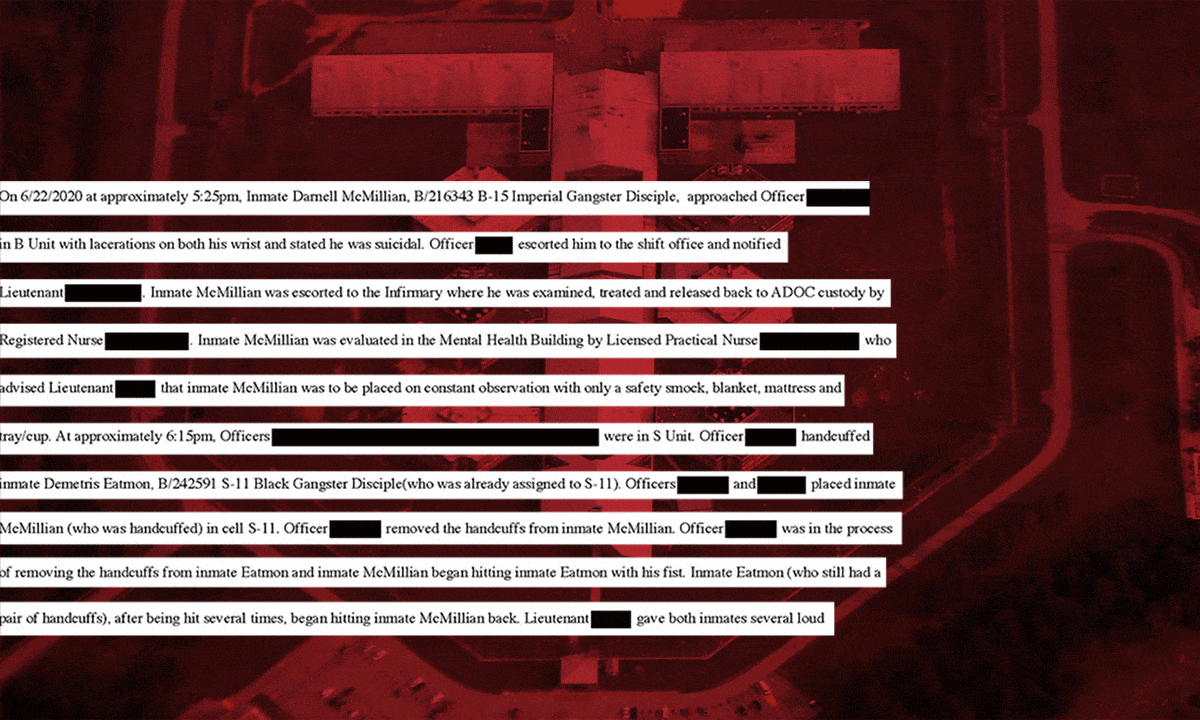 Many of the allegations made by concerned workers at an Alabama prison about the death of an inmate were corroborated in a report filed by an officer who was involved in the incident.
Darnell McMillian, 38, was on suicide watch when he died on June 22 after correctional officers placed him in a cell with another inmate, Demetris Eatmon, who was also on suicide watch. Statements by the two workers and a narrative in the report shed light on what happened in the moments before and after McMillian's death.
According to the workers' statements and the Alabama Department of Corrections internal report, once McMillian was placed in the cell with the other man, a fight ensued and officers used pepper spray to break it up. While the report notes two cans were used, one of the workers said three cans were sprayed into the cell, and the excessive amount may have resulted in his death.
The two Alabama Department of Corrections workers spoke separately to APR with concerns about McMillian's death — one by phone on July 1 and another worker on July 9. Each said they had worked with both of the inmates and the officers involved, and all knew that the other inmate who fought with McMillian was violent and that no other inmates were to be placed in his cell.
"Eatmon is a very volatile inmate. Very violent. Very big guy," one of the workers told APR.  "You never put anybody in the cell with him."
One of the workers told APR previously that once the two inmates were in the cell together, they were enticed by the officers to fight, and that while they were uncertain of why they did so in this instance, such tactics are used by officers regularly when an inmate angers them, the person said.
Demetris Eatmon of Midfield pleaded guilty and is serving a 20-year sentence for attempted murder and robbery for an incident on January 12, 2004, in which he shot a man, according to court records. The duty officer report on McMillian's death lists Eatmon as a member of the Black Gangster Disciple gang, and McMillian as a member of the Imperial Gangster Disciple gang.
The lieutenant and three correctional officers who were involved in the incident all were assigned to work the mental health area of the prison, all knew the inmates well and all knew that no one else was to be placed in a cell with the other inmate, both workers said. The captain who was involved in the incident had just recently been promoted and may not have been aware, however, one worker said.
According to the duty officer report, which was completed by one of the officers involved in the incident, McMillian started hitting the other inmate while the officer was attempting to take handcuffs off the other inmate through a tray slot in the cell door. The other inmate broke free with one handcuff still attached and the two began fighting, according to the report and statements to APR by the employees.
APR isn't naming the officers or other ADOC employees involved with the incident, as there have been no criminal charges filed against any of them.
The worker who spoke to APR on July 1 said officers sprayed three cans of pepper spray into the cell, an excessive amount that may have killed him.
The worker said sometime around 6 p.m. on June 22, three correctional officers placed McMillian into the cell with Eatmon, who was known to be violent. The duty officer report notes he was placed into the cell close to 6:15 p.m. that day.
The first worker to speak to APR in July said that officers enticed the two men to fight, and once Eatmon began threatening McMillian, McMillian took the first swing. The report also notes that McMillian swung first, while the other inmate was still partially handcuffed.
One officer "drew his Aerosol Deterrent Spray, Sabre Red can #6099417" and sprayed several bursts into the cell and ordered them to stop fighting, according to the report, which states that a separate officer "retrieved the Sabre Red Cell Buster from the cube and administered a burst into the cell, with more verbal orders to stop fighting. Both inmates then complied." The cube is a secure area for officers located in the center of the cell blocks.
"The inmate was yelling that he couldn't breathe," the employee told APR on July 1 referring to McMillian.
The other inmate was taken to the infirmary, decontaminated and released back to ADOC custody by a nurse, the report states.
McMillian was taken to the infirmary in a wheelchair at around 6:25 p.m., according to the report, where a nurse "observed that inmate McMillian was non-verbal and unresponsive" and three nurses "began administering CPR and utilizing the Automatic External (sic) Difibulator."
The report states that the prison's warden was notified and arrived at the prison at 7 p.m. About 35 minutes later, paramedics arrived, and at 7:49 p.m. called a UAB doctor who pronounced McMillian dead.
The first officer to have sprayed pepper spray into the cell then "secured cell S-11 with tape and the triage room in the Infirmary. Pictures were taken of S-11 and the triage room," according to the report.
The worker who spoke to APR on July 1 said that before photos were taken, officers had inmates clean the cell of everything except for several spots of blood, which the worker said might make it appear to have been a homicide by the other inmate."
Jefferson County Coroner Bill Yates told APR in July that McMillian's final cause of death awaits toxicology and other lab results, which can take between four and six weeks, but that there did not appear to be any external injuries that could have caused his death.
"From our autopsy, I don't believe we found any type of trauma that would explain death," Yates said at the time.
The duty officer report notes the incident as "Death – Inmate-on-Inmate."
ADOC spokeswoman Samantha Rose in a message to APR on Aug. 7 said that the investigation into McMillian's death is ongoing, and therefore the department cannot comment on the matter. Rose verified the duty officer report as authentic but said that it doesn't tell the whole picture.
"Please note this file represents an initial reporting of the incident and does not include nor is reflective of information gathered during the course of the ADOC's ongoing investigation into Darnell McMillian's death," Rose said.
Rose also cautioned APR against publishing the report, saying that doing so could jeopardize the investigation.
"The information not only was unethically provided to you, it was provided in violation of the law. The disclosure of this protected information compromises the integrity of our active investigation, and we strongly advise you to consider the consequences of publishing it," Rose said.
APR decided to publish the report in redacted form for several reasons. Almost all of the information in the report has already been published through APR's own independent reporting on McMillian's death, and the report corroborates much of APR's reporting.
Additionally, in a report released July 23 by the U.S. Department of Justice on the excessive uses of force against inmates by Alabama correctional officers, investigators note systemic problems of unreported or underreported excessive use of force incidents, a failure to properly investigate them and attempts by correctional officers and their supervisors to cover them up.
"These uses of excessive force — which include the use of batons, chemical spray, and physical altercations such as kicking — often result in serious injuries and, sometimes, death," the report found.
Federal investigators also noted that despite a large number of use-of-force incidents, a small fraction are investigated above the prison-level and sent to ADOC's Investigations and Intelligence division.
APR also decided to publish the redacted report because it sheds more light on what those federal investigators said were inappropriate uses of pepper spray on inmates, and instances of officers ignoring ADOC's policies on the use of pepper spray.
"Chemical spray is regularly used as retribution. These kinds of applications of chemical agents violate the Constitution," the report reads.