Santorum in Alabama on Thursday
By Brandon Moseley
Alabama Political Reporter
On Thursday, October 9, former GOP presidential candidate, U.S. Senator (R from Pennsylvania) and Chairman of Patriot Voices Rick Santorum will travel to Alabama for several events.
At 8:00 AM Senator Santorum will speak at an Alabama Republican Party Campaign Rally with Alabama Attorney General Luther Strange (R) in Troy. The event will be held at The Square at 60 South Court Square in Troy. Luther faces a stiff challenge from state Representative Joe Hubbard (D) from Montgomery.
At 12:00 noon, former U.S. Senator Santorum will join Sixth Congressional District Gary Palmer (R) in Birmingham. A VIP reception will be held from 12-12:30 and will be followed by a luncheon from 12:30-1:30 at the Summit Club; 1901 6th Avenue North, Birmingham, Alabama. Patriot Voices PAC is raising money so that they can help Republican candidates in the U.S. Senate (which has been in Democratic Party control since 2006).
Sen. Santorum said in an email to supporters of his Patriot Voices group, "Based on my experience, control over the U.S. Senate will come down to the three races in Michigan, Iowa and Arkansas. And that means conservatives Terri Lynn Land, Joni Ernst, and Tom Cotton need our help." "We must win these three Senate races!" "Barack Obama and the national liberals are dumping millions and millions of dollars into these three states. Michigan, Iowa, and Arkansas are the Democrats' firewall. If our candidates can break through there, we'll take over the Senate. That's why I am personally committed to doing EVERYTHING in my power to make sure Terri Lynn Land, Joni Ernst, and Tom Cotton win these races.
Sen. Santorum said, "In Michigan, where I am visiting today in support of our Republican candidates, Terri Lynn Land is locked in a close race for that open seat. She can pull off the upset of the year. In Iowa, Joni Ernst is being massively outspent. But she's running a great campaign and is leading by just a couple of points. And in Arkansas, my friend Tom Cotton is in a battle for the ages against liberal incumbent Mark Pryor. Control over the Senate is at stake. If we can win these three races, we can block any liberal Obama Supreme Court nominee."
At 5:30 PM CT, Senator Santorum will attend a fundraising event for the Jefferson County GOP at The Fish Market restaurant; 612 22nd St. South, Birmingham.
In 2012, Santorum narrowly won the state of Alabama in the Republican Presidential Primary. Santorum beat eventual Republican nominee, Mitt Romney, and effectively derailed former Speaker of the House Newt Gingrich's presidential campaign. Gingrich had hoped for a southern strategy that would allow him to amass enough delegates to be a player at the convention, but instead Alabama and Mississippi Republican voters (like Iowa caucus participants) preferred the younger more outspoken Santorum, despite his Pennsylvania roots. Santorum was massively outspent by former Massachusetts Governor, Mitt Romney.
Senator Santorum is presently the chairman of Patriot Voices and the author of 'Blue Collar Conservatives.' Santorum finished second in the delegate count behind eventual Republican 2014 nominee, Governor Mitt Romney and some speculate that the socially conservative Santorum could be a potential 2016 Republican Presidential contender.
More possible Presidential contenders will come through the state over the next 17 months since Alabama is relatively early in the primary process in 2016. Former Florida Governor Jeb Bush was in Birmingham on Tuesday helping the powerful Business Council of Alabama (BCA) raise money for their political action committee, ProgressPAC.
Alabamians request more than 101,000 absentee ballots with 30 days left to apply
So far, 35,184 absentee ballots have been successfully returned for the general election.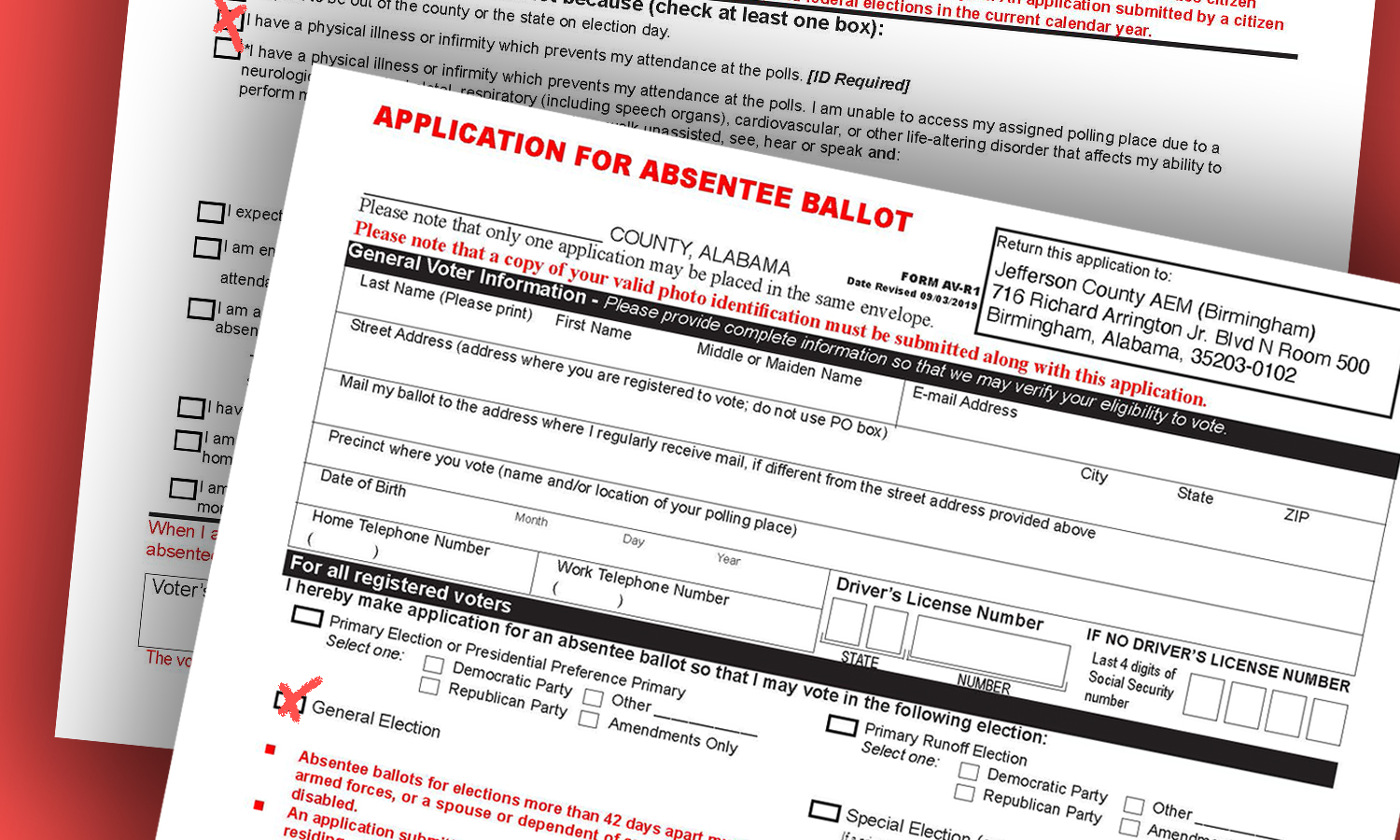 At least 101,092 absentee ballots have been requested so far in Alabama according to Secretary of State John Merrill, with just 30 days left to apply for an absentee ballot for the Nov. 3 General Election. So far, 35,184 absentee ballots have been successfully returned for the general election.
In order to protect the safety and well-being of voters, Merrill is encouraging those who are concerned about contracting or spreading the coronavirus to apply for and cast an absentee ballot.
Absentee ballot applications can be downloaded online or requested by visiting or calling your local absentee election manager's office.
Voters may also contact the Secretary of State's office at 334-242-7210 to request an absentee ballot application.
Due to the declared states of emergency, any qualified voter who determines it is impossible or unreasonable to vote at their polling place shall be eligible to check the box on the absentee ballot application that is most applicable to that individual. In the case none of the boxes are appropriate, voters can check the box which reads, "I have a physical illness or infirmity which prevents my attendance at the polls. [ID REQUIRED]"
For the Nov. 3 General Election, the deadline to register to vote is Monday, Oct. 19, the deadline to submit an absentee ballot application is Thursday, Oct. 29, the deadline to return an absentee ballot to the absentee election manager is the close of business Monday, Nov. 2, and the last day to postmark an absentee ballot is Monday, Nov. 2.
Voters who are eligible to vote pursuant to the Uniformed and Overseas Absentee Voting Act will have until Tuesday, Nov. 3 to postmark an absentee ballot.
Voters concerned about COVID-19 are encouraged to select the box on the affidavit, which accompanies the absentee ballot, which reads as follows: "I am physically incapacitated and will not be able to vote in person on election day."
Due to recently witnessed delays with the U.S. Postal Service, Merrill encourages voters interested in returning their ballot by mail to go ahead and make application for their absentee ballot. As a reminder, Merrill worked with the Legislature last year to pass Act 2019-507, allowing voters the opportunity to return their absentee ballot by commercial carrier in addition to U.S. mail.