Marsh Addresses Young Republicans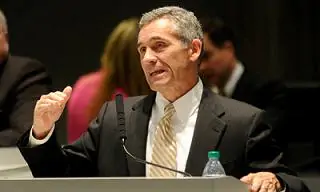 By Brandon Moseley
Alabama Political Reporter
Friday, October 10, the President Pro Tem of the Alabama State Senate, Senator Del Marsh (R) from Anniston addressed the Greater Birmingham Young Republicans at their annual luncheon, which was held at The Club on Robert Smith Drive in Birmingham.
Senator Marsh told the group that it is hard to believe that it has been only four years since the Alabama Republican Party won control of both Houses of the Alabama State Legislature. Marsh said that is the best group of legislators that he has ever worked with.
Marsh said that passage of a package of tough new ethics laws has helped change the culture in Montgomery. Senate President Marsh said that the Super Majority has worked to right-size Alabama Government. The number of state employees has decreased by 12 percent. Marsh says he believes that there is still room to down size state government by another 8 percent. Marsh said that the plan that he, Speaker Hubbard, and Governor Bentley introduced to merge the various state law enforcement.
Sen. Marsh also listed as an important accomplishment, the Alabama Accountability Act. The Republican supermajority Marsh said that the number of children receiving scholarships under the plan have increased quickly, the Scholarship Granting Organizations (SGOs) are up and running, and that he expects that the scholarships will max out at 4,000 scholarships soon. Sen. Marsh admitted that Republicans are being attacked across the state by Democrats and they are using the Accountability Act to attack Republicans. Marsh said that the people behind those attacks want to go back to the old ways of doing things before Republicans took over. They want to return to a status quo of union control of policy making in Montgomery.
Sen. Marsh said that he is a huge fan of public schools. He attended public schools and so did his children, but the state needs to do something to help children who are trapped in failing public schools. The Alabama Accountability Act comes with a school flexibility provision that allowed schools, including those failing schools, to present a plan to the state to opt out of certain state laws to improve performance. Sen. Marsh said that the scholarship program was necessary to get failing school systems to actually look hard and come up with a plan to turn the situation around.
Sen. Marsh said that the legislature removed Dr. Mabry (AEA Executive Secretary) from the retirement systems board because he had too much influence, but gave representation and influence to persons whose retirements were managed by RSA, but which until that time had no representation or influence. Sen. Marsh said that he wants to see more reforms and openness at RSA. Making teachers and state employees contribute more toward their own benefits has helped protect the Retirement System, but more needs to be done. Marsh admitted that the legislature was looking at possibly taking new hires off of a defined benefit plan to an investment plan in which the payout was not a guaranteed benefit. Senator Marsh warned however that that move (if done) would come with a large upfront cost. Marsh said that there would be more reforms in the next quadrennium to increase transparency in the retirement systems.
Marsh said that it actually works in Alabama's benefit that the state was slow to reform the state retirement system. Like school choice, the state can look at what other states have done and act without making the same mistakes.
Sen. Marsh said that the next legislature will need to pass long overdue prison reforms in Alabama. Marsh said that most of the people in the prisons don't have a high school diploma. The Calhoun County Republican said that we have to get education into the prisons to lower recidivism. Marsh said that Senator Cam Ward (R) from Alabaster was heading the effort to reform how the state handles its corrections system.
Sen. Marsh said that the politically easy thing to do would have been to throw out Alabama's College and Career Ready Standards. Marsh said that he faced a primary opponent because of his decision not to do that. Instead the legislature decided to study the situation. Both they and the Alabama School Board are separately studying the standards to come up with the best standards for Alabama's schools.
Marsh said that economic development requires that states have a highly skilled work force; both on the college path and on the career path. There are a lot of good high paying jobs in this economy for people with the right technical skills. Too many schools have acted like you are a failure if you took the career path. Marsh said that the legislators are meeting with the Alabama State School Board, Superintendent Tommy Bice, and businesses to improve Alabama's work force and grow this economy.
Sen. Marsh said that the Greater Birmingham Young Republicans are the biggest Young Republican Group in the State and he appreciates the work that the GBYR does.
Marsh said that when he first decided to run for the first time he did not know much about politics. As he has become more involved in politics, he is constantly amazed at how few people in the State do follow politics. Marsh said that he constantly meets educated people who ask him, "What are they doing in Washington?" Marsh said that before you run for public office be successful in whatever it is you do.
Marsh said that he was a successful businessman before he became a State senator. Being involved in State politics, like he is, takes so much time and energy away from your business, from your family, that it is very hard to give it the kind of attention that it needs without it hurting your career……and don't get in politics to make money.
Marsh's advice was too be successful first, then run for office. That way you can vote for what is right without fear of being sent home.
Marsh said that he believes that the Republicans can do very well in the November election. One thing that he does not like in the polls however is that the voters do not seem very passionate. In 2010 the electorate was very motivated to get out and elect Republicans. There is not the same level of passion and interest this time. Marsh said that if we are not careful we could wake up the day after the election and find that we (Republicans) do not have super majorities in the Alabama House and Senate.
Gary Palmer addressed the group following Del Marsh. The Republican Sixth District Congressional candidate said that he is not looking past his general election opponent; but he is confident. He has met with the Congressional leadership and according to the last numbers he has seen there are three Republican House seats (nationally) in play and sixteen Democratic House seats that could be taken by Republicans.
In Alabama, if Republicans will get motivated and turn out to vote the GOP could control 68 seats in the Alabama House and 27 seats in the Alabama Senate. If Republicans don't get out the vote the party could lose super majorities in one or both State houses and Attorney General Luther Strange (R) could potentially be in jeopardy.
Palmer said that the GBYR is the best young Republican group in the state and we need to see groups like that in Mobile, Montgomery, Huntsville, and Tuscaloosa.
Palmer said that he still works for API though he now answers to President Caleb Crosby and Vice-President Katherine Robertson, which still feels a little awkward. Palmer said that he humbly asks for your vote in November.
GBYR Chair Jackie Curtiss said that the GBYR helps the Alabama Republican Party by phone banking, knocking on doors, and other ways including leading opposing proposed rule changes in 2013 that would have hurt the party.
Curtiss said that the group is going to go to Limestone County to help Melton win that Senate Seat and to Southeast Alabama to help McClendon beat Harri Anne Smith.
Today is Thanksgiving
Today is a national and state holiday. Schools, banks, government offices and many private businesses are closed.
Four hundred years ago, on Nov. 11, 1620, after 66 days at sea, a group of English settlers landed near what is today Cape Cod in Massachusetts. Onboard the Mayflower were 102 men, women, and children, including one baby born during the Atlantic crossing, who made up the Pilgrims.
The Mayflower, captained by Christopher Jones, had been bound for the mouth of the Hudson River. The ship took a northerly course to avoid pirates, but the decision to avoid the then widely traveled sea lanes to the New World took the ship into bad weather, which had blown the Mayflower miles off course and left the ship damaged. Off Cape Cod, the adult males in the group made the fateful decision to build an entire colony where none had existed prior. They wrote and signed the Mayflower Compact.
"In the name of God, Amen. We whose names are underwritten, the loyal subjects of our dread Sovereign Lord King James, by the Grace of God of Great Britain, France, and Ireland King, Defender of the Faith, etc. Having undertaken for the Glory of God and advancement of the Christian Faith and Honour of our King and Country, a Voyage to plant the First Colony in the Northern Parts of Virginia, do by these presents solemnly and mutually in the presence of God and one of another, Covenant and Combine ourselves together in a Civil Body Politic, for our better ordering and preservation and furtherance of the ends aforesaid; and by virtue hereof to enact, constitute and frame such just and equal Laws, Ordinances, Acts, Constitutions and Offices from time to time, as shall be thought most meet and convenient for the general good of the Colony, unto which we promise all due submission and obedience. In witness whereof we have hereunder subscribed our names at Cape Cod, the 11th of November, in the year of the reign of our Sovereign Lord King James, of England, France and Ireland the eighteenth, and of Scotland the fifty-fourth. Anno Domini 1620."
After a few weeks off Cape Cod, they sailed up the coast until they reached Plymouth. There they found a Wampanoag Indian village that had been abandoned due to some sort of plague. During the Winter of 1620-1621 they lived aboard the Mayflower and would row to shore each day to build houses. Finally, they had built enough houses to actually move to the colony, but the cold, damp conditions aboard the ship had been costly.
Some 28 men, 13 women (one of them in child birth), and 8 children died in that winter. Governor John Carver would die in April. His widow, Kathrine White Carver, would follow a few weeks later. There is some recent archaeological evidence suggesting that some of the dead were butchered and eaten by the survivors.
The Mayflower and her crew left for England on April 5, 1621, never to return.
About 40 of the Pilgrims were religious Separatists, members of a Puritan sect that had split from the Church of England, in defiance of English law. In 1609, they immigrated to Holland to practice their religion but ran into problems there too. Others in the group had remained part of the Church of England but were sympathetic to their Separatist friends. They did not call themselves Pilgrims, that term was adopted at the bicentennial for the Mayflower voyage. The members of core Separatist sect referred to themselves as "Saints" and people not in their sect as "Strangers."
In March 1621, an English speaking Native American, named Samoset, visited the Plymouth colony and asked for beer. He spent the night talking with the settlers and later introduced them to Squanto, who spoke even better English. Squanto introduced them to the chief of the Wampanoag, Massasoit.
Squanto moved in with the Pilgrims, serving as their advisor and translator. The friendly Wampanoag tribe taught the Pilgrims how to hunt and grow crops. The two groups began trading furs with each other.
William Bradford, a Separatist who helped draft the Mayflower Compact, became the longtime Plymouth Governor. He was also the writer of the first history of the Plymouth Colony and the Mayflower. Bradford's more notable descendants include author, dictionary writer and scholar Noah Webster; TV chef Julia Child; and Supreme Court Chief Justice William Rehnquist.
In the fall of 1621, 399 years ago, the Pilgrims invited their Wampanoag Indian friends to a feast celebrating their first harvest and a year in the New World with a three-day festival. This has become known as the first Thanksgiving.
Today is a national and state holiday. Schools, banks, government offices and many private businesses are closed.