ALGOP Factions Divided on Strategy as Election Looms
By Brandon Moseley
Alabama Political Reporter
Late on Monday night Alabama Republican Party Executive Committee members received a lengthy email from Alabama Republican Party Chairman Bill Armistead in which the ALGOP Chairman accused members of the Party Steering Committee of attempting to sabotage the Alabama Republican Party's election plans in favor of their own thinking.
Chairman Armistead wrote, "Several members of the ALGOP Steering Committee seem determined to sabotage ALGOP's 2014 political plan to suit their own personal preferences.  They want to disregard the work that has been done, and is being done, by our political team who has worked for nearly two years developing our plan based on demographics, voting history, polling data and viability of candidate."
The Alabama Political Reporter talked to Chairman Armistead about the situation in a phone interview. We asked the conservative party chairman if this sort of friction was normal in political parties at election time.  Chairman Armistead said that it is not, but here in Alabama there are some on the steering committee who opposed his candidacy for Chairman in 2011 and 2013 so strongly that it makes them crazy.
Chairman Armistead said that he was elected both times by over 60 percent of the voters on the Republican Party Executive Committee and they will just have to deal with it. Chairman Armistead told APR that if his opponents want to fight this out publicly in the press he is good with that.
Armistead told APR that ALGOP has been working on their election plan for two years and was critical of steering committee members who ignore the advice of professionals on the advice of self-professed political gurus.
Chairman Armistead said in the email, "The bottom line is there are certain members of the Steering Committee who want to remove funding from races that were determined as "targeted races" under a plan that our political team has developed under the direction of Chief of Staff Harold Sachs and me. The worst part of what they want to do is spend money on races where our contribution will not affect the outcome whatsoever. These Steering Committee members want to spend the money that we have raised over the last two years but they refuse to raise any money to assist us in winning these races."
The Alabama Political Reporter talked with Republican campaign consultant and former ALGOP steering committee member Chris Brown. Brown said that the narrow 11 to 10 decision by the current ALGOP Steering Committee to strip the ALGOP Chairman of his powers to decide how the money is spent in the last three weeks before the election and give that authority to a committee is "very ironic" because "I sided with Armistead four years ago on the ALGOP Steering Committee when he did the exact same thing to the previous Republican Party Chairman, Mike Hubbard (R from Auburn), four years ago, "Except we did it earlier…..in August."
Chairman Armistead wrote in his email, "National Committeeman Paul Reynolds has demanded that we take $30,000 from candidates that we have been preparing for the November 4th election to give to his personal friend who is running for the State House from his hometown in Greenville, AL. The Secretary of State's website shows that this candidate has $103,881.12 cash on hand, and polling shows that the candidate has an 18 point lead in the polls: 51.1% to 33.3%. In addition, Speaker Mike Hubbard has told me that he is providing the support this candidate needs including "fundraising, mail, consulting and on-the-ground field reps".  Speaker Hubbard has made it clear to me that he is handling this race, and there is no reason for ALGOP to get involved.  I suggested to Mr. Reynolds that if he wants to help his friend, he should raise money for his campaign rather than take it from one of the candidates that really needs it, but he declined to assist his friend."  Paul Reynolds represents the Alabama Republican Party on the Republican National Committee (RNC) and through that office holds a seat on the ALGOP state steering committee.
The candidate in Greenville, Chris Sells denied the statement that Speaker Hubbard is providing field reps and support for his campaign.
The Alabama Political Reporter reached out to National Committeeman Paul Reynolds for his comments on the Chairman's email.  Committeeman Reynolds said that when he saw the email, "It knocked my socks off.  I was floored.  I thought we left this in the Steering Committee."  Reynolds said that he did not want to comment further on the situation before the election because he did not want to distract from Republican candidates.
Brown said that he and Armistead were together on one side of the vote four years ago, while Reynolds sided with then Chairman Hubbard. While the vote went against then Chairman Hubbard, Brown credited him with keeping the rift out of the press, unlike Chairman Armistead.
One of the key points of contention is how much support the Republican Party is giving Dr. Larry Stutts who was named the GOP Candidate for Senate District 6 against incumbent State Senator Roger Bedford (D) from Russellville.
Chairman Armistead wrote, "AFRW (Alabama Federation of Republican Women) Chairman Frances Taylor led the effort to de-fund the Republican Senate candidate that Governor Bentley, Senator Del Marsh and I recruited to run against Senator Roger Bedford. There was no basis for her efforts to remove and/or reduce the funding for our Republican Candidate.  When it was explained to Ms. Taylor that we had worked closely with Sen. Marsh to determine where we should place our resources, she responded that she would not be told by Senator Marsh who to support. The proposed support for our candidate is to mail four direct mail pieces in the district just as we are doing for other targeted races."
District 6 includes Franklin County and portions of Colbert, Marion, Lauderdale and Lawrence Counties. Dr. Stutts is an obstetrician and gynecologist in Sheffield and lives in Tuscumbia.
Chairman Armistead also criticized Senior Vice Chairman George Williams and Minority GOP Chairman Phillip Brown for demanding that ALGOP provide funding for some minority candidates.  Armistead said those candidates were not funded because they, "Have no campaign plan, no campaign organization, no money raised, and no evidence they are campaigning." Armistead wrote that he has recruited 13 minority candidates, "And I have hired a full time Minority Outreach Director to help with this effort since Phillip Brown has not done this as Chairman of the Minority GOP."
Chairman Armistead was also critical in his email of Second District Chairman Sue Neuwien and Seventh District Chairman Pierce Boyd by name.
Chairman Armistead wrote, "The ALGOP 2014 political plan is based on winning every statewide and congressional race and targeting certain legislative and local races. One of our underlying goals is to strengthen the party at the local level in order to establish the Party as the majority party at every level. Further details of the plan are explained in the attached overview of the plan. What you need to know is there are some on the Steering Committee who have opposed me at every turn, and I have dealt with this continually since I was elected Chairman almost 4 years ago.  Now, they have taken their personal opposition to me to a new low, and their attempt to run our political operation threatens to seriously damage the Party's success on November 4th."
The Alabama Political Reporter asked Chairman Armistead if he wanted to make an announcement or whether or not he wanted to run for another term as Chairman next year.  Chairman Armistead said the only race he is focused on right now are the elections in November.
Chris Brown said, "I ran Armistead's race for Chairman four years ago.  I supported (then Shelby County Republican Party Chairman Matt) Fridy two year ago.  A third Armistead term would be horrible for the Alabama Republican Party."
Chairman Armistead wrote, "The ALGOP political team has worked diligently to develop our 2014 political plan for the last 18 months. This plan should not be thrown out by a few people to satisfy their personal preferences. The ALGOP political team is very competent and is composed of Political Director Britney Garner, Voter Engagement Director Zach Bowman, Chief of Staff Harold Sachs, and Joe Domnanovich."
Chairman Armistead said that he and Speaker Mike Hubbard, Senator Del Marsh, ALGOP Chief of Staff Harold Sachs, ALGOP Political Director Britney Garner met right after the June primary and determined that they would handle the campaigns of the incumbent legislators, and ALGOP would handle targeted House and Senate districts where there are no GOP incumbents.
Chairman Armistead wrote, "I do not believe that a select few members of the Steering Committee should step into this process during the last three weeks to dictate how campaigns will be managed and funded."
"A tidal wave:" ICU beds scarce as Alabama breaks another hospitalization record
Infectious diseases experts worry if hospitals will have enough staff to handle "what might be a tidal wave of patients in the next month."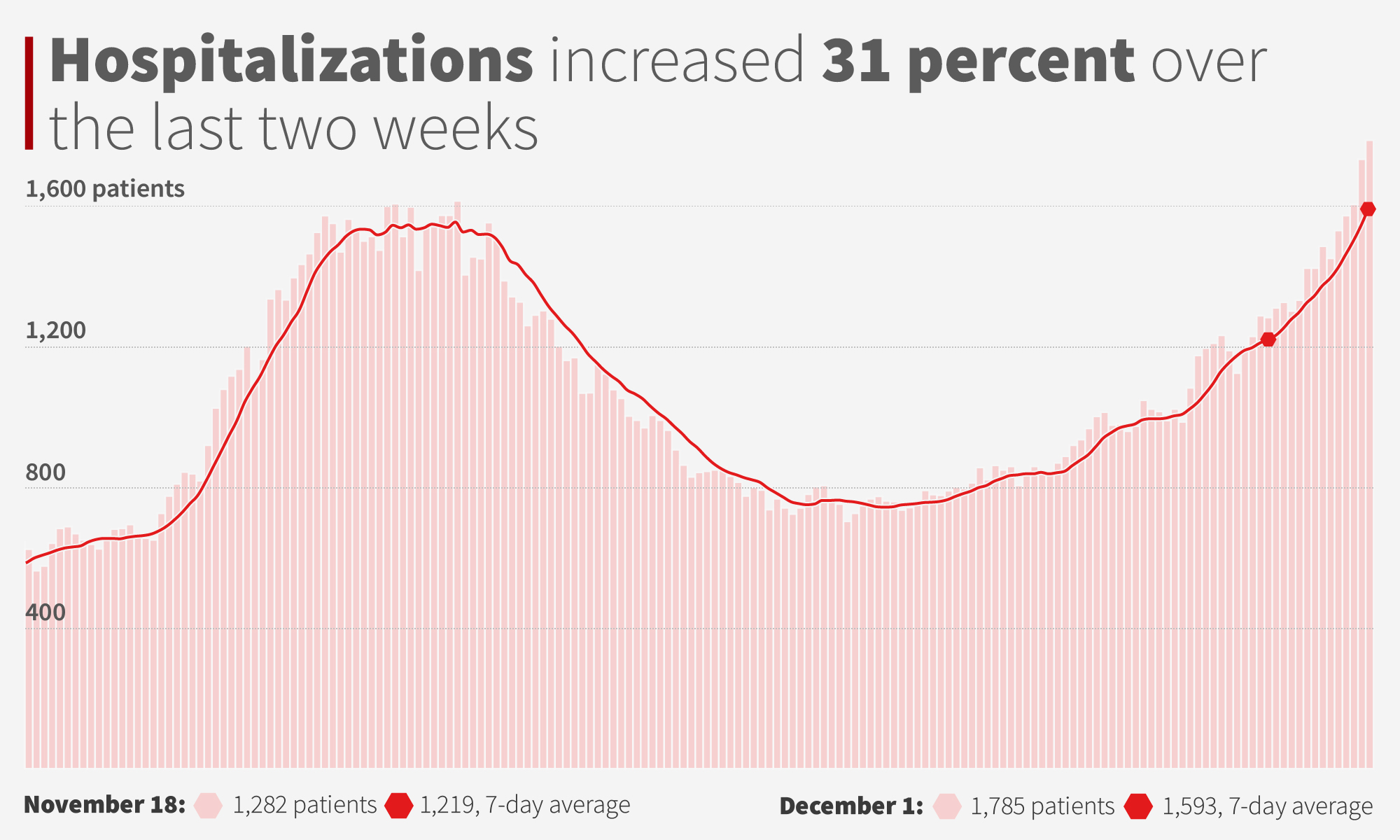 There were no intensive care beds available in Mobile County on Tuesday, the second day in a row Alabama set a record for hospitalized COVID-19 patients, and if models hold up, there could soon be the need to set up temporary medical facilities outside of hospitals, according to a UAB infectious disease expert. 
Dr. Jeanna Marrazzo, director of UAB's Division of Infectious Diseases, told reporters on Tuesday that looking at some models that forecast what might happen in the three weeks after Thanksgiving "you could conceivably see a true need for setting up ancillary care places in three weeks." 
"I hope that doesn't happen. Are we looking at the kind of situation that New York City experienced in March? A lot depends on what happened over Thanksgiving weekend," Marrazzo said, referring to the use of tent hospitals in New York City during the early spring surge there that overran hospitals. 
UAB had a record high 125 COVID-19 patients hospitalized on Monday and Tuesday, and Huntsville Hospital also set a new record Tuesday, with 317 hospitalized. There was a record high 1,785 COVID-19 hospitalizations statewide on Tuesday, and on Monday there had never been fewer intensive care beds available in the state. 
Marrazzo said the health care workforce continues to work valiantly and are "struggling very hard." What keeps her up at night, she said, is worrying if hospitals will have enough staff to handle "what might be a tidal wave of patients in the next month." 
"It may not look like we can affect what's going to happen in two to three weeks, post-Thanksgiving, but we can impact what happens around Christmas time and after that," Marrazzo said. 
The death toll from COVID-19 continues to increase across most of the country, Marrazzo said. On average, the U.S. is seeing between 1,400 and 1,600 people lose their lives to coronavirus each day, she said. In Alabama, at least 3,638 people have died from COVID-19.
Alabama reported an additional 60 deaths on Tuesday and has averaged at least 24 deaths reported each day over the last two weeks.
Each morning, Marrazzo gets a list of those admitted to UAB for COVID-19, those discharged and those coronavirus patients who have died. Not a day goes by when there isn't one name on that list of someone who didn't make it, she said. 
"And I think about that person, and I think about their family," Marrazzo said. "And unfortunately those numbers, as I mentioned before, are going up, and the balance of people being admitted is higher than the number of people who are being discharged." 
Alabama added 3,376 cases on Tuesday, which was the largest single-day case increase, excluding when on Oct. 23 ADPH added older backlogged test results. Tuesday's high number was the product of a delay in reporting to ADPH due to the holiday weekend, the department said in a data note. 
Still, Alabama's case count continues to increase alarmingly and testing is still down, Marrazzo explained. The state's 14-day average of new daily cases on Tuesday was at 2,289. That's a 28 percent increase from just two weeks ago. 
"This is a really, really scary inflection point, "Marrazzo said, "and I don't think that we are going to be able to turn it around without experiencing some more stress and some more pain." 
The positivity rate in Alabama over the last week has been an average of 32 percent, more than five times as high as public health experts say it should be to ensure there are enough tests and cases aren't going undetected. 
"If we would test more we would probably find more, so I think these numbers are an underestimate," Marrazzo said. 
Asked what has gone wrong, that even with the knowledge of how people can protect themselves — wearing masks, practicing social distancing and staying home as much as possible — we're still seeing huge spikes, Marrazzo described a complicated set of circumstances. 
"Is it because they don't believe it's going to affect them?" she asked. 
At first, COVID-19 was something happening in China, and then it moved closer to home, Marrazzo explained. Next, it became a question of "well, it's older people who are getting sick," and there was a sense of invulnerability among the young, who thought they'd be fine and that they wouldn't infect others, she said. 
"And then I think even for people who have been trying to be good there's a huge amount of fatigue," Marrazzo said. Even health care workers become worn down, and may take risks they know they shouldn't and become infected in their own communities, she said. 
"I think we've been hammering it home, but I also think in some ways, we need to do it in a way that's sympathetic and not angry," she said. "Because yeah, I'm pretty upset about what's going to happen in the next couple of weeks, but getting angry with people and shaming them is not the answer at this point, so I think all we can do is to continue to report on the facts."