Palmer Says Travel Ban From West Africa Should Have Happened Weeks Ago
By Brandon Moseley
Alabama Political Reporter
The Republican candidate in the Sixth District Congressional Race, Gary Palmer, told the Alabama Political Reporter that he supported calls by Speaker Boehner, Mo Brooks, Bradley Byrne and others to ban international travel from countries with active Ebola epidemics.
Palmer said frankly, "I think it should have done weeks ago."
APR asked: the head of the CDC says that a travel ban would make the situation worse? Palmer said he didn't know how it could make the situation in West Africa any worse. Palmer said that Most Americans are concerned about Africa; but they are more concerned about keeping the American people safe.
APR asked: Did the President make a mistake when he did away with the Bush Administration's Ebola epidemic plan? Palmer said that he has not seen those reports; but if the administration did jettison a plan to protect the country from Ebola then that was "unconscionable."
Palmer said that if you ask those two nurses they would think that we should have kept Ebola out of this country. Palmer said that there are hundreds of people in Dallas, in Cleveland, on the Frontiers airliner from Cleveland to Dallas who were potentially exposed to this disease, "We don't know who is exposed."
Palmer said that he talked with a retired flight attendant. When people are hired as flight attendants they sign away their rights to talk to the media. The current flight attendants are telling their retired former comrades that the flight attendants are terrified and are asking them to get the word out.
APR asked, "Is President Obama taking a risk by putting 4000 troops in West Africa to fight Ebola? Palmer said that based on the facts at this time yes we have put those troops in harms way. The chances are pretty high that they will be exposed to Ebola. Palmer said that regular troops for whom fighting infectious disease is not their specialty should not be deployed into West Africa.
Palmer said that he is all for fighting Ebola; but it should be done by the best trained, best equipped people in the world to do so.
APR asked: the Pentagon has said that troops returning from Africa will be put in isolation. If that is o.k. for U.S. troops, why is that not o.k. for immigrants from Africa? Palmer said that it is a great question. We shouldn't be allowing people from Ebola infected nations into this country.
Palmer said that the incubation period for Ebola is 21 days. Palmer said that we should isolate the disease, eradicate it if we can and contain it
APR asked: Since we already have two infected American nurses and potentially more people infected, is the U.S. an infected nation and there is a risk of other nations imposing a quarantine on American travelers?
Palmer said that other countries will do what they do.
Palmer said that Thomas Duncan took a flight from Africa to Brussels. From Brussels he went to Dulles and then went from Dulles to Dallas. Palmer said that the family Mr. Duncan was visiting were illegally here because they had over stayed their visa. Palmer emphasized that we have to get control of our borders.
Palmer warned that there is a high probability of there being more Ebola cases
For 24 years, Gary Palmer led the Alabama Policy Institute (API) as the group's co-founder and President. API is a research and education organization that is dedicated to identifying, developing and promoting public policies which emphasize limited government, free markets, the rule of law and strong families.
Gary Palmer was appointed by Alabama Governor Robert Bentley to the Alabama Commission on Improving State Government. He was appointed by former Governor Bob Riley to the Governor's Task Force to Strengthen Alabama Families and served as an advisor to the Alabama Aerospace, Science and Industry Task Force. Palmer was appointed by Alabama Governor Fob James to the Governor's Welfare Reform Commission. Palmer is a founding director and past president of the State Policy Network.
Gary Palmer grew up in the North Alabama town of Hackleburgh, the son of a small logger. He graduated from the University of Alabama with a Bachelor of Science degree in Operations Management and has an honorary doctorate from the University of Mobile.
Palmer's opponent is Dr. Mark Lester (D). He was born and raised in Little Rock, Arkansas. He and his family have lived in Homewood for the past 23 years while teaching history at Birmingham Southern College. Lester attended Rhodes College, received a master's degree in Middle Eastern Studies at Harvard University, and earned a law degree from the University of Virginia. He has a Ph.D. in Modern British Economic History from the University of Oxford. After finishing law school, Mark Lester was appointed Assistant United States Attorney where he prosecuted drug dealers and white collar criminals. He later formed a small law firm, specializing in commercial litigation.
Alabama's Sixth Congressional District is currently represented by Republican Representative Spencer Bachus from Vestavia who is retiring after 11 terms in the Congress. Congressman Bachus served the District as an Alabama State Senator before going to Congress after defeating Congressman Ben Erdreich (D) in 1992.
The General Election will be on Tuesday, November 4.
Jones urges voters to select him over Tuberville
"The choice before the voters is an unprepared hyper-partisan that will add to the divide in Washington, or my proven track-record to find common ground and get things done," Jones said.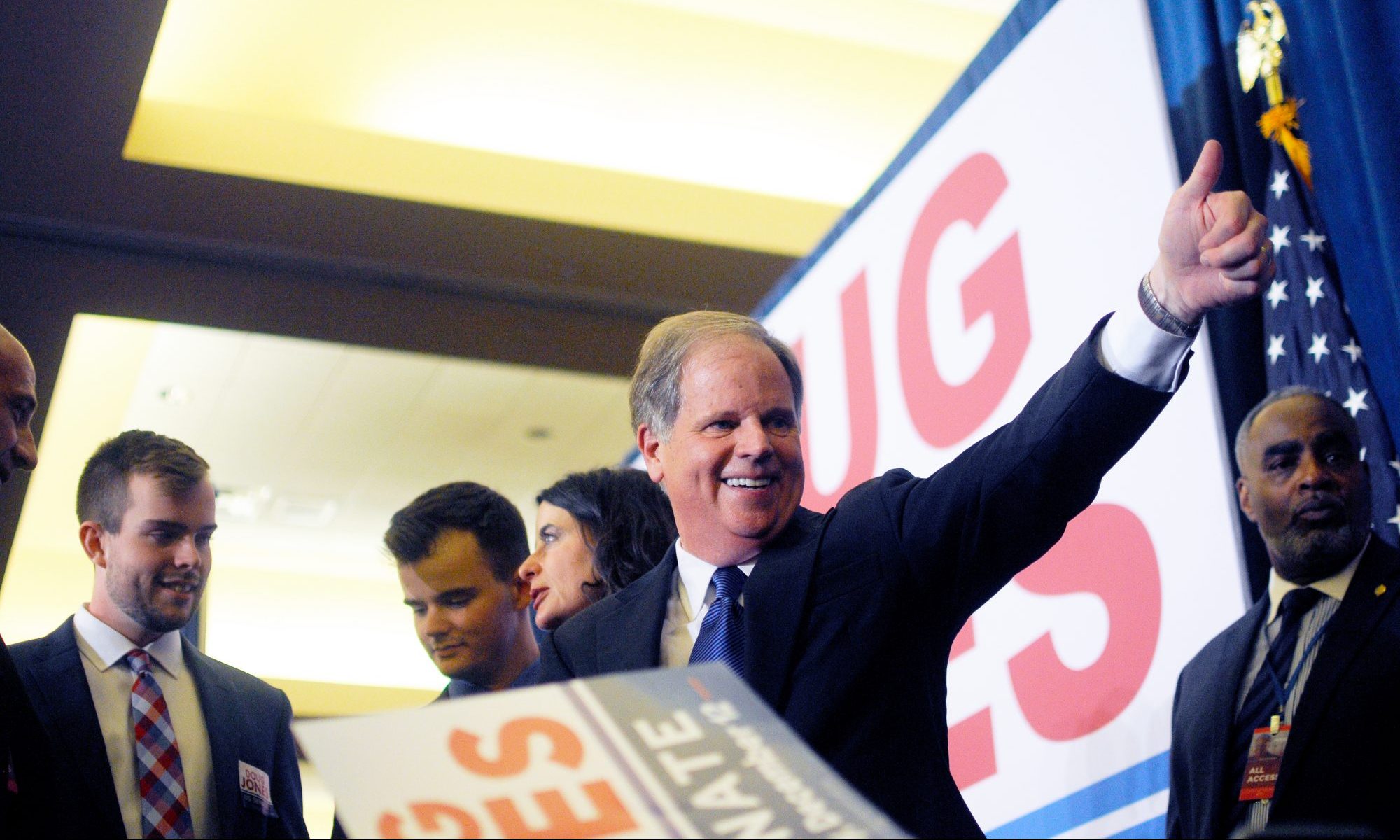 Incumbent U.S. Sen. Doug Jones, D-Alabama, urged Alabama voters to re-elect him after Republican primary voters selected former Auburn football coach Tommy Tuberville to be their Senate nominee heading toward the November general election.
"When I was elected, I promised the people of Alabama that I would put their interests first to find common ground and get things done for our state," Jones said in a statement. "Washington already has plenty of people who fight along partisan lines and nothing much seems to get done."
"I've passed seventeen bipartisan bills signed into law by President Trump and was honored by the U.S. Chamber of Commerce three times for my record of bipartisanship, leadership and pro-business support," Jones continued. "Working across the aisle, we repealed the tax on Gold Star widows after more than twenty years of partisan bickering kept thousands of families from earning the benefits they were promised. We secured relief for farmers in the Wiregrass hit hard by hurricanes and tornadoes. We're investing in rural hospitals that, without Medicaid expansion, continue to struggle despite their importance to many Alabama communities. I will always protect health care for our seniors and people with pre-existing conditions."
"That's the record I will present to the people of Alabama at a time when our country and our state face multiple crises," Jones claimed. "We are not out of the woods yet but every step of the way I will have your back and no one else's. The choice before the voters is an unprepared hyper-partisan that will add to the divide in Washington, or my proven track-record to find common ground and get things done. We can choose One Alabama and continue to move Alabama forward together and work for better health care, support our veterans, and bring back jobs from overseas."
The Alabama Democratic Party, which has been torn by internal strife for years but recently came under new leadership after the former chair was removed from her post, is promising to marshal their resources to re-elect Jones.
"Tommy Tuberville just won the Republican runoff to take on Doug Jones this fall," the ADP said in a statement. "Help us welcome him to the race like Nick Saban (not Lou, Mr. President) did in his last Iron Bowl."
Democrats are trying to convince volunteers and donors that the Senate rate is winnable.
"Doug Jones is tied 46-46," the ADP claimed. "Let's help him win. Pitch in and help us beat Tommy Tuberville, the guy who said he "wouldn't have a clue" how to deal with the Coronavirus. Want a Senator who's actually had an original thought to bring people together and get things done? Then Doug Jones is your Senator. Help us re-elect him now."
The ADP is citing a recent poll showing Tuberville leading Jones 47 to 43. The same internal polling showed Jones pulling even if there is heavy Black turnout and over 90 percent of Black voters break to Jones on election day.
The former college football coach took time in his victory speech to address his general election opponent.
"Democrat Doug Jones is running for reelection with the slogan of One Alabama," Tuberville said. "Well, you can make no mistake about it: what Doug really means is One Liberal Alabama."
Tuberville accused Jones of taking "marching orders from Joe Biden, Nancy Pelosi and Chuck Schumer and bartender AOC," and criticized Jones for voting against the confirmation of Justice Brett Kavanaugh and to "impeach Trump."
Technically Senators do not vote to impeach or not to impeach. That is a matter for the House of Representatives, of which Jones is not a member. The Senators vote, after a president has been impeached by the House, on whether to convict or not to convict. Jones voted to convict Trump on two articles of impeachment brought by the House.
Tuberville won the Republican primary runoff with 61 percent of the vote, besting former U.S. Attorney General and Alabama Sen. Jeff Sessions, who received 39 percent.
Legendary Democratic strategist James Carville has called the Tuberville and Jones race "a tossup."
Jones is the only Democrat to win any statewide political race since 2008. Jones beat former Chief Justice Roy Moore in a 2017 special election to fill the vacancy created when Trump appointed Sessions as attorney general.