Bentley Announces Unemployment Rate Drops to 6.6 Percent
By Brandon Moseley
Alabama Political Reporter
2014 has been a sluggish year for the Alabama economy, but it appears things are getting on track in September. On Friday, October 17 the Governor's office announced that the adjusted unemployment rate has dropped to just 6.6 percent.
Alabama Governor Robert Bentley (R) said, "The number of jobs employers reported in Alabama in September is the highest we have seen since December 2008, and that is thanks to the strong economic development efforts we have put in place to create jobs. Our economy is supporting more jobs today than it has in the past five years, and our efforts will continue until every Alabamian who wants a job has the opportunity to have one. September's unemployment rate is the lowest rate we've seen in seven months, and we are confident that this trend will continue."
The Speaker of the Alabama House of Representatives Mike Hubbard (R from Auburn) said on Facebook, "Great news for Alabama today. The latest job report is further indication that the conservative policies we've implemented over the last four years are working. The unemployment rate is heading down as Alabama gained 30,000 new jobs last month. Our policies are working, and more importantly, more Alabamians are too.
The Chairman of the Alabama Republican Party Bill Armistead said in a statement, "Today's job report is fantastic news for the state of Alabama! Even in the counties often plagued by unemployment, rates have dropped more than two percentage points. This is truly a testament to Governor Bentley and the Republican-led legislature. Over the past four years, they have committed themselves to improving Alabama's economic climate and bringing jobs to citizens."
Alabama Department of Labor Commissioner Fitzgerald Washington said, "Every county in Alabama experienced a decrease in their unemployment rate this month. Five counties with traditionally high unemployment rates saw their rates drop more than two percentage points."
Monroe saw their unemployment rate dip by a full two percent. Dallas County dropped 2.2 percent, Sumter 2.3 percent, Wilcox 2.3 percent and Perry County saw a shocking drop of 2.8 percent.
The counties with the lowest unemployment rates are: Shelby County at 4.3 percent, Lee and Cherokee Counties at 4.7 percent, and Blount County at 4.8 percent. Economists generally consider anything below 5 percent as full employment.
Alabama's preliminary, seasonally adjusted September unemployment rate is 6.6%, down from the rate in August of 6.9%. September's rate represents 140,674 unemployed persons, compared to 147,248 in August.
The biggest increase was seen in the government sector which gained a shocking 7,600 jobs. This was followed by the education and health services sector which posted over 2,800 new jobs. There were over 1800 new professional and business services sector jobs among others.
2014 to date has seen wage and salary employment increase by 31,600 jobs. Over the course of the years the largest gains have been in the leisure and hospitality sector which has picked up over 9,000 new jobs followed by the manufacturing and professional and business services sector which have each gained over 7,900 jobs.
There are 23,829 registered openings on JobLink, the state's free online jobs database (www.joblink.alabama.gov). The most advertised jobs are for: truck drivers, retail supervisors, and registered nurses.
Chairman Armistead said, "The governor and the legislature worked together to create pro-business solutions to Alabama's unemployment problems. Without their teamwork, it would not have been possible for unemployment to drop. We are grateful for their efforts and look forward to continued growth as businesses continue to build and expand in our great State."
Print this piece
Jones criticized for voting to limit Trump's war powers authority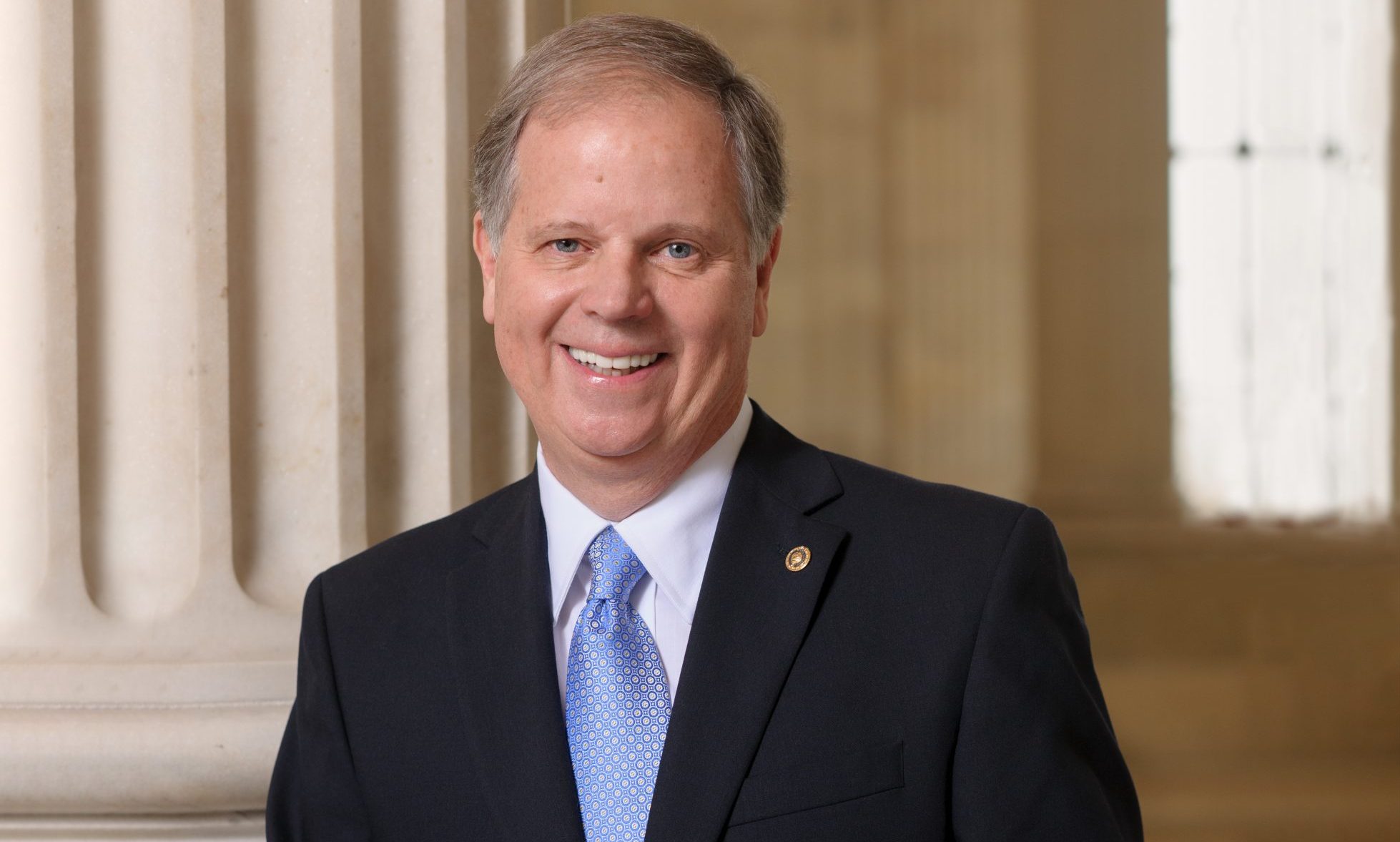 Thursday, U.S. Senator Doug Jones (D-Alabama) voted in favor of S.J.Res.68, a resolution which directs the removal of United States military from hostilities against the Islamic Republic of Iran that have not been authorized by Congress. Jones have been criticized by Republicans for voting to limit President Donald J. Trump's war powers on Iran.
"Before a President can lead us into war, he or she must first earn the support of the American people and also fulfill their solemn constitutional obligation to seek approval from Congress," Sen. Jones said in a statement. "While the President has the power to protect Americans in the case of an imminent attack, that authority does not extend to committing our service members to long-term hostilities unilaterally. This resolution sends a strong message that we will follow the Constitution and we will not send our troops into harm's way without the serious consideration and consent of the Congress."
Trump Victory National Finance Committee member Perry O. Hooper Jr. released a statement in response.
"Senator Jones once again turned his back on Alabama and voted as the leftwing Democrats commanded. He has no regard for the values, opinions or views of Alabamians," Hooper said. "He sees us as deplorables just like the elites of the Democratic party who have funded 80 percent of his doomed campaign for re-election.:
Hooper stated, "I whole heartily support the President who stated 'We are doing very well with Iran and this is not the time to show weakness… If my hands were tied, Iran would have a field day. Sends a very bad signal. The Democrats are only doing this as an attempt to embarrass the Republican Party.'"
"The Commander-in-chief must be free to work with his staff and his military leaders to conduct covert operations like the one that eliminated Iran's terrorist-in-chief General Soleimani," Hooper added. "You can't micromanage the war on terrorism. The Democrats in Congress are so filled with Trump Derangement Syndrome that no matter how much it would benefit our country and the world; they would never give Trump a "victory". If it came down to it, they would leak everything to the media no matter what the consequences."
Senator Jones is a cosponsor of the legislation and a member of the Senate Armed Services Committee. Eight moderate Republicans voted with the Democrats on the resolution.
Senator Jones has also been criticized by Republicans for his comments that he was "appalled" by Pres. Trump's actions following his acquittal on both Articles of Impeachment.
"Newsflash for Senator Doug Jones: Most Alabamians have been appalled by his actions his entire time in office," former Attorney General Jeff Sessions said. "It's about time we send Doug home, and replace him with someone who understands our values. Alabamians deserve a Senator they can be proud of again."
Sessions is a candidate for the Republican nomination for Jones' Senate seat.
The Republican primary will be on March 3.
Print this piece