Mike Hubbard Re-Elected As Speaker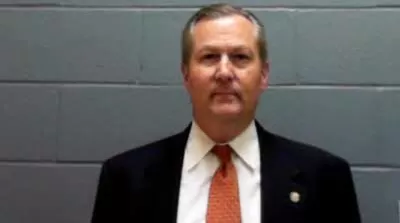 By Brandon Moseley
Alabama Political Reporter
BIRMINGHAM—Mike Hubbard will be the Speaker of the Alabama House of Representatives for another term. That is the decision of the House Republican Caucus, which holds a commanding lead in the Alabama House of Representatives.
According to sources in the Thursday, November 6 meeting in Montgomery, the House GOP Caucus voted 59 to 8 with 2 abstentions for Hubbard to continue as the Speaker of the House. Representative Mike Hubbard from Auburn was challenged for the powerful role of Speaker by Representative Jim Carns from Vestavia.
Carns had said that he would challenge Hubbard for Speaker if Mike Hubbard was indicted in the ongoing Lee County probe into public corruption. That is exactly what happened on Monday, October 23.  Speaker Hubbard was indicted on 23 counts of unethical behavior.  While some of the counts stem from Mike Hubbard's tenure as Chairman of the Alabama Republican Party, most occurred during Hubbard's past term as the Speaker of the House. Acting Attorney General Van Davis (R from Pell City) is alleging that Mike Hubbard used his position as Speaker of the Alabama House of Representatives to make money and grow his companies.
Speaker Hubbard dismisses the charges against him as, "Political persecution."
Some pundits have suggested that it would bring unnecessary negative publicity for the State, for the Alabama Republican Party and for the Alabama Republican Caucus for the sitting Republican Speaker to actually stand trial and that it would be better for everybody if Mike stepped down as Speaker and let somebody else handle the Speaker's duties while Hubbard focused on his legal difficulties.
None of that apparently mattered to Republican legislators who just cruised to re-election. Mike is credited with running the 2010 campaign which gave the Republican Party control of both Houses of the Alabama Legislature for the first time in over 126 years.  Despite Hubbard indictments, the guilty plea of former Representative Greg Wren (R from Montgomery), and the perjury trial of Representative Barry Moore (R from Enterprise); Alabama voters gave the GOP an even bigger majority on Tuesday, November 4.
Tommy Hanes defeated Rep. John Robinson (D) for House District 23.  Phillip Pettus defeated Rep. Greg Burdine (D) for House District 1. Bob Fincher won the open seat of the retiring Rep. Richard Laird (I).  Kyle South defeated Rep. Daniel Bowman (D) in House District 16.  Chris Sells of Greenville defeated incumbent Charles Newton in the Republican Primary and then defeated Walton Hickman (D) in the General Election to win House District 90.  Charles Newton was elected as a Democrat, but switched to the Republican Party in February.  Reed Ingram of Montgomery was elected to fill the House District 75 seat that Greg Wren (R) vacated when he plead guilty in April.
The GOP pickups mean that the Republican Super Majority will have 72 seats to just 33 for Democrats.  This will mean that the House Republicans should be able to cloture (shut off debate) any filibuster by the hopelessly out-manned House Democrats at will.
Speaker Hubbard said on Facebook afterwards, "Great day. We now have 72 Republicans sworn in to office. Alabama is definitely moving forward with a conservative agenda."
The Alabama Senate Republicans met on Wednesday and voted for Senator Del Marsh (R from Anniston) to get four more years as the Senate President Pro Tem.  Senator J.T. "Jabo" Waggoner (R from Vestavia) gave up his role as Senate Majority Leader to focus more time on his role as Chair of the powerful Senate Rules Committee.  Sen. Greg Reed (R from Jasper) will be the new majority leader.
In the Alabama Senate the Republicans appear to have added three new Senators to their Super Majority.  The Senate will be composed of 26 Republicans, 8 Democrats, and one Independent.
The decisions made this week will be formalized in January during the legislative organizational session.
Last Conversations: Dr. Frank Lockwood
At the time of those texts, I had no clue that I'd never speak with my brother again.
My brother, Frank Lockwood, was a family practice doctor with an office in McDonough, Georgia. Frank was a great doctor, who used his intelligence, compassion and humor to improve the lives of his patients. And, even though he was great at his job, the practice of medicine, in many ways, just paid the bills.
Above all else, Frank wanted to be an entertainer. He submitted video applications to participate on "Survivor" and even got a call-back for "The Mole." The highlight of his 15 minutes of fame was his disastrous appearance on "Who Wants to Be a Millionaire." (Google: Worst. Audience. Ever. On. Millionaire.)
Locally, Frank was a founding member of Atlanta's Village Theatre, an improv comedy group.
In short, Frank was highly intelligent and wickedly funny. So, I was dismayed when he called me in early July, and I couldn't recognize his voice. Frank told me that he'd contracted coronavirus from one of his patients and had been sick for several days. The cadence and rhythm of his voice were clearly Frank, but the pitch was all wrong. I assume the coughing had wreaked havoc on his vocal cords.
I am an employment lawyer. I defend employers who are getting sued by their employees. In my younger days, I defended plenty of employers who were sued for workers' compensation benefits — monetary and medical benefits provided to employees who are injured on-the-job.
Thus, in my role as the Lockwood Family Consigliere, Frank wanted to know if he could receive workers' compensation benefits from his employer because he caught coronavirus at work. We discussed the intricacies of a workers' compensation claim, and Frank hung-up, promising to think about the issue further.
My next communications with my brother were my last. On July 3, 2020, at 5:36 a.m., I received this text from him: Wanna work comp these folks to death. I'm in micu now.
MICU is the intensive care unit.  I was asleep at 5:36 a.m., but I texted back at 7:40: Glad to see the 'rona has not dampened your spirit. Want me to get you a lawyer?
His response: Yep.
At the time of those texts, I had no clue that I'd never speak with my brother again. He was 52 and in good physical shape with no co-morbidities. He was a patient in a hospital where he knew all of the physicians treating him. I knew a few people who contracted the disease and recovered. Everything I read led me to believe that my brother would have a fight but would recover.
It didn't work out that way. Frank was sedated, placed on a ventilator and temporarily rallied. The greatest tragedy is that he was removed from the ventilator and briefly conscious on July 13, but his husband, Bernie, did not get a chance to speak with him.
Frank's immune system turned on him with a "cytokine storm." He was returned to the ventilator and struggled for the next three weeks. I am thankful that I was able to be present, along with Bernie and our brother, Chris, when he passed away on Aug. 5.
As we walked out of the hospital that day, an announcement was made over the facility intercom that a patient was leaving for home. And then they played Pharrell's "Happy." In hindsight, I'm pretty sure that song was for somebody else. But at that moment Bernie, Chris and I simultaneously bawled and laughed. To us, it was like Frank Lockwood, the entertainer, had chosen his own exit music.
I've got a lot of regrets about my relationship with my brother and my last words with him. But, I promise you this: We have retained counsel in Georgia, and we are gonna work comp those folks to death.