New Legislators Attend Orientation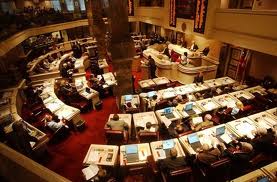 By Brandon Moseley
Alabama Political Reporter
Tuesday, December 9, freshmen legislators attended orientation to prepare themselves for the upcoming legislative session. Speaker of the House Mike Hubbard (R from Auburn) used the opportunity to extoll the positives of GOP action items including the Alabama Accountability Act and Carly's Law.
State Representative Mack Butler (R from Rainbow City) said on Facebook, "During our orientation at the State House today we heard firsthand from several people about the positive impact of legislation that had passed previously. We heard first from a student who has greatly benefited directly from the dual enrollment for post secondary career tech training. Second was a mom who introduced her children who are prospering directly from the Accountability Act. Next we heard from a dad who you may recall hearing about his precious daughter Carly who is the namesake for Carly's Law which is a research law using cannabis oil. The day is moving quickly as we are preparing for the upcoming quadrennium."
Speaker Mike Hubbard said on Facebook, "It was great meeting with the new state legislators at the State House. The most important thing they can learn is that legislation has a real impact on the lives of Alabamians. It was great to hear from some of the beneficiaries of the Alabama Accountability Act, Carly's Law, and our dual enrollment program to reinforce that important point."
The Alabama Accountability Act allows taxpayers to divert a portion of their income taxes from the Education Trust Fund to Scholarship Granting Organizations (SGOs) to assist students zoned to Alabama's poorest performing schools attend either another public school or a private school. Critics charge that the Accountability Act does nothing to help struggling schools and diverts money away from public schools to private schools.
A Montgomery Judge has ruled that the Accountability Act a violation of State law. The Alabama Supreme Court is considering an appeal of that ruling by Speaker Hubbard and Senate Pro Tem Del Marsh (R from Anniston).
Speaker Hubbard said on Facebook, "More than 160 students appeared at the State Supreme Court yesterday in support of the Alabama Accountability Act. This is a wonderful testament to the positive impact this legislation is having on students and families across the state."
On Tuesday, the Alabama Senate passed in a 34 to 0 legislation allowing medication made from Cannabidoil extracted from the Marijuana plant to be prescribed as treatment for children with severe disabilities.
"Carly's Law" was sponsored by Senator Paul Sanford (R) from Huntsville. The bill was vigorously promoted by Dustin Chandler, a police officer and the father of Carly Chandler who appears to benefit greatly from the CBD oil treatments, which is used to control seizures. The original version of the bill was substituted for a bill that allowed doctors at UAB to monitor and study the medical benefits and potential side effects of the treatment. The study is funded with a $ one million appropriation from the education trust fund.
Rep. Farley (R) from McCalla carried the bill in the House. Rep. Farley said that Speaker Hubbard helped develop a proposal to put more weight behind Carly's Law. Speaker Hubbard was credited with working with his contacts at the University of Alabama at Birmingham to establish their research program on Cannabidiol, CBD oil.
Rep. Farley said, "The connection Speaker Hubbard made with UAB is tremendous. It means that the impact of Carly's Law will be even more powerful in Alabama. Where families previously had to seek out the CBD oil in other states to help their children, now, the oil that has the potential to save Children's lives will be available through a program at UAB. The progress of Carly and others like her will be monitored by a board certified pediatric neurologist. (God is good!)."
The U.S. Food and Drug Administration (FDA) has not approved the use of CBD oil for the treatment of Carly Chandler or anybody else. They are still studying the issue. There are already approved drugs for the treatment of seizures, but their effectiveness has been questioned.
According to original reporting by the Financial Press a new study from Orrin Devinsky, MD, of the New York University School of Medicine, in November suggests that Cannabidiol may reduce seizures in patients with epilepsy over 50 percent. Dr. Devinsky administered Cannabidiol to 23 patients with treatment-resistant epilepsy. Thirty-nine percent of the patients saw their seizure rates drop by more than 50 percent. Four patients (17%) had no seizures for the last month of treatment.
Two million Americans suffer from epileptic seizures.
In its first meeting of the quadrennium, the 72-member Alabama House Republican Caucus voted to support State Rep. Mike Hubbard (R from Auburn) for another term as Speaker of the House and State Rep. Victor Gaston (R for Mobile) for a second term as Speaker Pro Tem. Those posts will be officially filled during the Legislature's organizational session in January. State Rep. Micky Hammon (R from Decatur) was re-elected as House Majority Leader.
Speaker Hubbard was challenged for the Speakership by Representative Jim Carns (R from Vestavia) after a special grand jury handed down 23 indictments on ethics violations against Speaker Hubbard. The Alabama Republican Caucus brushed aside the criminal indictments against the popular Speaker and overwhelmingly voted for Hubbard.
Alabama hospitals nearing COVID-19 summer surge levels
Wednesday was the 18th straight day with more than 1,000 people in hospitals in Alabama with COVID-19. 
Alabama hospitals reported caring for 1,483 people infected with COVID-19 on Wednesday, the highest number of patients since Aug. 11, when the state was enduring its summer surge. Wednesday was also the 18th straight day with more than 1,000 people in hospitals in Alabama with COVID-19. 
The seven-day average of hospitalizations was 1,370 on Wednesday, the 36th straight day of that average rising. The Alabama Department of Public Health reported 2,453 new cases Wednesday. The 14-day average of new cases was — for the eighth day in a row — at a record high of 2,192. 
Across the country, more than 80,000 people were hospitalized for COVID-19 on Tuesday, a record high and the 15th straight day of record hospitalizations nationwide, according to the COVID Tracking Project, a coronavirus tracking website.
The CDC this week recommended people not travel for Thanksgiving to help prevent the spread of coronavirus. 
"The only way for us to successfully get through this pandemic is if we work together," said Dr. Kierstin Kennedy, UAB's chief of hospital medicine, in a message Tuesday. "There's no one subset of the community that's going to be able to carry the weight of this pandemic and so we all have to take part in wearing our masks, keeping our distance, making sure that we're washing our hands." 
Kennedy said the best way she can describe the current situation is "Russian Roulette." 
"Not only in the form of, maybe you get it and you don't get sick or maybe you get it and you end up in the ICU," Kennedy said, "but if you do end up sick, are you going to get to the hospital at a time when we've got capacity, and we've got enough people to take care of you? And that is a scary thought." 
The Alabama Department of Public Health on Wednesday reported an increase of 60 confirmed and probable COVID-19 deaths. Deaths take time to confirm and the date a death is reported does not necessarily reflect the date on which the individual died. At least 23 of those deaths occurred in November, and 30 occurred in other months. Seven were undated. Data for the last two to three weeks are incomplete.
As of Wednesday, at least 3,532 Alabamians have died of COVID-19, according to the Department of Public Health. During November, at least 195 people have died in Alabama from COVID-19. But ADPH is sure to add more to the month's tally in the weeks to come as data becomes more complete.
ADPH on Wednesday announced a change that nearly doubled the department's estimate of people who have recovered from COVID-19, bringing that figure up to 161,946. That change also alters APR's estimates of how many cases are considered active.
ADPH's Infectious Disease and Outbreak team "updated some parameters" in the department's Alabama NEDSS Base Surveillance System, which resulted in the increase, the department said.