Mike Hubbard Re-Elected As Speaker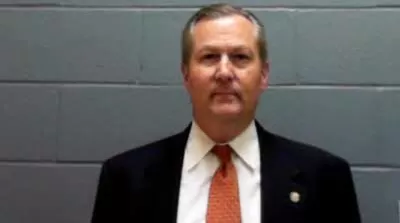 By Brandon Moseley
Alabama Political Reporter
On Tuesday, January 13 Representative Mike Hubbard (R from Auburn) was re-elected with bipartisan support as the Speaker of the Alabama House of Representatives.  Hubbard received the votes of 99 of the 105 members.
Rep. Mickey Hammon (R from Decatur) nominated Hubbard to lead the Alabama House for another four years.
Rep. Hammon called Hubbard, "A friend of all of ours," and credited Hubbard for bringing, "Us to this place in the history of Alabama."  Rep. Hammon said, "This man is not just a Republican leader he is a leader and a friend of us all."  Hammon called Hubbard: A man of honor, a man of honesty, and said, "There is nobody I respect more than Mike Hubbard."
Rep. Mike Hill (R from Shelby County) seconded the nomination of Speaker Hubbard.  Hill recounted how he asked Mike Hubbard to run for the house and how as a University of Georgia student, a young Mike Hubbard helped Hershel Walker win the Heisman and how he came to Auburn to run Bo Jackson's campaign for the Heisman Trophy.
Rep. Hill said that Mike Hubbard loved athletics, loved the radio, the TV, and the media.  He worked the for the Auburn Athletics department and was a winner there then, "Went out into the real world and formed the Auburn Network."
Hill said that Hubbard has done a fantastic job and is, "As honorable as truthful and as fair as anybody could possibly be," as Speaker.
Hill said that it was his honor to second the motion to continue the legacy of Mike Hubbard as Speaker.
Representative Victor Gaston (R from Mobile) then took the floor to close nominations for Speaker.  Rep. Gaston said that he was delighted to make a motion that nominations be closed.
The motion to close carried and then a roll call vote was held in which Hubbard received 99 votes.
The newly re-elected Speaker of the House said, "Thank you for the confidence you've shown by electing me as your speaker.  It is truly an honor and a privilege."
Speaker Hubbard said, "I'm fortunate to have a wonderful family and I hope they realize just how grateful I am for their love and support."  Hubbard thanked his wife and said that she, "Does not deserve all the daggers that come our way."
Speaker Hubbard said, "Many pundits and political observers have written about how productive and innovative the Alabama legislature has been over the past four years. And I tend to agree with them. But I also believe those accomplishments will soon pale in comparison to the achievements that await us during this quadrennium."
Hubbard received 99 votes and Representative Alvin Holmes (D from Montgomery) voted for himself.
State Representative Victor Gaston was then re-elected majority leader with 100 votes.
Alabama hospitals nearing COVID-19 summer surge levels
Wednesday was the 18th straight day with more than 1,000 people in hospitals in Alabama with COVID-19. 
Alabama hospitals reported caring for 1,483 people infected with COVID-19 on Wednesday, the highest number of patients since Aug. 11, when the state was enduring its summer surge. Wednesday was also the 18th straight day with more than 1,000 people in hospitals in Alabama with COVID-19. 
The seven-day average of hospitalizations was 1,370 on Wednesday, the 36th straight day of that average rising. The Alabama Department of Public Health reported 2,453 new cases Wednesday. The 14-day average of new cases was — for the eighth day in a row — at a record high of 2,192. 
Across the country, more than 80,000 people were hospitalized for COVID-19 on Tuesday, a record high and the 15th straight day of record hospitalizations nationwide, according to the COVID Tracking Project, a coronavirus tracking website.
The CDC this week recommended people not travel for Thanksgiving to help prevent the spread of coronavirus. 
"The only way for us to successfully get through this pandemic is if we work together," said Dr. Kierstin Kennedy, UAB's chief of hospital medicine, in a message Tuesday. "There's no one subset of the community that's going to be able to carry the weight of this pandemic and so we all have to take part in wearing our masks, keeping our distance, making sure that we're washing our hands." 
Kennedy said the best way she can describe the current situation is "Russian Roulette." 
"Not only in the form of, maybe you get it and you don't get sick or maybe you get it and you end up in the ICU," Kennedy said, "but if you do end up sick, are you going to get to the hospital at a time when we've got capacity, and we've got enough people to take care of you? And that is a scary thought." 
The Alabama Department of Public Health on Wednesday reported an increase of 60 confirmed and probable COVID-19 deaths. Deaths take time to confirm and the date a death is reported does not necessarily reflect the date on which the individual died. At least 23 of those deaths occurred in November, and 30 occurred in other months. Seven were undated. Data for the last two to three weeks are incomplete.
As of Wednesday, at least 3,532 Alabamians have died of COVID-19, according to the Department of Public Health. During November, at least 195 people have died in Alabama from COVID-19. But ADPH is sure to add more to the month's tally in the weeks to come as data becomes more complete.
ADPH on Wednesday announced a change that nearly doubled the department's estimate of people who have recovered from COVID-19, bringing that figure up to 161,946. That change also alters APR's estimates of how many cases are considered active.
ADPH's Infectious Disease and Outbreak team "updated some parameters" in the department's Alabama NEDSS Base Surveillance System, which resulted in the increase, the department said.