GOP Chair Candidates Campaign For St. Clair GOP Votes
By Brandon Moseley
Alabama Political Reporter
On Thursday, January 15, the two candidates for the Chairmanship of the Alabama Republican Party spoke to the members of the St. Clair Republican Party at their regularly scheduled meeting in Pell City.
Former Mobile County Republican Chair Terry Lathan said, "I did not realize that you were such a large group."
Lathan suggested that every member brings a guest to county party meetings to grow interest in the GOP.
Lathan said, "We have 134 seats on our (Mobile) executive committee."
Lathan said that she has been active in Republican politics since she was 18, when Guy Hunt asked for her family's help. "Republicans could not win anything in the late seventies. I helped Guy Hunt, because it was the right thing to do. He lost."
Lathan said that she has been active in Republican politics for the last 35 years doing everything from standing out in the rain holding signs for candidates she knew would lose to helping presidential candidates campaign in other states. "I love the party." The Party is looking for a messenger. The Party will be in good hands either way.
Lathan said, "We have the message. We saw that in November, nationally." The danger is if Republicans become complacent, then we will be mistaken. Right now we are on the top of the mountain in this state but is hard to stay there.
Lathan said that fighting complacency is your responsibility as a county party. I respect your boundaries. The State Party will help you if you want it; but will stay out of your business.
Lathan said that she has a website: terrylathan.com
Lathan said, "St. Clair it looks like you are in great hands."
State Senator Jim McClendon (R from Springville) introduced former State Representative Mary Sue McClurkin (R from Indian Springs), who is also seeking to be the next GOP Chairman.
Sen. McClendon said that Rep. McClurkin was in the legislature four years before I got there.
"She is very soft spoken, is kind hearted; but is hard as nails."
McClendon said that McClurkin carried the strongest legislation dealing with abortionists in Alabama history. My hat is off to her for her time in the legislature
McClurkin said of McClendon, "I never thought he would be a State Senator."
McClurkin said that she started her adventure with Republican politics when Jeff Sessions (now a GOP U.S. Senator) started a Republican Club at Huntington College. McClurkin went from there on to Auburn where she got her graduate degree, met her husband Vann, and moved to Shelby County.
The Shelby County Republican Party was not a very big party then and had no office holders. McClurkin went on to the Alabama Republican Party where she became the Vice Chairman in Charge of Women's Affairs. Rep. McClurkin said that she has been on the Alabama Republican State executive committee for a very long time
McClurkin said that she wants to maintain the conservative principles in the party. "Those are dying off because many don't see the need for conservative principles." McClurkin emphasized her opposition to abortion and supports government by the people.
Representative McClurkin said that we will have a presidential election coming up. "We need to have a strong candidate that will win the presidential election." McClurkin said that the Alabama Republican Party needs to be an open and transparent party. Those of us who donate money to the party we want to know how it is being spent.
McClurkin said that she would like the local parties to be participants in the fundraising process. McClurkin said that the local parties recruit, vet, and select the candidates. They need they funds to do that well. "The state party needs to help you."
Rep. McClurkin said, "I believe in a strong 67 county participation." The GOP is doing well in big counties like Shelby, St. Clair, and Mobile Counties but we sometimes forget about the small counties like Wilcox or "Henry County where I grew up. We have just one elected official there." We need to help those counties as well in fundraising and candidate recruiting.
McClurkin said that more emphasis needs to be placed on poll watching to make sure that the elections are carried out in the best interests of the people voting. That has not always been the case. Poll watchers need training to see things that might be fraudulent.
Rep. McClurkin said, "We have found that we have many friends who say they are Republican and do not vote." "Looking over the election results last year it was astounding to me that we did not have more people voting than we did." McClurkin suggested getting more Churches involved in voter registration efforts. "As Terry mentioned, we really need to encourage our friends to come out and vote"
Mrs. McClurkin who was accompanied by her husband Vann said that these were just some of the goals she has for the Republican Party.
Members of the Alabama Republican Party State Executive Committee will vote on the new Chair as well as other officers in February at the GOP's Winter Meeting. Popular ALGOP Chairman Bill Armistead has announced that he is not seeking another term.
Print this piece
Jones criticized for voting to limit Trump's war powers authority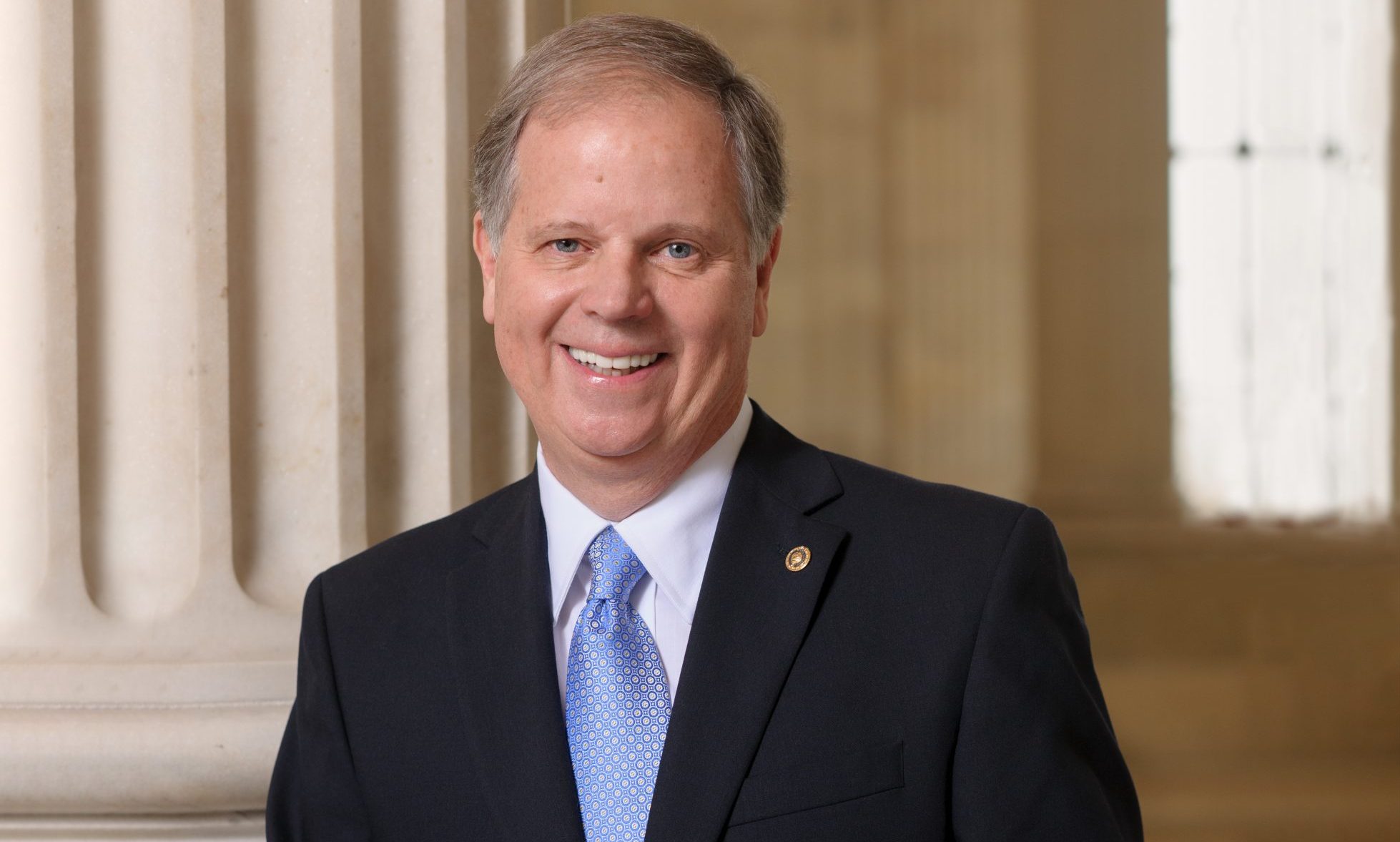 Thursday, U.S. Senator Doug Jones (D-Alabama) voted in favor of S.J.Res.68, a resolution which directs the removal of United States military from hostilities against the Islamic Republic of Iran that have not been authorized by Congress. Jones has been criticized by Republicans for voting to limit President Donald J. Trump's war powers on Iran.
"Before a President can lead us into war, he or she must first earn the support of the American people and also fulfill their solemn constitutional obligation to seek approval from Congress," Sen. Jones said in a statement. "While the President has the power to protect Americans in the case of an imminent attack, that authority does not extend to committing our service members to long-term hostilities unilaterally. This resolution sends a strong message that we will follow the Constitution and we will not send our troops into harm's way without the serious consideration and consent of the Congress."
Trump Victory National Finance Committee member Perry O. Hooper Jr. released a statement in response.
"Senator Jones once again turned his back on Alabama and voted as the leftwing Democrats commanded. He has no regard for the values, opinions or views of Alabamians," Hooper said. "He sees us as deplorables just like the elites of the Democratic party who have funded 80 percent of his doomed campaign for re-election.:
Hooper stated, "I whole heartily support the President who stated 'We are doing very well with Iran and this is not the time to show weakness… If my hands were tied, Iran would have a field day. Sends a very bad signal. The Democrats are only doing this as an attempt to embarrass the Republican Party.'"
"The Commander-in-chief must be free to work with his staff and his military leaders to conduct covert operations like the one that eliminated Iran's terrorist-in-chief General Soleimani," Hooper added. "You can't micromanage the war on terrorism. The Democrats in Congress are so filled with Trump Derangement Syndrome that no matter how much it would benefit our country and the world; they would never give Trump a "victory". If it came down to it, they would leak everything to the media no matter what the consequences."
Senator Jones is a cosponsor of the legislation and a member of the Senate Armed Services Committee. Eight moderate Republicans voted with the Democrats on the resolution.
Senator Jones has also been criticized by Republicans for his comments that he was "appalled" by Pres. Trump's actions following his acquittal on both Articles of Impeachment.
"Newsflash for Senator Doug Jones: Most Alabamians have been appalled by his actions his entire time in office," former Attorney General Jeff Sessions said. "It's about time we send Doug home, and replace him with someone who understands our values. Alabamians deserve a Senator they can be proud of again."
Sessions is a candidate for the Republican nomination for Jones' Senate seat.
The Republican primary will be on March 3.
Print this piece