Reaction to Judge's Decision Striking Down Alabama's Gay Marriage Ban

By Brandon Moseley
Alabama Political Reporter
On Friday, January 23, Alabama Speaker of the House Mike Hubbard (R-Auburn), US Representative Gary Palmer (R-Hoover), and Alabama Republican Party Chairman Bill Armistead issued written statements following Friday's ruling from a federal judge stating that the Sanctity of Marriage Amendment and the Alabama Marriage Protection Act are unconstitutional.
Speaker Hubbard said, "It is outrageous when a single unelected and unaccountable federal judge can overturn the will of millions of Alabamians who stand in firm support of the Sanctity of Marriage Amendment. The Legislature will encourage a vigorous appeals process, and we will continue defending the Christian conservative values that make Alabama a special place to live."
US District Judge Callie "Ginny" Granade struck down Alabama's State Constitutional Amendment limiting marriage to one man and one woman.  The Constitutional amendment banning same-sex couples was ratified by a vote of the people of Alabama.
Judge Granade ruled, "There is no law prohibiting infertile couples, elderly couples, or couples who do not wish to procreate from marrying. Nor does the state prohibit recognition of marriages between such couples from other states. The Attorney General fails to demonstrate any rational, much less compelling, link…the laws in question are an irrational way of promoting biological relationships in Alabama."
Alabama Republican Party Chairman Bill Armstead said in a statement, "Tonight's news is a clear demonstration of how traditional values espoused by Alabamians have begun to erode even in our conservative state. The far left-wing radical agenda of Barack Obama and the Democratic Party have brought to Alabama's front door their effort to redefine marriage. Alabamians spoke when they voted in 2006 by 81 percent to adopt the Alabama Sanctity of Marriage Amendment, which makes it unconstitutional for the state to recognize or perform same-sex marriages or civil unions."
Congressman Gary Palmer said in a written statement, "I'm more than disappointed by the ruling. This is yet another attempt to usurp the will of the people through judicial fiat. I hope the 11th Circuit will quickly reverse the decision."
The Human Rights Campaign (HRC) had led the legal fight against Alabama's defense of marriage law. HRC Legal Director Sarah Warbelow said in a written statement, "Judge Granade's ruling today affirms what we already know to be true – that all loving, committed Alabama couples should have the right to marry.  As the US Supreme Court prepares to hear a landmark case on marriage equality, today's ruling joins the dozens and dozens of others that have recognized that committed and loving gay and lesbian couples deserve equal treatment under the law."
At the time, many media outlets believed that this meant that gays in Alabama could now receive marriage licenses. The Alabama Probate Judge's Association has assured us that that is not the case.
While Judge Granade ruled that the ban was in violation of the Equal Protection Clause of the US Constitution's 14th Amendment, the Probate Judge's Association said in a written statement that that ruling only applied to the plaintiffs in the case, Kimberly McKeand and Cari Seacy, are a lesbian couple who were legally married in San Diego, California, but live in Mobile.  McKeand has a five year old son. Since the McKeand – Seacy marriage is not recognized by Alabama law, Seacy could not lawfully adopt McKeand's son.  The couple challenged the state's ban and sued challenging the law.
Judge Greg Norris, President of the Alabama Probate Judges Association, said that he hopes that misinterpretation of Friday's ruling will not cause confusion among the general public.
Judge Norris wrote, "As probate judges, our duty is to issue marriage licenses in accordance with Alabama law and that means we can not legally issue marriage licenses to same sex couples," Norris said. "The recent federal ruling does not change that."
Both supporters and opponents of gay marriage reached another conclusion.
On Friday, Chairman Armistead wrote, "I urge the Attorney General's office to use every resource available to challenge, to the fullest extent, this ruling and stop the federal government's overreaching power in this case. The fact that a federal judge in Alabama has ruled against Alabama's constitution is a clear indication that the Democratic Party's platform to promote same-sex marriage is impacting our way of life in Alabama. Few elected officials remain in the Democratic Party in Alabama today because of the radical positions taken by their Party and implemented federal judges like Judge Granade. I suspect that there will be even fewer elected officials in Alabama who claim to be Democrats after this ruling."
The Deputy Legal Director for the Southern Poverty Law Center's (SPLC) LGBT Rights Project David Dinielli wrote, "This historic ruling is a giant step toward full equality for LGBT people in Alabama and does not harm anyone.  It is a victory for Alabama families and the children of same-sex couples whose lives will have more stability and certainty now that they are afforded the same rights and privileges as other married couples."
Clearly there is some confusion between the Alabama Probate Judge's Association and other legal professionals thus some additional clarification from Judge Granade or a higher federal court is very likely in the coming days.  It is our understanding that same sex couples applying for a marriage license in Alabama on Monday, January 25 will still be denied.
Late on Sunday, District Judge Granade agreed to stay her controversial decision for two weeks to give the 11th Circuit Court of Appeals time to decide whether or not they want to hear the state's appeal.  The 11th Circuit would have the right to decide whether or not to extend the stay.
Whether the courts or the legislatures will ultimately decide how marriage is defined in the United States will almost certainly be decided soon by the US Supreme Court.
Sessions: Tuberville's fraud scandal "can't just be swept under the rug"
Jeff Sessions criticized Tuberville's actions as a "major fraud scheme that bilked large sums of money from hardworking people," which "can't just be swept under the rug."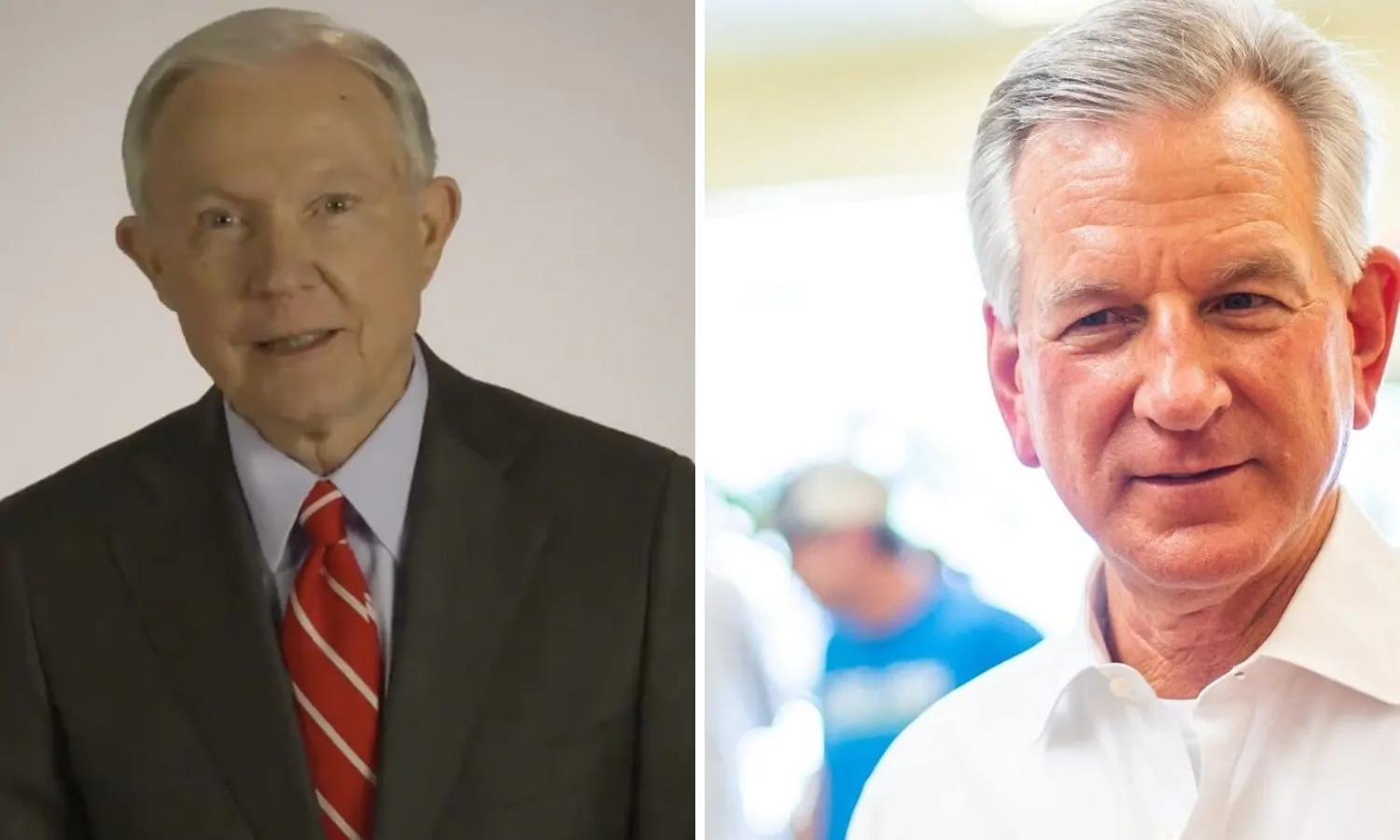 After The New York Times published an investigation into a financial fraud scandal involving Republican Senate candidate Tommy Tuberville, his opponent, former Republican Sen. Jeff Sessions, criticized Tuberville's actions as a "major fraud scheme that bilked large sums of money from hardworking people," which "can't just be swept under the rug."
"This is an astounding story," Sessions said. "Based on the facts already uncovered, it is clear that Tommy Tuberville was one of two partners in a major hedge fund fraud scheme that bilked large sums of money from hardworking people, including Alabamians."
Tuberville's partner was sentenced to 10 years in prison for the scheme by the court in Opelika, while Tuberville was sued for fraud, paying out a sum of money in a private settlement that has been kept out of the public eye.
"This can't just be swept under the rug, and Tuberville can't just brush it aside by falsely claiming he was some innocent victim," Sessions said. "Indeed, he was a victimizer and held himself out as the 'managing partner' of the firm. Tuberville must give a full and complete accounting of this scandal. The people of Alabama deserve to know the complete truth now, before the election, about the man who is asking to be their senator."
This scandal has been widely talked about in Republican circles for months or longer, but The New York Times article details the allegations for one of the first times in the national spotlight.
Tuberville became a full partner in a hedge fund with former Lehman Brothers broker John David Stroud. Their ventures included TS Capital Management and TS Capital Partners. The T stands for Tuberville and the S for Stroud.
Tuberville did not pick which stocks to buy or sell, and as the head football coach at Texas Tech University and later at the University of Cincinnati, he was not even a frequent presence in the office. Tuberville introduced Stroud to potential investors and even had business cards identifying himself as managing partner. He also leased a BMW and got his health insurance through the company.
The firm's offices in Auburn were filled with his coaching memorabilia. In 2010, he traveled to New York with Stroud to meet potential brokers, and was kept in the loop on decisions about hiring. A source told APR that a number of SEC coaches were among the people defrauded by TS Capital.
When the money was all lost, Stroud was sentenced to 10 years in prison and Tuberville was sued by the investors for fraud and failure to carry out his fiduciary duties. Tuberville reportedly lost $450,000 of his own money and then had to pay out more than $1 million to the investors. The New York Times reported that his total losses were more than $2 million.
The financial scandal has many Republicans concerned about the viability of Tuberville's general election campaign to unseat incumbent Sen. Doug Jones, D-Alabama.
"I think that Tuberville did not do anything wrong," said Rev. John Killian, a conservative activist. "He is a good man, but the Doug Jones campaign, they would use this to the ninth degree."
"They will shoot Tuberville up in 30 second and 60 second TV spots," Killian added. "I don't think Tuberville is crooked, but Doug Jones has $10 million to spend. I think they are lying in wait for Tuberville like they were for Roy Moore."
Killian said that he will support Tuberville if he wins the Republican nomination, but that he is supporting Jeff Sessions in the primary because he is the strongest general election candidate to face Jones.
Tuberville supporter and Trump Victory National Committee member Perry Hooper Jr. was dismissive of assertions that Tuberville could be vulnerable.
"Coach has a commanding lead. He will win the run-off, and he will crush Doug Jones in the general election in November," Hooper told APR.
Tuberville maintains that he was a victim of the fraud — not a perpetrator.
"They sued me because I invested in it, and he used my name to get other people to put money in," Tuberville said. "There was nothing ever implicated by anybody that I'd done anything wrong. I felt bad that he used my name."
The New York Times has asked Tuberville to release the plaintiffs from their confidentiality agreement. Tuberville to this point has declined. Stroud has been released from prison but has not commented on his relationship with Tuberville. Tuberville faces Sessions in the July 14 Republican runoff.
President Donald Trump has endorsed Tuberville, and Tuberville is leading Sessions in most available polling.