Only 12 Pre-Filed Bills In House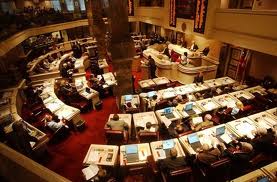 By Bill Britt
Alabama Political Reporter
MONTGOMERY—Little in the way of pre-filed bills have been recorded on ALISON so far this year. With just eleven days before the start of the 2015 legislative session, only 12 bills have been filed in the House. This is unusual for a body that has been known to pre-file as many as 150 pieces of proposed legislation prior to the session.
The bills are as follows:
HB1—Butler—Alabama Student Religious Liberties Act of 2015—Religious expression in schools—Public Schools. This bill would prohibit school districts from discrimination on basis of religious viewpoint or expression; allow religious expression in class assignments, coursework, and artwork; freedom to organize, require to adopt policy regarding voluntary student expression of religious viewpoints.
HB2—Clouse—Representing oneself as recipient of certain decorations or medals authorized by the US Congress for the US Armed Forces or US Armed Forces with intent to defraud would be a Class A misdemeanor violation.
HB3—Jackson—Prohibits carrying weapon into a place of worship even with a permit.
HB4—Bulter—To allow a person who is the sole shareholder of a corporation, sole owner of a business or member of an LLC with five members or less to represent their company in a court of law.
HB5—Chesteen—Temporarily removes the date parameters in the Flexible School Calendar Act of 2012 and allow each local school board of education to provide the required 180 full instructional days based on an no less than 1080 hours.
HB6—Greer—Municipalities with more than 12,000 inhabitants according to 1970 federal census or incorporated after 1979 will fill a vacancy in the mayor's office with the president of the city council president.
HB7—Harbison—Would allow each municipality to license and regulate liquor stores operated by the ABC Board that are located in its jurisdiction.
HB8—England—Require operators of websites containing an arrest photograph and personal information of a person charged with a crime (that has been acquitted or charges have been dropped, or resolved without conviction) to remove information at the request of the person or be subjected to the Deceptive Trade Practices Act.
HB9—McCutcheon—Would require applicants for licensure as a polygraph examiner to complete two sets of fingerprints to the board, forwarded to the State Bureau of Investigations, and the FBI. It will also require consent to release criminal background information to the board.
HB10—Poole—Would provide that the court may not waive, set aside, or fail to collect any court costs and docket fees.
HB11—Poole—Add circuit judge to Tuscaloosa Co., 6th Judicial Circuit designated as Circuit Judgeship Number 7. Bill conditional upon adoption of resolution by county commission to provide funding. Election in 2016.
HB12—Ford—Limited waiver of State licensing requirements for athletic team physicians who are licensed in another state when traveling with their team to a sporting event.
None of these 12 are particularly meaty or by Alabama standards, controversial.
If the past four year are prologue, their should be at least 50 bills in the hopper ready for committee assignments; but to date only 12. This has led a few House observers to speculate that Speaker Mike Hubbard has a tight fist on the agenda of the House and wants to keep the substance of his plan under wraps until the last possible minute. Hubbard has always controlled the House with a tight rein, but it is said that he has become even more controlling and secretive since his indictment on 23 felony counts of public corruption.
Rumors continue to swirl around the State House that Hubbard plans to have legislation carried that would limit the power of the Attorney General to prosecute white collar crimes, and to cut the number of Supreme Court and Appeals Court Justices.
Today is Thanksgiving
Today is a national and state holiday. Schools, banks, government offices and many private businesses are closed.
Four hundred years ago, on Nov. 11, 1620, after 66 days at sea, a group of English settlers landed near what is today Cape Cod in Massachusetts. Onboard the Mayflower were 102 men, women, and children, including one baby born during the Atlantic crossing, who made up the Pilgrims.
The Mayflower, captained by Christopher Jones, had been bound for the mouth of the Hudson River. The ship took a northerly course to avoid pirates, but the decision to avoid the then widely traveled sea lanes to the New World took the ship into bad weather, which had blown the Mayflower miles off course and left the ship damaged. Off Cape Cod, the adult males in the group made the fateful decision to build an entire colony where none had existed prior. They wrote and signed the Mayflower Compact.
"In the name of God, Amen. We whose names are underwritten, the loyal subjects of our dread Sovereign Lord King James, by the Grace of God of Great Britain, France, and Ireland King, Defender of the Faith, etc. Having undertaken for the Glory of God and advancement of the Christian Faith and Honour of our King and Country, a Voyage to plant the First Colony in the Northern Parts of Virginia, do by these presents solemnly and mutually in the presence of God and one of another, Covenant and Combine ourselves together in a Civil Body Politic, for our better ordering and preservation and furtherance of the ends aforesaid; and by virtue hereof to enact, constitute and frame such just and equal Laws, Ordinances, Acts, Constitutions and Offices from time to time, as shall be thought most meet and convenient for the general good of the Colony, unto which we promise all due submission and obedience. In witness whereof we have hereunder subscribed our names at Cape Cod, the 11th of November, in the year of the reign of our Sovereign Lord King James, of England, France and Ireland the eighteenth, and of Scotland the fifty-fourth. Anno Domini 1620."
After a few weeks off Cape Cod, they sailed up the coast until they reached Plymouth. There they found a Wampanoag Indian village that had been abandoned due to some sort of plague. During the Winter of 1620-1621 they lived aboard the Mayflower and would row to shore each day to build houses. Finally, they had built enough houses to actually move to the colony, but the cold, damp conditions aboard the ship had been costly.
Some 28 men, 13 women (one of them in child birth), and 8 children died in that winter. Governor John Carver would die in April. His widow, Kathrine White Carver, would follow a few weeks later. There is some recent archaeological evidence suggesting that some of the dead were butchered and eaten by the survivors.
The Mayflower and her crew left for England on April 5, 1621, never to return.
About 40 of the Pilgrims were religious Separatists, members of a Puritan sect that had split from the Church of England, in defiance of English law. In 1609, they immigrated to Holland to practice their religion but ran into problems there too. Others in the group had remained part of the Church of England but were sympathetic to their Separatist friends. They did not call themselves Pilgrims, that term was adopted at the bicentennial for the Mayflower voyage. The members of core Separatist sect referred to themselves as "Saints" and people not in their sect as "Strangers."
In March 1621, an English speaking Native American, named Samoset, visited the Plymouth colony and asked for beer. He spent the night talking with the settlers and later introduced them to Squanto, who spoke even better English. Squanto introduced them to the chief of the Wampanoag, Massasoit.
Squanto moved in with the Pilgrims, serving as their advisor and translator. The friendly Wampanoag tribe taught the Pilgrims how to hunt and grow crops. The two groups began trading furs with each other.
William Bradford, a Separatist who helped draft the Mayflower Compact, became the longtime Plymouth Governor. He was also the writer of the first history of the Plymouth Colony and the Mayflower. Bradford's more notable descendants include author, dictionary writer and scholar Noah Webster; TV chef Julia Child; and Supreme Court Chief Justice William Rehnquist.
In the fall of 1621, 399 years ago, the Pilgrims invited their Wampanoag Indian friends to a feast celebrating their first harvest and a year in the New World with a three-day festival. This has become known as the first Thanksgiving.
Today is a national and state holiday. Schools, banks, government offices and many private businesses are closed.