Reaction to Alabama Supreme Court Ruling Nullifying Same-Sex Marriage Ruling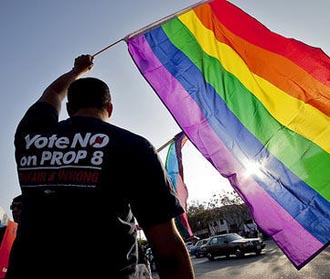 By Brandon Moseley
Alabama Political Reporter
Tuesday, March 3 the Alabama Supreme Court ordered Alabama Probate Judges to stop issuing same-sex marriages. The court argues that for over 200 years of Alabama history marriage has been recognized as between one man and one woman and the law remains that way. Most probate judges in Alabama have issued marriage licenses to same-sex couple after a federal judge in Mobile, Callie V.S. Granade, declared Alabama's Defense of Marriage state constitutional amendment unconstitutional.
The Court wrote, "As it has done for approximately two centuries, Alabama law allows for "marriage" between only one man and one woman. Alabama probate judges have a ministerial duty not to issue any marriage license contrary to this law.  Nothing in the United States Constitution alters or overrides this duty."
The conservative Alabama Policy Institute (API) along with the Alabama Citizens Action Program (ACAP) filed an emergency petition requesting that the Alabama Court issue an emergency clarification on the matter. API issued a statement following the ruling in their favor: "Today, the Alabama Supreme Court granted our request for a writ of mandamus directing Alabama's probate judges not to issue same-sex marriage licenses in violation of Alabama's Constitution. The ongoing confusion caused by the federal court's action in January needed to be clarified in a formal opinion by the State's highest court and the Alabama Policy Institute was well-suited to pursue such a remedy. This decision by the Alabama Supreme Court finally, in the words of Justice Scalia, gives the people of Alabama the respect that they deserve by preserving our law until the U.S. Supreme Court resolves the issue. The sanctity of marriage–an institute that has always been reserved for the states–is a cause worth fighting for, for as long as the States still have their rightful say in the matter."
The pro same-sex marriage Human Rights Campaign (HRC) strongly condemned the ruling in a statement. HRC Legal Director Sarah Warbelow wrote "The Alabama state Supreme Court does not have the authority to interfere with a federal court order. This order is outrageous and baffling, and no amount of legalese can hide the bare animus that forms the foundation of this extralegal ruling."
The HRC called the 150 page ruling, "bizarre" and rambling.
Conservative former state Senator Scott Beason (R from Gardendale) told the 'Alabama Political Reporter' in a phone interview I am pleased with what the Alabama Supreme Court ruled and I have confidence in the reasoning behind the decision of the majority of the court.
Earlier this year, U.S. District Judge Callie V.S. Granade ruled in favor of a lesbian couple in Searcy v. Strange, striking down Alabama's constitutional amendment limiting marriage to one man and one woman.
The HRC wrote, "Since then, Alabama Supreme Court Chief Justice Roy Moore has campaigned vocally against marriage equality. Last month, HRC Alabama submitted 28,000 petitions to the Judicial Inquiry Commission, urging a full ethics investigation of the Chief Justice."
There is some confusion about the role of Alabama Supreme Court Chief Justice Roy Moore in the ruling.
The HRC wrote in their statement that, "Alabama Supreme Court Chief Justice Roy Moore has been a vocal opponent of same-sex marriage in the media in the last month. However, he is not listed among the concurring or dissenting judges and appears to have recused himself from the case." The Associated Press is also reporting that Judge Moore recused himself. WAFF Channel 48 is reporting that Chief Justice Roy Moore wrote the order, and six justices concurred while another questioned the reasoning but not the decision.
Justice Greg Shaw (R) is the lone dissenter with the opinion. Shaw wrote in his dissent, "This case is both unusual and of great public interest; however, I do not see a way for this Court to act at this time. By overlooking this Court's normal procedures; by stretching our law and creating exceptions to it; by assuming original jurisdiction, proceeding as a trial court, and reaching out to speak on an issue that this Court cannot meaningfully impact because the Supreme Court of the United States will soon rule on it; and by taking action that will result in additional confusion and more costly federal litigation involving this State's probate judges, this Court, in my view, is venturing into unchartered waters and potentially unsettling established principles of law."
Probate judges have five days to submit responses if they want to continue to grant marriage licenses to homosexual couples. Mobile County Probate Judge Don Davis has asked the court to dismiss him from the lawsuit because Judge Callie Granade has already ordered him to issue the controversial marriage licenses to same-sex couples.
Jones says Senate race a choice between "substance and leadership, and nothing"
"One of the great disappointments in this campaign is that Alabama is not really getting choices between substance and substance," Jones said.
Speaking outside the Calhoun County Democratic Party headquarters in Anniston on Friday, Sen. Doug Jones, D-Alabama, told a group of supporters that Alabamians haven't gotten a look at what his Republican opponent might do if he wins the Nov. 3 election. 
"One of the great disappointments in this campaign is that Alabama is not really getting choices between substance and substance," Jones said. "They're getting a choice between substance and leadership, and nothing — nothing. We have not heard anything from Tommy Tuberville about what he really wants to do." 
While Jones has held numerous interviews with the media, and regular web briefings over the summer and in recent weeks, Tuberville's campaign seems to prefer the safety of keeping Tuberville from making possible gaffs or damaging statements in interviews. 
Tuberville hasn't agreed to interviews with traditional media outlets, or to debate Jones, and instead has focused on conservative talk radio spots, speaking to smaller Republican groups and at private parties.
Tuberville's campaign has ignored or denied our numerous attempts to interview Tuberville, including another request on Friday. He also declined to attend a student forum held at Auburn University on Wednesday, which Jones attended. The forum was sponsored by the Auburn College Republicans and College Democrats.
"If you ever hear something Tommy Tuberville says, it is just simply this: 'Build a wall. No amnesty. Drain the swamp.' That ain't him. That's Donald Trump," Jones said. "He cannot think for himself. He doesn't think for himself." 
Jones spoke of his record of working to help veterans through legislation. And he referred to Tuberville's nonprofit for veterans and reporting that indicates, through tax records, that less than a third of the money raised for Tuberville's charity went to help veterans. 
"I don't just create charities and send only pennies on the dollar. I do things for the veterans of this state and this country," Jones said. 
Jones also made a case for Alabamians to remember the contributions past Democrats made in the state. Jones said it was Democratic Sen. John Sparkman who helped build Alabama's Redstone Arsenal. 
"It was a Democrat, Lester Hill, who built the rural hospitals around here that Donald Trump and Mitch McConnell and Tommy Tuberville are trying to destroy," Jones said. "It was Howell Heflin who built up agriculture in this state. Those are the Democrats. It was Franklin Rosevelt that put electricity in this state. We're going to do the same thing for broadband. People forget those things. They forget those things because we've let other people define us with lies."
Jones plans to visit Jefferson County on Saturday, then on to the Black Belt and Mobile on Sunday with another stop in Birmingham on Monday afternoon. 
"The goal is to get everybody out. That's the thing if we want to continue to ensure Alabama moves forward — moves forward and not backwards, to continue to have somebody, if I do say so myself, somebody that's just not going to damn embarrass us," Jones said.
"We've had too much of that in Alabama," Jones said, "and I bet you it won't be a year that Tommy Tuberville would be an embarrassment to this state because he doesn't know the issues. He doesn't know what to do, and he's dang sure not going to know what to do when Donald Trump is not president of the United States." 
Jones encouraged supporters to be skeptical of recent polling. One such recent poll, by Auburn University at Montgomery, puts Tuberville ahead of Jones by 12 percentage points, 54 to 42.1. An internal poll by Tuberville's campaign puts Tuberville ahead by 15 percentage points, while an internal poll from the Jones camp put Jones ahead by one percentage point. 
"Don't listen to these polling folks that come in, and they don't know Alabama, and they don't know what they're doing. We're tracking this race, and I can tell you, everything has been moving in our direction the last two months," Jones said. 
People standing along roadsides holding his signs and showing support, Jones said, is "the energy we've got out there. That's what you can't poll."
Ellen Bass of Anniston, standing outside the Calhoun County Democratic Party headquarters just after Jones spoke, told APR that she has numerous Republican friends who are voting for Jones.
"My hat's off to them because they're coming out," Bass said. "They recognize that he is a better candidate."
Ciara Smith, 21, newly elected to the Anniston City Council, told APR outside the headquarters building that Jones is the better candidate.
"I think that he's educated. I think that he speaks with passion and heart," Smith said. "And he knows what he's talking about, which is important, and which is more than we can say about the other candidate."
Speaking to APR after his speech to supporters, Jones said that he feels very good about the state of his campaign.
"Everything we're seeing is moving in our direction," Jones said. "And the more he stays hidden, the better it is for us."