Common Core Politicly Hot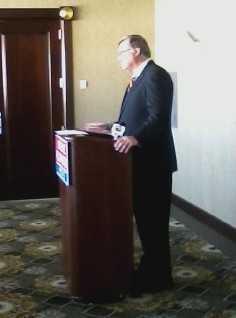 INSIDE THE STATEHOUSE
by Steve Flowers
March 11, 2015
The Common Core education topic is not only a hot political issue in Alabama, it has become a political football nationwide and it appears to be a hot potato in the looming 2016 GOP presidential contest.
As soon as Jeb Bush announced that he would "actively explore" a 2016 presidential bid, Kentucky Senator Rand Paul, also a potential candidate and Tea Party Libertarian said, "We need leaders who will stand against Common Core." The right wing candidates like Paul and Sen. Ted Cruz of Texas, Sen. Marco Rubio of Florida and Gov. Scott Walker of Wisconsin have staked out positions against Common Core. 
The more mainstream GOP aspirants and probably the only ones who have a chance to actually win the presidency are proponents. In fact, Jeb Bush, who would be the best possible candidate the GOP could pit against the favorite Hillary Clinton, has embraced Common Core since his days as governor of Florida. Indeed, the Common Core standards were policy introduced by his brother President George W Bush.
"Common Core" guidelines were first introduced by the National Governors Association and have been adopted by 46 states. While Governor of Florida, Jeb Bush became known as a chief executive who raised Florida's education standards significantly. Since leaving the governorship of Florida, he has been an advocate for education reform, including Common Core as well as school choice.
Common Core has also been endorsed by the U.S. Chamber of Commerce. However, the right wing activists in the party see it as a federal intrusion into state and local control of education.
Speaking of our neighbor state to the south, Florida has become the nation's third most populous state. Florida has surpassed New York in population to claim the third spot. California remains number one and Texas is number two. 
This Sunbelt trend has been evolving for at least four decades. In fact, demographers predicted that Florida, Texas and California would evolve as the three most populous states years ago. It appears that "snowbirds" who fled the Rust Belt and colder environs of states like Michigan and New York decided to stay all year in the Sunshine State. In fact, the census statistics reveal that much of Florida's growth has come from New Yorkers moving south. In 1950, New York's population was five times that of Florida. Today, they have more people than the Empire State. This makes Florida even more important than ever in the presidential sweepstakes.
Florida has been the most important state in presidential contests for several decades. It has now become even more significant. Given the way we select our president under an Electoral College system, Florida is one of about 10 pivotal swing states that decides the presidency. This makes Florida ground zero for the 2016 presidential war. It is also one of the reasons that Jeb Bush would be the most formidable GOP contender.
Even though a lot of New Yorkers have moved to Florida, it appears the wealthiest citizens have remained in the city of New York. Forbes magazine recently revealed the wealthiest zip codes in America. Amazingly 10 of the top 20 wealthy zip codes in America were found in and around New York City. In fact, there were eight New York City area zip codes ahead of the famous Beverly Hills, California 90210. 
Out of the top 25, New York had 13 enclaves that were the wealthiest pockets in all of America. California had nine. Florida had two and Colorado had two, including the ski resort of Aspen. The second 25 that made up the list of 50 wealthiest zip codes also were made up mostly of New York and California zip codes.
Out of the 50 top wealthiest zip codes, eighteen were in New York. However, California tops the list with an amazing 25 of the top 50 wealthiest zip codes in America. Therefore, 43 of the nation's top 50 wealthiest areas in the country were in California and New York. These two states are also considered the two most liberal states in America. This gives new meaning to the term "limousine liberals." No wonder democratic presidential candidates can raise so much cash.
By the way, there were no zip codes in Alabama, or for that matter the Deep South that made the list of wealthiest zip codes. Sorry about that Mountain Brook. 
See you next week.
Steve Flowers is Alabama's leading political columnist. His weekly column on Alabama politics appears in over 60 Alabama newspapers. He may be reached at www.steveflowers.us.
Opinion | COVID killed the Don
"The March invasion of the coronavirus derailed the Trump Train," columnist Steve Flowers writes.
Around Labor Day when this year's presidential campaign was beginning to heat up, I wrote a column about the classic 1960 presidential contest between John Kennedy and Richard Nixon. This pivotal presidential race marked the beginning of television as the premier political medium. The first televised presidential debate that year was the turning point of that campaign. Kennedy won the White House with his performance, or, as some would say, Nixon lost by his appearance on TV that fateful night in October of 1960.
A lot has changed in the past 60 years, America was a more Ozzie and Harriet, Andy Griffith Mayberry America. There was not a lot of difference, philosophically or ideologically, between a Republican Kansas farmer and a blue-collar Democratic factory worker in Pennsylvania. They both believed in American values of decency and hard work. Even though the Pennsylvanian was a union man who tended to vote Democratic and was probably a Catholic, and the Kansas farmer voted Republican and was a protestant, they both were Christian conservatives.
The country was more homogenous and amicable. This America lent itself to a close presidential contest where 40 states were in play in the Electoral College and only 10 predetermined. Today, it is just the opposite, 10 states are in play and 40 are predetermined.
The country is more divided than at any time since the Civil War. You are cemented into either a conservative Republican tribe or a liberal Democratic tribe, and there is no peace pipe to be smoked. There are very few independent voters in the middle. It is these truly undecided swing voters that decide the presidential race. Also, it is even a further defined swing voter who resides in a swing state — primarily the states of Florida, Ohio, Arizona, Pennsylvania, Michigan, Wisconsin and now Georgia.
Both parties got their bases out to the maximum. Democrats hated Donald Trump. Republicans loath Nancy Pelosi and Bernie Sanders. They stoked every fire possible, and the two tribes almost broke about even.
Trump lost the middle of America swing voter in the key battleground states and he lost them overwhelmingly. Why? You ask: It is simple, the COVID pandemic.
It would have been impossible for any humble, genuinely caring, kind and compassionate president to overcome a pandemic that has killed over 250,000 people and annihilated the economy. A legendary, revered leader like Presidents Franklin Delano Roosevelt or Ronald Reagan would have had a hard time surviving the epidemic destroyed our economy.
It is always about the economy. Trump's administration was the overseer of the most robust economy in years. He could have possibly won re-election with this rosy economy. However, the March invasion of the coronavirus derailed the Trump Train. There is an old political adage that says, "If you claim credit for the rain, you got to take blame for the drought."
Any presidential election campaign where there is an incumbent president up for re-election is a referendum on that president. Therefore, this presential race was all about Trump. He would have had to have been an FDR or Reagan to have survived the events of this year. Folks, Trump is no FDR or Reagan.
To win a presidency, people have to like you. Very few people genuinely like Trump. All exit polling revealed that even the most ardent Republicans disliked Trump the man. They were only voting for him because he was a proven true-blue, hardcore conservative. Even evangelical conservatives voted for him knowing his personal and business life was not exemplary of a practicing Christian, but he was the vessel for conservative Supreme Court Justices.
However, key swing voters, primarily suburban women, just did not like a brash, irreverent, egocentric, irrational, narcissist as their president. They had seen the sideshow on television and Twitter for over three years, and they had had enough. There is another tried and true maxim: "More people vote against someone than for someone."  This played out to the nines on Election Day. Very few people voted for Joe Biden. They voted against Donald Trump.
See you next week.