Shelby and Palmer Reaffirm Commitment to Repeal Obamacare
By Brandon Moseley
Alabama Political Reporter
Monday, March 23 marked the fifth anniversary of the Patient Protection and Affordable Care Act of 2010, better known popularly as "Obamacare."  U.S. Senator Richard Shelby (R from Alabama) and U.S. Representatives Gary Palmer (R from Hoover) and Martha Roby (R from Montgomery) issued statements to reaffirm their commitments to repealing the controversial healthcare reform legislation.
Senator Shelby wrote in a statement, "Today marks the five-year anniversary of ObamaCare being signed into law. Over the past five years, I have heard from thousands of Alabamians, like Chad from Prattville, about the negative impacts of ObamaCare. This damaging law has not only caused Alabamians to see rising health care costs and to lose their preferred insurance, it also has several negative effects on our economy and job creation."
Sen. Shelby said, "I have voted multiple times to repeal this deeply flawed law and I will continue to fight against it in the 114th Congress."
Congressman Gary Palmer notes the five year anniversary the Affordable Care Act with his own  statement: "The Affordable Care Act (ACA), also known as Obamacare, was passed on a strictly partisan vote over the clear and obvious objections of the American people, who continue to oppose this government takeover of the health care industry.  It was a mistake of historic proportions."
U.S. Representative Palmer continued, "Five years later, the ACA has not lived up to its promises.  People are losing their health care plans, are seeing their premiums rise rapidly, being forced to buy coverage they cannot afford, and being penalized if they don't.  It is also adding billions to the deficit. Unfortunately, this is just the start of the problems it will create."
Congresswoman Martha Roby wrote on Facebook, "It's been five years since Obamacare became law, and Americans are still reeling from its effects. President Obama promised that under the Affordable Care Act families could keep their health plans if they wanted. He promised that premiums would decrease, allowing more people to get insured. He promised that the ACA would make getting health insurance easier than ever before. But five years later, we're seeing quite the opposite."
Representative Palmer wrote, "Congress should continue the fight to replace the ACA with free market reforms like buying insurance across state lines and ensuring people can take their health care plans from one job to another.  Doing so will remain a priority for me until the goal is accomplished."  
Speaker of the U.S. House of Representatives John Boehner (R from Ohio) echoed their concerns: "Five years after ramming ObamaCare into law, the president continues to mislead Americans about its legacy of broken promises. The president says his law is working 'better than expected,' even as premiums and deductibles rise, the website remains a mess, and workers across America have had their hours and wages slashed. Every week, new stories pour in from Ohio families, seniors and small businesses struggling to deal with canceled plans and losing access to doctors. If ObamaCare is truly working better than the president expected, it only shows the extent to which he hid the truth about the law while selling it."  
Speaker Boehner said, "In the House, Republicans are listening to the American people and putting their priorities first. This year the House passed a commonsense bill to restore the 40-hour work week by scrapping rules in ObamaCare that have become a significant barrier to job growth and higher wages, and once again we've put forward a responsible, balanced budget that repeals the president's fundamentally-flawed law and paves the way for real solutions to lower costs and protect jobs."
The conservative grassroots group Freedomworks wrote,
"Monday marks the fifth anniversary of the Affordable Care Act – AKA ObamaCare – being signed into law. Since that fateful day, Americans have been faced with fewer health care choices, higher prices, and burdensome mandates that have made an already tangled health care bureaucracy exponentially worse."
Freedomworks continued, "While the Supreme Court deliberates on the King v. Burwell lawsuit that will decide the fate of many of ObamaCare's subsidies, it's more important than ever that we keep the conversation alive, educating people on why government-run health care doesn't – and can't – work, and what conservatives can do to fight for real reform."  "Five years of ObamaCare has already been much too much. Families are hurting, and the longer we wait the more entrenched the government-run health care system becomes. We can't afford another five years like this. It's time for a change."
Repealing Obamacare will not be an easy task.  In order to keep insurance affordable, private insurers eliminated covering the obese, those with chronic conditions, and those with healthcare challenges. Private insurers offered pricing advantages to those with ideal body weight who never had very little history of using healthcare. Obamacare eliminated 'pre-existing conditions' making the cost of the insurance 'pool' much more expensive. To try to keep the cost of insuring the pool less, Obamacare uses government force to make persons pay the premium. To help the poor pay the expensive premiums, Obamacare has a sliding scale of costly government subsidies.   Obamacare also added massive price controls on what doctors and hospitals can charge. If you take away the subsidies and the threat of force millions will flee the coverage leaving a much sicker more costly pool. If you take away more of the price fixing healthcare costs will likely rise further causing healthcare insurance costs to rise. If the government allows insurers to offer preferred rates to the young and the healthy, they will leave the existing pool en masse to get the better rate, leaving the persons with pre-existing conditions trapped in a dwindling pool of increasingly old and sick persons and their rates will soar.
Huntsville police likely violated international use-of-force guidelines during protest, expert says
From the deployment of tear gas to the shooting of protesters with kinetic impact rounds — which include bean-bag rounds and rubber bullets — the three agencies that dispersed crowds in Huntsville a month ago appear to have violated guidelines.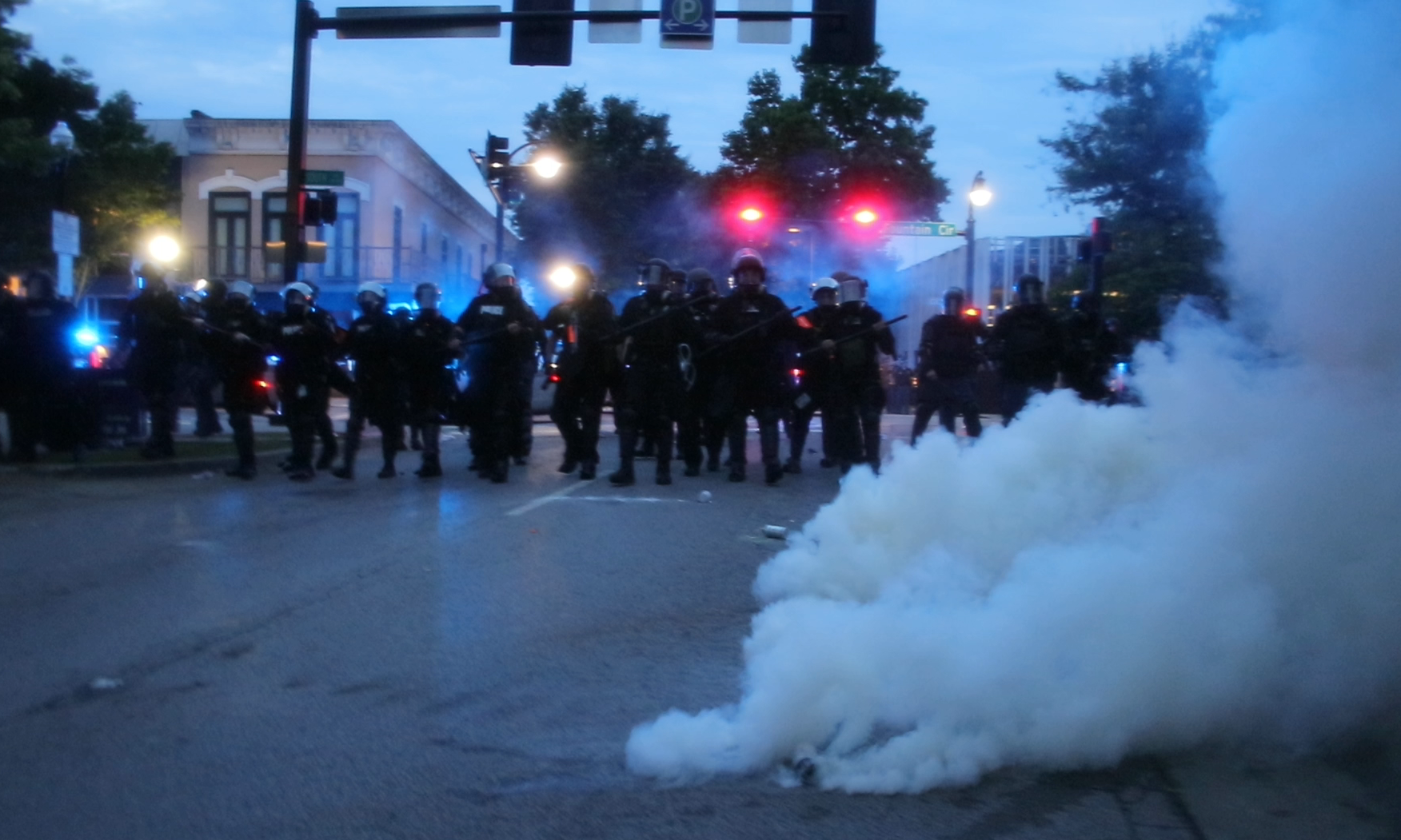 The use of less-lethal weapons by law enforcement against protesters in Huntsville on June 3 went against international standards for the use of force in a crowd control scenario, according to a researcher who studies such incidents.
As associate director of the Arms Division of Human Rights Watch, Mark Hiznay examines timelines of incidents where security forces use lethal and less-lethal force. The key moments he looks for on these timelines are the onset of violence and the first use of force by security personnel.
Sometimes those are the same point, and sometimes less-lethal weapons are used in ways different from what they were designed for, what training specifies or what international standards say are fair and humane. From the deployment of tear gas to the shooting of protesters with kinetic impact rounds — which include bean-bag rounds and rubber bullets — the three agencies that dispersed crowds in Huntsville a month ago appear to have violated guidelines.
"Using kinetic impact rounds as an area weapon to herd a crowd is abusive," Hiznay said, adding that the weapons are meant to target individuals who pose an imminent threat of violence to law enforcement or members of the public.
He cited a set of protocols for less-lethal force adopted by the United Nations on Tuesday. The guidelines limit use of these weapons to situations where they are necessary for safety and proportional to potential threats.
"For example, force that is likely to result in moderate or severe injury — including when applied by less-lethal weapons — may not be used simply to obtain compliance with an order by a person who is only passively resisting," the guidelines state.
Huntsville Police Chief Mark McMurray oversaw the police response on June 3, including the coordination between his department, Madison County Sheriff's deputies and State Troopers provided by the Alabama Law Enforcement Agency. At a press conference the next day, McMurray said that officers are trained to use the least amount of force to disperse an unlawful gathering, but when protesters didn't disperse after the permit for the day's rally expired, police "had to become proactive."
"We kept asking them to leave," McMurray said. "They brought this — this group brought this on themselves. They came here for the fight, not us."
In his after-action report to the Huntsville City Council, McMurray said that nightfall was a concern of his because of the tendency of bad actors in "splinter" groups to turn violent, even after a day of peaceful assembly. He also noted the heat that his riot-gear-clad officers were operating in as they attempted to disperse the crowds, first with gray smoke and sound dispersal tools — and then with tear gas and kinetic impact rounds.
Hiznay said those circumstances are a recipe for abusive use of force.
Using kinetic impact rounds as an area weapon to herd a crowd is abusive."
"You get into these situations where the security forces are tired, hot — may or may not be being pelted by rocks and bricks — and panic to where the situation and the discipline breaks down, and you start thinking that these are the tools that you use to herd people or disperse people," he said.
While Huntsville police and ALEA have denied using rubber bullets, the Madison County Sheriff's Office has yet to publicly detail its deputies' actions. Sheriff Kevin Turner has indicated that he will present an after-action report to the Madison County Commission in the near future, according to AL.com.
Multiple protesters have described being struck by projectiles without doing anything that could be interpreted as threatening. April Grubb was hit six times and left with bloody injuries, including a rubber round that embedded in her leg.
David Capo was facing the advancing police line and filming when he was struck in the chest by an unknown projectile that left a circular wound a half-inch across. By the time he got home that night, it had swollen to a welt four inches in diameter.
"It looked like I had a third pec[toral]," said Capo, 20, who works as a space camp counselor at the U.S. Space & Rocket Center in Huntsville. He doesn't have the money to see a doctor, he said, but he worries that one of his ribs might be cracked.
Such injuries are disturbing, Hiznay said, because the people who suffered them should not have been targeted and because those wounds can cause permanent damage. Of particular concern are cases in which people are hit from behind, which indicates that they were trying to leave and therefore were not posing a threat, and because they can result in nasty spinal cord injuries.
Hiznay avoids even using the term rubber bullets, given that various projectiles are commonly referred to as that, but the term doesn't do justice to the severe bodily trauma they can inflict. The semantics lead to confusion in the public conversation about how they are used, he said.
There are no federal standards for use of kinetic impact rounds, so the U.N.'s guidelines are the closest thing to a defined set of standards. It states: "Kinetic impact projectiles should generally be used only in direct fire with the aim of striking the lower abdomen or legs of a violent individual and only with a view to addressing an imminent threat of injury to either a law enforcement official or a member of the public."
The guidelines also address the problematic nature of distance between officers and a crowd. In his presentation to the city council, McMurray said that projectiles were fired to create distance in order to avoid violent physical confrontations with protesters. In his telling, this use of force was preferable to another.
According to U.N. standards, therein lies the potential for improper application of that force.
"The nature of law enforcement places special constraints on the extent to which force may be delivered remotely. Among other reasons, this is because distance is likely to reduce substantially the potential for assessing a situation that requires a law enforcement intervention," the guidelines state.
They also call for accountability after the fact: "In the event of injury, a report should contain sufficient information to establish whether the use of force was necessary and proportionate, and should set out the details of the incident, including the circumstances; the characteristics of the victim; the measures taken to avoid the use of force and to de-escalate the situation; the type and manner of force employed, including specific weaponry; the reasons for the use of force, and its effectiveness; and the consequences. The report should conclude whether the use of force was lawful and, in any event, should identify any lessons learned from the incident."
On June 4, McMurray told press that his department would stay the course if presented with another situation like the day before.
"If they try this again, we'll be ready for them again," he said. "We're not going to put up with these organizers with the backpacks, the medical first aid kits, the weapons they bring to fight police officers, and to break and loot and trash cities like they're doing all over this country."
McMurray took a somewhat more conciliatory tone after his presentation two weeks later, telling the council that he was open to discussing ways to improve his department. But during the presentation, he stuck to the idea that medics among the protesters who had marked themselves with red tape were there to patch up violent demonstrators who could then rejoin a fight against police.
That also runs contrary to what the international guidelines say.
"Medical personnel, whether they are acting officially or as volunteers, should be provided with safe access to attend to any injured individuals," the guidelines state.
As Huntsville continues to reckon with what happened on June 3 and make decisions about any procedural changes in light of those events, Hiznay said the city faces a question about less-lethal weaponry that many U.S. police departments are confronting.
Based on the evidence he has reviewed, security forces across the country are inclined to use last-resort methods as a first resort, he said. The core question is whether these weapons can be used in a way that complies with necessity and proportionality.
"And when you're talking about what happened in the courthouse square there, the answer is becoming no — that they're prone to abuse, and they're causing debilitating permanent injury in situations where a non-violent crowd is trying to comply," Hiznay said.