Worley Says That Republican Super-majority Still Has Not Offered Leadership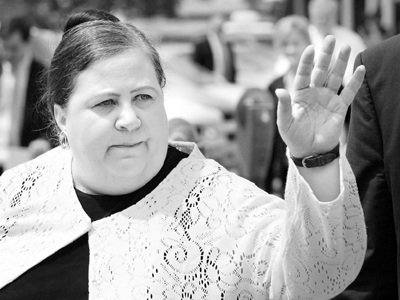 By Brandon Moseley
Alabama Political Reporter
Friday, March 20 Alabama Democratic Party Chairwoman Nancy Worley said that the Republican Super-majority has been "heavy on pandering and light on solutions" during the first weeks of the 2015 legislative session.
Chairwoman Worley said, ""We are now almost a third of the way through the legislative session, and the Republicans in the Alabama legislature have still not offered leadership or solutions on the most important issue facing our state: the massive hole in the General Fund budget.  Instead, the Republicans have chosen to push through a legislative agenda that is heavy on pandering and light on substance. Their most significant accomplishment – the charter school bill – does nothing to help failing schools, and, based on every other state's experience, will do little, if anything, to improve education. In fact, history has shown they may very likely lead to millions of dollars in fraud and waste." 
Chairwoman Worley continued, "By any reasonable assessment, the legislative session so far has been a failure, if for no other reason than the fact that we have wasted so much time and accomplished nothing on the real problems. The Republicans in the Alabama legislature wanted to be in leadership. Now they need to step up and lead."
Speaker of the Alabama House of Representatives Mike Hubbard (R from Auburn) disagreed, "Agenda complete! Our 'Alabama First' agenda was designed to put our state firmly on the road to being first in education, first in economic development, and when it comes to battling liberal federal mandates, these bills work to always put Alabama values first."
House Minority Leader Craig Ford (D from Gadsden) echoed Chairwoman Worley's sentiments, "Yes, the Republican leadership has passed their legislative agenda. But what they have not done is offer any real solutions to the very real problems Alabama is facing."
Both Worley and Ford were critical of the Charter School bill that Republicans passed, arguing that Charters take money away from traditional public schools and leave students trapped in failing public schools.
Nancy Worley is a former Alabama Secretary of State, a former Alabama Education Association (AEA) President, and longtime public school teacher.
Alabama hospitals nearing COVID-19 summer surge levels
Wednesday was the 18th straight day with more than 1,000 people in hospitals in Alabama with COVID-19. 
Alabama hospitals reported caring for 1,483 people infected with COVID-19 on Wednesday, the highest number of patients since Aug. 11, when the state was enduring its summer surge. Wednesday was also the 18th straight day with more than 1,000 people in hospitals in Alabama with COVID-19. 
The seven-day average of hospitalizations was 1,370 on Wednesday, the 36th straight day of that average rising. The Alabama Department of Public Health reported 2,453 new cases Wednesday. The 14-day average of new cases was — for the eighth day in a row — at a record high of 2,192. 
Across the country, more than 80,000 people were hospitalized for COVID-19 on Tuesday, a record high and the 15th straight day of record hospitalizations nationwide, according to the COVID Tracking Project, a coronavirus tracking website.
The CDC this week recommended people not travel for Thanksgiving to help prevent the spread of coronavirus. 
"The only way for us to successfully get through this pandemic is if we work together," said Dr. Kierstin Kennedy, UAB's chief of hospital medicine, in a message Tuesday. "There's no one subset of the community that's going to be able to carry the weight of this pandemic and so we all have to take part in wearing our masks, keeping our distance, making sure that we're washing our hands." 
Kennedy said the best way she can describe the current situation is "Russian Roulette." 
"Not only in the form of, maybe you get it and you don't get sick or maybe you get it and you end up in the ICU," Kennedy said, "but if you do end up sick, are you going to get to the hospital at a time when we've got capacity, and we've got enough people to take care of you? And that is a scary thought." 
The Alabama Department of Public Health on Wednesday reported an increase of 60 confirmed and probable COVID-19 deaths. Deaths take time to confirm and the date a death is reported does not necessarily reflect the date on which the individual died. At least 23 of those deaths occurred in November, and 30 occurred in other months. Seven were undated. Data for the last two to three weeks are incomplete.
As of Wednesday, at least 3,532 Alabamians have died of COVID-19, according to the Department of Public Health. During November, at least 195 people have died in Alabama from COVID-19. But ADPH is sure to add more to the month's tally in the weeks to come as data becomes more complete.
ADPH on Wednesday announced a change that nearly doubled the department's estimate of people who have recovered from COVID-19, bringing that figure up to 161,946. That change also alters APR's estimates of how many cases are considered active.
ADPH's Infectious Disease and Outbreak team "updated some parameters" in the department's Alabama NEDSS Base Surveillance System, which resulted in the increase, the department said.