Zeigler Charges that Public Dollars were Used to Promote Tax Increase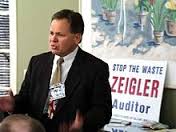 By Brandon Moseley
Alabama Political Reporter
On Tuesday, March 31 voters in Baldwin County go to the polls to decide whether or not they want to pay higher taxes to support the Baldwin County School System.  On Monday State Auditor Jim Zeigler (R) charged that the Baldwin County School Board has misappropriated existing tax dollars to promote a "yes" vote on their referendum.
State Auditor Jim Zeigler wrote on Facebook, "Over $210,000 of taxpayers' money has been spent by the Baldwin Ct Board of Education pushing the yes vote in this Tuesday's tax increase referendum in Baldwin County.
At a news conference, Zeigler detailed his investigation into the alleged misuse of taxpayer dollars. Zeigler has nicknamed himself "Waste Cutter" and has made waves in just two and a half months in office.
Zeigler charged that the, "School system has manipulated students and misused their position. School board has illegally spent over $210,000 of the taxpayers' money on the yes campaign (and none on the no campaign)."
Zeigler continued, "AG Luther Strange says that is legal. State Auditor Jim Zeigler says it is illegal. Read the law and see what you think. Quite clear."
Zeigler quoted the legal code, "Improper use of state property, time, etc., for political activities Code of Alabama 17-17-5(a): No person in the employment of the State of Alabama, a county, a city, a local school board, or any other governmental agency, whether classified or unclassified, shall use any state, county, city, local school board, or other governmental agency funds, property, or time, for any political activities."
The vote "No" campaign, Educate Baldwin Now, points out that Baldwin County Schools already spend more than $5000 per student in local funds. That is substantially more than Jefferson County, Montgomery County, Shelby County, Elmore County, Tuscaloosa County, Mobile County, Madison County, or any other large school system in the state.  Opponents charge that the tax increase will cost the average household in Baldwin County $392 and will raise $28.7 million a year.  They claim that the school system has squandered the money that has already been given to them to manage and has grown the staff by over 500 since the Great Recession using two sales tax increases for expanding personnel without setting any money aside for capital improvements.
Proponents of the massive tax increase argue that the 8 mill property tax increase is necessary in order to build new schools which they claim are necessary to accommodate future growth.  The Superintendent of the Baldwin County School System, Robbie Owen said, "We still have time and I believe in my heart that we will be victorious."
Polls in Baldwin County open at 7:00 am and close at 7:00 pm.
Jim Zeigler is an attorney and was previously elected Public Service Commissioner.  He has run for a number of offices before being elected State Auditor in the election of 2014.
USDA is seeking rural energy grant applications
The deadlines to apply for grants is Feb. 1, 2021, and March 31, 2021. Applications for loan guarantees are accepted year-round.
United States Department of Agriculture Deputy Under Secretary for Rural Development Bette Brand on Wednesday invited applications for loan guarantees and grants for renewable energy systems, and to make energy efficiency improvements, conduct energy audits and provide development assistance.
The funding is being provided through the USDA's Rural Energy for America Program, which was created under the 2008 Farm Bill and reauthorized under the 2018 Farm Bill. This notice seeks applications for Fiscal Year 2021 funding.
The deadlines to apply for grants is Feb. 1, 2021, and March 31, 2021. Applications for loan guarantees are accepted year-round.
REAP helps agricultural producers and rural small businesses reduce energy costs and consumption by purchasing and installing renewable energy systems and making energy efficiency improvements in their operations.
Eligible systems may derive energy from wind, solar, hydroelectric, ocean, hydrogen, geothermal or renewable biomass (including anaerobic digesters).
USDA encourages applications that will support recommendations made in the Report to the President of the United States from the Task Force on Agriculture and Rural Prosperity to help improve life in rural America.
Applicants are encouraged to consider projects that provide measurable results in helping rural communities build robust and sustainable economies through strategic investments.
Key strategies include achieving e-Connectivity for rural America, developing the rural economy, harnessing technological innovation, supporting a rural workforce and improving quality of life. For additional information, see the notice in the Federal Register.