Government Efficiency, The Lie About No-Bid Contracts (Opinion)
By Bill Britt
Alabama Political Reporter
"Efficiency" is the latest rationale given for eliminating the State's decade's-old bid laws for public works projects.
We are constantly reminded by every member of the State's Republican leadership within ear shot of a microphone, that they are making the government more efficient. But, efficiency is more a business principle than a governing ideology.
For a conservative, it is limiting the size and scope of government that is important. In business, it is not how large or wide a company's interest, but how profitable they are.
Private business is about profit; in government it should be about what does it cost.
Under a new statute proposed in the House and Senate, municipal buildings, most schools and even college stadiums would not require that companies propose bids to receive taxpayer-funded projects. The Construction Manager-General Contractor at Risk Bill would allow government entities to select those companies that would be best suited for the needs of a particular project, without the cumbersome inefficiency of the bid process. This is sold as a pro-business, conservative, efficiency measure.
This can be a very good way of doing business in the private sector where private funds are used and where the ultimate goal is profit. But, in public works, the projects are financed with taxpayer dollars, and making money is not the objective.
Tad DeHaven, a former policy adviser for Indiana governor Mitch Daniels, writing at the CATO Institute said, "Government is unconcerned with 'profit.' The 'cost' of government is equal to the taxes extracted from the private sector to pay for government activities, plus the economic damage caused by extracting resources from the private sector."
In the case of no-bid public works projects, efficiency actually means eliminate oversight to profit a few, well-connected companies.
Government projects awarded because of efficiency will lead to corruption and crony capitalism, an idea that conservatives claim to hate.
Perhaps it is not unusual that the current legislative leadership should focus on efficiency. Senate President Pro Tem Del Marsh (R-Anniston) is a very successful businessman. While Speaker of the House Mike Hubbard (R-Auburn) has held himself out as a pro-business conservative (who the State claims has used his office to make money from private industry with business before the legislature).
But government is not a business, and the idea that it should operated as one is inconstant with good government, be it republican or democrat.
John T. Harvey writing for Forbes states, "Bear in mind, first, that 'efficiency' in the private sector means profit. Hence, to ask that the government be run like a business is tantamount to asking that the government turn a profit."
Harvey further explains, "The problem in a nutshell, is that not everything that is profitable is of social value and not everything of social value is profitable." 
For example, Duck Dynasty may have some moral value to share with its viewers and some might argue it has social value, but not so that the taxpayers should fund it. Few would think that any Real Housewives series has social value, but it is certainly profitable.
The military, law-enforcement and firefighters all have value to the citizens and are taxpayer funded but no one expects them to turn a profit.
Harvey makes the same case in his analysis.
But, the no-bid contracts that the House and Senate leadership are promoting have little to do with efficiency and a lot to do with profit, for campaign contributors and lobbyists.
Public works are not about profitability, but are projects that are deemed necessary for the citizens; paid for with their money. Therefore, projects paid for with tax dollars demand the highest level of scrutiny.
In a State that has seen millions wasted in the Jefferson County sewer debacle and the two-year college scandals, it seems unconscionable that so-called conservative leaders would be calling for an end to the decade's old Design-Bid-Build process that is State law.
DeHaven writes,  "In its most benign form, government efficiency is a political tool wielded by policymakers who probably aren't serious about downsizing government. In its more pernicious form, it can lend credibility to activities that government should not be undertaking to begin with."
The legislature and the people are being sold a rotten bill of goods under the guise of government efficiency.
True conservatives do not seek efficiency in government, they demand, honesty, accountability and most certainly, an end to rampant corruption and cronyism.
One has to wonder where the State's Attorney General Luther Strange stands on this particular efficiency bill. I must give him a call.
Opinion | Let's hope for Reed's success
Reed's temperament and style appear right for this moment in Alabama's history.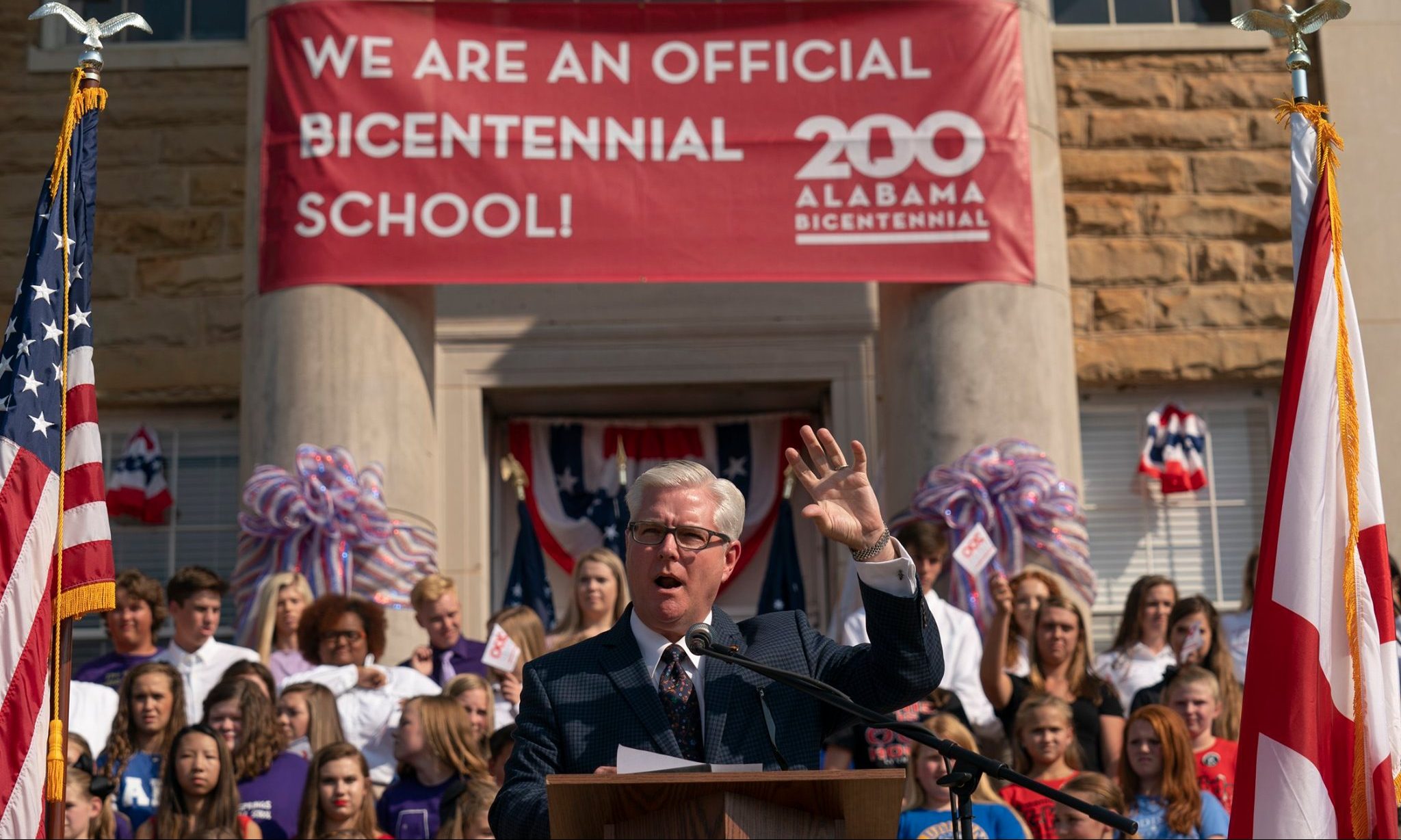 State Sen. Greg Reed, R-Jasper, will lead the Alabama Senate as president pro tem during the upcoming 2021 legislative session. What changes will Reed bring to the upper chamber, and how will his leadership differ from his predecessor? No one knows for sure.
Reed succeeds Sen. Del Marsh, who has served as president pro tem since Republicans took control of the Statehouse in 2010. Marsh, along with then-Gov. Bob Riley, current felon Mike Hubbard and ousted BCA Chair Billy Canary orchestrated the 2010 takeover that saw the Republican rise to dominance.
Reed, who won his Senate seat the same year, was not a charter member of the Republican ruling class, but he benefited from the power sift.
Mild-mannered and studious with a quiet charm, Reed has steadily ascended the ranks of Senate leadership. His silver hair and calm determination have served him well. Reed is a senatorial figure straight out of Hollywood's central casting.
In all, Reed is nearly universally liked and respected, which in the near term is a hopeful sign of potential success. But political leadership always comes with a warning: "Friends come and go, enemies accumulate."
Reed's relationship with Gov. Kay Ivey is certainly less contentious than Marsh's and gives rise to the belief that there will be greater cooperation between the executive and the Senate.
With the economy and public health under dire stress due to the ravages of COVID-19, legislative priorities are fixed: get people back to work and eradicate the coronavirus.
However, one of Reed's first tests will be whether he can cool the smoldering anger of those senators who still feel the sting of Ivey's rebuke over the allocation of CARES Act funds. He will also need to resist those who want to punish the administration over its use of public health statutes to implement mask mandates and other safety measures to prevent the deadly coronavirus spread.
Despite outward declarations of a unified body, the State Senate is a small, insular and unwieldy beast where egos loom large and consensus on policies is often tricky to achieve except on "red meat issues."
Building a coalition on policy in the Senate is often a combination of horse-trading, cajoling and carefully applied pressure. The way forward in the near term is exact: pass legislation that spurs economic recovery and mitigates the health crisis at hand.
But Reed will also simultaneously need to recognize what comes next for justice reform, prison construction, gambling and a myriad of other pressing issues. His job will be to understand the prevailing winds, which are evolutionary, not revolutionary.
As author Doris Kearns Goodwin noted in Lyndon Johnson and the American Dream: "For political leaders in a democracy are not revolutionaries or leaders of creative thought. The best of them are those who respond wisely to changes and movements already underway. The worst, the least successful, are those who respond badly or not at all, and those who misunderstand the direction of already visible change."
Reed's temperament and style appear right for this moment in Alabama's history.
As President Abraham Lincoln said, "If you want to test a man's character, give him power."
Let's all hope that Reed passes the test.