Conformity: A Most Dangerous State of Affairs (Opinion)
By Bill Britt
Alabama Political Reporter
Legislators often say they are going to Montgomery to represent their districts. While the intent may be good, the actual reality is much different, under Speaker Mike Hubbard.
The House of Representatives has always been a hierarchical body with the Speaker at the pinnacle. Over the years, good Speakers have afforded individual legislators room for some "give and take" as it applied to the needs of their districts with little or no interference from the top.
But, that has all changed under Hubbard, who not only sets the agenda, but enforces it with an iron will. Under Hubbard, the House is a body that unifies itself around his priorities before individual projects are even considered. Those who stay on message and do his bidding are rewarded with plum assignments, more prestigious legislation to carry, and other perks, such as getting their local bills passed. 
There is no room for independence in "Hubbard's House." It's only follow and obey or he will find someone else to do the job. Freethinkers are an anathema to Hubbard. Those who do not bow his will are punished swiftly and harshly. 
Real conservatives believe in individual liberty and self-reliance. In the House that Hubbard built, conformity is the coin of the realm. The culture of conformity is pervasive under Hubbard. A willingness to compromise principle for power or to yield principle to power hangs heavily in the air. It continually undermines the good of the people and the future of our State.
Where else have we seen this type of dogmatic demand for conformity and how does it fit with out notion of democracy? 
It is called collectivism.
Collectivism in government is based on the idea that if an individual serves the state, he or she must must sacrifice their values for the goals of the group to achieve the "greater good." 
The idea of working to meet the demands of a single man or collective body is far removed from the very American notion of individual liberty and self-reliance, which for centuries has served as the bedrock of our Republic. The idea that one man would be all powerful to set a political course, handpick all the committees, and demand total allegiance is absolutely contrary to the very core of America's values.
We, as a people, threw off the yolk of such imperial dominance centuries ago. Yet, here in the Heart of Dixie, Hubbard holds that same power over the members of the House, and none dare defy his will. 
Either through fear or complicity, the House is a broken institution that doesn't serve the people; it serves only its master, Hubbard.
To be fair, many legislators have served under no other House leader, except Hubbard. They were chosen by him to run for office, he arranged, orchestrated and paid for their campaigns. And as a result, they are enamored of or beholden to him. They have fed at his trough and they are his creatures.
But, what of those who know better? Those, who have been around, so-to-speak. Why do they follow? It is easy to understand the Kool-Aid drinker, the sycophant and the weak, but what of the others?
They conform to survive. Robert Anthony said, "The opposite of bravery is not cowardice but conformity."
Conformity is a killer, it breaks the mind and body, but most terribly, it devours the soul. 
Ralph Waldo Emerson wrote in his essay, Self-Reliance, "I am ashamed to think how easily we capitulate to badges and names, to large societies and dead institutions."
On the fifth floor of the Alabama State House, men and women trade their will and that of their constituents, for comfort and reward.
In a State whose motto is, We Dare Defend Our Right, it is the privileged, the well-connected, the politico on the take and the alliance of big business and government that threatens our liberty, not an external force. They point their fingers North to Washington, DC and the arch villain, Obama. But, that is not what plagues our State. What plagues us is the willingness of our elected leaders to choose what is easy and personally profitable, over what is right.
Hubbard's idea of governing is based on one man's will over all others. According to his ideology, the only rights in the House are the ones he grants. This is not a conservative idea, but one that has been at the heart of every corrupt regime throughout history.
Hubbard doesn't believe in a republican system of government, but a collectivist one, that serves the supreme leader and the "greater good."
Sad really, but that is the state of our State, and why no legislator will really serve their constituency until Hubbard is dethroned.
Until then conformity will be a dangerous threat to the affairs of our State.
Opinion | Let's hope for Reed's success
Reed's temperament and style appear right for this moment in Alabama's history.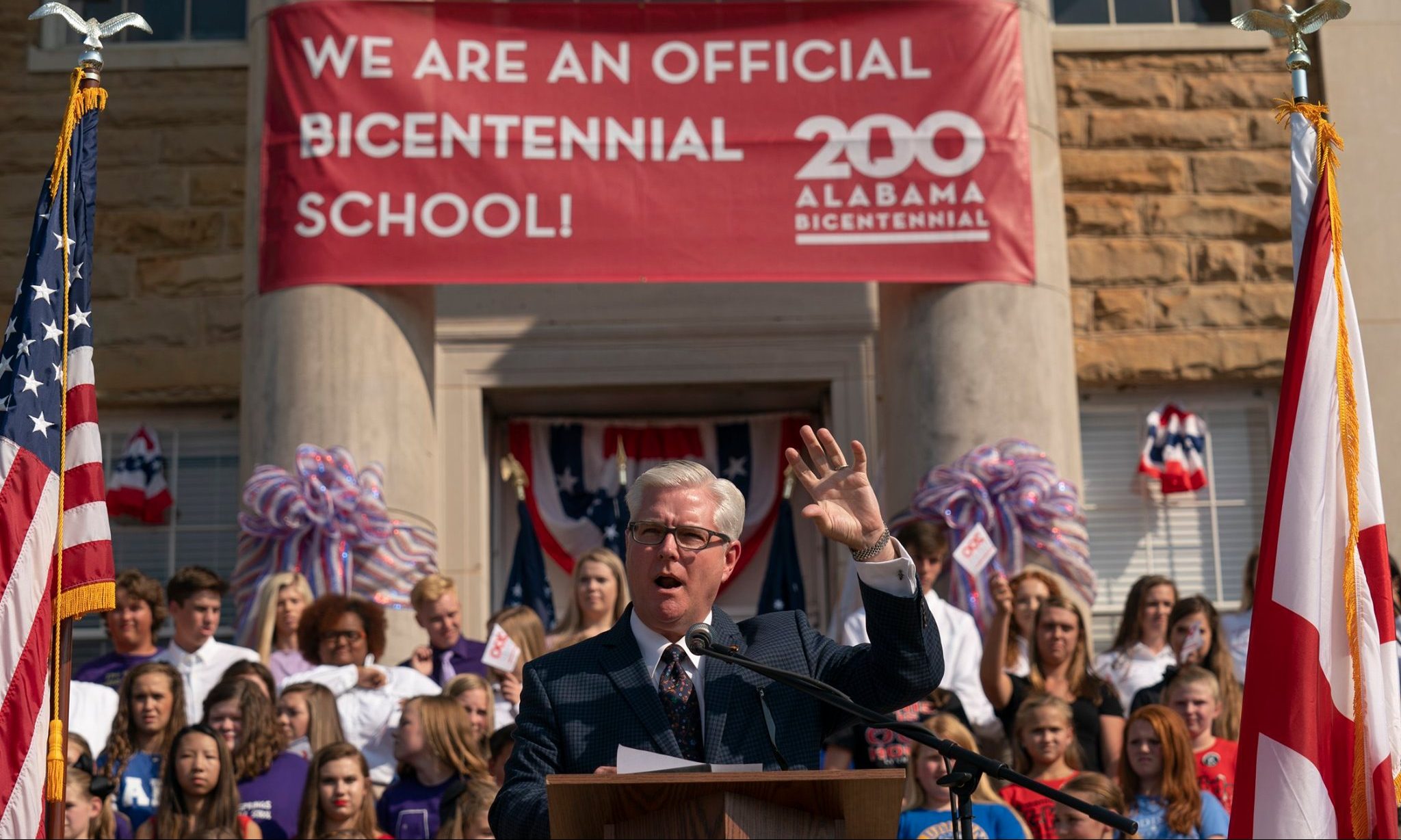 State Sen. Greg Reed, R-Jasper, will lead the Alabama Senate as president pro tem during the upcoming 2021 legislative session. What changes will Reed bring to the upper chamber, and how will his leadership differ from his predecessor? No one knows for sure.
Reed succeeds Sen. Del Marsh, who has served as president pro tem since Republicans took control of the Statehouse in 2010. Marsh, along with then-Gov. Bob Riley, current felon Mike Hubbard and ousted BCA Chair Billy Canary orchestrated the 2010 takeover that saw the Republican rise to dominance.
Reed, who won his Senate seat the same year, was not a charter member of the Republican ruling class, but he benefited from the power sift.
Mild-mannered and studious with a quiet charm, Reed has steadily ascended the ranks of Senate leadership. His silver hair and calm determination have served him well. Reed is a senatorial figure straight out of Hollywood's central casting.
In all, Reed is nearly universally liked and respected, which in the near term is a hopeful sign of potential success. But political leadership always comes with a warning: "Friends come and go, enemies accumulate."
Reed's relationship with Gov. Kay Ivey is certainly less contentious than Marsh's and gives rise to the belief that there will be greater cooperation between the executive and the Senate.
With the economy and public health under dire stress due to the ravages of COVID-19, legislative priorities are fixed: get people back to work and eradicate the coronavirus.
However, one of Reed's first tests will be whether he can cool the smoldering anger of those senators who still feel the sting of Ivey's rebuke over the allocation of CARES Act funds. He will also need to resist those who want to punish the administration over its use of public health statutes to implement mask mandates and other safety measures to prevent the deadly coronavirus spread.
Despite outward declarations of a unified body, the State Senate is a small, insular and unwieldy beast where egos loom large and consensus on policies is often tricky to achieve except on "red meat issues."
Building a coalition on policy in the Senate is often a combination of horse-trading, cajoling and carefully applied pressure. The way forward in the near term is exact: pass legislation that spurs economic recovery and mitigates the health crisis at hand.
But Reed will also simultaneously need to recognize what comes next for justice reform, prison construction, gambling and a myriad of other pressing issues. His job will be to understand the prevailing winds, which are evolutionary, not revolutionary.
As author Doris Kearns Goodwin noted in Lyndon Johnson and the American Dream: "For political leaders in a democracy are not revolutionaries or leaders of creative thought. The best of them are those who respond wisely to changes and movements already underway. The worst, the least successful, are those who respond badly or not at all, and those who misunderstand the direction of already visible change."
Reed's temperament and style appear right for this moment in Alabama's history.
As President Abraham Lincoln said, "If you want to test a man's character, give him power."
Let's all hope that Reed passes the test.