Military Construction Bill Will be Considered by House
By Brandon Moseley
Alabama Political Reporter
Monday, April 27, US Representative Martha Roby (R-Montgomery) announced that an appropriations bill that will fund upgrades to military bases in Alabama and improve veterans benefits has passed out of committee and comes before the full US House of Representatives this week.
Congresswoman Roby wrote to constituents, "This week the House will consider H.R. 2029, the Military Construction and Veterans Affairs and Related Agencies Appropriations Act. This bill, which we passed out of Committee last week, includes much-needed funding for projects on our own military installations in Alabama and also for veterans benefits and programs."
Rep. Roby wrote that the bill contains: $47 million for new school construction to replace aging facilities at Fort Rucker; $33 million for new school construction to repair and replace aging classrooms at Maxwell Air Force Base; and $7.6 million for a new Squadron Operations Facility at Dannelly Field.
Rep. Roby said, "If you've been on base at Maxwell or on post at Fort Rucker lately, you know some of the schools are in disrepair and badly need replacing. Our military families deserve quality on-base education facilities, and these projects will go a long way toward improving what we offer."
The conservative congresswoman continued, "I'm glad we can construct a new Squadron Operations Facility for the Alabama Air National Guard out at Dannelly Field. They need the space, and it further enhances our operational assets there."
Rep. Roby said, "On the VA side, the bill prioritizes mental health services, suicide prevention and traumatic head injury treatment. We also included funding and accountability requirements to swiftly diminish the disability claims processing backlog."
Rep. Roby also addressed the well document VA Healthcare problems in Alabama: "We all know funding alone isn't going to fix the VA, especially not in Central and South Alabama. That's why I took this opportunity to begin laying the groundwork for a major legislative effort to compel the VA Secretary to intervene at facilities like ours."
Rep. Roby continued, "When a school perpetually fails to meet basic standards, the State Department of Education steps in to take charge. We need a similar mechanism at the VA when medical centers continually fail our veterans.  We are studying the best legislative approach to move forward, but I made sure to insert language into the bill's Committee Report that lays the groundwork for this VA 'takeover mechanism.'"
Congresswoman Roby concludes, "This bill delivers critical funding for military personnel and veterans while remaining within the strict spending constraints of the House Budget Resolution.  It's also very good for Alabama, and I will work this week to move it successfully through the legislative process. I'll keep you updated as we proceed."
Congresswoman Martha Roby represents Alabama's Second Congressional District. This is Representative Roby's Third term in the United States Congress.
UAB expert: We can't wait until it's too late to act on surging cases
"We still are at a time point when we have an ability to intervene, and do something to reduce that case count, to reduce the eventual mortality," UAB specialist Dr. Jodie Dionne-Odom said.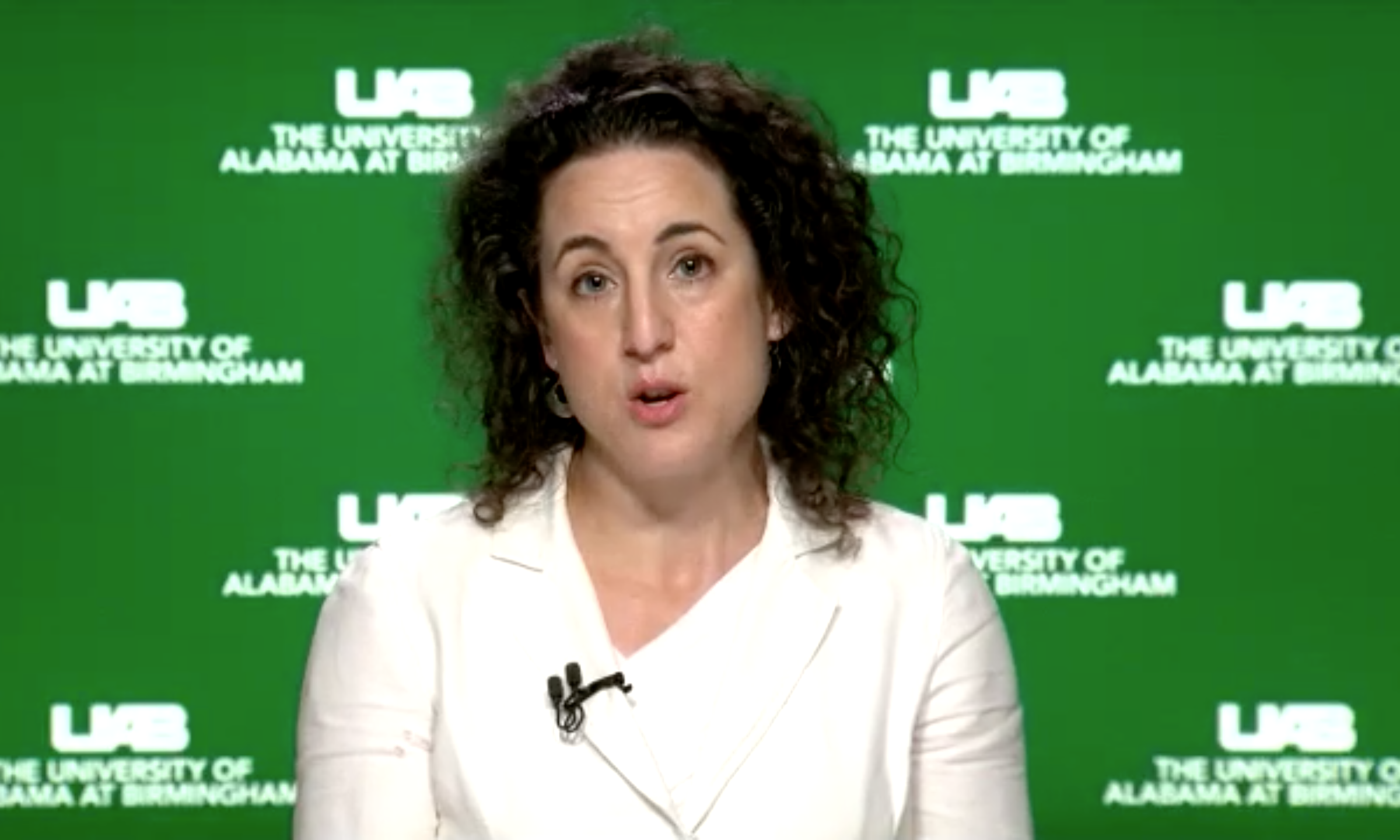 Alabama continues to see record numbers of new COVID-19 cases and hospitalizations, and the best way to turn the trend around is to wear face masks and practice social distancing, a UAB doctor says. 
Dr. Jodie Dionne-Odom, an infectious disease specialist at UAB, told reporters in a press conference Wednesday that the seven-day average of new daily coronavirus cases in Alabama has increased fourfold over the past several weeks. 
"We still are at a time point when we have an ability to intervene, and do something to reduce that case count, to reduce the eventual mortality," she said. "You don't want to wait until things are so bad that it's difficult for us to reverse the trend at all."
Dionne-Odom said she's concerned that the window of time to turn the trend of increasing cases, hospitalizations and the impending deaths that will surely come is limited. Wearing masks in public and practicing social distancing are some of the best tools we have to do so, she said.
On Wednesday, the state added 1,161 new COVID-19 cases and 25 deaths from the virus. It's killed 1,032 people in Alabama, the UAB physician said. At least 1,110 people were being treated in hospitals in the state Wednesday, according to the Alabama Department of Public Health, the most since the pandemic began.
The 14-day average of new daily cases was 1,057 — the highest it's been since the start of the pandemic. 
"The fact that we're seeing these sharp increases and hospitalization in cases over the past week or two is really concerning," Dionne-Odom said. "And we expect, given the lag that we know there is between cases and hospitalization — about a two-week lag, and a three-week lag between cases and deaths — that we're on a part of the curve that we just don't want to be on in our state."
UAB Hospital's COVID-19 intensive care and acute care units were approaching their existing capacity Tuesday, when the hospital was caring for 92 coronavirus patients. The hospital had 91 inpatients who had been diagnosed with COVID-19 on Wednesday.
Of those being treated in UAB's COVID-19 ICU unit Tuesday, less than half were on ventilators, a UAB spokesperson, Bob Shepard, said in a message to APR on Tuesday. Ventilator usage is actually dropping, he said, a positive sign. The hospital has both a COVID ICU and a COVID acute care unit designated to keep patients separated from those who don't have the virus, but it has more space in other non-COVID units.
"If we reach a point where we have more patients needing space in either unit, we will create more space in other areas of the hospital and designate additional beds for COVID patients," Shepard said.
"The issue is that designating more beds for COVID care reduces the number of beds we have for patients with non-COVID illnesses, which can have a profound effect on the overall health of our community," he said.
That flexibility was echoed by Dionne-Odom, who said that it is the type of system where they can create capacity as it's needed. 
"And we have units that we can open and close and take care of patients with COVID and staff who are familiar with the procedures of wearing PPE and gowning and keeping healthcare workers safe," Dionne-Odom said. "So we've used everything that we've learned since March, working really hard to be able to take care of more patients. That said, you have to remember that every bed that we're using today for someone with COVID can potentially be a bed that someone else would need, who's having a stroke or having a heart attack." 
"These problems are continuing to happen, and they need ICU-level care too," she continued. "So we don't want to continue to see an increase in the COVID cases because that has the indirect effect of affecting how we care for all the other patients with serious diseases." 
Dionne-Odom said that they know from experience that some of those being hospitalized for the virus will die in the coming weeks, "so we're all watching the next several weeks very cautiously." 
Testing across the state has increased in recent weeks, but so has the percentage of tests that are positive, a sign that not enough testing is being done, and cases are going undetected. 
Dionne-Odom said many cities across the southeast have high testing positivity rates of between five percent and 15 percent, and in some cases as high as 20 percent.

"And what that number means is when you're getting one of five tests back positive, is that there's a lot of spreading infection in the community that you are not detecting," Dionne-Odom said. 
Alabama's seven-day percent positivity rate was 14.69 on Wednesday. Public health experts say it should be at or below five percent or cases are going undetected. 
In Jefferson County, as of Wednesday, the percentage was roughly 14 percent.
While the majority of hospitalized patients are older, UAB does have COVID-19 patients in their 30s who are very ill and in ICU units, Dionne-Odom said.
"So the message is still true that this disease tends to impact older adults more than younger adults, but if you're 20, 30, 40, especially if you have an underlying condition, but even if you don't, you're not immune from this disease. You're still at risk of having severe outcomes," Dionne-Odom said.