Hubbard Becomes "Unhinged" Over Republican No Vote on Tax Hike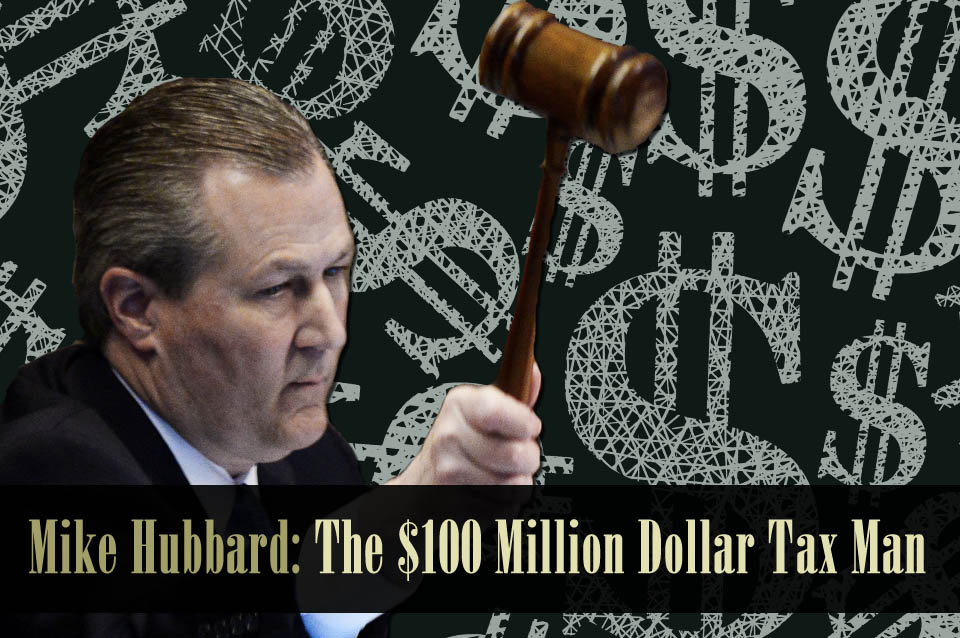 By Bill Britt
Alabama Political Reporter
MONTGOMERY—Speaker Mike Hubbard (R-Auburn) is determined to raises taxes. So determined, in fact, that a bill that was voted down in committee on Wednesday, will be voted on again in the same committee today.
During the Wednesday Ways and Means Education committee meeting, Republicans voted down House Bill 587, which would place a sales tax on lubricating oils. This is one of the package of bills being pushed by Hubbard. Following a motion for a vote by Democrat Rep. Patricia Todd, which was seconded by Republican Rep. Ed Henry, the measure was voted down, with nays coming from Henry and fellow Republican Reps, Phil Williams, Alan Boothe and Donny Chesteen.
After the vote an irate Hubbard, confronted the legislators and according to those with knowledge of the encounter, threatened projects if the bill was not brought back to the committee with a favorable report. He also instructed Henry to bring the bill up for a vote. It has also been reported that Hubbard told Boothe he lost millions in funding for Troy University.
The bill is said to be back in committee today. 
According to legislators who spoke on conditions of anonymity for fear of retaliation from Hubbard, the Speaker was "unhinged."
Sponsored at Hubbard's direction by Republican Rep. Terri Collins, the bill would increase the sales tax receipts by an estimated minimum of $10 million annually to be credited to the Education Trust Fund by applying sales tax to lubricating oils. This bill will also increase use tax receipts by a small, undetermined amount to be distributed 25 percent to the State General Fund and 75 percent to Education Trust Fund by applying use tax to lubricating oils. This bill will decrease excise receipts by an estimated $1.8 million annually by removing excise tax on lubricating oils which would decrease the receipts as follows: (1) by an estimated $600,000 to the State General Fund, (2) by an estimated $550,000 to the Public Road and Bridge Fund, and (3) by an estimated $650,000 to the counties and cities.
It has been estimated that this tax would shift the cost of a 55-gallon barrel of lube oil from $3.30 to $200, a 5,960 percent tax increase. Those costs would obviously be passed along to the consumer.
This is just one of the tax increases that Hubbard has insisted be passed by the House. Hubbard is looking to raise around $100 million with new and higher taxes.
It is believed that Hubbard is desperate to increase taxes because of a deal he allegedly cut with Gov. Robert Bentley to sign an exclusive gambling compact with the Poarch Creek Indians (PCI), in exchange for raising taxes. 
Several House members are alarmed at Hubbard's behavior and worry that he is going to ruin their political futures in order to negotiate a monopoly compact with the Tribe. 
One nervous House member said, "Hubbard may be in prison before next year, but I am going to have to run for reelection with his tax hikes wrapped around my neck."
Today is Thanksgiving
Today is a national and state holiday. Schools, banks, government offices and many private businesses are closed.
Four hundred years ago, on Nov. 11, 1620, after 66 days at sea, a group of English settlers landed near what is today Cape Cod in Massachusetts. Onboard the Mayflower were 102 men, women, and children, including one baby born during the Atlantic crossing, who made up the Pilgrims.
The Mayflower, captained by Christopher Jones, had been bound for the mouth of the Hudson River. The ship took a northerly course to avoid pirates, but the decision to avoid the then widely traveled sea lanes to the New World took the ship into bad weather, which had blown the Mayflower miles off course and left the ship damaged. Off Cape Cod, the adult males in the group made the fateful decision to build an entire colony where none had existed prior. They wrote and signed the Mayflower Compact.
"In the name of God, Amen. We whose names are underwritten, the loyal subjects of our dread Sovereign Lord King James, by the Grace of God of Great Britain, France, and Ireland King, Defender of the Faith, etc. Having undertaken for the Glory of God and advancement of the Christian Faith and Honour of our King and Country, a Voyage to plant the First Colony in the Northern Parts of Virginia, do by these presents solemnly and mutually in the presence of God and one of another, Covenant and Combine ourselves together in a Civil Body Politic, for our better ordering and preservation and furtherance of the ends aforesaid; and by virtue hereof to enact, constitute and frame such just and equal Laws, Ordinances, Acts, Constitutions and Offices from time to time, as shall be thought most meet and convenient for the general good of the Colony, unto which we promise all due submission and obedience. In witness whereof we have hereunder subscribed our names at Cape Cod, the 11th of November, in the year of the reign of our Sovereign Lord King James, of England, France and Ireland the eighteenth, and of Scotland the fifty-fourth. Anno Domini 1620."
After a few weeks off Cape Cod, they sailed up the coast until they reached Plymouth. There they found a Wampanoag Indian village that had been abandoned due to some sort of plague. During the Winter of 1620-1621 they lived aboard the Mayflower and would row to shore each day to build houses. Finally, they had built enough houses to actually move to the colony, but the cold, damp conditions aboard the ship had been costly.
Some 28 men, 13 women (one of them in child birth), and 8 children died in that winter. Governor John Carver would die in April. His widow, Kathrine White Carver, would follow a few weeks later. There is some recent archaeological evidence suggesting that some of the dead were butchered and eaten by the survivors.
The Mayflower and her crew left for England on April 5, 1621, never to return.
About 40 of the Pilgrims were religious Separatists, members of a Puritan sect that had split from the Church of England, in defiance of English law. In 1609, they immigrated to Holland to practice their religion but ran into problems there too. Others in the group had remained part of the Church of England but were sympathetic to their Separatist friends. They did not call themselves Pilgrims, that term was adopted at the bicentennial for the Mayflower voyage. The members of core Separatist sect referred to themselves as "Saints" and people not in their sect as "Strangers."
In March 1621, an English speaking Native American, named Samoset, visited the Plymouth colony and asked for beer. He spent the night talking with the settlers and later introduced them to Squanto, who spoke even better English. Squanto introduced them to the chief of the Wampanoag, Massasoit.
Squanto moved in with the Pilgrims, serving as their advisor and translator. The friendly Wampanoag tribe taught the Pilgrims how to hunt and grow crops. The two groups began trading furs with each other.
William Bradford, a Separatist who helped draft the Mayflower Compact, became the longtime Plymouth Governor. He was also the writer of the first history of the Plymouth Colony and the Mayflower. Bradford's more notable descendants include author, dictionary writer and scholar Noah Webster; TV chef Julia Child; and Supreme Court Chief Justice William Rehnquist.
In the fall of 1621, 399 years ago, the Pilgrims invited their Wampanoag Indian friends to a feast celebrating their first harvest and a year in the New World with a three-day festival. This has become known as the first Thanksgiving.
Today is a national and state holiday. Schools, banks, government offices and many private businesses are closed.