Exclusive Poll Shows Voters Favor Vote on Gambling, Strongly Oppose Taxes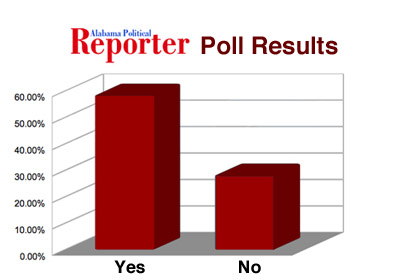 By Bill Britt
Alabama Political Reporter
MONTGOMERY—A statewide poll commissioned by the Alabama Political Reporter shows Governor Bentley is still very popular, but not as popular as a vote on a lottery and Las Vegas-style gambling. Governor Bentley's biggest weakness may very well be his plan to raise taxes, a plan overwhelmingly disfavored by Alabama voters.
Three competing plans to address the State's budget crisis are on the table.
Governor Bentley wants to raise taxes by $541 million.
Speaker Mike Hubbard wants to raise taxes in the $100-200 million range, as well as give an exclusive gambling monopoly to the Poarch Creek Indians for Las Vegas-style gambling at their three locations.
Senator Del Marsh rejects the idea of raising taxes, and instead, looks to implement a lottery and expand Las Vegas-style gambling to the three Indian locations and the State's four existing racetracks.
Voters overwhelmingly support the Del Marsh proposal and reject both Bentley's and Hubbard's proposals.
Alabama voters were asked about the popularity of Bentley, Marsh, and Hubbard, as well as questions about tax increases and gambling. The results of the survey conducted from May 6-8, including the full text of the questions and the topline results, is available at the link below:
SEE POLL
The APR poll found Governor Robert Bentley has a very comfortable favorability rating of 56.1 percent, with just 24.8 percent finding the Governor unfavorable. Despite the relentless assault from some on the right over the Bentley plan to raise taxes, he remains a very popular figure with voters.
Del Marsh remains relatively unknown to Alabama voters statewide. However, Marsh's 26.6 percent favorable rating is enough to keep him in the positive range with voters. Only 19.2 percent of voters have an unfavorable opinion of the Senator from Anniston.
The news was not good for Hubbard, whose favorability rating is actually in the negative in the wake of persistent media reports of his pending criminal trial in Lee County. Once largely considered the presumed Republican nominee for governor when he decided to take his shot at the Perry Street mansion, voters have soured on Hubbard. Hubbard is the only one of the three Republican power players to have a negative favorability rating. A hefty 34.6 percent of voters have an unfavorable view of the Speaker from Auburn. Only 28 percent of voters view Hubbard favorably.
When asked whether voters trusted Marsh or Hubbard over the other, Marsh held a better than two-to-one lead over Hubbard, with 32.9 percent trusting Marsh more than Hubbard and only 14.2 percent trusting Hubbard over Marsh.
The poll showed a strong plurality favored increasing gambling over cutting the budget, raising taxes, or some combination of the three. Almost half, 45.8 percent, preferred increasing gambling in Alabama, with just 12.5 percent preferring a tax hike and 16.5 percent opting instead for cutting the budget. Just over a quarter, 25.1 percent, opted for a combination of two or more of the three options.
Tax increases overall are favored by only 33.7 percent of Alabama voters. More than half — 52.6 percent — disapprove of raising taxes. It is worth noting the intensity of the disapproval of raising taxes. Only 12.0 percent strongly approve of raising taxes, while 40.7 percent strongly disapprove of raising taxes.
Las Vegas-style gambling, long considered the third rail of Alabama politics, has gone mainstream among Alabama voters. A convincing majority, 55.5 percent, approve of Las Vegas-style gambling making its way to Alabama.  Less than a third, 31.0 percent, disapprove of Las Vegas-style gambling in Alabama.
Only 13.9 percent agreed with Hubbard that Las Vegas-style gambling should be restricted to State's three Indian facilities.
By contrast, Las Vegas-style gambling at seven locations in Alabama nets a whopping 49.3 percent support.
Ultimately, Marsh's plan must be put to a vote of the people to be implemented in Alabama. Voters would overwhelmingly approve a constitutional amendment to legalize and regulate a lottery and Las Vegas-style gambling at the three Indian reservations and four racetracks.  The yes vote leads by more than 30 percent in what amounts to a near-mortal stranglehold over the no vote, with 58.5 percent saying they would vote yes on Marsh's plan and only 28.2 percent saying they would vote no.
The APR survey of 805 voters was weighted 60.1 percent Republican, 28.8 percent Democrat, and 11.1 percent Independent.
Bentley is still very popular in Alabama, just not as popular as Marsh's plan for a constitutional amendment to bring a lottery and seven Las Vegas-style casinos to Alabama.
However, both Bentley's plan and Hubbard's plan are hugely unpopular.
Today is Thanksgiving
Today is a national and state holiday. Schools, banks, government offices and many private businesses are closed.
On November 11, 1620, after 66 days at sea, a group of English settlers landed near what is today Cape Cod in Massachusetts. Onboard the Mayflower were 102 men, women, and children, including one baby born during the Atlantic crossing, who made up the Pilgrims.
The Mayflower, captained by Christopher Jones, had been bound for the mouth of the Hudson River. The ship took a northerly course to avoid pirates, but the decision to avoid the then widely traveled sea lanes to the New World took the ship into bad weather, which had blown the Mayflower miles off course and left the ship damaged. Off Cape Cod, the adult males in the group made the fateful decision to build an entire colony where none had existed prior. They wrote and signed the Mayflower Compact.
"In the name of God, Amen. We whose names are underwritten, the loyal subjects of our dread Sovereign Lord King James, by the Grace of God of Great Britain, France, and Ireland King, Defender of the Faith, etc. Having undertaken for the Glory of God and advancement of the Christian Faith and Honour of our King and Country, a Voyage to plant the First Colony in the Northern Parts of Virginia, do by these presents solemnly and mutually in the presence of God and one of another, Covenant and Combine ourselves together in a Civil Body Politic, for our better ordering and preservation and furtherance of the ends aforesaid; and by virtue hereof to enact, constitute and frame such just and equal Laws, Ordinances, Acts, Constitutions and Offices from time to time, as shall be thought most meet and convenient for the general good of the Colony, unto which we promise all due submission and obedience. In witness whereof we have hereunder subscribed our names at Cape Cod, the 11th of November, in the year of the reign of our Sovereign Lord King James, of England, France and Ireland the eighteenth, and of Scotland the fifty-fourth. Anno Domini 1620."
After a few weeks off Cape Cod, they sailed up the coast until they reached Plymouth. There they found a Wampanoag Indian village that had been abandoned due to some sort of plague. During the Winter of 1620-1621 they lived aboard the Mayflower and would row to shore each day to build houses. Finally, they had built enough houses to actually move to the colony, but the cold, damp conditions aboard the ship had been costly.
Some 28 men, 13 women (one of them in child birth), and 8 children died in that winter. Governor John Carver would die in April. His widow, Kathrine White Carver, would follow a few weeks later. There is some recent archaeological evidence suggesting that some of the dead were butchered and eaten by the survivors.
The Mayflower and her crew left for England on April 5, 1621, never to return.
About 40 of the Pilgrims were religious separatists, members of a Puritan sect that had split from the Church of England, in defiance of English law. In 1609, they immigrated to Holland to practice their religion but ran into problems there too. Others in the group had remained part of the Church of England but were sympathetic to their separatist friends. They did not call themselves Pilgrims, that term was adopted at the bicentennial for the Mayflower voyage. The members of core separatist sect referred to themselves as "Saints" and people not in their sect as "Strangers."
In March 1621, an English speaking Native American, named Samoset, visited the Plymouth colony and asked for beer. He spent the night talking with the settlers and later introduced them to Squanto, who spoke even better English. Squanto introduced them to the chief of the Wampanoag, Massasoit.
Squanto moved in with the Pilgrims, serving as their advisor and translator. The friendly Wampanoag tribe taught the Pilgrims how to hunt and grow crops. The two groups began trading furs with each other.
William Bradford, a separatist who helped draft the Mayflower Compact, became the longtime Plymouth Governor. He was also the writer of the first history of the Plymouth Colony and the Mayflower. Bradford's more notable descendants include author, dictionary writer and scholar Noah Webster; TV chef Julia Child; and Supreme Court Chief Justice William Rehnquist.
399 years ago, in the fall of 1621, the Pilgrims invited their Wampanoag Indian friends to a feast celebrating their first harvest and a year in the New World with a three-day festival. This has become known as the first Thanksgiving.
Today is a national and state holiday. Schools, banks, government offices and many private businesses are closed.