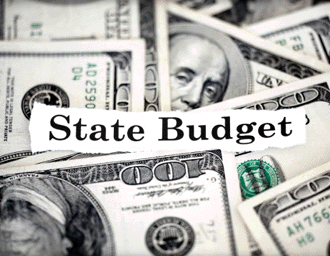 By Brandon Moseley
Alabama Political Reporter
On Tuesday, May 19, the 2016 fiscal year Alabama General Fund budget HR135 is expected to be on the floor of the House of Representatives.
State Representative Christopher John England (D-Tuscaloosa) wrote on Facebook, "Tuesday's special order calendar. You will notice two things. The first thing you will notice is that the general fund budget is the first bill on the calendar. The second thing you will notice is that there are no revenue bills on the calendar."
State Senator Bill Holtzclaw (R-Madison) wrote on his blog, "On this the 22nd Legislative day, the House finally voted the General Fund Budget out of committee – via a voice vote meaning there is no record of how committee members voted. Nonetheless, that General Fund Budget should come to a full vote of the House on Tuesday of next week. The soonest the Senate would see the budget, assuming it passes the House on Tuesday, will be when it gets a first reading in the Senate on Tuesday – the 23rd Legislative Day." Sen. Holtzclaw said that, "At that point the General Fund Budget could be debated in the Senate Committee on Wednesday."
On Saturday, May 16, the Alabama Political Reporter asked State Representative Matt Fridy (R-Shelby County) if the legislature will be able to get a budget passed out of this legislative session without raising taxes.
Rep. Fridy said that the budget that will be before the House on Tuesday is, "Not pretty. There are going to be cuts." Fridy predicted that the legislature, "…will be back in special session this summer, and that is probably a good thing."  Fridy said that the legislature needed more time to find a, "Solution without completely slashing everything."
Rep. England wrote, "Simply put, without revenue, we will be forced to cut just about everything."
*Medicaid: $34.2 million (cut of five percent)
*Corrections: $19.7 million (cut of five percent)
*Mental Health: $5.2 million (cut of five percent)
*Courts: $15.8 million (cut of 14 percent)
*Human Resources: $12.3 million (cut 21 percent)
Rep. England warned, "If we don't match federal dollars, then we will lose even more money. Our already overburdened court system will likely slow down to a halt. Without adequate funding, the prison reform bill is dead. Also, we will likely face another federal lawsuit because of the lack of adequate mental health care."
Rep. Fridy said that there does need to be enhanced revenues, but that is not necessarily tax increases. Fridy suggested that the State may require all employers to withhold payroll taxes from every employee. Currently employees can present a certificate asking that they be exempt from payroll taxes. The employees are supposed to file at the end of the year and pay if they owe anything. "They are owing money at the end of the year they just aren't paying them."
Rep. Fridy said that the legislature may take away the opt-out option, "So everybody pays the income taxes that are required by law."  Fridy said that they are also raising fees on insurance brokers and agents and the industry is fine with that.  That will generate $3.5 million.
Sen. Bill Holtzclaw wrote, "No doubt there is still much work to be done as the Governor has already announced that he would veto the budget passed by the House Committee today."
Fridy said that legislature is also looking at a lot of cost cutting measures such as combine some of the agencies.
Governor Robert Bentley (R) is promoting a $541 million a year tax increase to address the revenue situation.
Sen. President Pro Tem Del Marsh (R-Anniston) is promoting a package of adding a state lottery, casinos at the four existing dog tracks, and a compact with the Poarch Creek Indians to allow Class III gaming at their existing gaming facilities.
An earlier plan by Speaker of the House Mike Hubbard (R-Auburn) and Rep. Steve Clouse to raise taxes by $150 million was pulled last week due to lack of support in the House. 
The Education budget has already passed the Senate and has come out of committee in the House.  With eight legislative days left in the session the House has to pass both budgets, the Senate has to pass the General Fund budget, and then both have to agree on both budgets in order to send them to the Governor…..who has vowed to veto the General Fund budget.
Alabama reports record-breaking 2,164 new COVID-19 cases
Thursday's number of new cases hit 2,164 and blew past the previous daily record set on July 3 by 406 cases.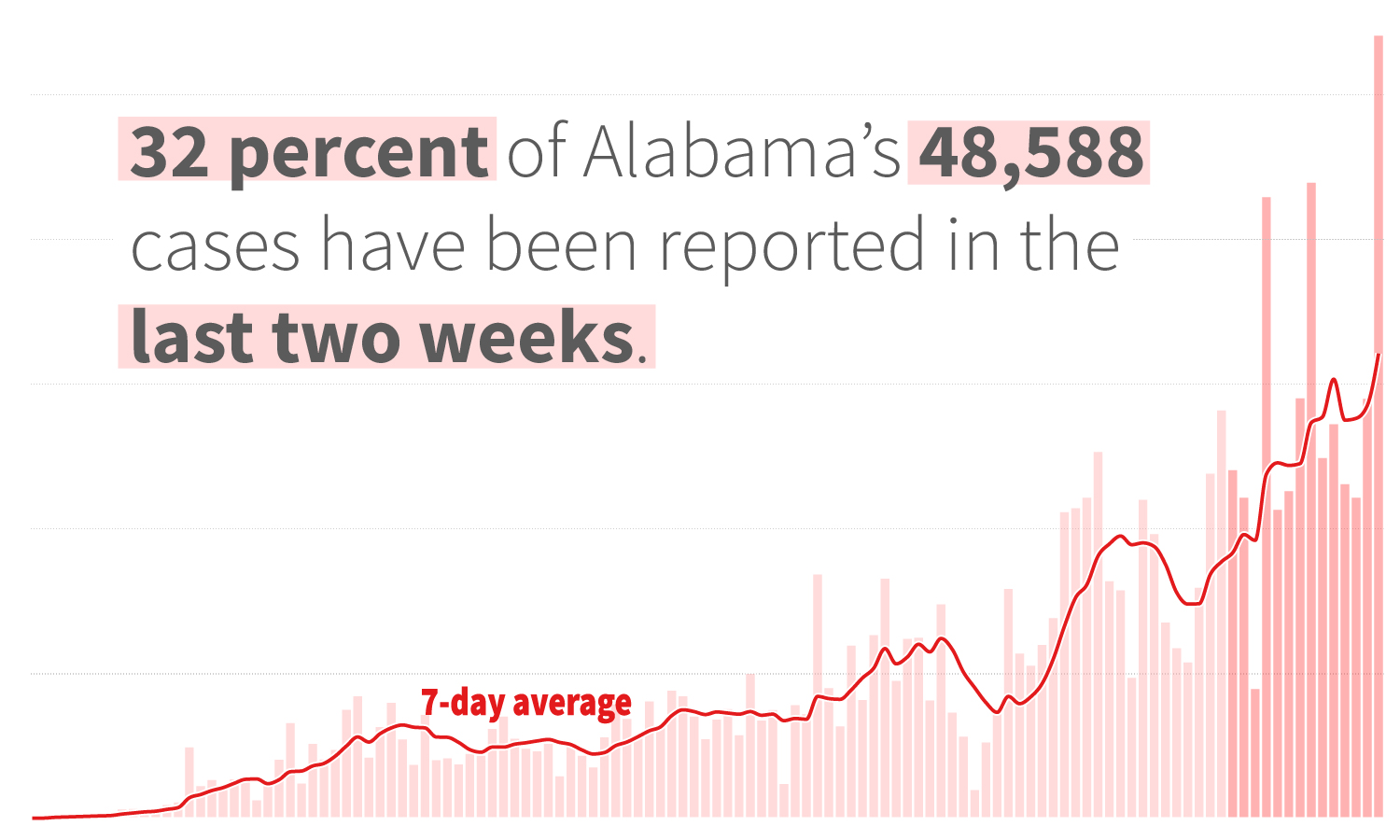 New COVID-19 cases in Alabama on Thursday jumped by nearly double from the day before, and for the first time broke 2,000 in a single day, according to the latest data from the Alabama Department of Public Health.

Thursday's number of new cases hit 2,164 and blew past the previous daily record set on July 3 by 406 cases. Both the seven-day and 14-day rolling average of new daily cases in Alabama were also at record highs Thursday. 
Thirty-two percent of the state's 48,588 cumulative confirmed cases have been added within the last two weeks. 
The Alabama Department of Public Health did not publish Wednesday an update to the total number of tests performed, which throws off the day's figures for the percentage of tests that are positive, but on average, over the last week, the state's seven-day rolling average of percent positivity has roughly 15 percent. 
Public health experts say the percent positivity should be at or below 5 percent — otherwise there isn't enough testing being done and cases are going undetected. 
Along with surging new cases, the number of COVID-19 patients hospitalized on Wednesday was higher than it's been since the beginning of the pandemic. On Wednesday 1,110 coronavirus patients were being treated in state hospitals, which was the fourth straight day of record current hospitalizations. 
UAB Hospital's COVID-19 Intensive care units were nearing their existing capacity Tuesday. The hospital has both a COVID ICU and a COVID acute care unit designated to keep patients separated from those who don't have the virus, but it has more space in other non-COVID units should it need to add additional bed space.

Hospitals in Madison County this week are also seeing a surge of COVID-19 patients. Paul Finley, the mayor of the city of Madison, told reporters Wednesday that local hospitals were reporting record numbers.

Hospitals there were at 80 to 90 percent capacity.
"Our ambulances yesterday had their greatest number of runs since this started," said Crestwood Hospital CEO Dr. Pam Hudson on Wednesday, adding that in about 20 percent of calls staff is having to wear full personal protective equipment. "That indicates that they are working with patients who have symptoms that could be compatible with COVID."
Meanwhile, Madison County set a new daily record, adding 286 cases Thursday, the first time the county has surpassed 200 cases a day. The county was largely spared early on in the pandemic, with low case counts and low death rates, but roughly 42 percent of Madison County's total case count since March has been reported in the last week as 803 new cases have been added.
Jefferson County and Madison County, over the last week, have accounted for 26 percent of the state's new cases.
Jefferson County led the state in the most new cases Thursday with 343 and has added 1,498 cases in the last week. The county's total cases increased by 33 percent from last week, and stood at 6,030 confirmed COVID-19 cases Thursday.
While Jefferson County and Madison County are seeing the state's most intense increases, other large counties including Shelby County, Baldwin County and Tuscaloosa County have also seen record increases and rising percent positive rates.
At least 81 people have died from COVID-19 in the last week, and 162 people have died in the last two weeks.
At least 1,042 people have died from COVID-19 since March, and at least 26 other deaths are listed as "probable" COVID-19 deaths.