Mental Health Advocates Ask Legislators Not To Cut Services
By Brandon Moseley
Alabama Political Reporter
Wednesday, May 12, over 250 intellectually disabled Alabamians, their families, caregivers, and advocates rallied in from of the State House for legislators not to cut mental health services in Alabama in the 2016 budget year.
Henry Parker with Montgomery Area Public Health said, "Hopefully we can get the legislature to understand that people with disabilities are productive members of society. If we take away these services, the effects will be devastating."
Alabama Department of Mental Health Commissioner Jim Reddoch said, "Several rallies have been held across the State and there has been great turnout…these programs are already underfunded and can't take another round of cuts."
Commissioner Reddoch said that they have been talking with a lot of legislators:
"But, I am hearing that we are not getting a lot of traction.  Mental health has had $40 million worth of cuts since 2007.  Now we are expected to be able to absorb cuts of up to $100 million…How do we do that without cutting essential programs that are currently in operation? I just don't get it…  We won't be able to make those kinds of cuts without serious consequences. We can not continue at the level we are at today. There will be significant cuts if we don't get new revenues. Either they don't believe what I am saying or they don't care."
Reddock said that the problem seems to be in the Senate:
"The House is moving toward some funding. We know you are going to lose programs that people depend on. I have been in State government for 30 years. I have never seen anything like this in my life. I have never seen it this bad."
State Rep. Darrio Melton (D-Selma) said, "One of the greatest things I have participated in as a legislator is special Olympics…We can not afford to cut the Department of Mental Health. We need to do right by the people of Alabama. Your life does matter. I will continue to fight for the Department of Mental Health."
State Rep. Paul Beckman (R-Prattville) told the crowd, "I care. I have supported mental health for 30 years. My wife is a psychiatric nurse. I dare legislators to think outside of the box. The problem is here today. We need to do something now. I will not let your voice be unheard."
Rep. Beckman said, "We don't need the Governor to blackmail legislators to raise taxes. The solution is in communications between the House and the Senate. When we communicate we can solve all the problems. Contact your legislators and your Senators and ask them to think outside of the box.  I am with you 100 percent."
Terry Prezent, the Executive Director of The Arc of Alabama said,
"A person can wait for years in Alabama and never receive services. The national average is 11 months. Minimal services will prevent more costly services later. It is anticipated that there will not be enough services to carry for baby boomers as they age. Alabama is dead last in what it invests in the developmentally disabled community.  Alabama provides no services for those with autism. The closure of the intellection facility has been successful.  Community based facilities are getting it right. Now is not the time to go backwards. There is a possibility of cuts of between $11 million and $35 million. Without federal matching dollars could mean a loss of $33 million to $105 million."
People First of Alabama said in a statement:
"Lawmakers in Alabama must be made aware that we are worthy of funding human services that allow us to be contributing members of our communities. Investing in appropriate supports keep us safe and productive in our own homes with friends, neighbors and families. Any reduction in current funding levels will jeopardize desperately needed services and lead to catastrophic impact on our ability to move forward toward meaningful lives.  Improvements in education and vocational programs, community supports means less reliance on public supports and more satisfaction. Reduction in funding community programs actually will result in greater PUBLIC financial responsibilities and take us BACKWARDS."
On Thursday, May 13, the House Ways & Means General Fund Committee passed a 2016 General Fund budget with cuts to the Department of Mental Health of $5,274,822 (5 percent) from 2015 levels.
Governor Bentley had requested an increase of over $53 million.
Merrill defends social media comments, questions motives of Black Lives Matter movement
During the interview, he blamed most of the uproar on "liberal, white women" who have "attacked" him on social media.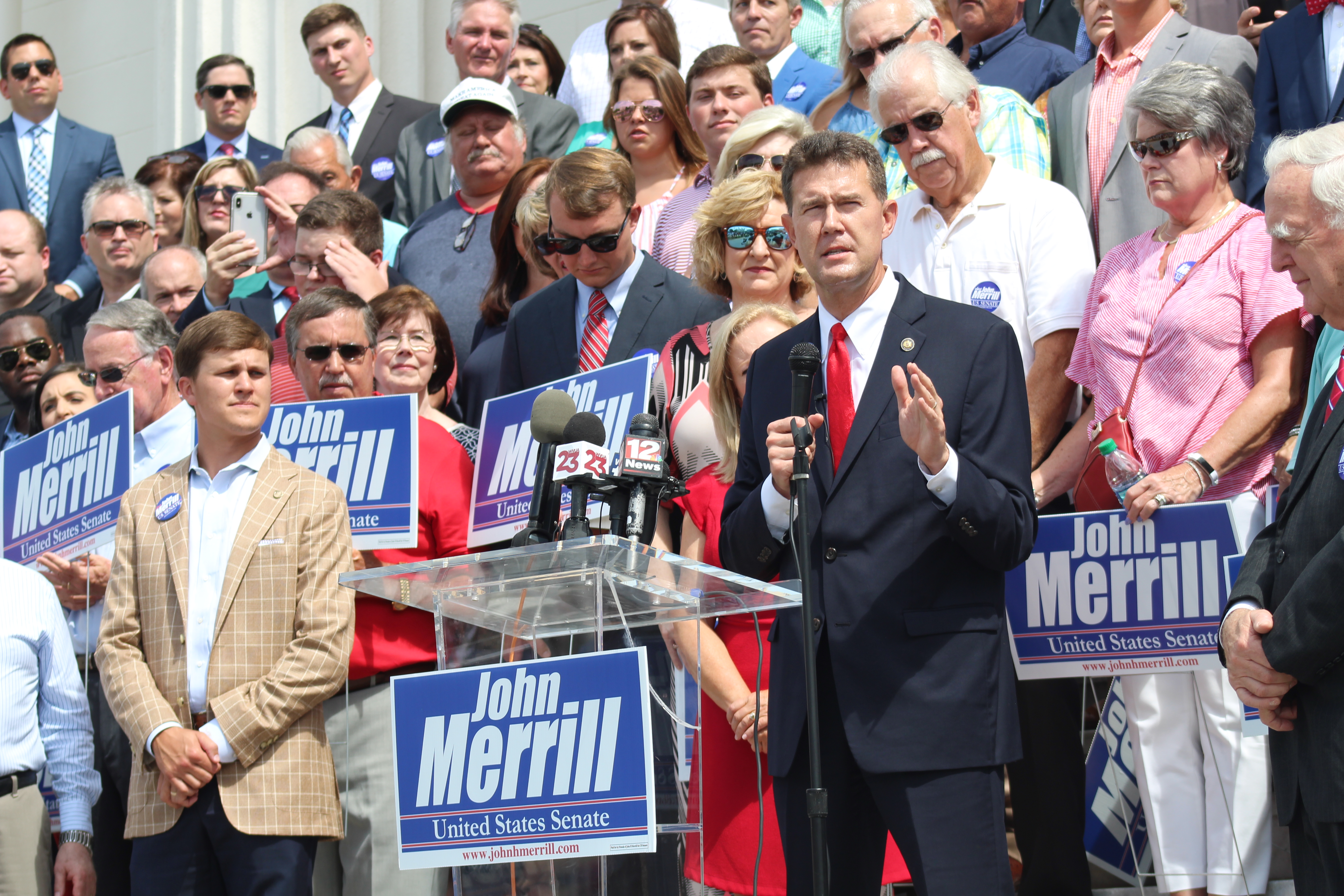 Alabama Secretary of State John Merrill regrets some of his recent controversial comments on social media but he refused to acknowledge that he should be held to a higher standard as an elected official and made no apologies for "defending" himself. 
Merrill took part in a lengthy, wide-ranging interview on the Alabama Politics This Week podcast. The sometimes contentious back-and-forth conversation covered an array of topics, from Merrill's comments — in which he encouraged one man to get a sex change — to his views on race, religion and election fraud claims. 
Merrill has come under fire over the last few weeks for his interactions on social media, and a number of civil rights groups have called for him to either apologize or resign. During the APTW interview, he blamed most of the uproar on "liberal, white women" who have "attacked" him on social media and said he wasn't going to allow someone "to hit me over the head and not fight back."
"You expect me, as an elected official, if someone comes up and knocks me in the head, I'm supposed to just take it? That's your expectation?" Merrill asked. 
Host David Person responded: "My expectation is that you, as a public servant, would have a level of deportment that would be different than the average person."
Merrill acknowledged that he probably went too far in his responses and has since started ignoring or blocking people who attempt to antagonize him. 
Later in the interview, when asked about his retweet of a video and a "war on whites" comment, Merrill said he has since deleted his retweet and that it didn't reflect his true feelings. But when asked about his thoughts on the Black Lives Matter movement, Merrill responded that "all lives matter." He then launched into a biblical explanation of his feelings. 
When Person explained the history and meaning of the BLM movement — and that it doesn't seek to elevate Black lives above anyone, but instead merely wants to see equal value — Merrill responded by stating the BLM movement has been "co-opted."
"I'm afraid to tell you this, but I think there's a number of people across the nation who have co-opted what your intent was — if that was your intent — and they've changed the narrative … and tried to make it something else … which is that Black lives are superior and if you can't agree that Black lives are superior then you have no place in the conversation," Merrill said. 
That is patently false, and the leaders of the BLM movement have taken great care to make equality and acceptance the primary goals of the movement. The false narrative introduced by Merrill — that the BLM movement is somehow racist — is a popular one on right-wing websites and TV shows, but it has been credibly debunked numerous times by numerous reputable sources. 
Merrill also addressed his controversial comments about election fraud, defended claims he made that appear to be false and talked his way around questions about Alabama's voter ID law. 
You can listen to the full interview at the APTW website or you can search for and subscribe to the podcast wherever you get your podcasts.