Bentley Tells Congress that Prison Reform Hinges Upon Adequate Funding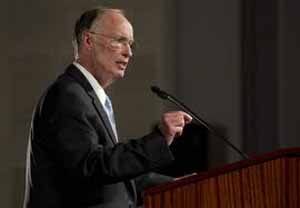 By Brandon Moseley
Alabama Political Reporter
On Tuesday, July 14 Alabama Governor Robert Bentley (R) testified before the House Oversight and Government Reform Committee to highlight Alabama's prison reform efforts.  While touting the state's progress towards reforming the Corrections System in Alabama, Gov. Bentley told the Committee that, "The success of the Prison Reform Bill hinges upon adequate funding, which is a matter that the State Legislature must address in an upcoming special session."
Gov. Bentley testified, "Prison reform is an important issue in Alabama. Alabama has made significant progress over the last year to improve our criminal justice system, ease some of the challenges in our prison system and maximize the amount of state dollars we spend for the Alabama Department of Corrections. I believe that our prison reform efforts have created a healthy foundation that can, over time, transform the landscape of the entire criminal justice system for the better."
The Governor said in his written testimony, "The first step was recognizing that our criminal justice system needed reform. A cursory glance provided ample evidence of the problems facing the state and the need for action. Our state prison facilities were operating at 195 percent over design capacity and costs were rising dramatically.  For example, appropriations to the state's Department of Corrections had risen from about $197 million in 2002 to about $399 million in 2015. In addition, corrections costs were taking up a greater proportion of the State General Fund Budget, from 15 percent in 2002 to 20 percent in 2015.  And while we were spending more, in real dollars and proportionally, we were not getting better results."
The Governor said, "To address these unsustainable trends, I joined with state leaders, including the Chief Justice, the Speaker of the House, and the President Pro Tempore of the Senate, in February 2014 to enlist outside support and request participation in JRI.  JRI is a joint, federal/private  program sponsored by the U.S. Department of Justice Bureau of Justice Assistance (BJA) under a federal grant and the Pew Charitable Trusts."  "State leaders created a Prison Reform Task Force to oversee the state's prison reform efforts. The Task Force was comprised of representatives from all branches of state government, criminal justice stakeholders and policymakers, and members of local governments, ensuring vital bipartisan, interbranch, and full-discipline involvement in JRI."
The Council of State Governments Justice Center (CSG) prepared an in depth analysis of the Alabama Department of Corrections (DOC) in June 2014.  Gov. Bentley said, "Despite decreased arrest rates and reduced sentences to prison since 2009, the number of inmates incarcerated in state facilities has not decreased over the same time period."  40 percent of prison admissions were for parole or probation violations and the average length of prison time for parole violators increased from 45 months to 64 months.  Also the average length of incarceration prior to parole increased from 30 months to 43 months.  "82 percent of the offenders with the highest risk of re-offending, including property and drug offenders, reached end of sentence while in DOC custody, with no supervision to guide re-entry." Alabama Board of Pardons and Paroles Probation and parole officers carry average caseloads of almost 200 cases per officer, limiting the effective supervision by the officers.  A third of the inmates were eligible for parole but the parole release rate was declining.  43 percent of probation violators spent over two weeks in jail just waiting for the violation hearing. Community Corrections Programs were only available in 45 of Alabama's 67 counties and there was no statewide standard. 
Gov. Bentley testified that the Task prepared a report to state leaders for incorporation into legislative agendas and the state budget.  The report, "Called for the state to invest $151 million over the next six years in the criminal justice system.  These funds will enhance the delivery of services in multiple areas and include:" hiring of over 123 additional pardons and parole officers and support staff; increase funding to community supervision programs for mental health and substance abuse treatment; upgrades to information technology to provide additional data to use in making future policy decisions; and the completion and expansion of the state's victim notification.
Gov. Bentley testified that based on the report's findings, "CSG, state leaders, and stakeholders developed the Prison Reform Bill to codify the remaining policy recommendations. Sponsored by Senator Cam Ward and Representative Mike Jones, the bill was passed and signed by me on May 19, 2015, becoming Act No. 2015-185 ("the Prison Reform Bill"). The policy changes in this bill focus on front-end diversion and re-entry supervision by mandating risk-based assessments throughout a person's contact with the criminal justice system and incorporating evidence-based practices. The Prison Reform Bill's changes can largely be divided into three categories: 1) strengthening community-based supervision, 2) prioritizing prison for violent, dangerous offenders, and 3) supervising all persons upon release from prison."
Gov. Bentley said that by strengthening community-based supervision, the state will be less reliant on prison facilities. "Specifically, the Prison Reform Bill: • Mandates the use of risk and needs assessments across the system, which will allow differing levels of supervision and more efficiently allocate resources based on a person's risk and needs; Creates lower level sanctions for technical violations of parole or probation short of full revocation; • Mandates the adoption of evidence-based standards for Community Corrections Programs, which will now be funded by the state based on performance; and • Creates a limited driver's license for people on supervision, which will assist with reentry efforts and also help prevent technical violations for failure to appear and allow people on supervision to better maintain jobs."
Gov. Bentley said that, "By prioritizing prison for violent and dangerous offenders, lower level offenders should be less likely to learn additional and more serious criminal habits. The state will divert lower level property and drug offenders away from prison by: • Creating a Class D Felony for lowest-level property/drug offenses, which will prescribe sentences to community corrections instead of prison for these crimes; • Re-classifying 3rd Degree Burglary of an uninhabited, non-residential building as a non-violent offense, which will divert a large number of prison-bound offenders to community corrections; and • Modifying  probation  and  parole  violation  sanctions  so that technical probation and parole violations get a 45-day prison stay instead of full revocation."
Gov. Bentley testified that the Prison Reform Bill also improves the efficiency and transparency of the parole decision-making process.  Bentley said that, "Supervision upon release is a key component in reducing recidivism. Without supervision upon release, many inmates, who have been incarcerated for years, simply do not have the knowledge or resources to prevent return to criminal behavior.  The Prison Reform Bill also mandates supervision upon release as either a component of the original sentence or a time period of parole before end of sentence."
The Governor boasts that the legislation is expected to reduce the state's prison population by more than 4,200 people, avert more than $380 million in future costs and provide supervision for 3,000 more people upon release from prison.
Gov. Bentley told the Congressional committee, "We are proud of the progress we have made during the past year to reform Alabama's criminal justice system, but much work remains. Importantly, the success of the Prison Reform Bill hinges upon adequate funding, which is a matter that the State Legislature must address in an upcoming special session. In addition, we must implement the policy changes set forth in the Prison Reform Bill. Accordingly, I created the Alabama Criminal Justice Oversight and Implementation Council ("Council") by executive order.  A member of my staff will chair the Council, which is comprised of state agencies affected by the Prison Reform Bill, including executive, legislative and judicial agencies, as well as Senator Ward and Representative Jones." 
Governor Bentley concluded, "States can be laboratories of changes, creating unique opportunities that can address problems.  I believe that Alabama is a national model for prison reform, and it was an honor to share our efforts with Congress."
The House Oversight and Government Reform Committee is chaired by Rep. Jason Chaffetz (R from Utah).  Congressman Gary Palmer (R from Hoover) represents Alabama on the committee.
While the prison reform bill passed the legislature it is far from certain how many of those reforms can ever be actually implemented.  The Governor has asked the legislature for an additional $26 million above the 2015 DOC funding levels to fully fund prison reform and an additional $6 million for capital needs for the overcrowded Alabama prisons.  The Republican dominated state legislature has thus far been reluctant to raise taxes to fund this and other State General Fund (SGF) programs.    
House passes General Fund Budget
By Brandon Moseley
Alabama Political Reporter
The Alabama House of Representatives passed the state General Fund Budget on Tuesday.
The General Fund Budget for the 2019 fiscal year is Senate Bill 178. It is sponsored by Sen. Trip Pittman, R-Montrose. State Rep. Steve Clouse, R-Ozark, carried the budget on the House floor. Clouse chairs the House Ways and Means General Fund Committee.
Clouse said, "Last year we monetized the BP settlement money and held over $97 million to this year."
Clouse said that the state is still trying to come up with a solution to the federal lawsuit over the state prisons. The Governor's Office has made some progress after she took over from Gov. Robert Bentley. The supplemental we just passed added $30 million to prisons.
The budget adds $50 million to the Department of Corrections.
Clouse said that the budget increased the money for prisons by $55,680,000 and includes $4.8 million to buy the privately-owned prison facility in Perry County.
Clouse said that the budget raises funding for the judicial system and raises the appropriation for the Forensic Sciences to $11.7 million.
The House passed a committee substitute so the Senate is either going to have to concur with the changes made by the House or a conference committee will have to be appointed. Clouse told reporters that he hoped that it did not have to go to conference.
Clouse said that the budget had added $860,000 to hire more Juvenile Probation Officers. After talking to officials with the court system that was cut in half in the amendment. The amendment also includes some wording the arbiters in the court lawsuit think we need.
The state General Fund Budget, SB178, passed 98-1.
Both budgets have now passed the Alabama House of Representatives.
The 2019 fiscal year begins on Oct. 1, 2018.
In addition to the SGF, the House also passed a supplemental appropriation for the current 2018 budget year. SB175 is also sponsored by Pittman and was carried by Clouse on the floor of the House.
SB175 includes $30 million in additional 2018 money for the Department of Corrections. The Departmental Emergency Fund, the Examiners of Public Accounts, the Insurance Department and Forensic Sciences received additional money.
Clouse said, "We knew dealing with the federal lawsuit was going to be expensive. We are adding $80 million to the Department of Corrections."
State Representative Johnny Mack Morrow, R-Red Bay, said that state Department of Forensics was cut from $14 million to $9 million. "Why are we adding money for DA and courts if we don't have money for forensics to provide evidence? if there is any agency in law enforcement or the court system that should be funded it is Forensics."
The supplemental 2018 appropriation passed 80 to 1.
The House also passed SB203. It was sponsored by Pittman and was carried in the House by State Rep. Ken Johnson, R-Moulton. It raises securities and registration fees for agents and investment advisors. It increases the filing fees for certain management investment companies. Johnson said that those fees had not been adjusted since 2009.
The House also passed SB176, which is an annual appropriation for the Coalition Against Domestic Violence. The bill requires that the agency have an operations plan, audited financial statement, and quarterly and end of year reports. SB176 is sponsored by Pittman and was carried on the House floor by State Rep. Elaine Beech, D-Chatham.
The House passed Senate Bill 185 which gives state employees a cost of living increase in the 2019 budget beginning on October 1. It was sponsored by Sen. Clyde Chambliss, R-Prattville and was being carried on the House floor by state Rep. Dimitri Polizos, R-Montgomery.
Polizos said that this was the first raise for non-education state employees in nine years. It is a 3 percent raise.
SB185 passed 101-0.
Senate Bill 215 gives retired state employees a one time bonus check. SB215 is sponsored by Senator Gerald Dial, R-Lineville, and was carried on the House floor by state Rep. Kerry Rich, R-Guntersville.
Rich said that retired employees will get a bonus $1  for every month that they worked for the state. For employees who retired with 25 years of service that will be a $300 one time bonus. A 20-year retiree would get $240 and a 35-year employee would get $420.
SB215 passed the House 87-0.
The House passed Senate Bill 231, which is the appropriation bill increase amount to the Emergency Forest Fire and Insect and Disease Fund. SB231 is sponsored by Sen. Steve Livingston, R-Scottsboro, and was carried on the House floor by state Rep. Kyle South, R-Fayette.
State Rep. Elaine Beech, D-Chathom, said, "Thank you for bringing this bill my district is full of trees and you never know when a forest fire will hit.
SB231 passed 87-2.
The state of Alabama is unique among the states in that most of the money is earmarked for specific purposes allowing the Legislature little year-to-year flexibility in moving funds around.
The SGF includes appropriations for the Alabama Medicaid Agency, the courts, the Alabama Law Enforcement Agency, the Alabama Department of Corrections, mental health, and most state agencies that are no education related. The Alabama Department of Transportation gets their funding mostly from state fuel taxes.
The Legislature also gives ALEA a portion of the gas taxes. K-12 education, the two year college system, and all the universities get their state support from the education trust fund (ETF) budget. There are also billions of dollars in revenue that are earmarked for a variety of purposes that does not show up in the SGF or ETF budgets.
Examples of that include the Public Service Commission, which collects utility taxes from the industries that it regulates. The PSC is supported entirely by its own revenue streams and contributes $13 million to the SGF. The Secretary of State's Office is entirely funded by its corporate filing and other fees and gets no SGF appropriation.
Clouse warned reporters that part of the reason this budget had so much money was due to the BP oil spill settlement that provided money for the 2018 budget and $97 million for the 2019 budget. Clouse said they elected to make a $13 million repayment to the Alabama Trust fund that was not due until 2020 but that is all that was held over for 2020.
Clouse predicted that the Legislature will have to make some hard decisions about revenue in next year's session.