Alabama Business Success Stories

INSIDE THE STATEHOUSE
By Steve Flowers
Last week we discussed the legendary story of Aflac. Three more remarkable business success stories are just as magnificent. Again, all three of these companies are Alabama born and raised fairytale ventures.
Alfa is Alabama's largest property and casualty insurance company. Today, Alfa employs more than 2300 people and has almost 450 agents in Alabama. It has 229 offices in Alabama, with an office in every county.
Alfa and its affiliates provide insurance in 11 states and has more than a million policies in force. Alfa is also Alabama's leading provider of life insurance with $27 billion of life insurance on the books.
Alfa was formed out of necessity less than 70 years ago. The Alabama Farmer's Federation was established in 1921 to help farmers garner political power. During the 1920's, 30's and 40's  which spanned the Great Depression and economic catastrophe, Alabama farmers found it impossible to get fire insurance to cover their homes and barns. In 1946, the Farmer's Federation formed a fire insurance company. Farmers put up $11,225 to start their own company. The rest is history.
Liberty National Life Insurance Company was founded in 1900 in Birmingham. During the next 60 years, it became the greatest business success story in Alabama insurance lore. As late as the 1960's, Liberty National had more life insurance policies on Alabamians than every other company in the world combined. It became one of Birmingham's biggest businesses. It had a dominating presence on 20th Street with a gigantic bronze replica of the statue of liberty on top of their distinguished building. The company had so many Alabamians insured for their burials, they figured they might as well own the funeral homes too. So in 1944 the company formed Brown Service and established ownership in most of the funeral homes in the state. In the 1970's Liberty National acquired Globe Life and created Torchmark Corporation as a holding company.
Liberty National was founded by Frank P. Samford. Mr. Samford was born in Troy in 1893. He was the son of a judge and a grandson of Governor William J. Samford. He graduated from Auburn in 1914.
Frank Samford became very wealthy as the President of Liberty National for over 30 years, especially from his stock ownership in the company. A good many of his associates and business partners also gained tremendous wealth throughout the phenomenal grown of their Liberty National stock. Mr. Samford gave so much of his wealth to Howard College in Birmingham that the school he endowed moved to the beautiful campus in suburban Homewood. The school Samford University is named in his honor and rightfully so. He and Liberty National stock paid for the gorgeous elite private college in Homewood.
Another magnificent Alabama business story has been EBSCO. The company is named after its founder, Elton B. Stephens. Thus, EBSCO is an acronym for the founder Elton B. Stephens.
Elton Stephens was born and raised in the small Barbour County hamlet of Clio. Remarkably he and George Wallace were raised in Clio during the same era. So arguably it could be said that one of the greatest businessmen in Alabama history and the state's greatest politician grew up in the same small southeast Alabama village at the same time.
Both Stephens and Wallace sold magazines door to door in the summer to help work their way through college. The idea resonated with Stephens. He started a business selling magazine subscriptions to military bases. Elton Stephens started this business with his wife Alys Robinson Stephens in 1944. Now, 70 years later, EBSCO is a global company with nearly 6000 employees and 50 different companies operating in 23 countries. It has a tremendous diversity of business interests, which include information services, publishing and digital media, outdoor products, real estate and manufacturing.
EBSCO is one of the state's largest private companies. When Elton Stephens dies in 2005 at age 93, he was one of the wealthiest men in America. He was listed as the 66th wealthiest person in the country with an estimated net worth of $4 billion.
However, he is best known for his magnificent philanthropy in his later years. Some of his gifts included the Alys Robinson Stephens Performing Arts Center at UAB, as well as the Elton B. Stephens Science Center at Birmingham-Southern. He gave $15 million to revive the Alabama Symphony Orchestra.  The Stephens family is also responsible for developing the futuristic eco-friendly pristine developments of Mt. Laurel in Shelby County and Alys Beach on Florida's Gulf Coast.
See you next week.
Steve Flowers is Alabama's leading political columnist. His weekly column appears in over 60 Alabama newspapers. He served 16 years in the state legislature. Steve may be reached at www.steveflowers.us.
Print this piece
Opinion | 1964 Goldwater landslide was beginning of Republican dominance in the South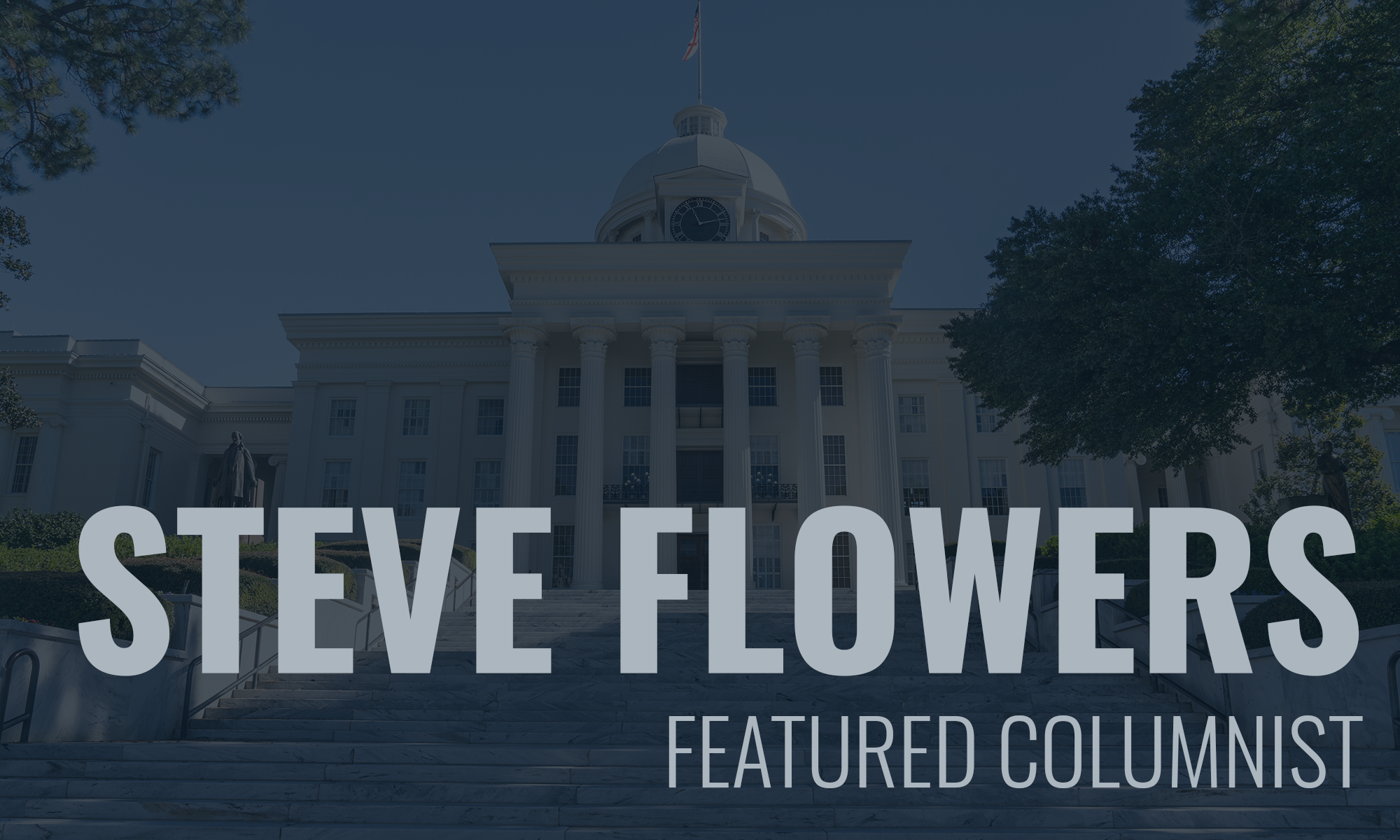 Our primary runoffs have been postponed until July 14, 2020. It was a wise and prudent decision by Secretary of State John Merrill and Gov. Kay Ivey. Most voters are older and you are asking them to come out and vote and at the same time stay home.
The main event will be the GOP runoff for the U.S. Senate. The two combatants, Jeff Sessions and Tommy Tuberville, will now square off in the middle of a hot Alabama summer. The winner will be heavily favored to go to Washington. We are a very reliably Republican state especially in a presidential election year.
Many of you have asked, "When did Alabama become a dominant one–party Republican state?" Well it all began in the Presidential year of 1964.  The 1964 election was the turning point when the Deep South states of Alabama, Mississippi, Georgia, Louisiana and South Carolina voted for Barry Goldwater and never looked back.  It was the race issue that won southerners over for Goldwater.  The Republican Party captured the race issue that year and have never let go of it.
The South which was known as the "Solid South" for more than six decades, because we were solidly Democratic, are today known as the "Solid South" because we are solidly Republican.Presidential candidates ignore us during the campaign because it is a foregone conclusion that we will vote Republican, just as presidential candidates ignored us for the first 60 years of the 20th Century, because it was a foregone conclusion that we were going to vote Democratic.
George Wallace had ridden the race issue into the Governor's office in 1962.  It had reached a fever pitch in 1964.  Democratic President, Lyndon Johnson, had passed sweeping Civil Rights legislation which white southerners detested.  
The only non-southern senator to oppose the Civil Rights legislation was Republican Senator Barry Goldwater of Arizona.  When the Republican Party met at the old Cow Palace in San Francisco, they nominated Goldwater as their 1964 presidential candidate.  Johnson annihilated him, nationwide, but Goldwater won the South in a landslide.  
Before that fall day in November of 1964, there was no Republican Party in Alabama.  There were no Republican officeholders. There was no Republican primary. Republicans chose their candidates in backroom conventions.  Except for a few Lincoln Republicans in the hill counties, it was hard getting a white Alabamian even to admit they were Republican.
That all changed in 1964.  Goldwater and the Republicans became identified with segregation and the white Southern voter fled the Democratic Party en masse.   As the Fall election of 1964 approached the talk in the country stores around Alabama was that a good many good ole boys were going to vote straight Republican even if their daddies did turn over in their graves.  Enterprising local bottling companies got into the debate and filled up drink boxes in the country stores labeled Johnson Juice and Gold Water.  The Gold Water was outselling the Johnson Juice 3-to-1.
Alabamians not only voted for Barry Goldwater but also pulled the straight Republican lever out of anger towards Lyndon Johnson's Civil Rights agenda.  Most of Alabama's eight-member Congressional delegation, with more than 100 years of seniority was wiped out by straight ticket Republican voting on that November 1964 day.
Earlier that year, Lyndon B. Johnson, the toughest, crudest, most corrupt and yes most effective man to ever serve in the White House, made a profound statement.  As he signed the Civil Rights Bill he had pushed through Congress, he looked over at the great Southern Lion, Richard Russell of Georgia, and as Senator Russell glared at Johnson with his steel stare, Lyndon said, "I just signed the South over to the Republican Party for the next 60 years." Johnson's words were prophetic.
Folks, beginning with the 1964 election, there have been 17 presidential elections counting this year.  If you assume that Donald Trump carries our state in November, that is a safe assumption, Alabama has voted for the Republican nominee 16 out of 17 elections over the past 56 years.  Georgia peanut farmer, Jimmy Carter, is the only interloper for the Democrats in 1976.
The U.S. Senate seat up this year was first won by a Republican in 1996.  That Republican was Jeff Sessions.  
So folks, in 1964, Alabama became a Republican state and it happened in what was called the Southern Republican "Goldwater Landslide."
See you next week.
Steve Flowers is Alabama's leading political columnist. His weekly column appears in over 60 Alabama newspapers. He served 16 years in the state legislature. Steve may be reached at www.steveflowers.us.
Print this piece