Gratitude, Happiness, and America's Founding
By Senator Greg Reed
Thanksgiving is a great time for catching up with family members, watching football, and eating turkey, dressing, and pumpkin and pecan pies. The food is so good, you might even excuse your Uncle Jim's fifth monologue on why Verne and Gary are the worst sportscasters since the dawn of television, as your family prepares for the Iron Bowl on Saturday.
It is a wonderful time of year. But have you ever wondered how Thanksgiving came to be? You might have a vague recollection of some early American settlers (the Pilgrims) with shoe buckles and big black hats celebrating a Thanksgiving with Native Americans, but your memory may go foggy after that.
The story of Thanksgiving indeed began with the early harvest celebrations of the Pilgrims at Plymouth Colony near Cape Cod, Massachusetts. The Pilgrims were an interesting mix of adventurers and preachers, but most were committed Protestant Christians who split from the established Church of England in their homeland. In 1609, this group had been driven from England by religious persecution and landed on the shores of the Netherlands. The Dutch culture proved similarly inhospitable, however, so the Pilgrims sailed in the Mayflower to North America in 1620, where a Native American named Squanto helped this band of European settlers.
Even with Squanto's aid, nearly half the group perished from disease and famine in the first winter. But the survivors reasonably saw the unexpected help of Squanto as a divine blessing, without which they might all have died, and therefore celebrated God's mercy with a harvest festival.
In 1776, at the start of the Revolutionary War, the Continental Congress set aside two days for solemn prayer and fasting, and in 1777, Samuel Adams helped draft a resolution calling for a "day of Thanksgiving" on December 18th to celebrate the colonists' victory over the British at Saratoga. In 1778, the Congress approved a resolution setting aside December 30th for a day of thanksgiving, as it "pleased Almighty God through the Course of the present year to bestow great and manifold Mercies on the People of these United States."
After the Revolutionary War, presidents George Washington, John Adams, and James Madison all issued proclamations setting aside certain days for thanksgiving to God during the early years of our Republic. Typical was the language of Washington's proclamation in 1789:
"I do recommend…the 26th of November next to be devoted by the People of these States…in most humbly offering our prayers and supplications to the great Lord and Ruler of Nations and beseech him to pardon our national and other transgressions– to enable us all, whether in public or private stations, to perform our several and relative duties properly and punctually–to render our national government a blessing to all the people."
In 1941, President Franklin Roosevelt signed legislation officially marking the fourth Thursday in November as the national holiday of Thanksgiving, enshrining in law a practice our nation has carried on since the days of the Pilgrims.
This year, I am deeply thankful for the Christian heritage our ancestors left to the people of America. Despite what the "politically correct" crowd might tell you, the Founding Fathers never intended our country to be free from religion. We are a nation founded explicitly on Judeo-Christian notions of law. As the Declaration of Independence says, we are "endowed by our Creator with certain unalienable Rights, that among these are Life, Liberty and the pursuit of Happiness."
This Thanksgiving, I encourage you to slow down and consider how God has blessed your "pursuit of happiness." We live in a land of material and spiritual abundance, secured by the hard work of men like George Washington and protected now by the bravery of our American soldiers.
It is a tremendous honor to serve the people of Alabama in the State Senate. Yet the essential parts of my "pursuit of happiness" in life are found in the blessings of my dear wife and three sons, who keep me humble in the best of days and laughing in spite of the hardest hours, while my faith in Christ is the bedrock of everything. As G.K. Chesterton wrote, gratitude is indeed happiness doubled by wonder.
Greg Reed is the Alabama Senate Majority Leader and represents Senate District 5, which is comprised of all or parts of Winston, Walker, Tuscaloosa, Jefferson, and Fayette counties.
Print this piece
Opinion | Secretary of State responds to Alabama Political Reporter op-ed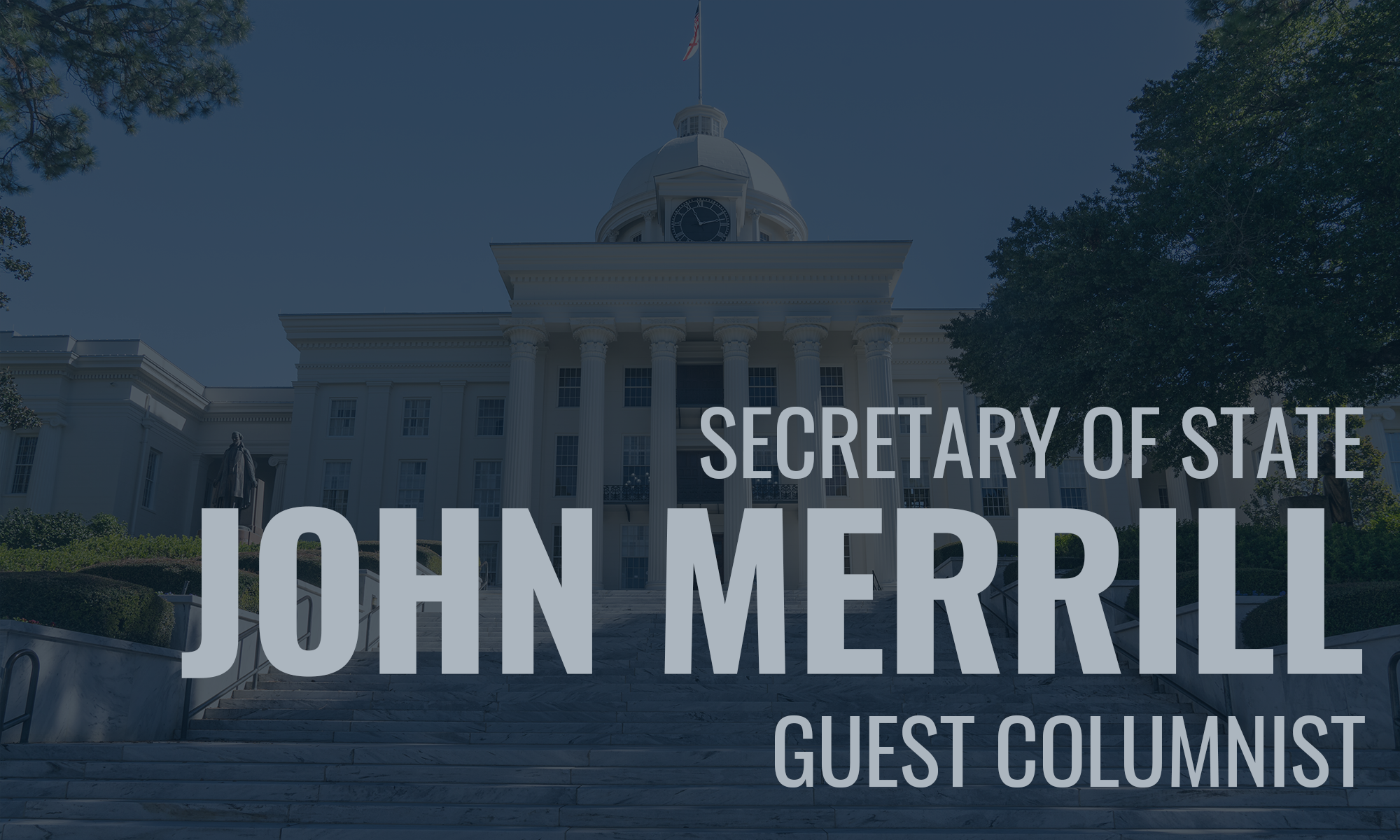 The following statement from Secretary of State John H. Merrill is in response to the inaccurate op-ed published yesterday morning by Josh Moon of Alabama Political Reporter:
This morning, Josh Moon of Alabama Political Reporter alleged that "voting by mail does not lead to fraud."
Moon went on to undermine the six voter fraud convictions and the five associated with tampering with absentee ballots in the last five years, claiming that these numbers are not substantial enough to have basis.
Let's start with the facts, Josh.
When you have one person that violates the trust and confidence in the elections process by committing illegal activity, that is one too many. Whether you have one voter fraud conviction or a thousand, you are proving to the electorate that elections require integrity and credibility! We will continue to work to build trust and confidence in the elections process.
Claiming "you can't commit enough fraud to alter the outcome of such a race" is naive and careless.
In 2018, we saw a member of the legislature who won her race by a mere six votes and another member who won his race by 28 votes. That same year, we witnessed a sheriff's race that was tied even after the recount. It should be apparent to anyone that just a few votes can determine the outcome of an election.
The fraudulent practice of ballot harvesting, which is often associated with voting by mail, led to the defeat of seven Republican candidates in the California 2018 midterm election. Young Kim, who ran to represent California's 39th Congressional District, was leading the vote count on election night and even in the week that followed the election. Two weeks later and after Kim attended New Member Orientation, the Democrat challenger was declared the winner after 11,000 mail ballots were counted. These ballots favored the Democrat challenger at a much higher rate than the previously counted ballots.
Similarly, during the 2018 Election Cycle, the North Carolina Board of Elections appropriately refused to certify the results of the 9th Congressional District's election due to the illegal misuse of absentee ballots.
It has also been reported, through data collected by the Election Assistance Commission, that between 2012 and 2018, 28.3 million mail-in ballots went unaccounted for, which equates to one in five of all absentee or mail-in ballots.
So, obviously, Josh, you can commit enough fraud to alter the outcome of an election.
The issues with mail-in voting far exceed the few that Josh attempts to raise. Consider Nevada where thousands of absentee ballots were just sent to inactive voters in Clark County. Consider the thousands of envelopes piling up in post offices or outside homes, apartments, and other facilities. Consider California in 2016 where 83 ballots were sent to one address housing just two people.
Then, Josh, after you have considered Alabama where in 2016, 109 absentee ballots were sent to the mother of a mayoral candidate in Brighton or when 119 absentee ballots were mailed to an abandoned home in Wilcox County, tell me that mail-in voting does not increase the likelihood for fraud to be committed.
To then pretend "small-town races" in Dothan, which is Alabama's seventh largest municipality out of 463, are not worthy of being noted is ludicrous.
The state's absentee law requiring a photo ID to be submitted with the application, which I remind you was passed last year with bipartisan support and sponsored, at our request, by Rodger Smitherman (D-Birmingham), has worked to prevent these sorts of opportunities in our state. This comprehensive, reform legislation has provided safeguards in our absentee process.
One major consideration that many supporters of mail-in voting fail to mention is cost. Currently, the administration for one Election Cycle (Primary, Runoff, and General) in our state is $16.5 million, whereas the administration of a full mail-in Election Cycle is almost $60 million.
I am positive that even Josh Moon can find a better way to spend $43.5 million generated by taxpayers.
Print this piece